Top 10 Sandwiches You'll Want to Have Right Now
The best of this handheld food in Manila.
(SPOT.ph) If there was ever a moment when we could claim great pride and much shame at the same time, it must be somewhere between our 12th and 13th sandwich. The former a croque monsieur, the latter a croque madame, and together a delicious, calorie-laden marriage of Gruyere, ham, and yolks.
Much like the Tower of Babel or the Titanic, shortlisting Manila's ever-growing selection of stellar sandwiches begs mankind's hubris. But lo, we've done much in the name of science, exploration, and gluttony. Sandwiches after all are second nature to us. After rice, our childhoods are filled with pandesal buns stuffed with Cheez Whiz, and meriendas of white bread, chicken, and jars-worth of mayo. Dozens of napkins dabbed with jam and bacon grease later, we bring you our current pickings.
All SPOT.ph Top 10 lists are researched, paid for, tested, and selected by the writers and editors. They are discreetly conducted without any notice made to the restaurants or their owners.
ALSO READ:
SPOT.ph Round-Up: 10 Ice Cream Sandwiches in Manila that are Worth the Calories
Top 10 Sandwiches You Must Try This Year (2012)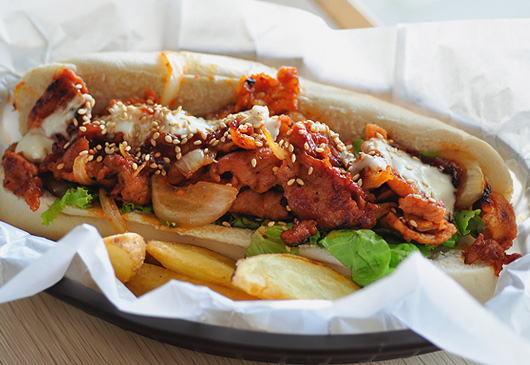 ADVERTISEMENT - CONTINUE READING BELOW
10. Raging Bulgogi (P140) at Knuckle Sandwich Station
Eat this...with your drinking buddies and a round of beer.
You have to admit, the Raging Bulgogi is a clever pun for a restaurant that themes itself after boxing paraphernalia. This neighborhood sandwich shop plies burgers, sandwiches, and a variety of cervezas. They're the drinks of choice to match your Raging Bulgogi-pork strips marinated in a secret spicy sauce, smothered in garlic mayo, and studded with sesame seeds. A coarse baguette helps mute some of the heat, but you'll fare better with a mug or two of their homebrewed butterscotch beer.
CONTINUE READING BELOW
Recommended Videos
Knuckle Sandwich Station is at 308 Aguirre Avenue, BF Homes, Parañaque City.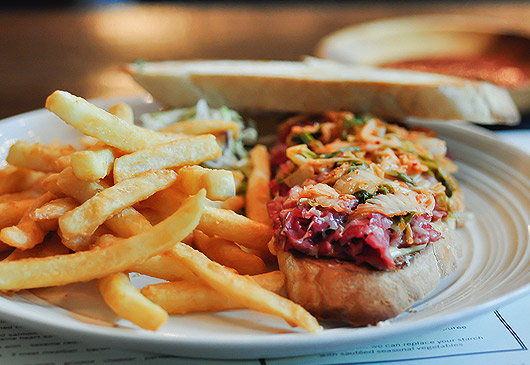 9. Kimchi Reuben Sandwich (P490) at The Hungry Hound Pub + Kitchen
Eat this...if you're going for quirky fusion flavors.
We've seen kimchi stuffed into tacos and burritos, so it's no giant leap to consider fermented greens in your Reuben. Kimchi subs for sauerkraut at the Hungry Hound, the first restaurant tie-up between Chef Rob Pengson and Erwan Heussaff. Their new chef Mikko Reyes served this updated classic on a bed of sourdough with velvety cuts of corned beef dabbed with Dijon mustard and apple slaw. It's a funky mix, sans gimmickry. Everything works well with a side order of the pub's signature duck fat fries.
ADVERTISEMENT - CONTINUE READING BELOW
The Hungry Hound Pub + Kitchen is at G/F The Globe Tower, 32nd Avenue, Bonifacio Global City.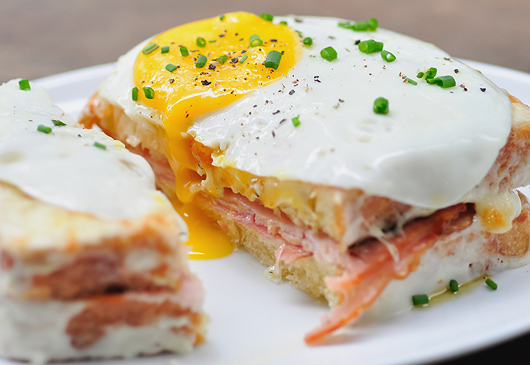 8. Croque Madame (P420) at Wildflour Café + Bakery
Eat this...for your power breakfast or to fend off that hangover.
There are many reasons to love Wildflour, Chef Walter Manzke's ode to comfort food: great bread or the killer Dulce de Leche Croissant Donut, for instance. The café, now on to its second branch in Podium, has lots of sandwiches to choose from. But few things are as robust as their Croque Madame. Slices of ham and creamy Gruyère meld in between fried pieces of toast, topped with egg and cracked pepper. It's runny, a mess to eat, and fortifying both for early risers and those nursing a nasty hangover.
Wildflour Café + Bakery has branches at G/F Net Lima Building, 4th Avenue corner 26th Street, Bonifacio Global City; and The Podium, Mandaluyong City.
ADVERTISEMENT - CONTINUE READING BELOW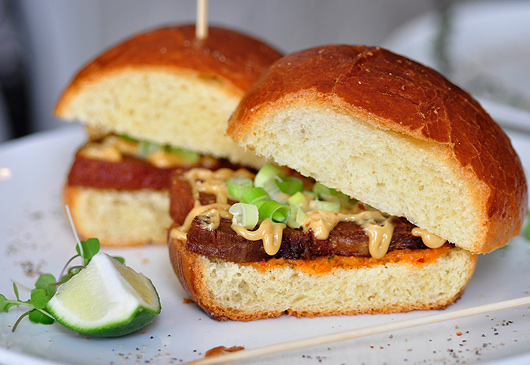 7. Crispy Pork Belly Sandwich (P295) at The Girl + The Bull
Eat this...when you want a creative, thoughtfully made lunch.
You might swoon for the artsy interiors of The Girl + The Bull in BF Homes, but past the mason jars, emotive Polaroids, and deviantART-esque paintings are the real finds: organic buttermilk fried chicken, homemade Twix bars, and a magical pork belly sandwich. Owner Gab Bustos (the bullish half of the business partnership) instinctively feels his way around what flavors and textures mesh well, and this sandwich is no different. It comes in a soft, buttery brioche that gives way to pork belly-crispy on the outside and fork-tender on the inside. Wildcards like kimchi puree, hoisin, and lime juice leave you with a tingly palate.
The Girl + The Bull is at 346 Aguirre Avenue, BF Homes, Parañaque City.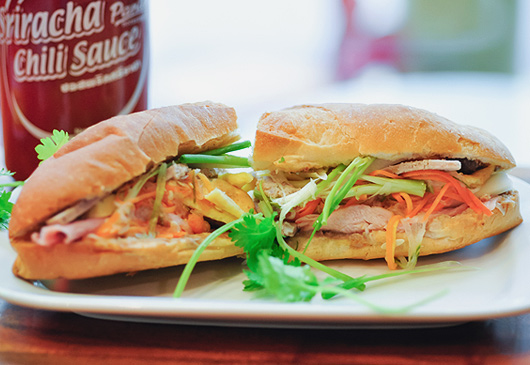 ADVERTISEMENT - CONTINUE READING BELOW
6. Saigon Baguette Bánh mi (P280) at P.H.A.T. Pho Vietnamese Kitchen
Eat this...when you need a quick and healthy takeout meal.
Any sandwich list is bound to have a banh mi, that multitalented French-Vietnamese wunderkind that keeps popping up in restaurants and food trucks. We can't get enough of banh mi, and Cebu-grown P.H.A.T. Pho's version makes it harder to say no. Think crackly baguette with a hearty combination of native chả lụa pork, meatballs, and homemade chicken paté. Thrown in too are pickled carrots, daikon, cucumber, and stalks of cilantro. The result is a refreshing and hearty sandwich that's perfect on the go.
P.H.A.T. Pho is at G/F Serendra, Bonifacio Global City.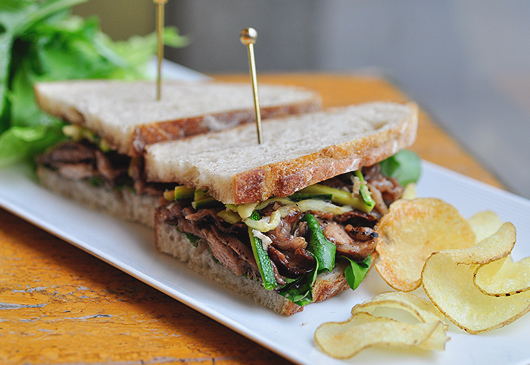 5. Roast Lambwich (P350) at Lusso
Eat this...when having that leisurely brunch get-together.
We've known Lusso for some time, a gem among the tony restaurants of Greenbelt 5. But behold their Roast Lambwich, a simple enough concept that nevertheless speaks volumes. Slices of crusty sourdough hold together julienned zucchini, lush arugula, and roasted cuts of peppery lamb. It's amazing as it is, but just when you've figured out your first few mouthfuls, a dab of strawberry jam pulls you into a whole different tangent of sweetness. While some sandwiches beg to be wolfed down in a few moments; Lusso's ought to be slowly savored.
ADVERTISEMENT - CONTINUE READING BELOW
Lusso is at G/F Greenbelt 5, Ayala Center, Makati City.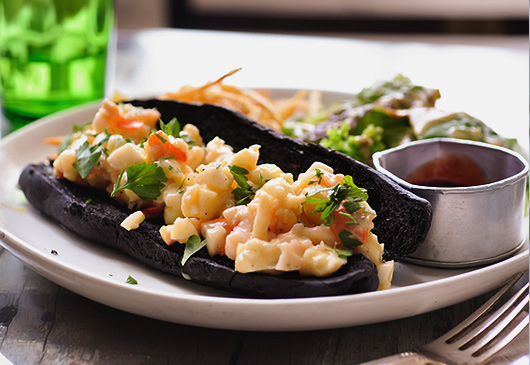 4. River Prawn and Scallop Roll (P425) at Grace Park
Eat this...if you're craving seafood-glorious seafood.
Gaita Fores' imaginative marine masterpiece is a hefty mélange of sweetish chunks of prawn and scallop in mayonnaise, sprinkled with pepper and cilantro. Everything is tucked into a deep purple squid-ink bun that's pillowy soft with crisp edges. It's mushy, chewy, and bursting with unexpected flavor. Throw in sidings of crunchy lettuce and potato strings, and you've got some impressive textures. It's enough to whisk you off (at least in your imagination) to a San Francisco marina diner, and we have the brilliant woman behind CIBO to thank.
Grace Park is at G/F One Rockwell, Rockwell Plaza, Makati City.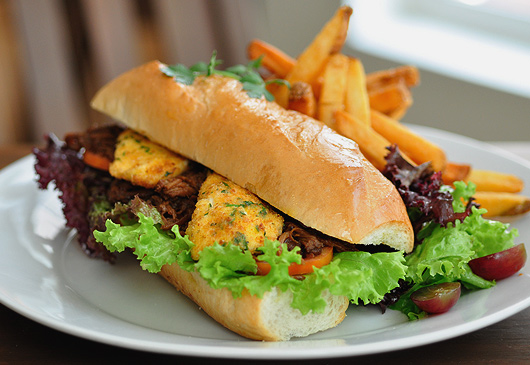 ADVERTISEMENT - CONTINUE READING BELOW
3. Pulled Pork Adobo (P265) at Harina Artisan Bakery Cafe
Eat this...because you want to show off your Filipino pride.
Filipino adobo has shown up in the menus of East Village eateries, Brooklyn weekend markets, US magazines, and websites like Buzzfeed. Harina's version is that rare and special moment when Filipino and Southern American flavors meet, giving us pulled pork marinated in vinegar, soy sauce, and garlic. Harina then ups the ante with gorgeous slices of fried kesong puti strewn over the meat. It's a potent combination that doubles as lunch and a hefty merienda. Plus points go to Monsees, the bakery that owns Harina, for cranking out fresh, handmade bread daily.
Harina Artisan Bakery Café is at Katipunan Avenue, White Plains, Quezon City.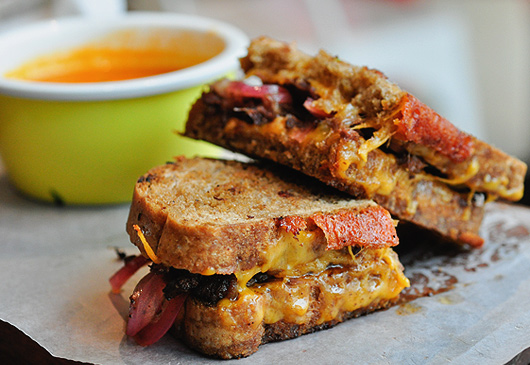 2. 48-hour Short Rib and Grilled Cheese Sandwich (P650) at Green Pastures
Eat this...after watching a Filipino tearjerker movie, or if your date just stood you up.
ADVERTISEMENT - CONTINUE READING BELOW
Put away that tub of ice cream-Green Pastures carries a grilled cheese sandwich that can soothe even the most troubled heart. Or stomach. (Guys get both mixed up a lot.) The rustic restaurant trumpets farm-to-table cuisine, using organic and native ingredients for downright earthy comfort food. Opt for Chef Robby Goco's feel-good grilled cheese sandwich-Cacciocavallo, Parmesan, and cheddar in crinkly toast. Even better, there's one with strips of short rib softened for two days and sprinkled of caramelized onions. Dip a slice in the cherry tomato soup, take a bite, and get lost in the flavors.
Green Pastures is at 4/F Shangri-La Plaza East Wing, Mandaluyong City.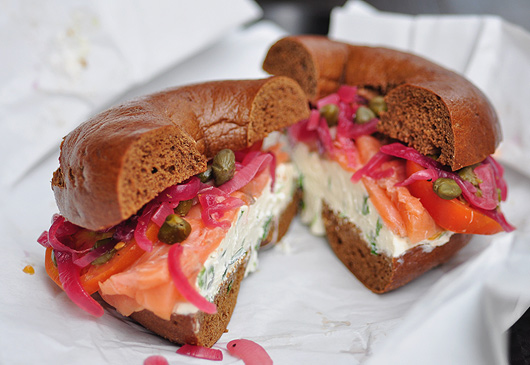 1. L.E.S. Addiction (P400) at L.E.S. Bagels New York Deli + Bakery
Eat this...when you want to feel like you're in the East Village.
Always the purveyor of New York culinaria, Brooklyn native Chef Cuit Kauffman wowed us in the past with Borough and Nolita, only to train his sights next on another Big Apple icon: the humble bagel. This working man's bread gets an up-do at his deli, L.E.S. Bagels, in posh McKinley Hill. The chewy dough comes in variants ranging from the sweetish cinnamon raisin to the sesame-studded. The L.E.S. addiction, which takes us back to the bagel's Jewish roots: coarse pumpernickel and brined ribbons of salmon thrown in with tomatoes, onions, and capers. Then there's the knee-trembling wad of tarty scallion cream cheese that Chef Cuit piles underneath. Perfection. Or should we say, addiction.
ADVERTISEMENT - CONTINUE READING BELOW
L.E.S. Bagels is at Tuscany Estates, Upper McKinley Road, McKinley Hill, Bonifacio Global City.
ALSO READ:
SPOT.ph Round-Up: 10 Ice Cream Sandwiches in Manila that are Worth the Calories
Top 10 Sandwiches You Must Try This Year (2012)
Share this story with your friends!
---
Help us make Spot.ph better!
Take the short survey
Load More Stories