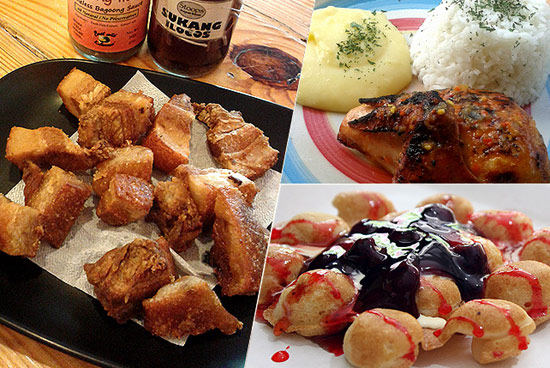 (SPOT.ph) Heavyweight food franchises are taking over Manila, but the hustle and bustle in commercial food spaces can be too much to handle at times. While there's inexplicable excitement in lining up for the latest Michelin-star restaurant in the city (there's reportedly more coming), there's a bigger thrill in discovering holes-in-the-wall that bring a reliable, under-the-radar dining experience for the serious foodie.
Most of our finds are a wee out of the way, but these hidden gems are worth getting lost for. You Jie Xiao Chao in Makati, for example, is a must-try for its Hunan cuisine. From the outside it looks like a regular townhouse, but it's a secret store of Chinese fare with a spicy specialty. In the south, Chef Bruce Rickett's Sensei Sushi Bar continues to create buzz with its constantly changing menu filled with innovative Japanese food. All the way in Fairview (or "Far"-view as others would call it) is Tri-Mo Shawarma Co., with shawarma options worth the risky drive along the infamous Commonwealth Avenue.
ADVERTISEMENT - CONTINUE READING BELOW
After researching and road-testing, we list more must-try holes in the wall for your dining alternatives.
This list is not ranked.
ALSO READ:
SPOT.ph's 10 Must-try Holes in the Wall: 2010 Edition
SPOT.ph's 10 Must-try Holes in the Wall: 2011 Edition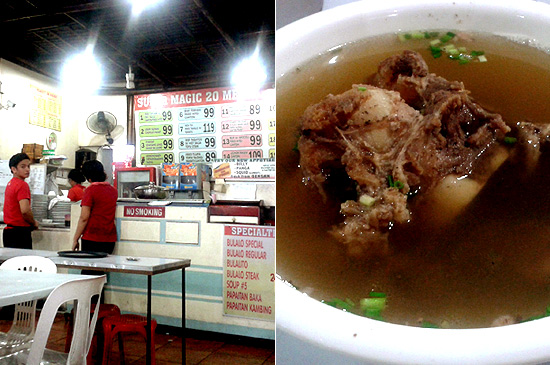 R&J Bulalohan, Tapsilogan, Atbp.
600 Boni Avenue, Mandaluyong City
Tel. No. 533-4811
Open 24/7
ADVERTISEMENT - CONTINUE READING BELOW
Recommended Videos
When a bulalo craving hits at midnight, never fear. R&J Bulalohan, Tapsilogan, Atbp. is here. The nook serves Filipino comfort 24/7 for loyal customers and first-time diners. Squeezed in between a fast-food establishment and a gasoline station at Maysilo Circle in Plainview, Mandaluyong, the spacious interior complete with areas for smokers and non-smokers comes as a surprise. This popular joint serves nilaga-style bulalo (P170 and up) that is hot, salty, chunky, and utterly sinful. It's become a favorite watering hole for yuppies too.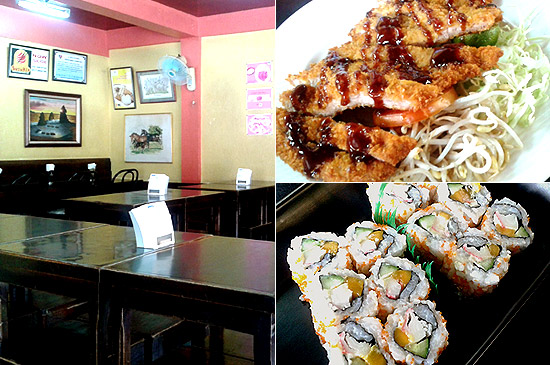 ADVERTISEMENT - CONTINUE READING BELOW
Suzu Kin
9753 Kamagong Street, San Antonio Village, Makati City (with branches in Pasig, Kamuning, and San Juan)
Tel. No. 896-7143
Open from 10 a.m. to 2 p.m. and from 5 p.m. to 10 p.m. (Monday to Saturday)
If they didn't have signage, Suzu Kin could easily be dismissed as a residential unit. Positioned at the corner of Sampaloc and Kamagong Streets in San Antonio, Makati, this straight-up hole-in-the-wall serves authentic Japanese dishes. Wooden tables and chairs are lined up inside, and photo menus occupy the walls. The place gets packed at lunch and dinner with patrons and newcomers coming in groups big and small. Suzu Kin has a long list of katsu, tempura, teriyaki, noodles, maki, sushi, teppanyaki, and house specialties to choose from. For a full meal, try the Tonkatsu Teishoku (P205), a bestseller that breaded pork, rice, and miso soup. Another Suzu Kin favorite is the California Maki (P208). Each rolled piece is packed with crab meat, mango, cucumber, and ebiko with Japanese mayo.
ADVERTISEMENT - CONTINUE READING BELOW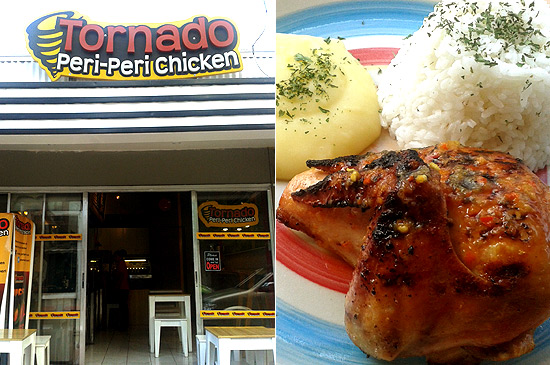 Tornado Peri-Peri Chicken
104 Maginhawa Street, Teacher's Village, UP Diliman, Quezon City
Tel. No. 0917-592-0901
Open daily  from 11 a.m. to 10 p.m.
Tornado Peri-Peri Chicken is the newest addition to Maginhawa's long list of neighborhood restaurants. The tiny eatery is cramped with a couple of small tables, and more seating available al fresco. The spicy and herbacious Peri-Peri chicken meals are priced from P120 to P230. Each chicken is roasted just right, with its natural juices still intact and mouthwatering. What adds that precious spicy kick is the sauce-Original, Tiger's Fury (mildly spicy), and Dragon's Breath (extremely spicy). Steaks with unlimited gravy (P200 to P220), baby back ribs (P220 to P750), chicken wings (P145 to P200), and burgers (P105 to P140) are also on offer.
ADVERTISEMENT - CONTINUE READING BELOW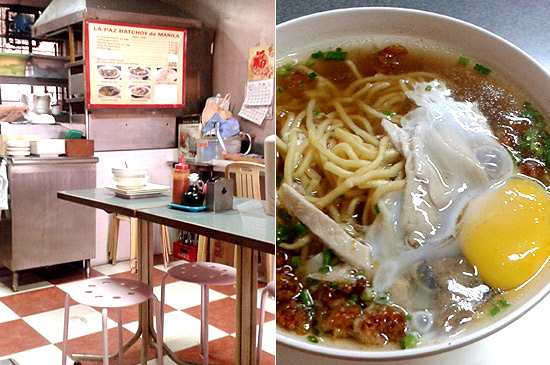 La Paz Batchoy de Manila
G/F C&R Building, 110 Escoda Street, Barangay 676, Ermita, Manila
Hidden inside a building along Escoda Street, between Taft Avenue and Leon Guinto Street, is La Paz Batchoy de Manila, a small joint that has been serving cheap but generous La Paz Batchoy for decades. Each bowl is piping hot the way La Paz Batchoy should be. They have a short menu of five food items, with the Super Batchoy with Egg as the top choice. This house specialty will give you a bit of everything. For P72, you'll get a bowl of steaming, slightly thick broth that's packed with chicken, beef, pork, and liver bits, finished off with an egg, and topped with spring onions.
ADVERTISEMENT - CONTINUE READING BELOW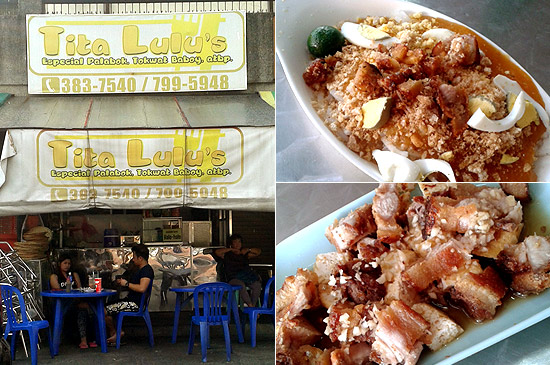 Tita Lulu's Special Palabok, Tokwa't Baboy, Atbp.
Agora Complex, N. Domingo Street, San Juan City
Tel. No. 383-7540, 225-7201
Open daily from 8 a.m. to 10 p.m.
There's a spot at the Agora complex that is home to one of the best tokwa't baboy in the metro. Tita Lulu's, a small stall with a few foldable chairs and tables, serves affordable (P40 and below per order) palabok, tokwa't baboy, pancit bihon, lumpiang prito, and arroz caldo. Each generous serving of their palabok is packed with firm rice noodles, smothered in rich sauce with a prominent seafood flavor, and topped with crunchy lechon kawali bits. The same crispy pork makes Tita Lulu's tokwa't baboy stand out. The sour-yet-sweet, garlic-infused vinegar adds contrast to the salty dish.
ADVERTISEMENT - CONTINUE READING BELOW
Hint: While you're in the area, we also recommend Benson's BBQ, another neighborhood favorite, just right beside Tita Lulu's!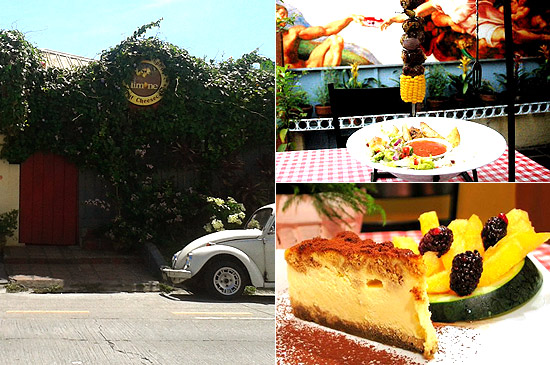 Don Limone Grill
199 Aguirre Avenue, BF Homes, Parañaque City
Tel. No. 345-1803
Open from 5 p.m. to 12 a.m. (Tuesday to Sunday)
BF Homes in Parañaque is known for its smorgasbord of old and new mom-and-pop shops. Make the trip and look for Don Limone Grill, a discreet Mediterranean restaurant on Aguirre Avenue. The al fresco area is ideal for big groups, while the indoor dining section is a cozier, date-friendly place. The yellow-and-maroon walls are decked in framed works of art, photos, and posters, and tables are accented with dainty decor and flowers. Don Limone Grill is known for their heavenly cheesecakes (P205 to P255)-thick and tangy like how cheesecakes should be. The specials include Braised Lamb Shanks (P395) in burgundy sauce and herb couscous and the Lingue Limone (P355), beef tongue in rich Brandy mushroom cream sauce. Their pizzas (P275 to P415) may be divided into two flavors of your choice.
ADVERTISEMENT - CONTINUE READING BELOW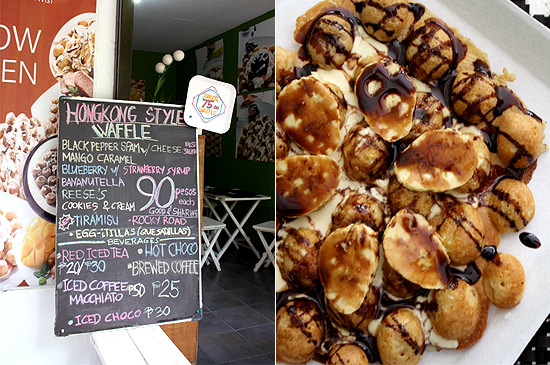 Egg-it 
6F San Rafael Street corner Sta. Rosa, West Kapitolyo, Pasig City
Tel. No. 0915-269-6424
Open daily from 8:30 a.m. to 9:30 p.m.
There's no better shopping companion in Hong Kong than a packet of freshly cooked soft-yet-crisp egg waffles. The good news is that you can find that same plush goodness in West Kapitolyo. Egg-it, a play on Hong Kong's eggette, focuses more on the flavor of waffle than egg, flourishing the doughy tray with popular breakfast toppings like strawberries and blueberries, Nutella and mangoes, Spam, and Reese's. It's a relaxed and winning formula that combines value for money, familiar flavors, and mouthwatering food presentations. The small room, with the kitchen right behind the counter, can get hot at times, but you can cool down with an iced tea or iced coffee. Trust us, the Black Pepper Spam and Cheese (P75 to P90) can replace any breakfast any day.
ADVERTISEMENT - CONTINUE READING BELOW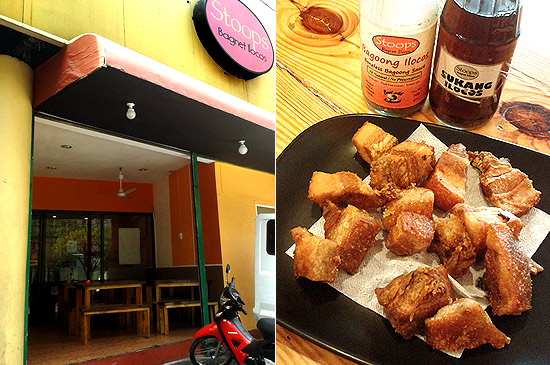 Stoops Bagnet Ilocos (Malugay)
7224 The Zone, Malugay Street corner Buendia Avenue, Bel-Air, Makati City (with branches in Malate and Quiapo)
Tel. No. 0932-154-7881
Open from 10 a.m. to 10 p.m. (Monday to Saturday)
On the quiet side of Malugay Street sits Stoops Bagnet Ilocos, a modest fast food-place that serves guilt-inducing Ilocos bagnet (the guiltier, the better!). The interiors are plain, but the seemingly simple food choices are worth the trip. Their bagnet meals range from P98 to P105, giving patrons and first-timers total bang for their buck. The salty, unevenly cut pork pieces are crispy on the outside, tender as needed on the inside, and best enjoyed with Bagoong Ilocos or Sukang Ilocos.
ADVERTISEMENT - CONTINUE READING BELOW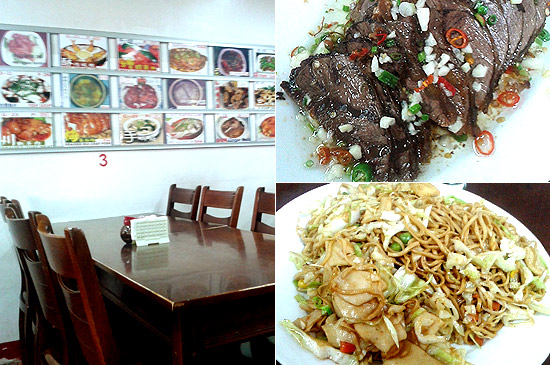 Suzhou Dimsum (Malate)
1715 A. Mabini Street, Malate, Manila (with branches in Parañaque, Greenhills, Mandaluyong, and Manila)
Tel. No. 302-4347
Open 24/7
It's easy to miss Suzhou when treading Mabini Street in Malate. The dingy main entrance is locked, giving the impression of an abandoned joint. Right beside it, however, is the door to one of Manila's most-loved, authentic Chinese restaurants. The inside is shockingly spacious and traditionally Chinese, with tables for big groups and printed photo menus posted on the walls. Suzhou serves impressive Xiao Long Bao (P100 for an order of four pieces). The slightly thick wrap is bursting with piping hot soup, flavorful, savory, and complementary to the generous pork filling. The Soy Sauce Steamed Beef (P290), another bestseller, works best paired with the Suzhou Fried Rice (P150). The beef is tender and juicy with a spicy kick to it. A fourth must-try is the Fried Noodle with Seafood (P160), a hearty serving of firm noodles with vegetables and fresh seafood.
ADVERTISEMENT - CONTINUE READING BELOW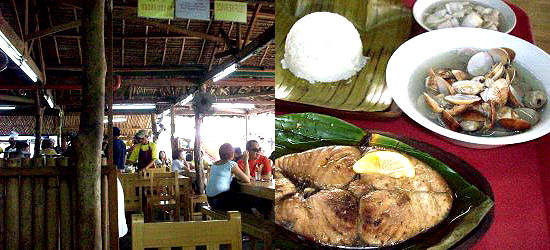 Vibang's Delight
Abel Nosce corner Aventine Streets, BF Resort Village, Talon Dos, Las Piñas City
Open daily from 9 a.m. to 10 p.m.
This Southern neighborhood hole-in-the-wall relies heavily on word of mouth, the same strategy that has earned it a strong following from residents and serious diners who go out of their way for home-cooked Filipino meals. Vibang's Delight offers frugal but filling meals that range from P150 to P200 (complete with dessert!). Nothing is more Filipino than their kubo and carinderia setup with an additional "paluto" area, where customers can select meat and fish for fresh cooking. Aside from their bestselling Beef Caldereta and Ginataang Manok, be sure to try their selection of kakanin.
ADVERTISEMENT - CONTINUE READING BELOW
ALSO READ:
SPOT.ph's 10 Must-try Holes in the Wall: 2010 Edition
SPOT.ph's 10 Must-try Holes in the Wall: 2011 Edition
Photos by Jean Natividad and from Don Limone Grill, Kanto Freestyle Breakfast's Facebook page, and Mark Cabuloy of Manila Food Finds (Vibang's Delight).
Share this story with your friends!
---
Help us make Spot.ph better!
Take the short survey
Load More Stories