10 Manila Restaurants with Breathtaking Views
These spots all have something extra special on the menu: a kick-ass view.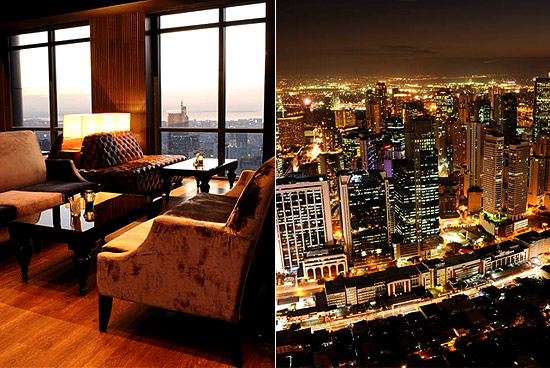 (SPOT.ph) Apart from dessert, nothing completes and enhances a dining experience the way a perfect view does. Sure, you could be eating a good meal, but eat that meal while looking at a spectacular sight and suddenly the bad salad becomes more bearable. It's instantly a great, memorable experience on its own. These 10 spots offer great food (nope, no bad salad) and they have a bonus: a great view-and we're not just talking about skylines.
This list is not ranked.
ALSO READ:
SPOT.ph's Guide to Proposing in Manila
Top 10 Most Romantic Restaurants in Manila (2011)
SPOT.ph's 10 Most Romantic Restaurants in Manila (2013)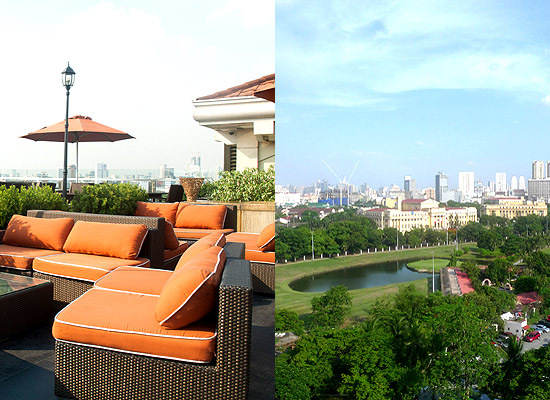 1. Sky Deck
10/F The Bayleaf, Muralla Street corner Victoria, Intramuros, Manila
Tel. No. 318-5000, 328-3170
Open daily from 5 p.m. to 12 a.m.
Perfect for: A sunset sesh with friends.
One step onto this rooftop bar instantly transports you to another place (think Morocco!). You'll only remember you're in Manila once you catch a glimpse of the Manila City Hall Clock Tower in the middle of the spectacle. From your position on 10th-floor restaurant, the Sky Deck offers an awesome 360-degree view of historical structures like the National Museum and Fort Santiago, the skyscrapers of Makati, and even the far stretch of Ortigas, Binondo, Manila Bay, and a panorama of greenery that is the Club Intramuros golf course. The 80-seater al fresco dining space is decorated with tables, chairs, and huge lounge sofas that make up the perfect chill spot to watch the sunset or star-gaze. Live acoustic music completes this picturesque scenery. It's the perfect place to seek refuge from the crazy streets of Manila. The view, the food, the vibe, and the service are all top rank.
ADVERTISEMENT - CONTINUE READING BELOW
Must-tries: Bayleaf Bagnet (P400), Kesong Puti Fondue (P365), Nachos (P350), and the Barbecue Buffet (P780++) on Fridays and Saturdays.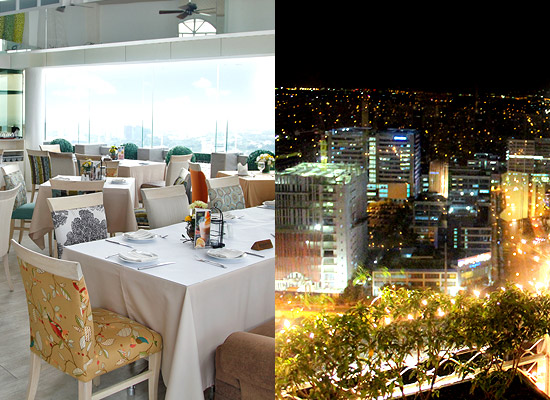 CONTINUE READING BELOW
Recommended Videos
2. The Nest
31/F Vivere Hotel, 5102 Bridgeway Avenue corner Asean Drive, Filinvest Corporate City, Alabang, Muntinlupa City
Tel. No. 771-7777
Perfect for: Popping the question
The perfect ambiance and view equal a great romantic date. The view is so overwhelmingly beautiful that it might compel you to seize the day and pop that big question. Don't worry, she'll be so caught up in the moment, she won't think of saying "no." Located on the 31st floor of the Vivere Hotel in Alabang, The Nest offers a view unlike any other, especially at night. From that high up, you'll see the nearby residential communities and business district of Alabang, but there's more. The view stretches into the distance until the tiny lights far, far away look like fireflies glimmering in the night. It's the perfect backdrop to any special event you'll want to etch in your memories.
ADVERTISEMENT - CONTINUE READING BELOW
Must-tries: Gambas and Chorizo Pasta (P480), Duck Adobo (P680), and Bistecca with Mixed Green Salad (P2,100, good for two).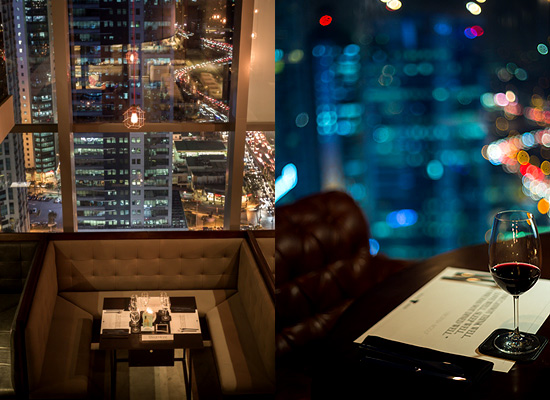 3. Black Sheep
W Fifth Avenue, 32nd and 5th Street, The Penthouse, Bonifacio Global City
Tel. No. 478-4498, 0917-871-4388 (reservations are encouraged from 1 p.m. to 6 p.m.)
Open from 7 p.m. onwards (Monday to Saturday)
Perfect for: The adventurous
Black Sheep is definitely a feast for the eyes and the taste buds. When the restaurant opened early this year they instantly made waves in the local dining scene because of their progressive approach to food. They've pushed the limits with dishes like Longanisa Ice Cream, Hopia Mani Popcorn, Foie Gras Rocher, and Bahay Kubo (a salad that features all the vegetables mentioned in the song). Upon entering the penthouse-restaurant-slash-bar, the huge, spotless open kitchen manned by Chef Jordy Navarra welcomes you. Walk into the main dining area to see the exhilarating sight: bustling Bonifacio Global City transforms into something exquisite from this lofty perspective. Book the View, a corner table, to fully appreciate it. Or, if you want to take your dining experience to the next level, get the Sky Table, a private section in the middle of the restaurant. This VIP space will give you a 360-degree view of the whole place.
ADVERTISEMENT - CONTINUE READING BELOW
Must-tries: Ketel One Degustacion (P1,100), Bar Bites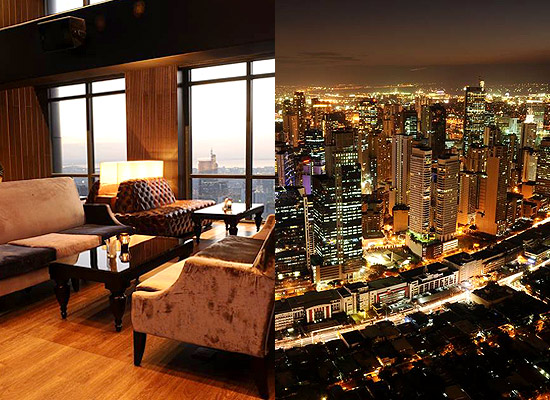 4. 71 Gramercy
71/F Gramercy Residences, Century City, Kalayaan Avenue corner Salamanca Street, Makati City
Open daily from 6 p.m. to 10 p.m.
Perfect for: A hot dinner date followed by drinks
Manila's current hottest nightspot is more than the party place for the country's "It" folks. From its position atop the highest building in the country, 71 Gramercy has a stunning view-which is probably what attracts the young and the beautiful. The New York-inspired haunt opened its doors to the dining crowd in February, and those whose bedtime is before midnight should be privileged to enjoy Chef Carlo Miguel's dishes paired with that jaw-dropping view. Just make sure you're dressed to impress. Pick the comfy couches near the huge picture windows to get dibs on the amazing scene, a backdrop of darkness peppered with a myriad of luminous colors from the thousands of lights that lend a warm glow to the night. You're so high up that the normally awe-inspiring Makati buildings below end up looking like mere Lego pieces. 71 Gramercy is taking dining to new heights, literally.
ADVERTISEMENT - CONTINUE READING BELOW
Must-tries: 62 Degree Egg (P290), Mushroom Ravioli (P390), Duck Sisig (P680)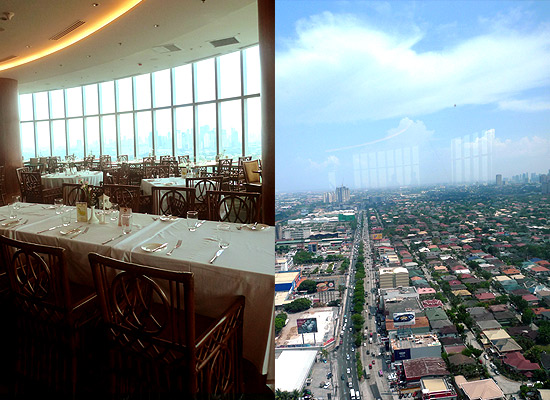 5. 100 Revolving Restaurant
33/F MDC 100 Building, C5 corner Eastwood Drive, Libis, Quezon City
Tel. No. 962-1016, 962-5654
Open daily from 11 a.m. to 11 p.m.
Perfect for: Brunch, lunch, high tea, and dinner
Chef Jessie Sincioco knows that a good view is sometimes as good a seasoning as salt. She also helms Top of the Citi in Makati. If you're wondering what a revolving restaurant is, it's pretty much that-a restaurant that revolves. 100 Revolving Restaurant circles at a very slow pace (each turn takes an hour and a half) that you won't feel anything. You'll only notice it when you realize that the scene has shifted from Sierra Madre in Laguna to the buildings of Ortigas. The 360-degree view of the metro is lovely during the day, but outstanding at night. A year since it opened, this restaurant already has a record number of marriage propositions. A panoramic picture this beautiful only deserves the best food-again, a Chef Jessie Sincioco signature.
ADVERTISEMENT - CONTINUE READING BELOW
Must-tries: Smoked Milkfish and Tuyo Flakes Pasta (P395), Alugbati and Micro Arugula Salad (P200), Grilled Lamb Chops (P1450), and the Revolving Tortas (P200)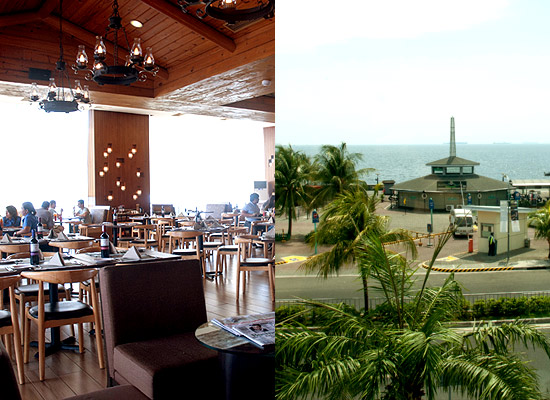 6. Highlands Prime Steakhouse
2/F Entertainment Mall, North Wing, SM Mall of Asia, Pasay City
Tel. No. 566-0768, 901-3243, 556-0769
Open from 10 a.m. to 10 p.m. (Sunday to Thursday) and 10 a.m. to 11 p.m. (Friday to Saturday)
Perfect for: Family gatherings and meetings
Okay, okay, almost all of the establishments on this side of SM Mall of Asia have a view of the bay. What makes this particular spot inside the Highlands Prime Steakhouse so special? Strategically located in the perfect corner of the entire shopping area, it gives you the best and clearest view of Manila Bay. The corner function room with floor-to-ceiling windows can hold as few as 15 and as many as 100 people. The best time to schedule your reservation is at 5 p.m., just in time to see the stunning sun go down and witness the sky's color change from light blue to fiery orange before making its way into the night. Table No. 10 is also a favorite proposal spot.
ADVERTISEMENT - CONTINUE READING BELOW
Must-tries: Squid Ink Pasta (P350), Truffle Mushroom Pasta (P370), Ribeye Steak (P1,480/10 oz)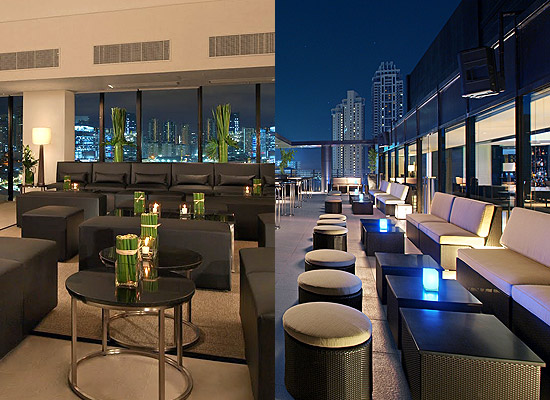 7. Straight Up
Roof Deck, Seda Hotel, 30th Street corner 11th Avenue, Bonifacio Global City
Tel. No. 945-8888
Open daily from 5 p.m. to 2 a.m.
Perfect for: An after-work wind-down
Bonifacio Global City has quickly become a lifestyle destination. Amid this urban landscape is Straight Up, a roof-deck restaurant and bar located in Seda Hotel. As early as 5 p.m., people flock to the medium-sized establishment for their happy-hour fix which includes an unobstructed view of Laguna de Bay. That's a rare sight in BGC considering the number of buildings that have sprouted in the past year. Straight Up has an indoor air-conditioned area that gives you a bird's-eye view of the verdant parks and commercial establishments in Bonifacio High Street. The most coveted seats, though, are those located al fresco where, surprisingly, it's pleasantly breezy with the panoramic view quite relaxing. Straight Up definitely offers a different kind of high.
ADVERTISEMENT - CONTINUE READING BELOW
Must-tries: Smoked Baby Back Ribs (P650), Grilled Norwegian Salmon in Lemon Caper Sauce (P600), and Osso Buco Lamb Shank (P850)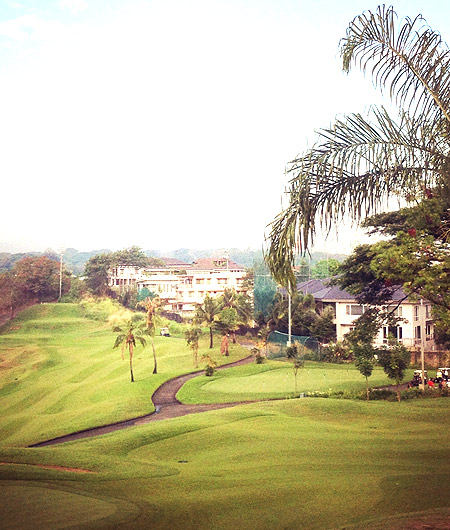 8. Dencio's
Capitol Greenstreet Building, Capitol Hills Golf and Country Club, Quezon City
Tel. No. 952-9356
Open daily from 10 a.m. to 12 a.m.
Perfect for: Barkada get-togethers
This branch of Dencio's proves that you can rise from the ashes-which is did after it burned down in 2011. The roof deck of the Capitol Hills Golf Club is the last place you would expect a Dencio's branch, but we're ecstatic that it's there. Like most Dencio's outlets, the interiors are relaxed and the vibe is chill. The best tables on the deck are the ones close to the perimeter where you'll get a clear view of the sprawling golf course. The scene is relaxing and the skyline is so far away you will forget you're in Quezon City. Nothing could be more perfect than ice-cold beers, great company, a beautiful afternoon, and the sisig.
ADVERTISEMENT - CONTINUE READING BELOW
Must-tries: Dencio's Krispy Sisig (P219)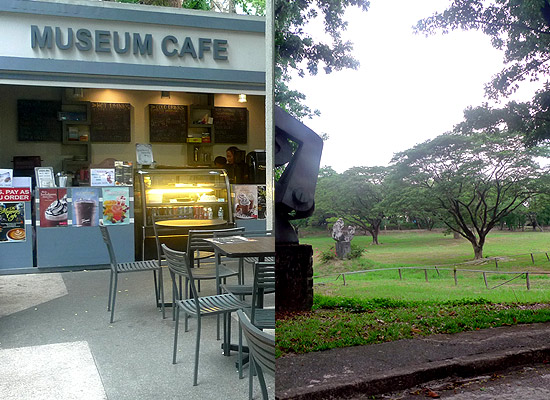 9. Museum Café at Vargas­
Vargas Musuem, University of the Philippines, Diliman, Quezon City
Tel. No. 925-6700
Open from 9 a.m. to 6 p.m. (Monday to Saturday)
Perfect for: Me time
The Vargas Museum's beauty is not only confined inside the three-story structure. Adjacent to the museum, located inside the UP Diliman campus, sits a small café aptly named Museum Café (not to be confused with a similarly named place in Greenbelt). The small al fresco space's appeal encompasses its simple, memorable dishes. Its true charm is felt once you sit below the kapok trees that tower over the cafe, coffee cup in hand, of course. Floor-to-ceiling windows on one side display the museum's current exhibit by the country's best artists. On the other, an untrimmed landscape of greenery dotted with giant artworks and a glimpse of the university's main road. It's peaceful and quiet, and with the wind blowing snow-like kapok balls and dried leaves all over, it makes for the perfect Wong Kar-wai moment.
ADVERTISEMENT - CONTINUE READING BELOW
Must-tries: Champorado with toppings (P45), Nachos con Queso (P85), Banofee Pie (P80/slice)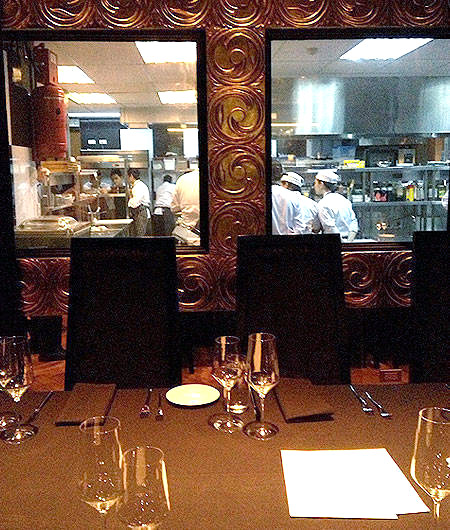 10. Madison's Bistro Moderne
G/F Edsa Shangri-la Hotel, Garden Way, Mandaluyong City
Tel. No. 631-4675
Open from 6:30 a.m. to 2am (Monday to Saturday)
Perfect for: Serious foodies who want to dine in private, Big Brother style
Madison's layout is similar to that of a house-there's a main dining area, an outdoor patio, and a hallway that leads to a more private room. That's where you'll find the best seat in the house, the Chef's Table. It's a huge 12-seater antique complemented by plush chairs comfortable enough to sleep in and walls draped with velvet curtains. The secret (not anymore!) Chef's Table is a treat for patrons who want to experience food on a whole other level. Leave it to Executive Chef Giovanni Sias and Chef de Cuisine Hylton Le Roux to come up with a mind-blowing menu for the night. Got a special request? Word has it they can make anything happen in this room (P2,800/head for a minimum of eight people). And that's not even the best part. Opening the heavy curtains in the room will reveal, on one side, a view of the bar and restaurant, and on the other side, a view of the restaurant's busy kitchen. It's like a boxseat to a real culinary show. Watch closely as the chefs expertly prepare your food via the one way-window. They won't even know you're there.
ADVERTISEMENT - CONTINUE READING BELOW
Must-tries: Speck and Goat Cheese Mousse (P650), Pistachio-crusted Black Cod Fish (P650)
Photos by Monica Barretto Savellano (Dencio's, 100 Revolving Restaurant, Highlands Prime Steakhouse, Vargas, Sky Deck), Angelo Comsti (Madison), and courtesy of the establishments
ALSO READ:
SPOT.ph's Guide to Proposing in Manila
Top 10 Most Romantic Restaurants in Manila (2011)
SPOT.ph's 10 Most Romantic Restaurants in Manila (2013)
Share this story with your friends!
---
Help us make Spot.ph better!
Take the short survey
Load More Stories