The New and Improved Peri-Peri Charcoal Chicken
SPOT.ph blogger Angelo Comsti went on a chicken adventure at this brand-new restaurant.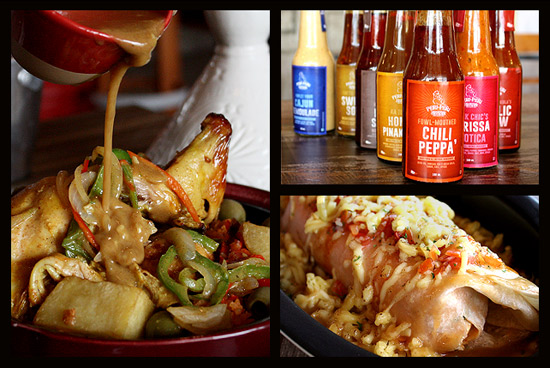 (SPOT.ph) Like many Filipinos, I love my sawsawan. Sauce is a kitchen and dining table staple in the Philippines and every household usually shelves the typical salt and pepper shakers to make room for vials of soy sauce, vinegar (from the usual white to the more complex paombong and sinamak), and patis (fish sauce). Then there are extras like chopped chili, crushed garlic, and wedges of fresh calamansi. Still, the newly opened Peri-Peri Charcoal Chicken in Promenade, Greenhills, takes it a step further. They not only give you the usual condiments to adjust the seasoning, but also a dozen other original sauces to slather, dunk, or pair with your chicken.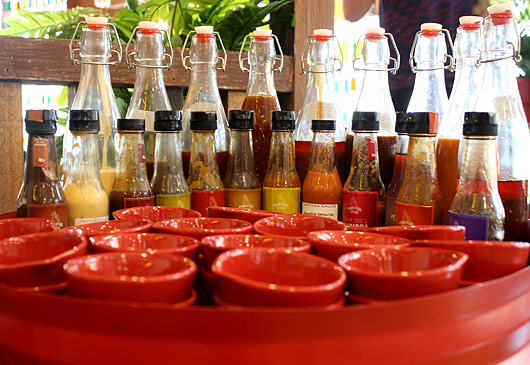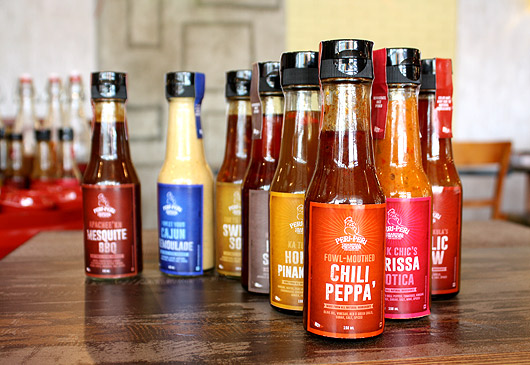 ADVERTISEMENT - CONTINUE READING BELOW
A designated "sauce steward" rolls the sauce cart to the tables and presents customers with a bevy of kookily named, chili-based dips, ranging from mild-tasting to mouth-burning. Each has its own very distinct profile like the Yolko-ono's Trippy Chili Choc' Lit with the initial sweetness smoothly transforming into savory heat, or the Chicky-Tita's Mango Lime with a punch that leaves a trail of tartness down the throat. People unaccustomed to spice will find pleasure in Count Cluckula's Garlic Brew, Hen Dynasty's Hoisin Sesame, Tokyo Tori's Sweet Soy, and Poulet Vous Cajun Remoulade-all of which spark more than actually ignite. Apachee'kn Mesquite BBQ, Ka Tuka's Honey Pinakurat, and Peckyaw's Thrilla O'da Grilla make the chili's presence known, but not in a way that it demands attention, while the Shfix Chic's Harissa Exotica and Fowl-Mouthed Chili Peppa' are flavor bombs waiting to explode. The steward invites you to sample as many and as much as you want of the sauces, and encourages you to combine and experiment to come up  with your own signature sawsawan.
CONTINUE READING BELOW
Recommended Videos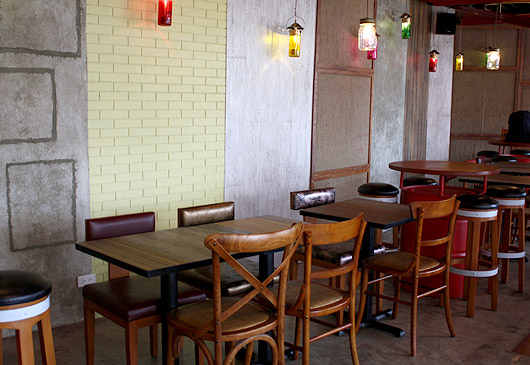 ADVERTISEMENT - CONTINUE READING BELOW
The mixed wall patterns and lighting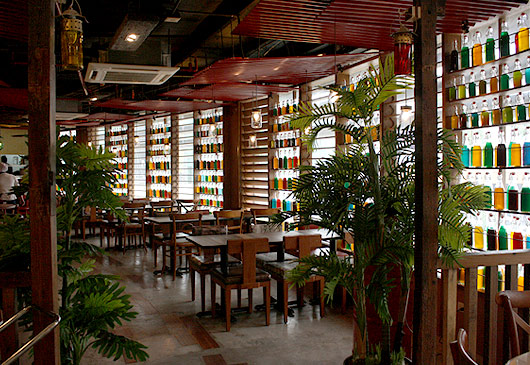 Festive interiors
The saucery is just one of the many changes the Peri-Peri Grill House went through. Despite the name change, the restaurant has remained in the Greenhills premises, moving only a few yards to the second floor of the new wing. The entrance is a hidden nook beside the popcorn stand and a spiraling staircase opens up to a long and spacious hall that shocks the eyes with color-from the wall of bottles filled with blue, red, and orange liquid to the Crayola-red metal drams and patches of corrugated roofing sheets dangling from the ceiling. The restaurant is a play and display of mixed materials as faux leather seats, wooden shutters and chairs, tiled walls, and Mason-jar lamps add an eclectic character to a shared space.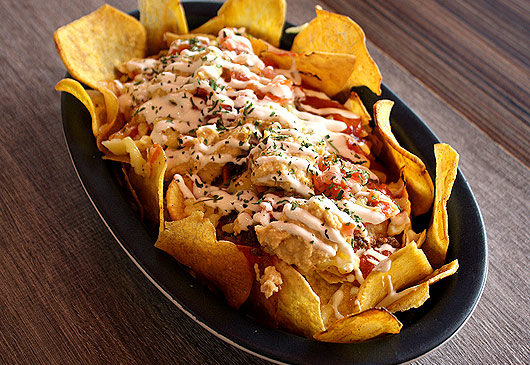 ADVERTISEMENT - CONTINUE READING BELOW
Chori Nachos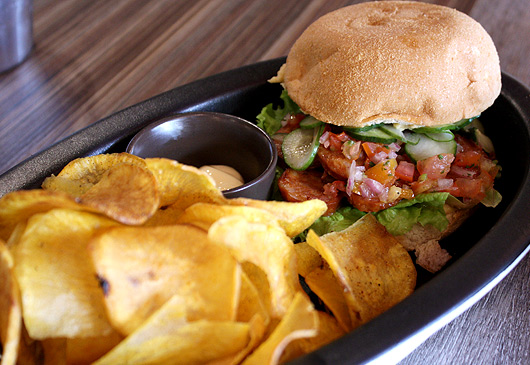 Choripan
The menu has also been significantly rehashed from the old Portuguese-inspired repertoire. The Peri-Peri Chori Nachos (P380) is a departure from the typical as crispy thin slices of sweet potato surround a mound of nacho chips, tomato salsa, homemade chorizo, shredded cheese, and hummus. In the Choripan (P285), sweet chorizo is grilled and sandwiched between a freshly baked soft pan de sal bun. Both dishes are satisfying in their own right, but they're only opening acts to Peri-Peri's real star: the twice-cooked chicken.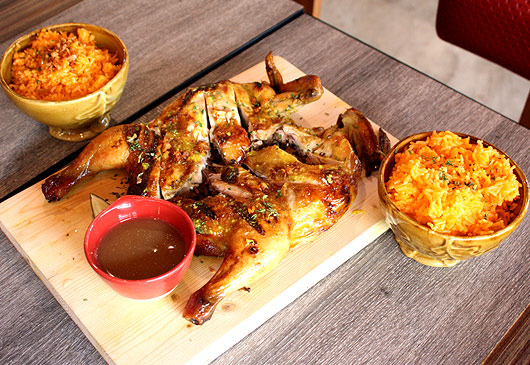 ADVERTISEMENT - CONTINUE READING BELOW
Todo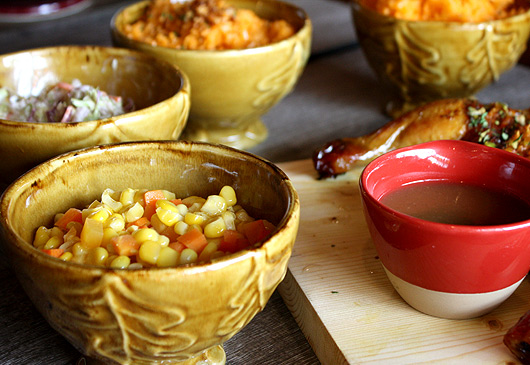 Sides
Kept overnight in a marinade with peri-peri chili then rubbed with lemon, garlic, and herbs, the chicken is roasted in an oven then finished off on a hot grill to kiss its tenderness with a lovely char. The technique is beautifully showcased in the Todo (P525), a whole chicken that's been butterflied, cooked golden, then presented on a chopping board with two sides-a choice of rice, coleslaw, corn and carrots, roti, tortilla, or fries. Salads, pastas, flat bread pizzas, and sandwiches like the Arros Y Frango (P185), a cheese-laden warm tortilla stuffed with grilled chicken tenders, java rice, and mango, are also available.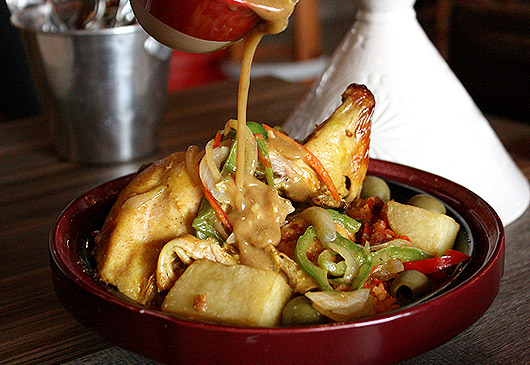 ADVERTISEMENT - CONTINUE READING BELOW
Chicken Tajine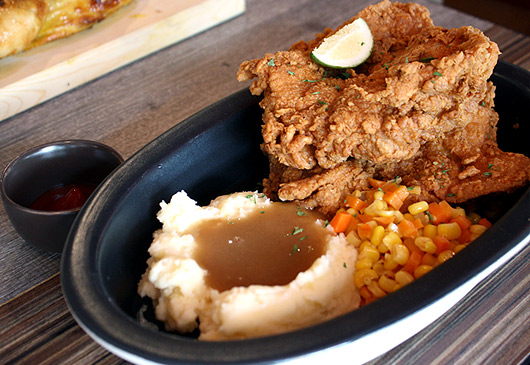 Numero Uno Chicken
For Big Plates, beef and barbecued back ribs come as options, but the Chicken Tajine (P570/half) is just as appealing as the other heavy hitters. Moist chicken pieces lay on a bed of olives, bell peppers, onions, potatoes, and rice. The curry sauce is poured over as it's served, giving the ingredients a good dose of that deeply spiced flavor. The Numero Uno Chicken (P395), even if battered, holds its rightful rank among the chicken dishes. Served with mashed potato, gravy, and fresh salsa, it's not at all oily. The skin is cooked to a delicious crunchiness and is at par with some of the metro's best restaurant fried chicken dishes.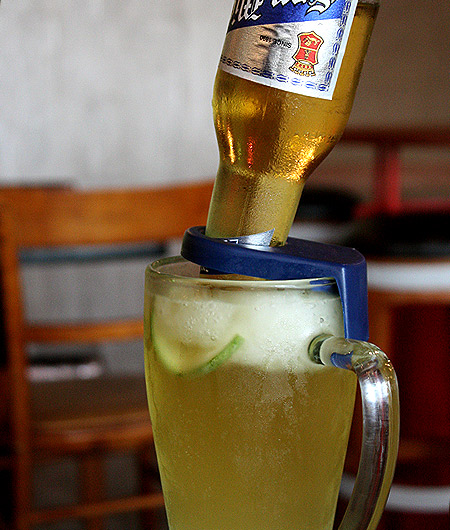 ADVERTISEMENT - CONTINUE READING BELOW
Beergarita (P170)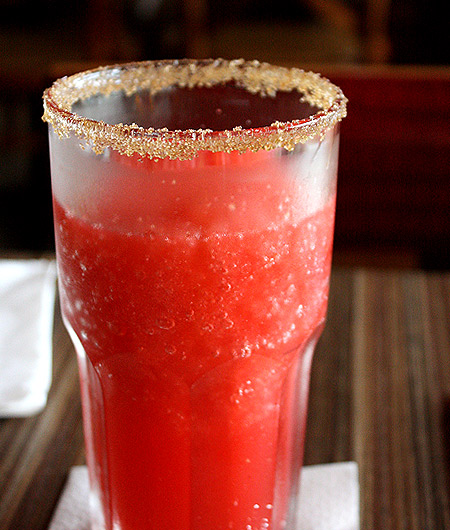 Strawberry Margarita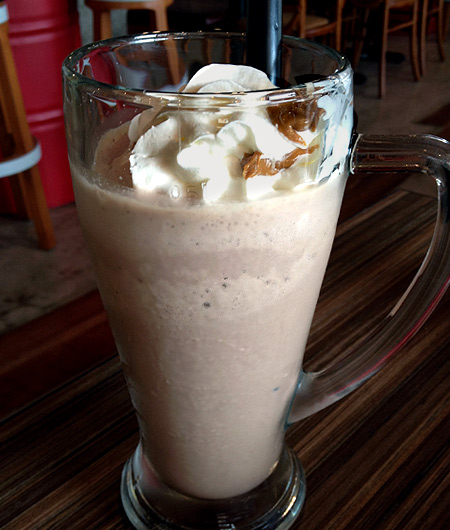 Peanut Butter Cup
The drinks show the same playfulness as the sauces. There are flavored mojitos, spiked milkshakes in fancy flavors like Banana Foster (P130) and Peanut Butter Cup (P150)  (non-alcoholic options are also available), and the Beergarita (P170), a large mug of margarita installed with an upright beer that just keeps giving.
ADVERTISEMENT - CONTINUE READING BELOW

The Peri-Peri Charcoal Chicken has certainly spiced things up. Are you ready to take the heat?


Peri-Peri Charcoal Chicken is at the second floor of the Promenade's new wing (beside Cinemas 3 to 5). Open from 10 a.m. to 9 p.m. (Sunday to Thursday) and 10 a.m. to 10 p.m. (Friday and Saturday). Sauces are available to take home for P145 a bottle.
Angelo Comsti writes for Yummy and Esquire in addition to other publications. He studied at Le Cordon Bleu Australia. Grab a copy of his bestselling cookbook From Our Table to Yours for a collection of generations-old heirloom recipes from some of the country's best cooks and chefs. Follow Angelo on Instagram (@fooddudeph) to catch more of his food discoveries.
Share this story with your friends!
---
Help us make Spot.ph better!
Take the short survey
Load More Stories