New on the Menu: Vask Modern Tapas & Gastronomic Cuisine
Chef Jose Luis "Chele" Gonzalez brings more Basque culinary delights to the table.
Vask Modern Tapas & Gastronomic Cuisine
5/F Clipps Center, 11th Avenue corner 39th Street, Bonifacio Global City
Tel. Nos. 217-6563, 0917-806-5292
Open from 11:30 a.m. to 2:30 p.m. and 6 p.m. to 2 a.m. (Monday to Saturday)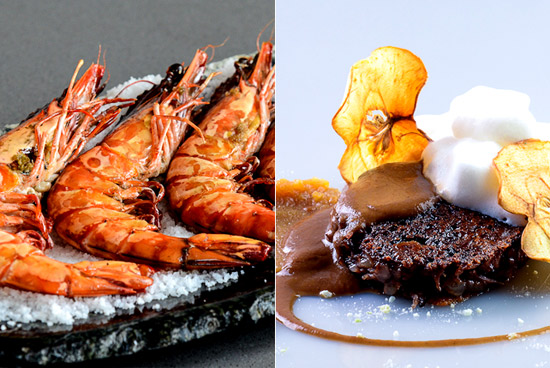 (SPOT.ph) You'd think that Chef Jose Luis "Chele" Gonzalez would take a moment to kick back and admire his accomplishments. Vask Modern Tapas & Gastronomic Cuisine has done nothing but impress Manila diners since it opened its doors early last year. The traditional and modern Basque flavors, innovative cooking techniques (read: molecular gastronomy), and exquisite presentations by Chef Chele (of El Bulli and Noma fame) have all lived up to the hype they've set upon themselves.
But he doesn't do that, of course. Like all geniuses, Chef Chele's mind is whirring with ideas and his determination turns them into reality. He's showing off his excessive creativity with a new menu for this Spanish haven.
The first step toward Northern Spain is the pintxos (P95), light snacks in the form of bread and topping held together by askewer. In the Gambas Alioli, Vask's homemade aioli hugs boiled shrimps resting on a piece of bread. The Roast Beef, meanwhile, combines tenderized beef (cooked sous vide for four hours), cheese emulsion, and confit bell peppers for a savory bite. A Filipino twist elaborates the Mexican starter, Carnitas de Cochinillo con Jalapeño (P395). Pork carnitas cooked in orange juice and coriander seeds are wrapped in brick leaves along with pig's ear chicharon, sour cream, and jalapeño. Think of it as sisig's more upscale sister.
ADVERTISEMENT - CONTINUE READING BELOW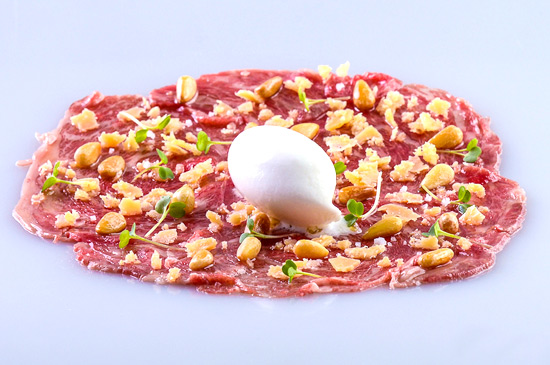 Carpaccio de Wagyu con Helado de Parmesano
The play on textures in the Carpaccio de Wagyu con Helado de Parmesano (P475) is pure genius. The melt-in-your-mouth Wagyu, creamy homemade Parmesan ice cream, crispy Parmesan chips, and crunchy pine nuts create an explosion in your mouth. The Gambas Crujientes con Jamon Iberico (P595), on the other hand, highlights bold flavors. Prawns with Iberian ham and Emmental cheese are fried and served with Jerez Vinegar Honey, allowing salty, sour, and sweet hints to blend perfectly.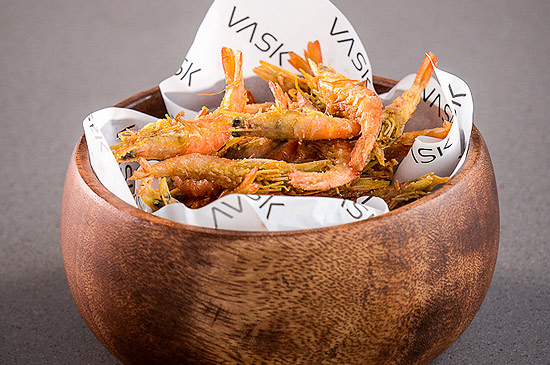 Quisquillas Fritas
The Quisquillas Fritas (P395), another traditional Basque dish, is one you won't be able to stop snacking on. Live baby shrimps are coated in flour and fried until crispy. A light seasoning avoid it from overwhelming the palate. Perhaps the absolute must-try though is the Atun Crujiente con Foie Gras y Cebolla Caramelizada (P695). Rare tuna is encased inside crispy fried kataifi pasta and served on a bed of rich caramelized onion, guilt-inducing pan-fried foie gras, and aromatic black sesame seed.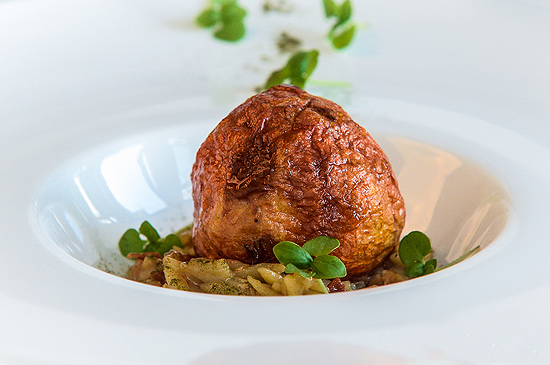 Tomate Relleno sobre Risotto de Semola de Setas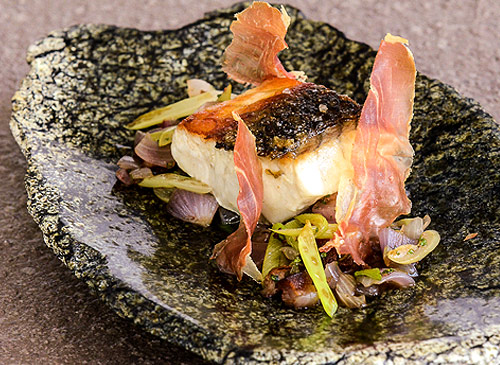 Dorada con Ragout de Ibericos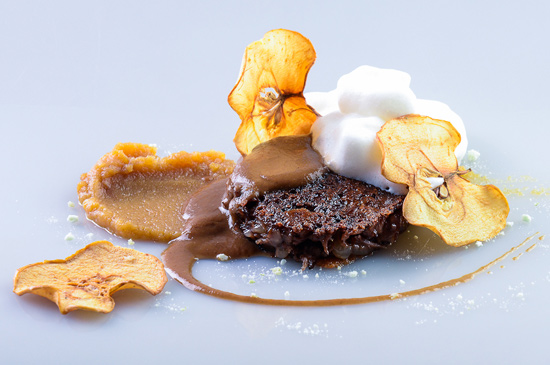 Galleta de Rabo Estofado de Toro con Manzana

Tomate Relleno sobre Risotto de Semola de Setas (P495) joins old main-course favorites at Vask. Fresh tomato is generously stuffed with sautéed onion, leeks, bacon, and shrimp. The risotto, flaunting a strong earthy taste, mixes caramelized onion, dried tomatoes, and oyster mushroom. The Dorada con Ragout de Ibericos (P695), proves that fish and pork can work together. The smoky taste of the grilled Barramundi, a widely used fish in Spain, is complemented by the familiar flavors of crispy and sautéed pork. Cooked for four hours with onion, carrots, and red wine, the oxtail in Galleta de Rabo (P695) is beyond tender. Apple is added for sweetness, plus a bit of chocolate for color and depth.
ADVERTISEMENT - CONTINUE READING BELOW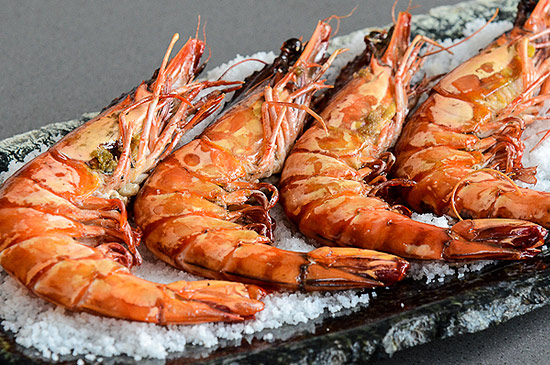 Gambones

A new category, Plancha, also joins the Vask menu to feature seafood selections. In it is Gambones (P1,100), tiger prawns cooked on a flat grill to bring out smoky and caramelized flavors while keeping that fresh-catch essence.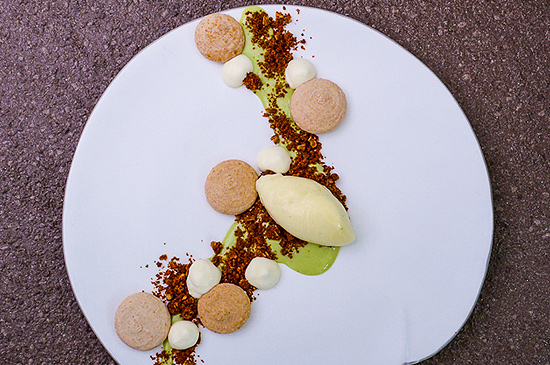 Tarta de Calamansi Deconstruida
The Tarta de Calamansi Deconstruida (P250) is ideal for those who like tartness in their desserts. The deconstructed calamansi-flavored pastry is a pretty plate of oat crumbs, whipped cream, calamansi curd, cream cheese, calamansi ice cream, and macaron. Quesos y Texturas (P350), another new dessert, features two cheeses-fried cheese with crispy coating and cheese ice cream-for a mouthwatering contrast
It's another success for Chef Chele. We can't help but wonder if he's already back on the drawing board.
Load More Stories