(SPOT.ph) This list gets more daunting to make every year. The reality is Manila has a lot-and by a lot, we mean A LOT-of chocolate cakes with different personalities. There's the light and luscious, the dense and fudgy to the core, the one with fancy trimmings and all sorts of filling... and a handful more battling for the No.1 spot (not to mention your attention!).
At SPOT.ph, we feel it is our duty-nay, our obligation-to let you know where to find these celebrated desserts. So you can try each one and judge for yourself (tell us your personal No.1 via the comment section), but most of all, for you to discover the joy that each cake brings to the table. Be proud that these masterful creations were made right in your hometown, maybe even some by the homebakers of your neighborhood.
All SPOT.ph Top 10 lists are researched, paid for, tested, and selected by the writers and editors. They are discreetly conducted without any notice made to the restaurants or their owners.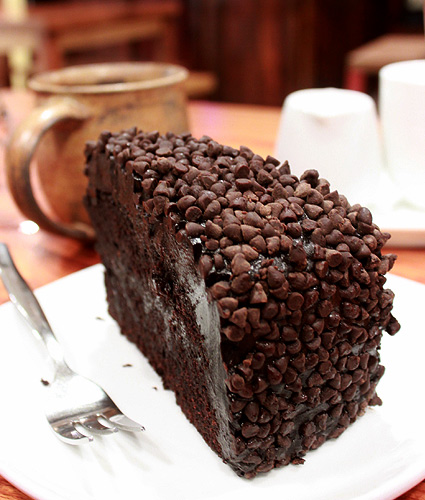 ADVERTISEMENT - CONTINUE READING BELOW
10. Poco Deli's Blackout Cake (P165/slice)
This little neighborhood deli does a lot of things really well, and one of them is this darkly delicious dessert. It holds itself up nicely thanks to a markedly dense, compact chocolate-cake center. Of course, the caramel in between and the Belgian chocolate icing piled on top makes it that much more desirable. Our favorite part is the lovably lumpy texture brought by a generous showering of mini chocolate chips. If this is what a blackout tastes like, then we totally don't mind living in the dark.
Poco Deli has branches in Ayala Triangle Garden, Makati City, and Kapitolyo, Pasig City.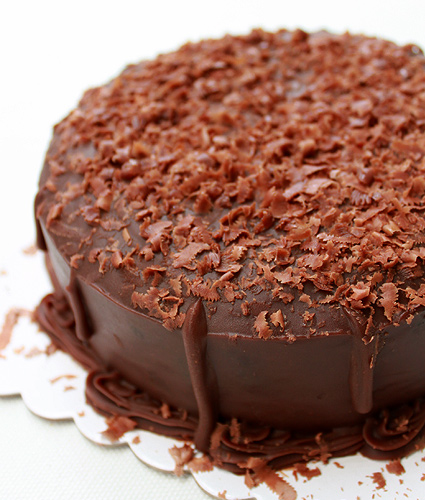 9. Frank and Carol's Milk Chocolate Cake (P150 to P175/mini, P600 to P700/six-inch cake, P1,000 to P1,200/eight-inch)
Frank and Carol's chocolate cakes have become so in-demand, they now ship them out to provinces outside Manila by plane. Theirs is a spellbinding example of chocolate seduction...by way of the creamiest Belgian chocolate ganache. We love its rich, bordering-on-fudgy texture tempered by the smooth and milky icing, just the type milk chocolate fans fall for.
If you have yet to introduce yourself to Frank and Carol's homemade repertoire, we strongly suggest discovering what you've been missing.
Frank and Carol is available at Parvati, Trinoma Mall, Quezon City, or their commissary at 21 E. Aguinaldo Avenue, Western Bicutan, Taguig. Tel. No. 881-2888. Tip: Commisary prices are cheaper!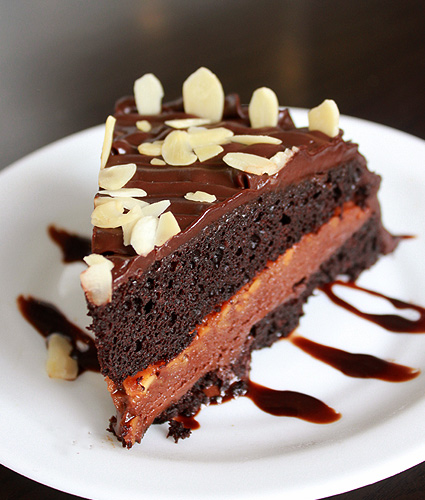 8. Dulcelin's Callebaut Chocolate Cake (P165/slice)

You've probably tried their Mango Torte before and loved it, but have you met their Callebaut Chocolate Cake? Often served as a fat slice at this dessert haven, this saccharine stunner has a chocolate mousse center thinly lined with caramel. Sliced almonds, chocolate syrup, and smooth Belgian chocolate ganache icing make it even more mouthwatering than it already is. The cake itself is pretty topnotch, but with all the extra luxe trimmings, you'll be headed for chocolate nirvana in just a few forkfuls.
Dulcelin Gourmet is at 36 Times Street, West Triangle, Quezon City, and 2/F UP Town Center, Katipunan Avenue, Quezon City.
ADVERTISEMENT - CONTINUE READING BELOW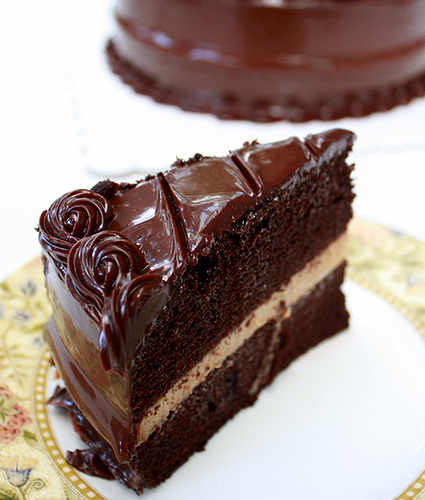 7. Homemade by Roshan Good ol' Chocolate Cake (P1,350/whole)
Amazing cake consistency that tastes freshly made for days. That's why we love Homemade by Roshan's Good ol' Chocolate Cake (remember her Chocolate Chip Cookies?). It's handsomely decorated with shiny swirls of silky chocolate frosting. But more than that, it reveals a delicate sensation underneath, masterfully created with a caramel custard layer. Bring this to a potluck and you'll be dodging "Where'd you get this?" questions all night.
For orders, contact Homemade by Roshan at 0917-833-6286, 631-7786.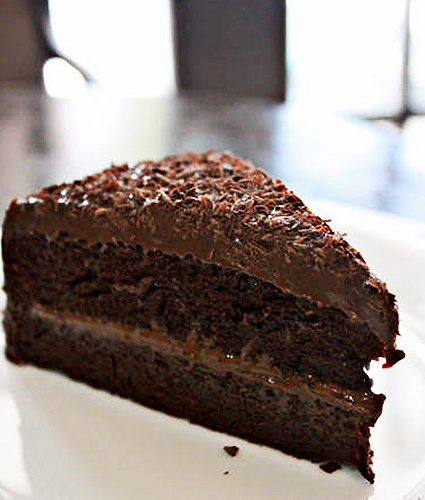 6. Chocolat's Death by Tablea (P97/slice, P410/six-inch cake)
If you're serious about chocolate and consider yourself a dark chocolate devotee, this one has your name all over it.
Masters in making dark chocolate cakes, Chocolat's dessert wizards do an amazing job of baking some of the freshest-tasting cakes in Manila. Their Death by Tablea has been a crowd-drawer since day one. The smooth-as-silk icing, which they make with native cacao and condensed milk, is easily one of the most luscious around. Slivers of pure cacao make this slice a beauty to behold, but looks aside, it's the kind of cake that we want to come home to after a long day. Deliciously moist, no smoke and mirrors, it just hits the spot.
Chocolat has branches at SM Mall of Asia, Pasay City; 205 P. Burgos corner A. Mabini Street, Addition Hills, San Juan; G/F Llanar Building, 77 Xavierville Avenue, Loyola Heights, Quezon City; Courtyard Building, 26 Sgt. Esguerra Street, South Triangle, Quezon City.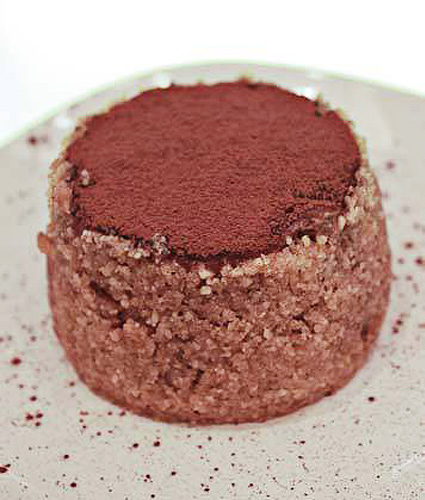 ADVERTISEMENT - CONTINUE READING BELOW
5. Nono's Chocolate Oblivion (P225/mini, P995/whole) from Classic Confections
We'll go right ahead and say it. There's still nothing on Earth quite like Nono's Chocolate Oblivion. It's like the stalwarts of Classic Confections listed every ingredient you could possibly want in a Chocolate Cake (and then some), and threw all of that in to make this multi-layered masterpiece. Different textures come into play as you work your way through four kinds of awesome: the powdered cocoa, the light whipped chocolate cream coating, the walnut and praline bits, and for the grand finish, caramelized crushed toffee rounding out each bite. Thoughtfully crafted and insanely delicious.
Classic Confections has branches at Greenbelt 5, Makati City, and Brixton Street, Kapitolyo, Pasig City.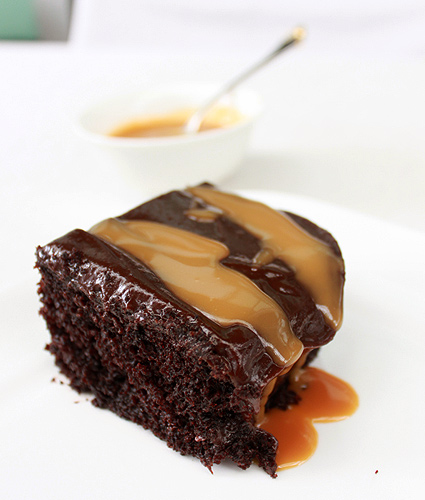 4. Dimpy's (P500/9x9 cake)
Unbelievably moist, it literally melts. In. Your. Mouth. There's no better way to describe Dimpy Camara's homebaked contender than that. The entire cake is light and lush, the kind you can easily wipe out in minutes and still have you wanting seconds. Some say it reminds them of the Cookie Monster Chocolate Cake of decades past, and for the record, Dimpy's version is one of the richest we've tried.
If you like your cakes uber chocolatey, you'll love that the bottom layer is pillowy soft yet seriously indulgent, lending every forkful the decadence you crave. Put as little or as much of the melted caramel it comes with. Either way, it'll taste divine.
Dimpy Camara's Cakes is at 1243 Acacia Street, Dasmarinas Village, Makati City. Tel. No. 843-8086.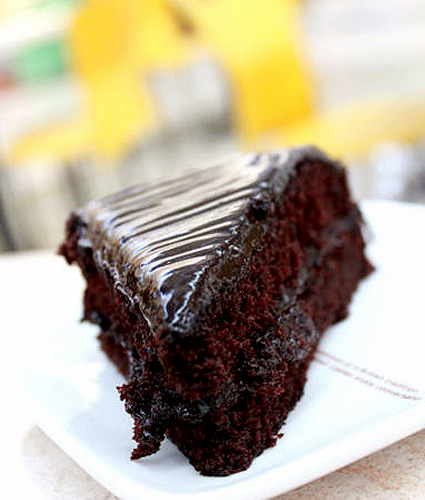 3. Polly's Classic Chocolate Cake (P95/slice, P790/seven-inch cake)
Who in their right chocolate cake-loving mind could forget Polly's? An icon as far as chocolate cakes go, Ms. Polly's immensely popular dessert remains one of our top recommendations for the same reasons why we declared it our No.1 two years in a row. It's like the girl-next-door of chocolate cakes-simple, extremely likable, and just honest-to-goodness good. Made without the usual trappings of nuts and caramel (although they do have a version with it), this utterly moist and unfussy slice doesn't bank on any add-ons to make you a lifelong fan.
ADVERTISEMENT - CONTINUE READING BELOW
Ms. Polly's Specialty Cakes and Desserts is at 4/F Robinsons Galleria, Quezon City.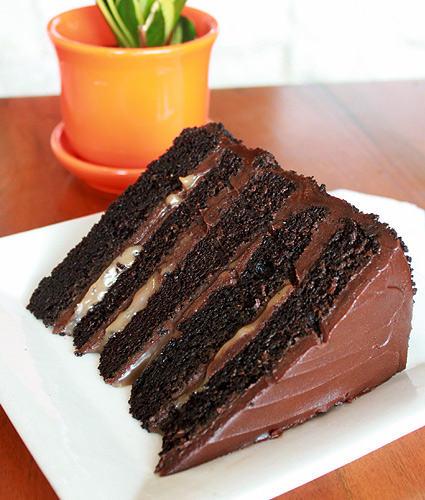 2. Lucca's 5-Layer Chocolate Cake (P95/slice)
There's a lot of very nice things to say about Lucca's chocolate behemoth. Apart from its fabulous size (at least five inches tall by our estimate), we thoroughly enjoyed the cookie-like bits of oven-toasted cake crumbs covering the chocolate icing. But the fact that it comes ensconced in three layers of terrific caramel-laced icing is our favorite part. Like the loyal sidekick that takes a step back from the limelight, the caramel they use is not at all the usual thick and overpowering kind. It flirts, it teases, but it never outstays the welcome. At P95 a slice? So much #win.
Lucca Bakery + Cafe is at G/F UP Town Center, Katipunan Avenue, Quezon City.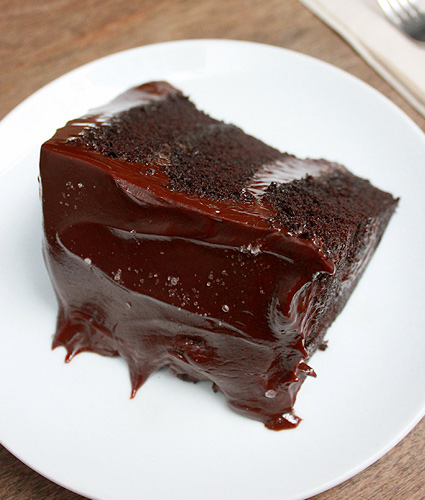 1. Wildflour's Salted Chocolate Cake (P195/slice)
We baptize this wicked sorcery, The One. Elbowing its way past longtime-loved cakes is Wildflour's Salted Chocolate Cake. By far, our clear winner this year. Wildflour's dessert geniuses are not at all shy about slathering this towering slice with icing made of 65% Cacao Valrhona Chocolate, and it tastes incredible. You can tell everything was made from scratch and from only the best ingredients; the glorious deep brown icing is a by-product of high-quality European cream (we know because we asked). The cake, dark as night, cascades lightly on the tongue; the salt hidden in between just a sweet afterthought.
As it turns out, Wildflour's Salted Chocolate Cake is a frontrunner outside of Manila too. Wildflour's sister restaurant in LA, Republique, uses the same recipe for their Salted Caramel Chocolate Cake, and it recently bagged the No.2 spot in laweekly.com's 10 Best Chocolate Cakes in L.A. If that's not enough reason to come knocking fork in hand, well, we don't know what is.
ADVERTISEMENT - CONTINUE READING BELOW
Wildflour Cafe + Bakery has branches at 4th Avenue corner 26th Street, Bonifacio Global City; The Podium, Mandaluyong City; 125 LP Leviste Street, Salcedo Village, Makati City.
Photos by Kay Cantara and Chris Clemente (Lucca)
Share this story with your friends!
---
Help us make Spot.ph better!
Take the short survey
More Videos You Can Watch
Load More Stories