La Cabrera
6750 Ayala Avenue Business Tower, Glorietta Complex, Ayala Avenue, Makati City
Tel. No. 0905-290-0703
Dinner service starts this week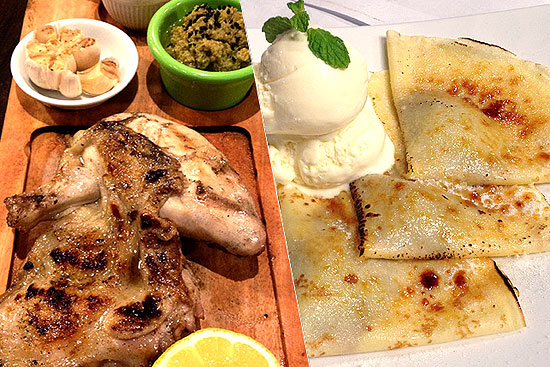 (SPOT.ph) An old typewriter and a sewing machine sit on a long side table, worn-out musical intruments and gilded mirrors adorn a brick wall, well-worn suitcases are piled on top of each other in one corner. The antique accessories filling up every nook and cranny in this 6750 space don't immediately relate to a steakhouse. The explanation to the disconnection, according to chef and owner Gaston Riveira, is simple: there are steakhouses and there's La Cabrera. Back in 2002, for his very first parrilla (steakhouse) in Palermo, Buenos Aires, Gaston used some of his grandfather's woodwork as decoration. The look had become definitive of the La Cabrera style.
ADVERTISEMENT - CONTINUE READING BELOW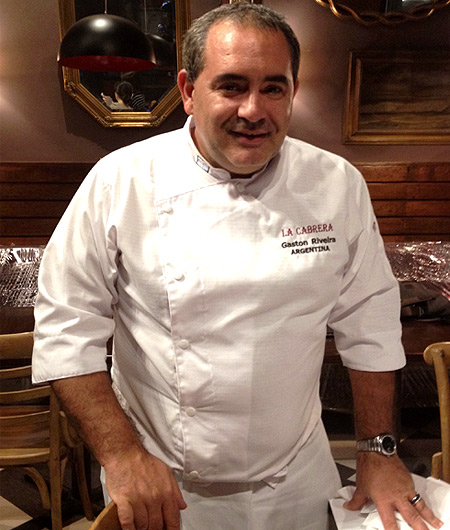 Chef Gaston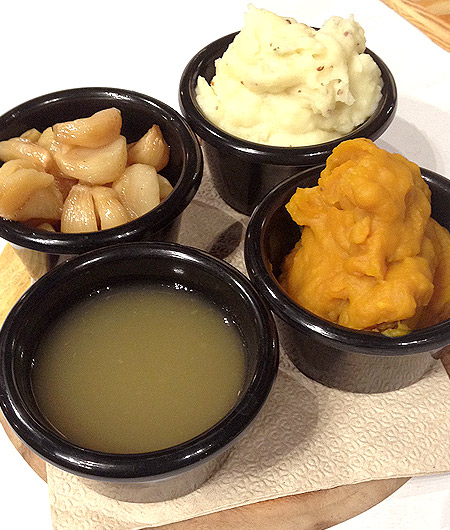 Hot sides
The grill  is custom-made for the company and patterned after his grandfather's open pit. Cut-up logs of mango wood provide not just intense heat, but also a sweet, mild flavor that infuses itself into the meat. Export restrictions prohibit Argentine beef to leave the country; nevertheless, Chef Gaston and the folks who brought La Cabrera to Manila (the first in Asia, by the way) have gone to great lengths to source exceptional meats that promise good quality. Slow grilling makes the Ojo de Bife (P2680/500 grams) unresisting and flavorsome. It's a slab of USDA Prime ribeye steak seasoned only with salt and pepper, and presented on a wooden paddle with nary a shadow of sauce nor butter. The order comes with a barrage of side dishes-your choice of hot (mashed potato with mustard, apple sauce, brown rice, and smashed pumpkin with raisins) or cold (olive tapenade, peas and corn, couscous, and marbled potatoes). The serving plate only holds three but customers may order as many as 30, with unlimited refills of each.
ADVERTISEMENT - CONTINUE READING BELOW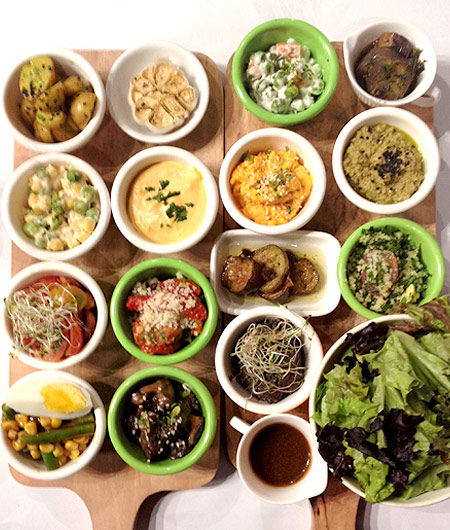 Cold sides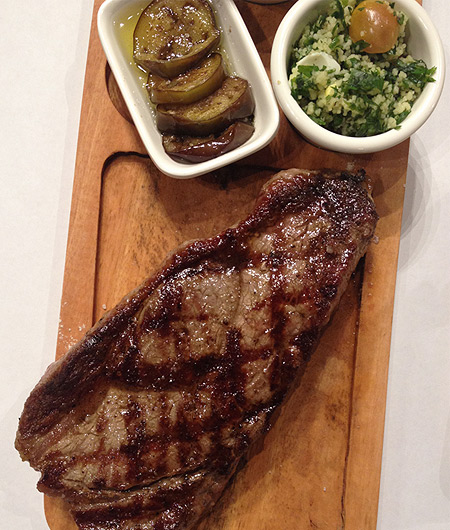 ADVERTISEMENT - CONTINUE READING BELOW
Asado del Centro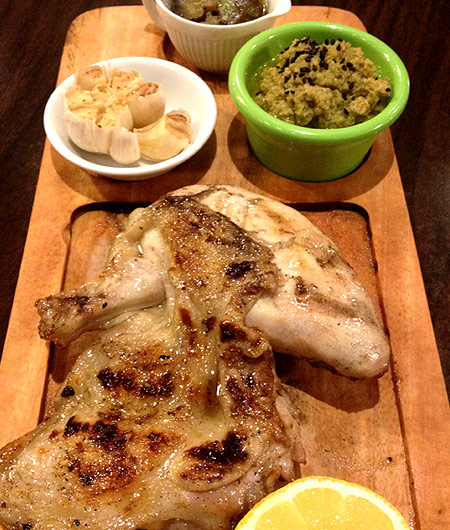 Pollito Grillado
Equally savory and delicious options are the Asado del Centro (P1,580/500 grams), which comes as two strips of short ribs, the Bife de Chorizo or striploin (P1880/500 grams), and the Pollito Grillado (P490), which is half a roasted chicken. Gaston's cooking method guarantees that the grill kisses the meats only enough to keep them juicy and flavorful.
ADVERTISEMENT - CONTINUE READING BELOW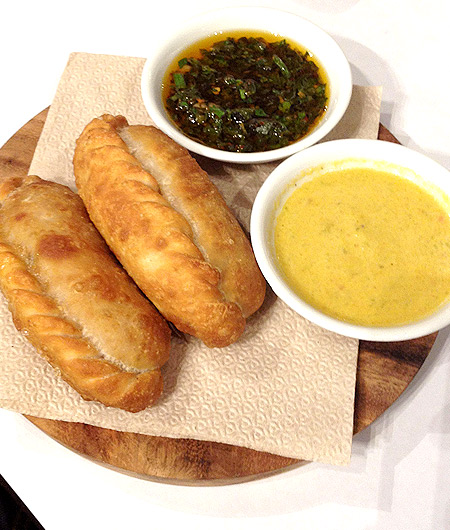 Empanada
Though widely known for its steaks, La Cabrera has a range of starter plates that deserve just as much attention, like the Papas Fritas con Cebolla Confitada or con Huevos Revueltos (both P360), a basket of large potato wedges topped generously with either caramelized onions or scrambled eggs. The Empanada de Carne (P250) has a pair of golden pastry pockets stuffed with onions and minced beef that have been spiced with curry. Complimentary dips elevate the flavors: chimichurri makes it earthier while bell pepper-based salsa criolla adds a subtle spice.
ADVERTISEMENT - CONTINUE READING BELOW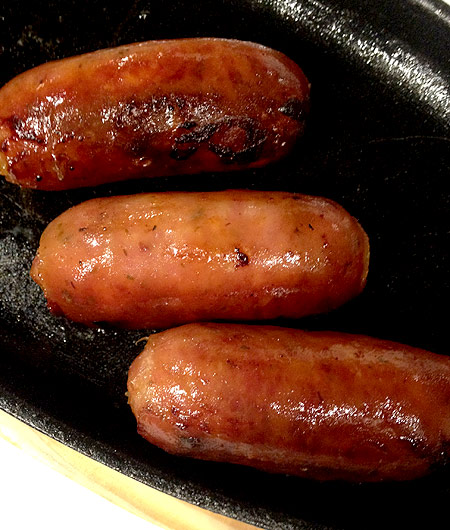 Chorizo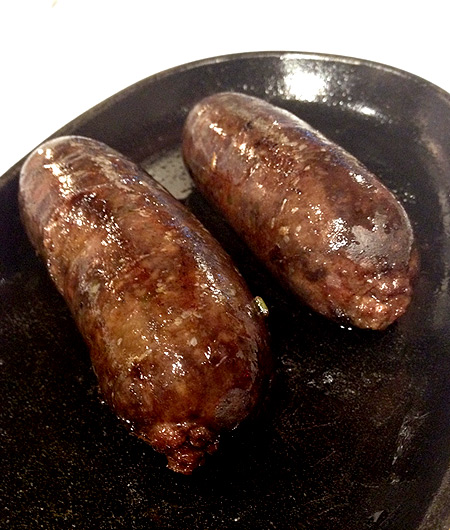 ADVERTISEMENT - CONTINUE READING BELOW
Morcilla
Sausages also take up space on the menu. The Chorizo Criollo de Rueda (P680), which has hardly any trace of fat, is peppered with creole seasoning, and the Morcilla Criolla (P490), a firm blood sausage without the casing, is eaten like pate on bread, just how Argentines do it.
Another easy standout, especially among the cheese lovers, is the Provoleta (P890), where herbed Provolone has melted into a bold stringy delight.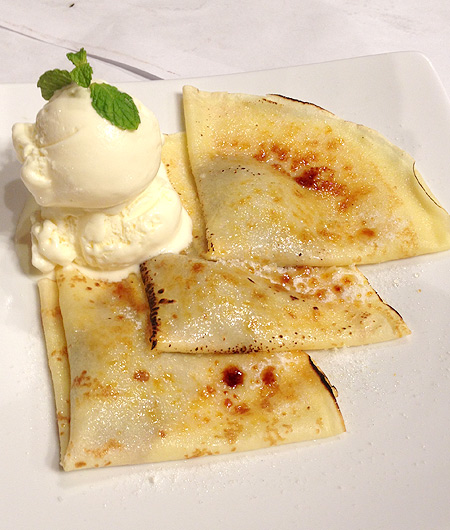 ADVERTISEMENT - CONTINUE READING BELOW
Dulce de Leche
Dulce de leche is a classic ingredient in Argentinian desserts, and at La Cabrera, it's beautifully featured in a panqueque or crepe. A mound of the rich thick caramel-like sauce is tucked inside thin and soft French pancakes, bruleed, and served with vanilla ice cream. It's a simple dessert that delivers on decadence.
In Buenos Aires, three branches of La Cabrera are found on the same street. That's an example of the restaurant's impact back at home. That seems like a highly improbable situation here, but the chance of people loving a good steak place is just as high. We're a grill-loving country, aren't we?
Share this story with your friends!
---
Help us make Spot.ph better!
Take the short survey
More Videos You Can Watch
Load More Stories