Purple Yam Malate Lives Up to the Hype
SPOT.ph blogger Angelo Comsti on his experience with re-imagined Filipino food.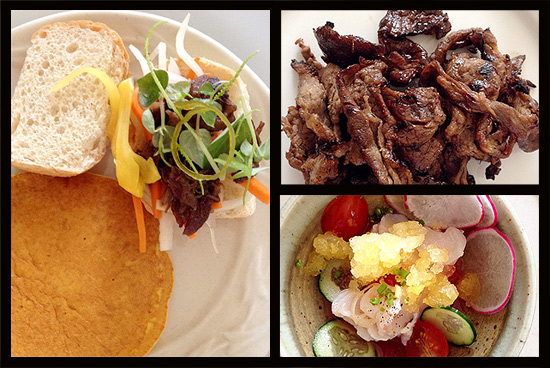 (SPOT.ph) For the past few months, Amy Besa has been touring the country, collecting the best produce the regions have to offer and bringing them back to the kitchen of her ancestral home where her husband, Romy Dorotan would, in turn, work his magic. Her travels culminated in the opening of Purple Yam Malate on July 4, which you could also say is the beginning of an entirely different adventure. Opening the Manila version of her and her husband's New York success was a challenge, she admits over brunch last Sunday (June 12), but she tells me that what they serve is more representative of the restaurant they envisioned it to be.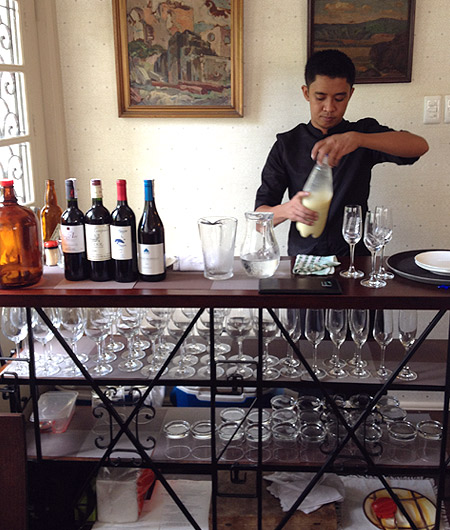 In an earlier interview with SPOT.ph, Amy explains that they want to put pride in their food. "We are true believers on how delicious and amazing our food and culinary traditions are," she says. "In that sense, we need to support our local farmers, fishermen, and small producers because these are the people who will create the Pinoy brand of food. Let every peso we spend on food go back to those who work hard to nourish and sustain us." It's a noble philosophy, but honor aside, is the food delicious enough to make the people agree? I say: YES.
ADVERTISEMENT - CONTINUE READING BELOW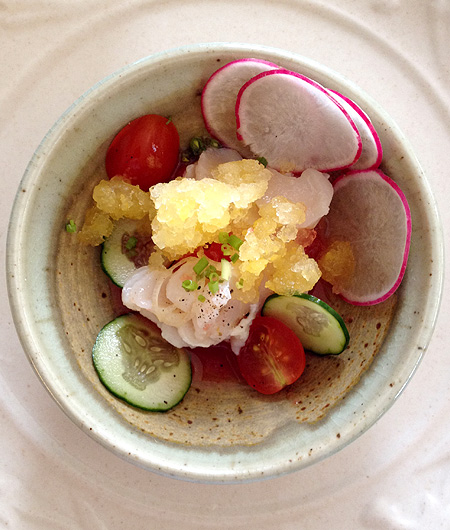 CONTINUE READING BELOW
Recommended Videos
Starter
The seafood starter was indicative of where the meal was headed-somewhere unique, inspired, and exciting. Bite-sized cuts of baluko or penshell clams from Sorsogon were crowded with sliced vegetables of cucumber, cherry tomatoes, and radish, then topped with dalandan and watermelon granita. It was similar to oysters on ice, and tastes like it too-clean, subtle, and refreshing.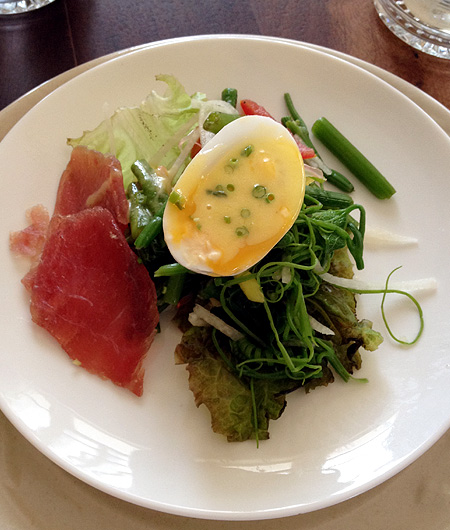 ADVERTISEMENT - CONTINUE READING BELOW
Cured Tuna
The following dish took a more elaborate turn: thin slices of cured tuna and soft-boiled organic duck egg from Laguna provided richness to an earthy mix of native greens like kamote tops, lettuce, and beans. The strips of green mango and tomatoes rounded up the flavor medley with their distinct tartness and struck that good balance.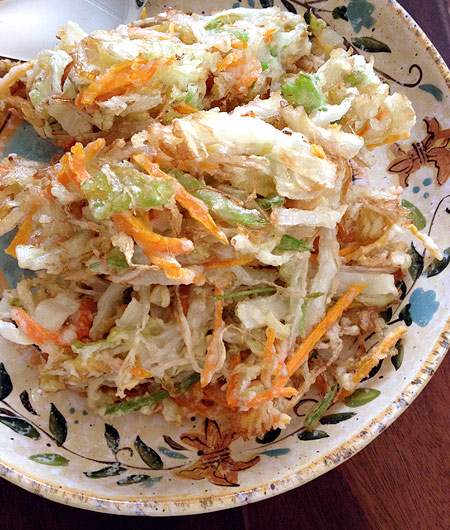 Ukoy
Purple Yam's ukoy was unlike the flat, crisp, golden brown disc I'm used to-not that the shape took anything away from the delicious fritter. This not-so-greasy orb made of napa cabbage, snowpeas, carrots, leeks, beansprouts, and shrimp was semi-puffed and soft like a pillow. As per custom, it is still best eaten bathed in native vinegar.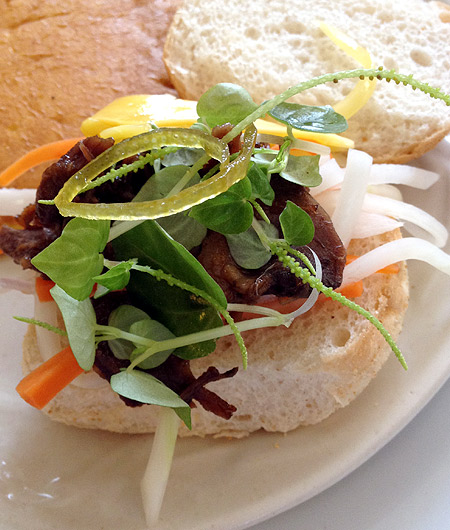 ADVERTISEMENT - CONTINUE READING BELOW
Braised Duck Sandwich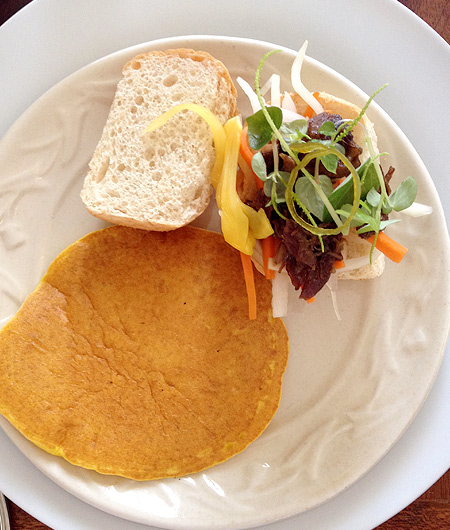 Kalabasa Pancakes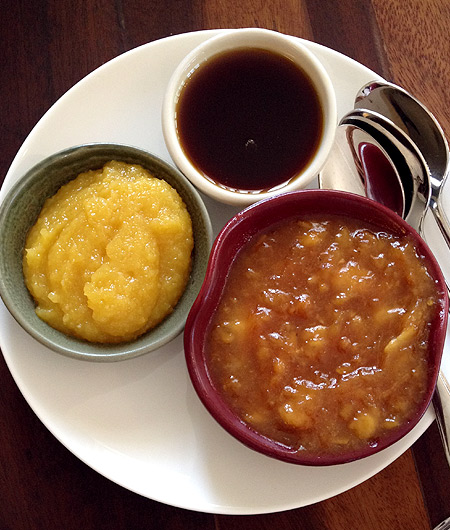 Pancake condiments
At first glance, the pan de sal slider with shredded, basi-braised Cagayan duck meat seemingly reigned over the whole plate. But the kalabasa sour cream pancake, though visually inconspicuous, eventually ended up to be more memorable than the sandwich-be it with the condiments (honey from Abra, banana chutney, or langka puree) or on its own.
ADVERTISEMENT - CONTINUE READING BELOW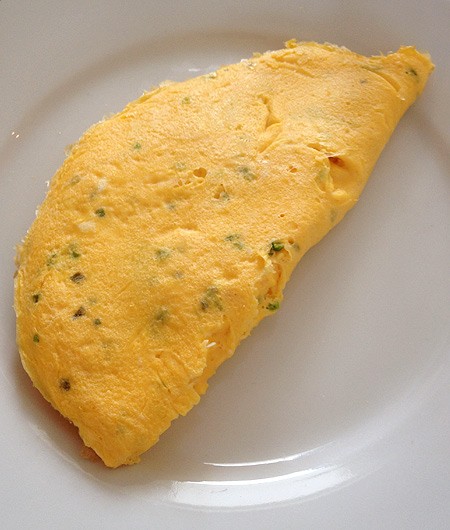 Duck Egg Omelet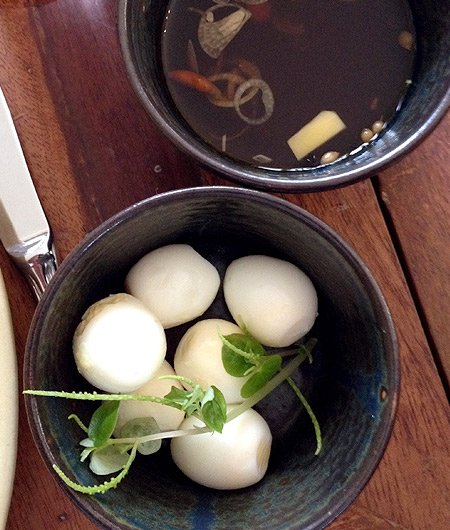 Quail eggs and pinakurat
By the time the mains arrived (yes, we haven't gotten to that part yet), I was already a bit full, but their signature tapa and tocino transcend physical limitations. Purple Yam's version of the silog came as thin tender strips of cured meat, served with an orange-tinged duck egg omelet, boiled quail eggs, and garlic fried rice. The lean tocino didn't have that bright pink hue lent by curing salts, yet you get that familiar sweetness. The tapa was not intensely beefy in flavor, but it was just as satisfying.
ADVERTISEMENT - CONTINUE READING BELOW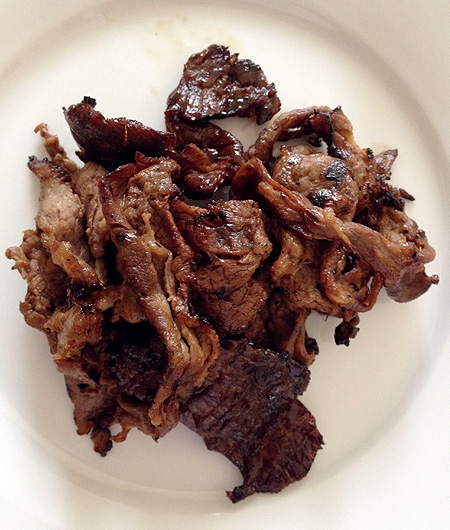 Tapa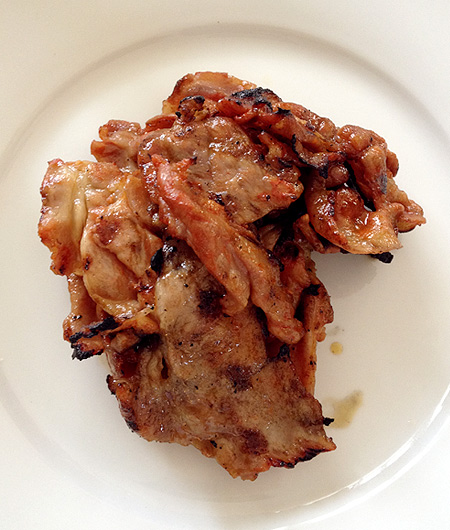 Tocino
At this point, it was only natural to anticipate that the creative couple wouldn't hold anything back even up to dessert. Their halo-halo showcased the specialties of different regions, from the coconut pandan jelly from Dumaguete and nata de coco and pinipig from Asiong's in Cavite to the sweet potato from Cordillera and macapuno-coco ice cream from artisan brand Sebastian's. The homemade ube and langka haleya added more decadence, while the kamias popsicle, though I found slightly out of place, lent sourness.
ADVERTISEMENT - CONTINUE READING BELOW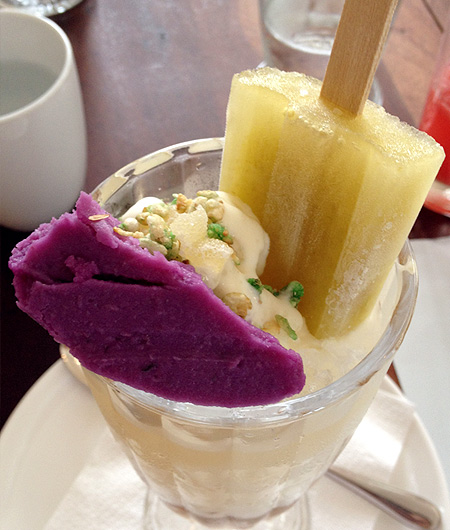 A different kind of halo-halo
The dishes, unconventional as they were, are what Amy and Romy classify as re-imagined Filipino food. They're not the punchy, strong-flavored fare we might be used to, but a harmony of homegrown harvest with natural flavors made to stand out on their own. When you challenge a well-loved convention, the message can somehow come out muddled, but I understand Purple Yam's philosphy clearly. I left with a happy and appeased appetite.
Purple Yam is open on Friday and Saturday for dinner servince and Sunday brunch. The menu may differ every week depending on the availability of ingredients. It's at 603 J. Nakpil corner Bacobo Street, Malate, Manila. Look for a white house with a white gate. For reservations, contact 0926-713-3523 or e-mail acbesa49@gmail.com. Read Purple Yam finds its way back home in Malate for more information.
Angelo Comsti contributes for Yummy, Men's Health Philippines, and Esquire Philippines in addition to other publications. He studied at Le Cordon Bleu Australia. Recently, his bestselling From Our Table to Yours, a collection of generations-old heirloom recipes from some of the country's best cooks and chefs, won the Gourmand Best in the World Award for Best Authors and Chefs Outside Europe. He is currently working on a sequel. Follow Angelo on Instagram (@fooddudeph) to catch more of his food discoveries.
ADVERTISEMENT - CONTINUE READING BELOW
Share this story with your friends!
---
Help us make Spot.ph better!
Take the short survey
Load More Stories