New on the Menu: Wee Nam Kee's 20+ Culinary Treasures of Singapore
The Hainanese chicken has new companions.
Wee Nam Kee
Click here for a list of branches.
(SPOT.ph) Wee Nam Kee's menu has never been conservative, but now it's a never-ending anthology. Like a thesis of Singaporean cuisine that convinces you there's more to it than Hainanese Chicken and Bak-Kut-Teh. Over 20 new items have made their way into the update, from drinks to desserts and everything in between.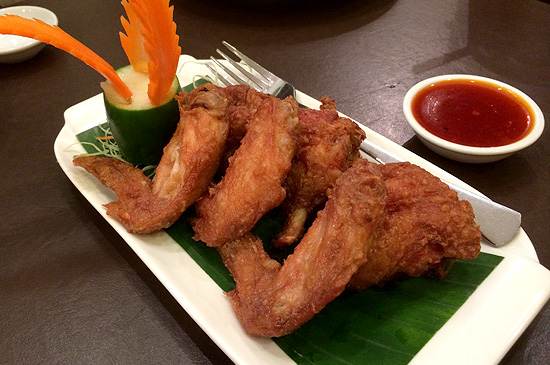 Prawn Paste Chicken Wings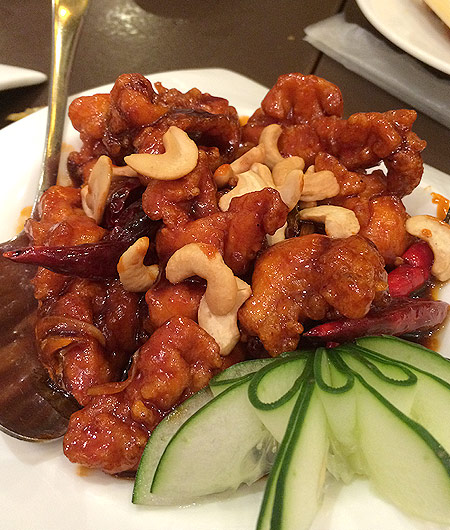 Wok-fried Chicken with Cashew Sun-dried Chili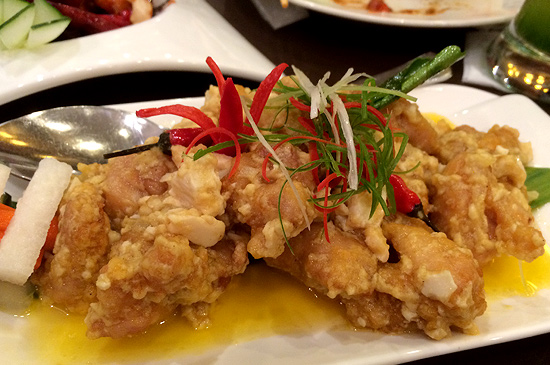 Salted Egg Chinese-style Fried Chicken
It's difficult not to make it sound like an inventory of dishes. Competing for chicken supremacy against the gingery steamed Hainanese are the crispy Prawn Paste Chicken Wings (P218) that you'll want to eat by the basket with a tub of blue cheese dip; the Wok-fried Chicken with Cashew Sun-dried Chili (P270) that has a rather modest tinge of fire, the Salted Egg Chinese-style Fried Chicken (P295) that will easily stamp itself onto your mind as one of the dishes you'll come back for. The salted egg wrapped around the pieces of chicken creates a delicious coat and a rich contrast in flavor.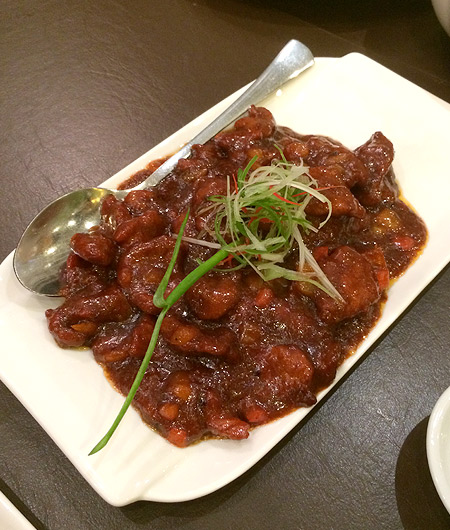 Sauteed Beef Fillet in Sate Sauce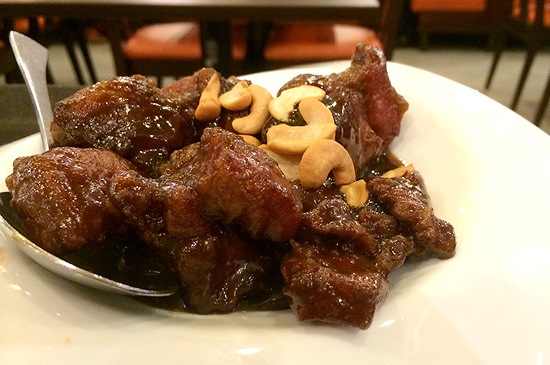 Cashew Coffee Spareribs
The menu is thought-out enough to make their flavors fit together like pieces of a puzzle. Dishes with more unabashed profiles find terrific complement in the sweet Pineapple Fried Rice with Pork Floss (P250). Subtle sweetness in the rice emphasizes the bittersweet tones of the Cashew Coffee Spareribs (P298) and it also tempers the saltiness of the Sauteed Beef Fillet in Sate Sauce (P395).
ADVERTISEMENT - CONTINUE READING BELOW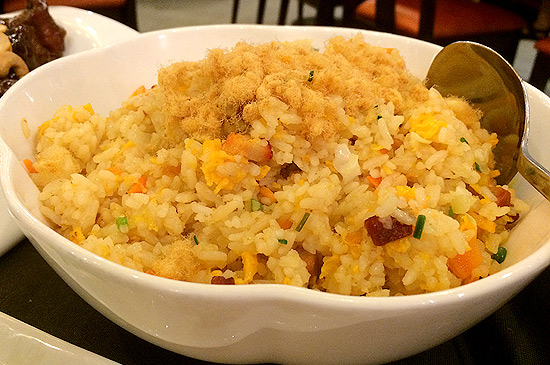 Pineapple Fried Rice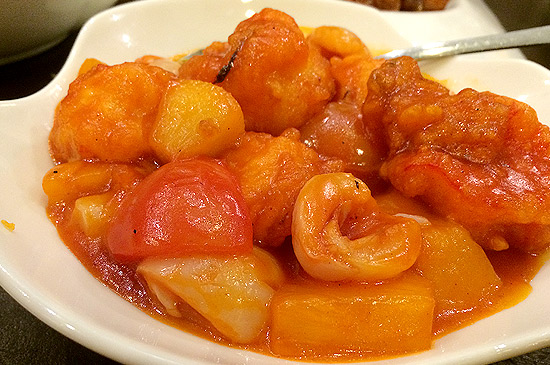 Lychees and Peaches Prawns
Sweet mains characterize the updated menu offerings. The Sweet Marmite Pork Ribs (P285) are a toothsome plate that might encourage you to order a cup of plain grains. Lychees and peaches infuse a more unique kind of sweetness to their new interpretation of traditional Prawns (P495).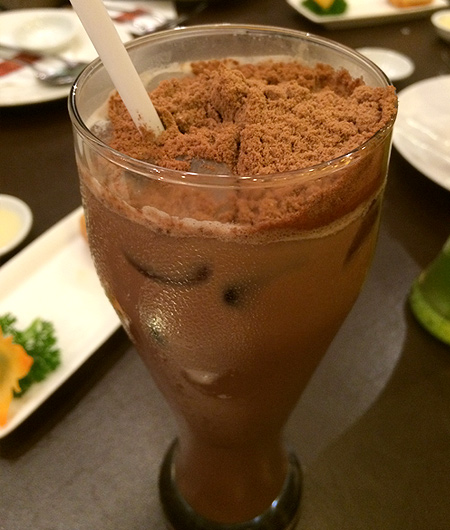 Milo Dinosaur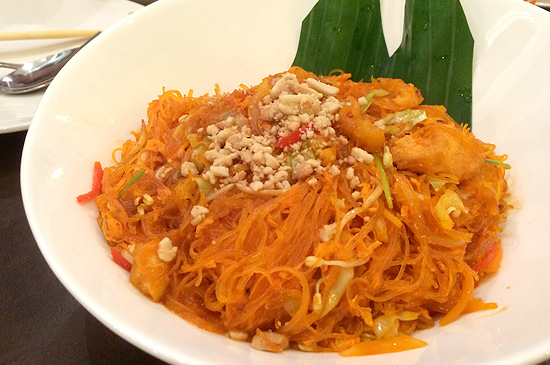 Spicy Sambal Rice Noodles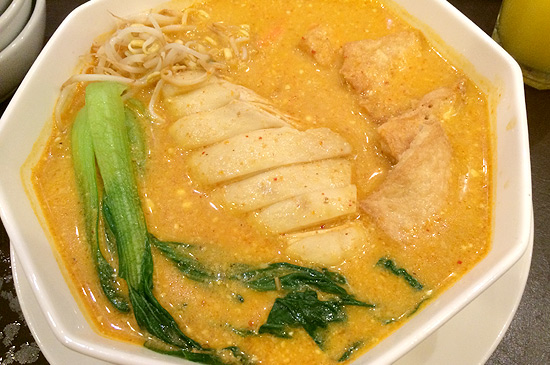 Hainanese Chicken Curry Noodles
The Hainanese Chicken Curry Noodles (P225 to P368) will test your generosity for others. The solo serving is still substantial enough for two average appetites, but you'll want to keep it for yourself. The prickle of heat is enough only to encourage you to keep digging. The curry is fragrant, with the coconut jumping out with every sip of the broth. Chunks of tofu and chicken keep every bite exciting.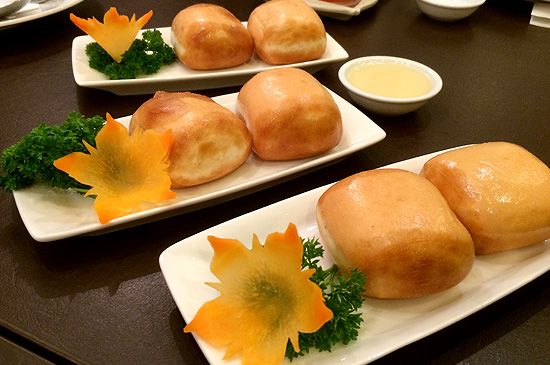 Crispy Mantou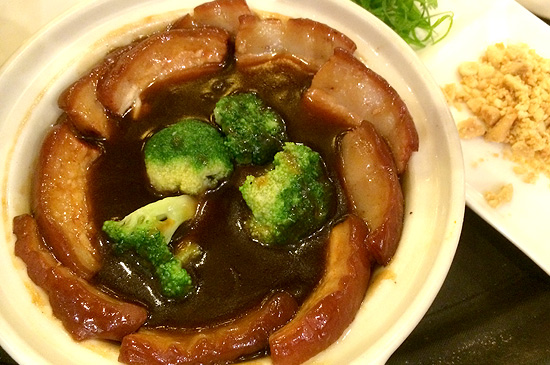 Stewed Pork Belly with Steamed Buns
Mantou comes in fried (P78) and steamed (P365) varieties: the former, golden, glistening pillows with creamy condensed milk; the latter, creamy white buns with sticky braised pork that melt away like a thick savory spread. Close your eyes to really absorb the salty and sweet flavors in your palate. Will it replace the legendary chicken as our go-to dish? We'll probably just have to up our appetite more to make room for everything.
Load More Stories