The 10 Best Things We Ate in July
Noteworthy dishes in this food-filled month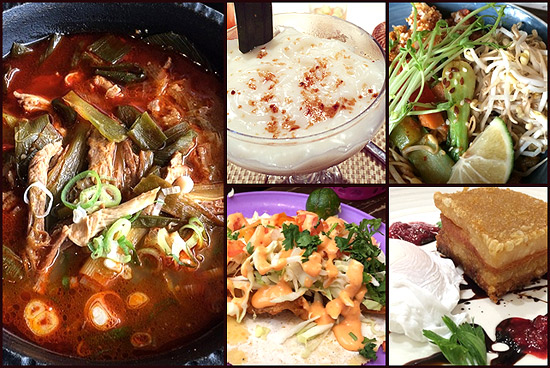 (SPOT.ph) If you don't already know, here at SPOT.ph, we love food. You need it to live, but we find that there are some dishes that go well past the virtue of necessity. While others content themselves with a deep fryer and the usual salt and pepper, there are some who make-or at least try to make-an art out of it, with delicious displays and even yummier flavors. We believe those that go above and beyond their duty deserve necessary recognition. Our top picks among the dishes we ate throughout July:
This list is not ranked.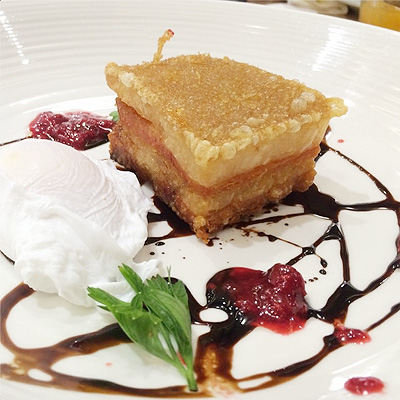 Confit of Pork Belly from Duck and Buvette
This was one of the most difficult decisions we've had the privilege of judging: the toss-up between Duck and Buvette's slow-cooked pork and their signature roasted half-duck. Mind you, there were many other candidates from their menu vying for this slot, and our choice resulted in countless sleepless nights. But when we closed our eyes and imagined what we would want for our last meal, we could practically taste the laces of fat in between the soft, soft layers of deliciously seasoned pork melting into salty, sticky juice. This artwork of a meal, which sets you back P360, is embellished with textbook poached egg that bathes the richness in more luxury. Streaks of reduced raspberry sauce tries to cut through the flavor, striking a perfect balance of flavors.
ADVERTISEMENT - CONTINUE READING BELOW
Duck and Buvette is at G/F Shangri-La Plaza, Mandaluyong City.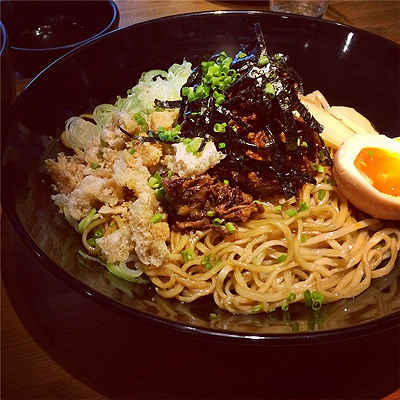 CONTINUE READING BELOW
Recommended Videos
Wrong Ramen's Arakawa Abura Soba
We've discussed this sinful bowl in full detail before, but there's just no exhausting those flavors. The most al dente noodles are pan-fried in salty reduced tonkotsu that paints it in a mouthwatering, glistening brown. On top, equally assertive pulled pork-the contribution of Osaka's Hanamaruken to this delicious partnership-and bamboo shoots that have sponged up most of the flavor. A generous shower of Lapid's chicharon takes it from sinful to downright shameless. The half ajitamago is probably the only part of it that sticks to tradition. When your taste buds have been assaulted enough, have a sip of the side of milky pork-based soup to even things out.
This dish is only served 30 times a day and is available until August 15.
Wrong Ramen is at Burgos Circle, Bonifacio Global City.
ADVERTISEMENT - CONTINUE READING BELOW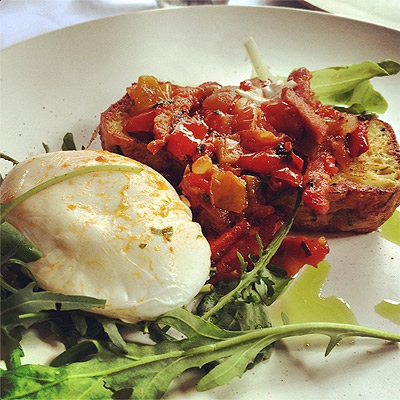 Cheddar and Zucchini Brioche from Blackbird
The poached egg bursts at the slightest provocation, dousing the skirt of red bell peppers and tomatoes, as well as the base of savory brioche in this rich delicious egg-yolk sauce. Priced at P490, it's a simple dish with an elegant flair-classic Chef Colin Mackay. Make sure you have every element in each bite, including the peppery arugula, to really appreciate the careful thought behind its composition.
Blackbird is at Ayala Triangle, Makati City.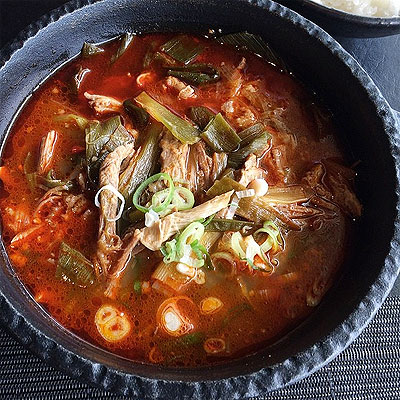 ADVERTISEMENT - CONTINUE READING BELOW
Galbi Yukgyejang from Yoree
This stew. This marvelously delicious stew. It's spicy in the most delightful way, with roughly chopped chilies that send tickling ripples of heat on your palate. The beef short-ribs (P380)-thank Yoree for the gift of generosity-are mouthwatering and absolutely flavorful that you'll want to have it with rice, but hold up! Dig deep into the broth and you'll scoop up slippery glass noodles that work beautifully against everything else. If only we discovered them sooner...
Yoree is at Forum South Global, Bonifacio Global City.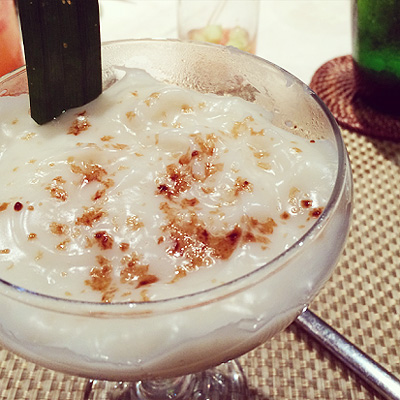 Buko Pie in a Glass from Chef Bruce Lim's Rustique Kitchen
The Boss is back-and Monkey, too! Chef Bruce Lim is reincarnating his fusion flavors in this new space, and he's proving that two years off from a restaurant kitchen hasn't made him rusty. His deconstructed buko pie, priced only P150, is served in a martini glass. The crumble is made of delectable layers of crushed pie crust, coconut cream, and coconut meat. The right amount of sweetness is coaxed out from the coconut, making it the perfect dessert after a meal at Rustique Kitchen. Don't take it for a lightweight though. This is one hearty interpretation.
ADVERTISEMENT - CONTINUE READING BELOW
Chef Bruce Lim's Rustique Kitchen is at 820 Arnaiz Avenue, Makati City.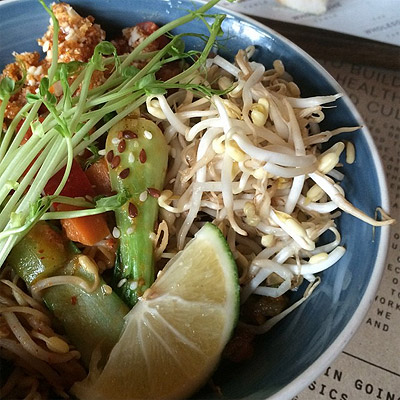 Buddha Bowl from The Wholesome Table
If you've ever wondered how to make anyone-adults and children alike-eat their vegetables, the answer is a bowl of Bianca Araneta's vegetable + bulgur concoction (P280). They need to have an extremely high tolerance for heat though. The cereal is generously and completely bathed in fiery Thai coconut curry that, for those averse to their veggies, puts those mixed vegetables in the best possible light. Every attention-grabbing bite is a burst of flavor and texture. A bit of homemade peanut brittle is in there too, because a bowl like this can never have too much.
The Wholesoem Table is at 2/F Bonifacio High Street Central, Bonifacio Global City.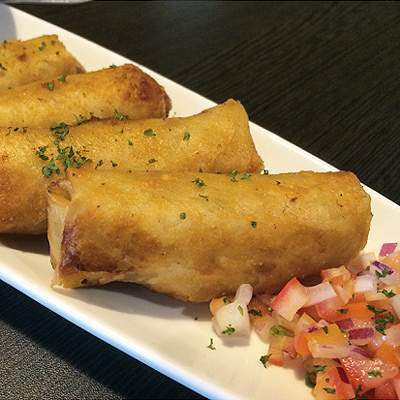 ADVERTISEMENT - CONTINUE READING BELOW
Fried Spring Roll from Cafe Naci
Cafe Naci has reopened and returned to their original location, reviving the late Chef Ed Quimson's signature recipes. Chef Quimson, who was famous for his well-composed dishes, displayed his concern for the customer in this simple beef spring roll (P240). As if realizing how messy tacos can be and how potentially one-dimensional some spring rolls are, he merges them in this neat and tomato-ey package, filled to the brim with tasty ground meat. The side of salsa and sour cream completes the illusion of this revered Mexican thrill.
Cafe Naci is at 2/F Fox Square Building, 53 Connecticut Street, Greenhills, San Juan.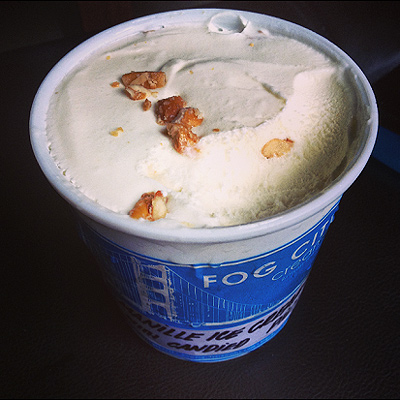 Manille Calamansi Ice Cream with Pili Nuts by the Fog City Creamery
Rihanna and Eminem, Channing Tatum and Jonah Hill, Daniel Padilla and Kathryn Bernardo-these are just some pairings that work great together. Then this: marry Fog City's artisanal ice cream with Distelleria Limtuaco's Manille Calamansi Liquer and you get a refreshing frozen treat (P350/pint) that's perfect even for the rainy season.The flavor is just right: not too sour at all. The addition of pili nuts gives a wonderful crunch to every smooth and creamy spoonful.
ADVERTISEMENT - CONTINUE READING BELOW
Fog City Creamery has pick-up points at Valle Verde 5, Pasig, City, and Focaccia A.venue, Makati City. Visit the Fog City Creamery website for more information.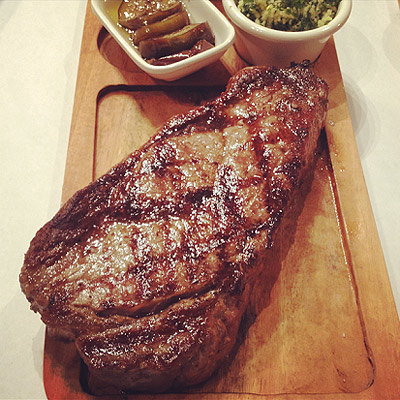 Asado del Centro from La Cabrera
Try sinking your teeth into beef flavored so terrifically the juices that automatically burst out are delectable natural sauces you want to savor. That's how this famous Argentine grill joint takes care of their meat. The two strips of short ribs (P1,580/500 grams) are as tender as they come, and beefed up-pun intended-by a delicious shade of char. This is a place that takes carnivores straight to heaven.
La Cabrera is at 6750, Ayala Avenue Business Tower, Glorietta Complex, Makati City.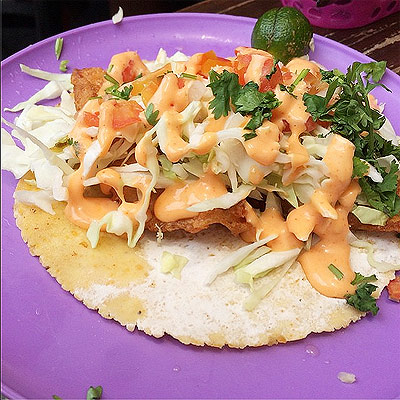 ADVERTISEMENT - CONTINUE READING BELOW
Baja California Fish Tacos from El Chupacabra
This Mexican monster has been gobbling up customers since opening in 2012. When we passed by and spotted an empty table, we knew it was an opportunity from above, so we went and ate. Biting into those crisp-fried pieces of whitefish fillet (P120)  is like being reacquainted with a good old friend. The spicy secret sauce hugs the natural brine of the fish, giving it the warmth that every friendship needs. El Chupacabra didn't let us down. It's just as amazing as we remember.
El Chupacabra is at 5782 Felipe corner Polaris Street, Makati City.
Share this story with your friends!
---
Help us make Spot.ph better!
Take the short survey
Load More Stories