Where to Get Beignets in Manila
How the movie Chef inspired SPOT.ph blogger Angelo Comsti to eat these French-style donuts in Manila.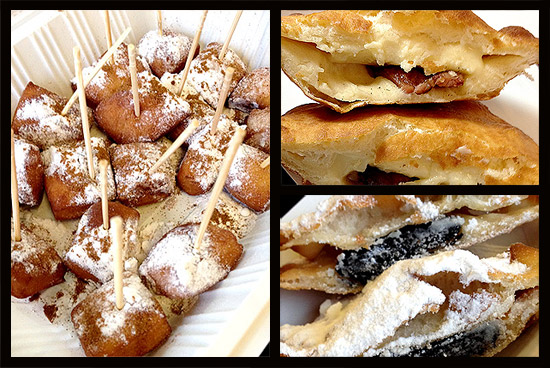 (SPOT.ph) The recently released film, Chef, has two effects: a newfound appreciation for chefs and a craving for a Cuban sandwich. (Psst, call Pepi Cubano at 0921-293-1784 and they'll take care of you.) Being a lover of all things desserts and snacks, I, on the other hand, set my appetite for beignets.
Let me explain. In the film (spoiler alert), Carl Casper (Jon Favreau) trades his restaurant apron for a food truck and goes on a cross-country road trip selling mojo pork cubanos or griddled Cuban sandwiches. Along the way, they swing by iconic food joints like Franklin Barbecue in Austin, Texas, and Versailles in Miami, Florida. They also take a detour to New Orleans where Carl introduces his 10-year-old son to his very first beignet at Café Du Monde in the French Quarter. At that point, my mouth was salivating beyond control, as if to demand the French-style doughnuts. The scene took me back to Micky's Café in Sydney, Australia where I had my first taste of a beignet. I was grateful to have discovered Café Beignet by couple, Rowena and Michael Jensen, just a few weeks before the premiere. Chef gave me an excuse to make a return trip.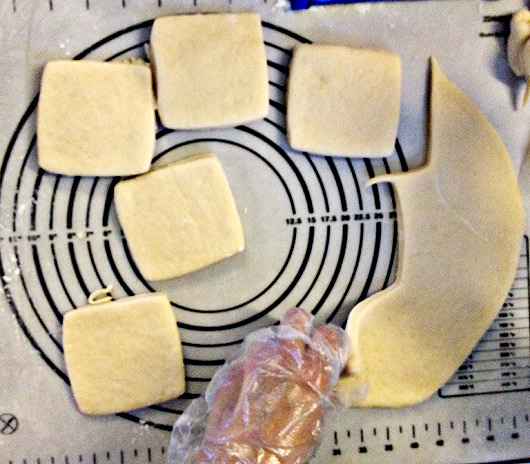 ADVERTISEMENT - CONTINUE READING BELOW
The dough being shaped...Notice the precision.
"We were in Houston, Texas, then. We went to a beignet shop, had some, and thought it was good," relates Michael. "We also know about the New Orleans beignets and are aware that there was a big buzz about it, so we brought the idea back home, made some and gave them to our kids, family, friends, and neighbors." It took them almost a year to perfect the recipe, testing it out with a variety of flours and yeasts before finally coming up with one that passed their standards. Apart from the dough, the frying technique is also essential, shares Michael. The right temperature, time, and method must be applied to achieve the donut that the French could proudly declare a beignet. They started selling their goods to the public last month and the response has so far been gratifying.
CONTINUE READING BELOW
Recommended Videos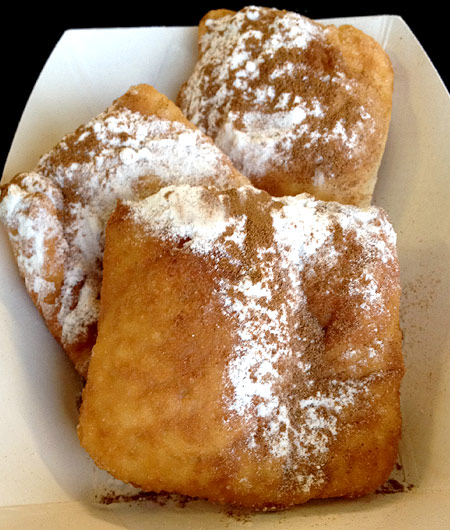 Original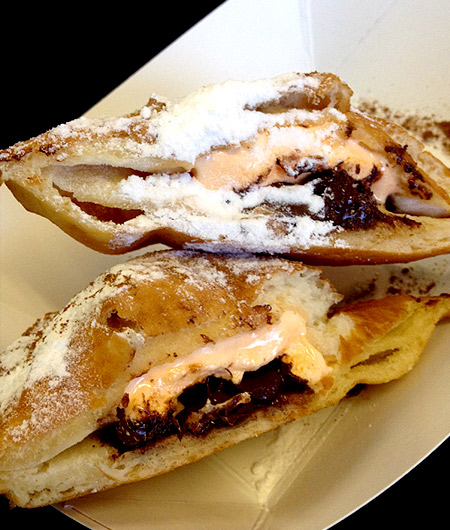 ADVERTISEMENT - CONTINUE READING BELOW
Chocolate Mallow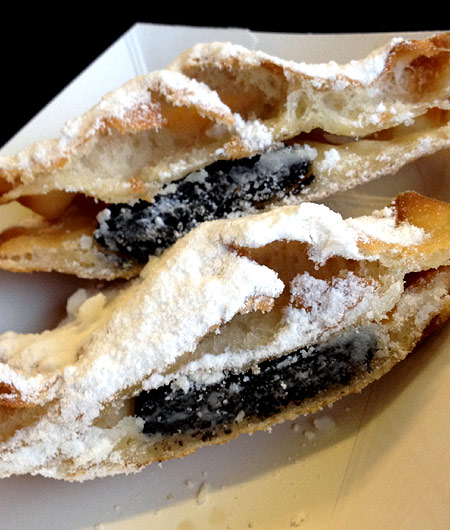 Oreo-stuffed Beignets
Their pillowy fried puffs come in squares, and not the typical round, golf-ball-sized ones. It feels just like a donut, but less dense, less greasy, and consequently, much easier to finish. To appease the Filipinos' penchant for palaman, they developed a variety of stuffed versions. The Original is heavily dusted with powdered sugar and cinnamon, while the stuffed kinds come as either savory or sweet. The bestsellers are Chocolate and Nutella, but just as delightful are the Strawberry, Blueberry, Reese's, and Chocolate Chip with marshmallow stuffing. Their latest variant, the Oreo-stuffed beignet, offers more bite than the others. It's much more gooey than the rest, especially when fresh from the fryer.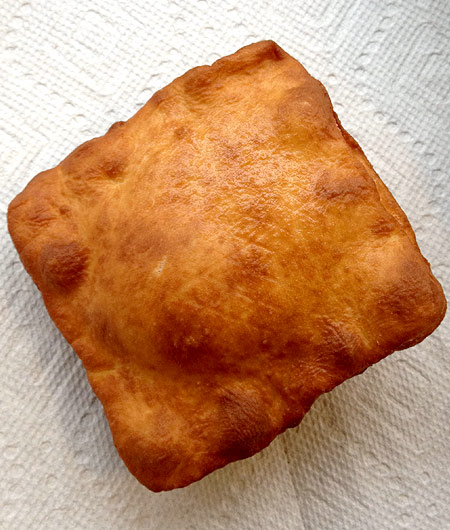 ADVERTISEMENT - CONTINUE READING BELOW
Stuffed Beignets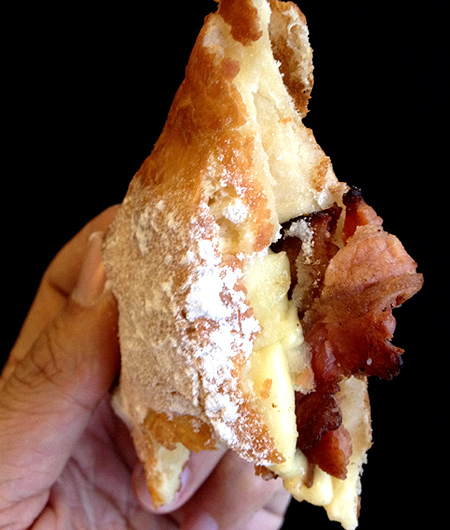 Bacon and Cheese
It's as if the savory selection was designed to draw you in. Fried bacon, a chunk of quick-melting cheese, cooked egg, or a combination of any of the three are placed inside two flat doughs, sealed tightly, then fried until golden brown. They may be enjoyed as is, or, as many prefer, with a dusting of powdered sugar and cinnamon for that interesting marriage of sweet and salty.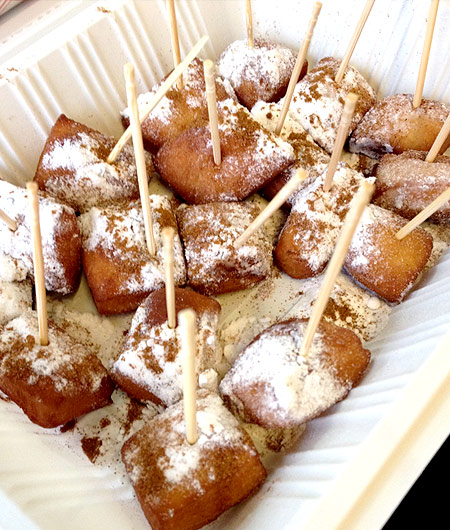 ADVERTISEMENT - CONTINUE READING BELOW
Minis
The couple admits that many Filipinos aren't aware of what beignets are-with most not even knowing how to pronounce it properly. But Chef may have just given them free marketing. In the movie, Casper advises his son, "Eat it slow. You're never going to have your first beignet ever again." Indeed, it's an experience that needs to be relished and thanks to Café Beignet, people can now revel in their own beignet moment. Something this good will never be kept under wraps for long.
The Original is priced P80 (three pieces). The stuffed beignets are P50, while the beignet bites cost P40. For orders, contact Café Beignet at 0905-493-0613 or chef.rowena@cafebeignet.ph. Minimum delivery order of P200, limited to Paseo, Nuvali and South Forbes Areas. You may also find them at the Mercato and Greenfield Weekend Markets.
Angelo Comsti contributes for Yummy, Men's Health Philippines, and Esquire Philippines in addition to other publications. He studied at Le Cordon Bleu Australia. Recently, his bestselling book From Our Table to Yours, a collection of generations-old heirloom recipes from some of the country's best cooks and chefs, won the Gourmand Best in the World Award for Best Authors and Chefs Outside Europe. He is currently working on a sequel. Follow Angelo on Instagram (@fooddudeph) to catch more of his food discoveries.
Share this story with your friends!
---
Help us make Spot.ph better!
Take the short survey
Load More Stories