(SPOT.ph) There's nothing cozier than curling up with a truly thrilling grilled cheese sandwich and a sublime bowl of comforting tomato soup as you listen to the occasional downpour this rainy season-not that the appearance of the sun would stop us from having one anyway. Grilled cheese sandwiches are easy to whip up at home, but there's something special about indulging in these familiar favorites when you're out and about, too. For one, no cooking, no dishes! Whether you're into ol' classics or you prefer cheesy twists once in a while, all that really matters is that whenever you grab an exquisitely buttery sandwich filled with gooey cheese you feel rewarded. Every time.
Here, our top 10 places for the best grilled cheese sandwiches in the metro.
All SPOT.ph Top 10 lists are researched, paid for, tested, and selected by the writers and editors. They are discreetly conducted without any notice made to the restaurants or their owners.
ADVERTISEMENT - CONTINUE READING BELOW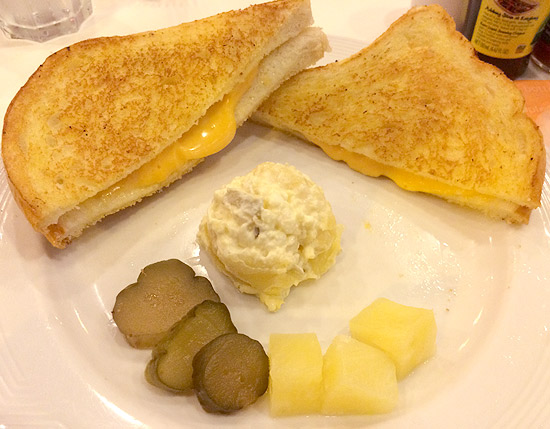 10. Pancake House's Grilled Cheese (P142)
Many of us grew up eating at Pancake House, but not too many know that their grilled cheese sandwich is worth ordering when you're not hankering for a bacon waffle or the classic spaghetti. Simple and straightforward, Pancake House's grilled cheese is similar to what your mom would make. Buttery bread, its sides crisped to perfection, and melted cheese-it's the ultimate American classic.
Click here for a list of Pancake House branches.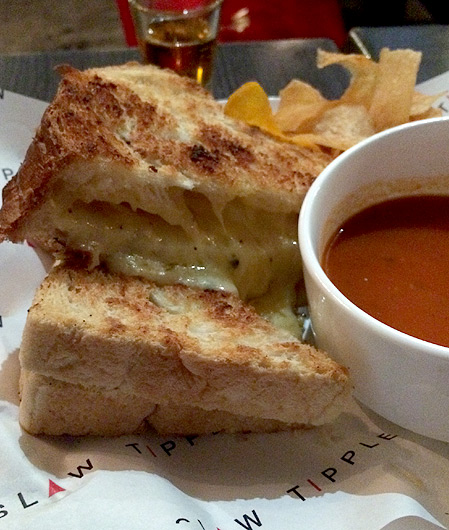 9. Tipple and Slaw's Truffled Grilled Cheese with Honey and Tomato Soup (P285)
Tipple and Slaw whips out a grilled cheese sandwich that is so luxurious, it's way past pretension. This contradiction is absolutely nuts, and you'll want nothing more than to tuck away in a corner with this opulent four cheese and truffle paste white loaf sandwich. And yes, the roasted tomato soup completely seals the deal.
ADVERTISEMENT - CONTINUE READING BELOW
Tipple and Slaw is at 2/F Forum South Global, 7th Avenue corner Federacion Drive, Bonifacio Global City.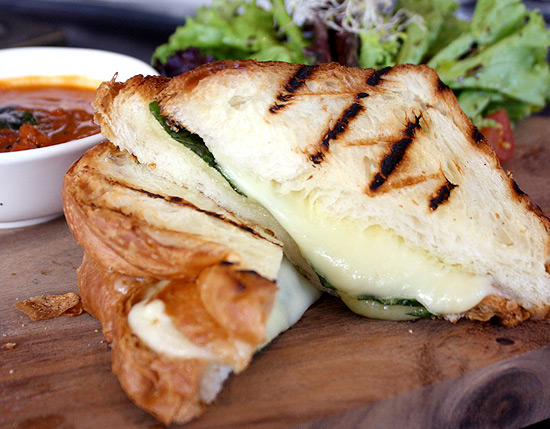 8. Refinery's Honey and Basil Grilled Cheese (P280)
Refinery had the right idea when they decided to pair honey and basil with deliciously gooey cheese and Monroe bread, a classic favorite (with somewhat of a cult following, too) from Jipan bakery. Jipan's Monroe loaf is soft and pillowy, making it the perfect stage on which to elevate this grilled cheese sandwich. Biting through this yummy stack is like biting through a heavenly cloud of cheesiness. Paired with zesty tomato soup, don't be surprised if you end up wolfing one order down all by yourself. Go on, have another one. You deserve it.
ADVERTISEMENT - CONTINUE READING BELOW
Refinery is at G/F, Joya Building, Joya Drive, Rockwell, Makati City.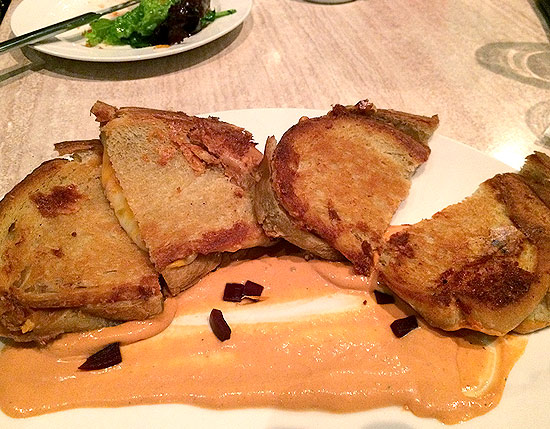 7. Grilled Cheese (P365) from 2nd's
A place that does comfort food right, 2nd's does not disappoint with their extremely filling and satisfying grilled cheese sandwich. Those four pieces might not look like much, but because of how delightfully rich this dish is, sharing is a must. You'll find an incredible mix of cheddar, Emmental, port glazed onions, and bacon butter in between glorious slices of buttery bread, and finished off with a creamy tomato dip.
ADVERTISEMENT - CONTINUE READING BELOW
2nd's is at 2/F Quadrant 3, Bonifacio High Street, Bonifacio Global City (846-5293).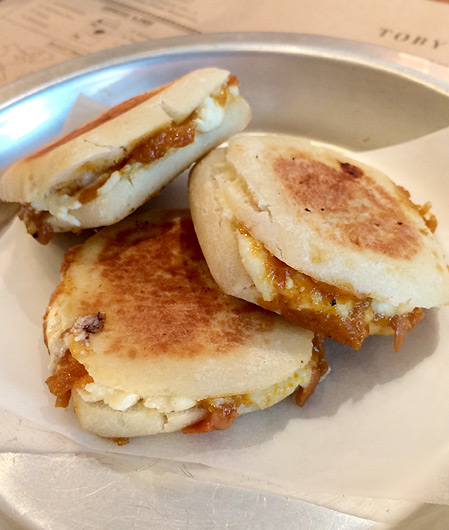 6. Toby's Estate's Grilled Cheese with Fruit (P320)
People flock over to Toby's Estate because of their excellent coffee, but staying for the food is worth a shot, too. Toby's has two grilled cheese sandwiches available on their menu, but skip the regular and go for their grilled cheese with fruit. We're going to preempt the experience for you. Your eyes will pop open when you bite into the perfectly toasted ciabatta sandwich and your taste buds get hit by that excellent mix of ricotta, Emmental, mozzarella, Parmesan, and vanilla and fruit compote. It's a playful mix of flavors that'll keep you wanting more!
ADVERTISEMENT - CONTINUE READING BELOW
Toby's Estate is at V Corporate Center, 125 L.P. Leviste Street, Salcedo Village, Makati City.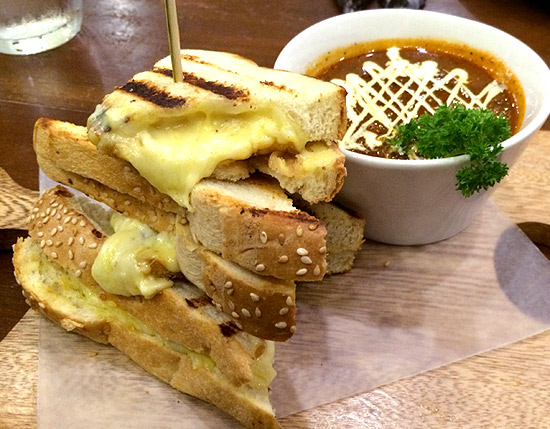 5. Early Bird Breakfast Club's Ultimate Grilled Cheese with Roasted Tomato Soup (P295)
This breakfast joint adds the word "ultimate" to its grilled cheese sandwich, and we're going to have to agree with their claim-it's definitely up there! Gooey cheddar, mozzarella, and Gruyere drip out of the toasted sandwich's sides and the sweet-spicy onion relish it's paired with adds extra oomph to an otherwise typical cheese interpretation. Throw in their roasted tomato soup and you'll want to savor every single bite.
ADVERTISEMENT - CONTINUE READING BELOW
Early Bird Breakfast has branches at G/F Fort Pointe 2 Building, The Fort Strip, 28th Street, Bonifacio Global City; Eastwood Mall, Quezon City; and Century City Mall, Makati City.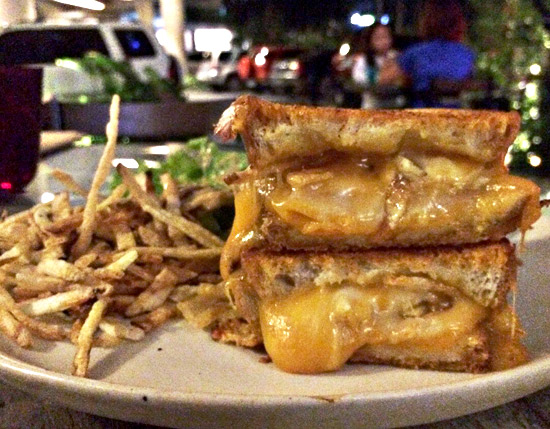 4. Grace Park's Grilled Three-cheese Sandwich (P350)
Inspired by that unforgettable grilled cheese sandwich scene in the movie Chef, Grace Park's Grilled Three-cheese Sandwich delivers, and then some. Buttery crisp sourdough sandwiches filled with cheddar, Fontina, and Asiago cheese are sliced into half and piled on top of each other, just waiting to be devoured. A loud, rewarding crunch resounds as you bite into the bread, and the different cheese profiles playfully dance in your mouth. This off-menu sandwich is definitely worth looking into.
ADVERTISEMENT - CONTINUE READING BELOW
Grace Park is at G/F One Rockwell Building, Rockwell, Makati City.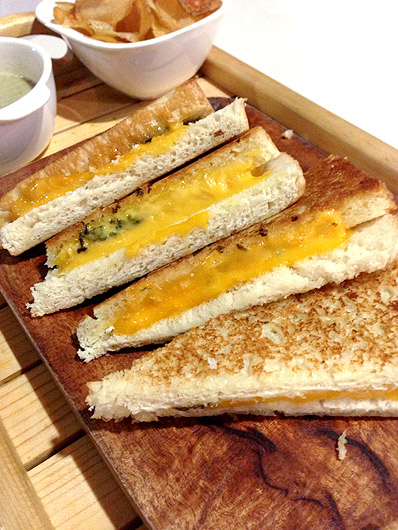 3. Lunchbox's Grilled Cheese, Please (P230)
The first thing that catches your attention is the presentation. Four beautifully grilled triangle-shaped sandwiches are placed atop a wooden tray with golden crisps and their soup of the day on the side. It's like having your grilled cheese sandwich at home! But enough about the presentation, let's talk about the sandwich. Simplicity relays volumes with the perfectly grilled, buttery pan de mie made in-house. The cheese isn't too heavy, and the slight hint of basil adds a welcoming twist. Can we have this in our lunchboxes every day?
ADVERTISEMENT - CONTINUE READING BELOW
Lunchbox is at Ronac Art Center, 424 Ortigas Avenue, Greenhills, San Juan.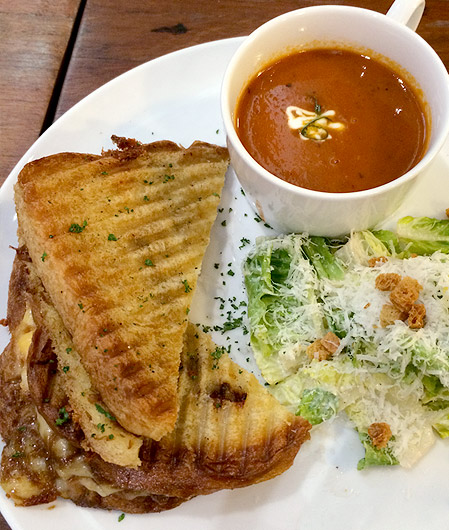 2. Wildflour's Grilled Cheese (P395)
This version of grilled cheese makes you realize that terrific bread is really the not-so-secret secret to a great sandwich. Wildflour uses batard-incredibly firm and crisp with just the right crunch. The Gruyere is perfectly proportioned, too. Not too much, not too little, you've got just the right sticky, creamy, cheesy consistency. Order the set meal with tomato soup and a fresh Caesar salad, and you're golden. Get ready to feel absolutely content after this meal.
ADVERTISEMENT - CONTINUE READING BELOW
Wildflour has branches at G/F, Netlime Building, 4th Avenue corner 26th Street, Bonifacio Global City; G/F The Podium, ADB Avenue, Ortigas Center, Mandaluyong City; 125 Leviste Street, Salcedo Village, Makati City.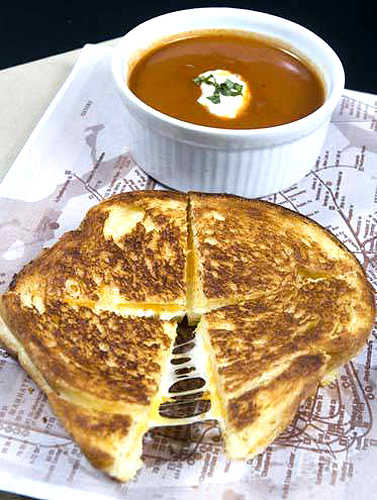 1. Borough's Grilled Cheese and Tomato Soup (P270)
Borough's NYC vibe screams comfort food and they totally hit the mark when it comes to making the best grilled cheese sandwich in the metro. Velvety, gooey cheese seductively oozes out of generously buttered brioche slices, and that first bite feels like a warm hug from a loved one you haven't seen in years. Dip it in the tangy tomato soup (the hotter the better) and you'll realize that Borough is like that familiar love you'll want to keep going back to over and over again. The best grilled cheese sandwich is one that you can always rely on, always think about and miss, always brings forth only the best memories. Yes, this sandwich is almost like family to us.
ADVERTISEMENT - CONTINUE READING BELOW
Borough is at G/F The Podium, ADB Avenue, Ortigas Center, Mandaluyong City.
Share this story with your friends!
---
Help us make Spot.ph better!
Take the short survey
More Videos You Can Watch
Load More Stories