Top 10 Onion Rings in Manila
If we could have anything deep-fried, it would be onion rings.
(SPOT.ph) Onion rings are curious creatures. On one hand, they tend to play second fiddle to French fries, dutifully standing in when fries are not available. But on the other hand, you do have to pay extra to get onion rings as sides sometimes, and an increasing number of restaurants are offering onion rings separately as appetizers. Whatever role they play, we had a blast digging into plate after plate of these fried and battered gems (and telling ourselves, "Hey, these are onions! They're healthy! Right?") to find the best.
All SPOT.ph Top 10 lists are researched, paid for, tested, and selected by the writers and editors. They are discreetly conducted without any notice made to the restaurants or their owners.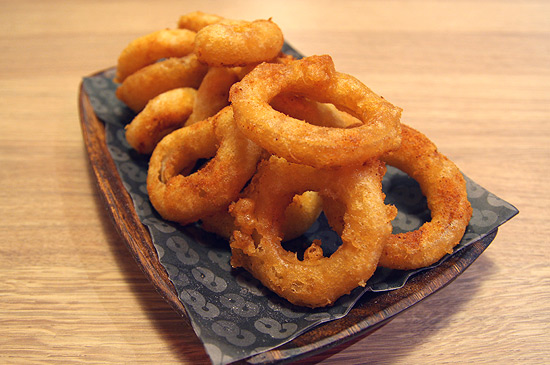 10. 8 Cuts (P65)
The price is pretty amazing for such big and thick onion rings. 8 Cuts' onion rings are the only one on our list that has a kick of extra flavor-barbecue, to be exact-and we love the crunchy layer of batter that conceals the thick slices of white onions. If the taste isn't enough for you, you can always dip the rings in either the mayo or the ketchup served on the side.
ADVERTISEMENT - CONTINUE READING BELOW
8 Cuts has branches at Power Plant Mall, Makati City; UP Town Center, Quezon City; Trinoma Mall, Quezon City; SM Mega Fashion Hall, Mandaluyong City.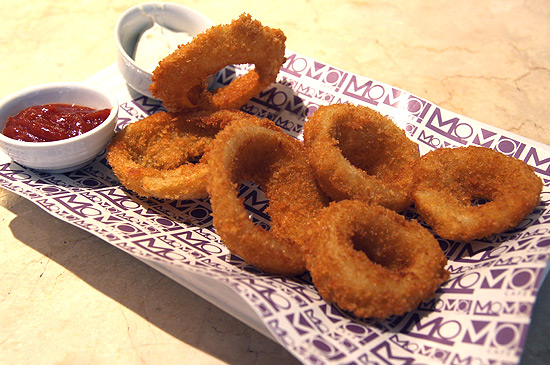 CONTINUE READING BELOW
Recommended Videos
9. MoMo Cafe (P110)
You won't find onion rings on MoMo's menu, but you can bet that they have it-just make sure to ask them. You also won't be getting a huge pile of onion rings, and six pieces might sound modest, but each piece is enormous and generously breaded, although not enough to diminish the natural taste of the onions. You will want to relish each crispy ring to the last bite.
MoMo Cafe is at Eastwood Mall, Libis, Quezon City.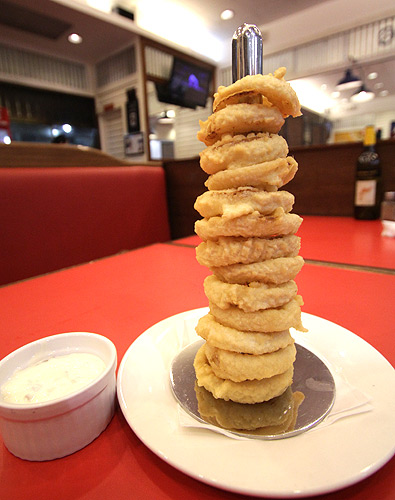 ADVERTISEMENT - CONTINUE READING BELOW
8. Tender Bob's (P170)
These rings are liberally coated with tempura batter (deliciously flaky, crisp, and light), but the onion flavor rises above it all. Curiously, it's sprinkled with salt, which fortunately doesn't detract from the taste of the onion rings. Another bonus: these rings were not greasy-a common crime in deep-frying.
Tender Bob's has branches in Shangri-La Plaza, Mandaluyong City; Greenbelt 2, Makati City; SM North The Block, Quezon City; Promenade, Greenhills, San Juan.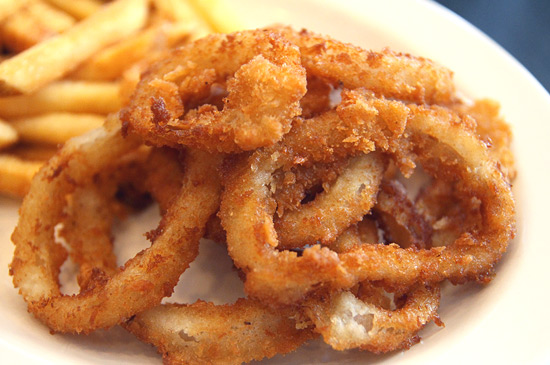 7. Johnny Rockets (P220)
Some onion rings are so heavily wrapped in batter that you can barely get a hint of onion with every bite. Johnny Rockets (pictured here served with fries because they ran out of onion rings to fit a serving, but were thoughtful enough to serve something else) manages to mix both perfectly, with the onions still having a light crunch without being overfried.
Johnny Rockets has branches at Tomas Morato, Quezon City; Eastwood Mall, Quezon City; Alabang Town Center, Muntinlupa City; Shangri-La Plaza Mall, Mandaluyong City; Robinsons Galleria, Quezon City; Burgos Circle, Bonifacio Global City.
ADVERTISEMENT - CONTINUE READING BELOW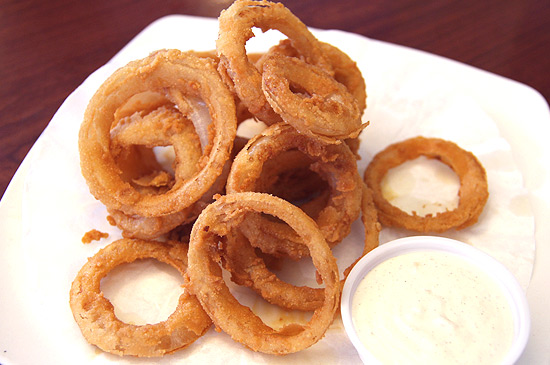 6. Don Henrico's (P170)
Yes, you can still find Don Henrico's branches if you look hard enough. Maybe the onion rings are keeping them standing. Here, you get an impressive mound of crispy, hand-battered, perfectly sliced onions. The ranch dressing on the side takes it from delicious to downright addictive. Okay, we won't judge you if you get more, but for being too depending on the sauce, we have to leave it at the bottom six.
Don Henrico's has branches at West Avenue, Quezon City; SM Mall of Asia, Pasay City; Glorietta 1, Makati City; Tomas Morato, Quezon City; Festival Supermall, Muntinlupa City; Greenhills Shopping Center, San Juan; Malate, Manila.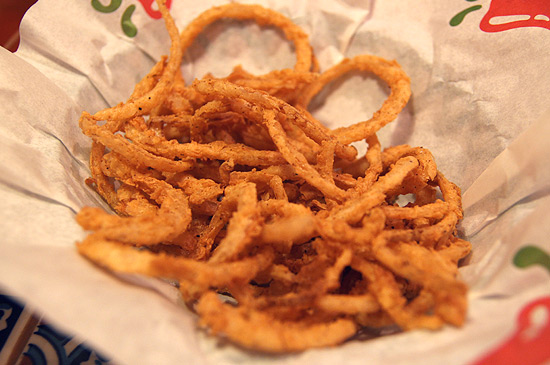 ADVERTISEMENT - CONTINUE READING BELOW
5. Chili's (P80)
They call it Onion Strings, but it also has a lot of rings, so we're including it on our list. The strings just give it a little extra, don't you think? The pieces themselves are shoestring thin, but the onion's profile manages to rise to the top without effort; the thinness only makes it addictively crisp. It doesn't even come with a dip-definitely a sign that the onion rings' flavor can stand on its own without extra help. Order two or more of these-you'll be picking the bowl clean before you know it and wishing you had more. (Hint: This is another one that isn't on the menu, so you'll have to ask for it by name.)
Chili's has branches at SM Mega Atrium, Mandaluyong City; Greenhills Shopping Center, San Juan; Tomas Morato, Quezon City; Alabang Town Center, Muntinlupa City; Ayala Fairview Terraces, Quezon City; Greenbelt 5, Makati City; Power Plant Mall, Makati City.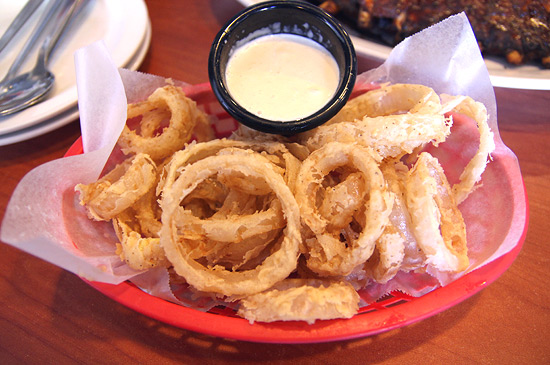 ADVERTISEMENT - CONTINUE READING BELOW
4. Rub Ribs and Barbecue (P160)
Modesty speaks for this red basket of skinny round onions hugged by a white crunchy coat. Served with aioli, these rings feature sweet, flavorful onions sliced thinly and peeking out from a delicate layer of batter. We'd tell you to eat them quickly before they go limp on your plate, but we expect you'll find these onion rings so tasty that you'll vacuum them up within minutes.
Rub Ribs and Barbecue is at 64 Scout Rallos Street, Quezon City; Nicanor Street corner Baler, Makati City; 88 East Capitol Drive, Pasig City.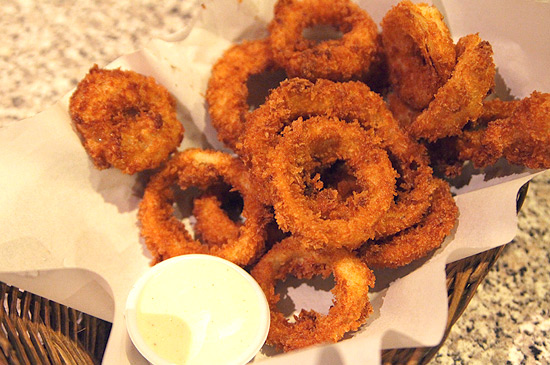 3. Goodfellas Steaks and Burgers (P150)
Thick and fried to a crispy golden brown, Goodfellas' onion rings are good enough to bring peace to warring mobsters. Unless they all forget to share, of course. Fortunately, there's enough of these breaded beauties to go around, and a mild garlic dip is there to pique up the appetite more.
ADVERTISEMENT - CONTINUE READING BELOW
Goodfellas is at T. Jener corner K-1 Street, Kamuning, Quezon City.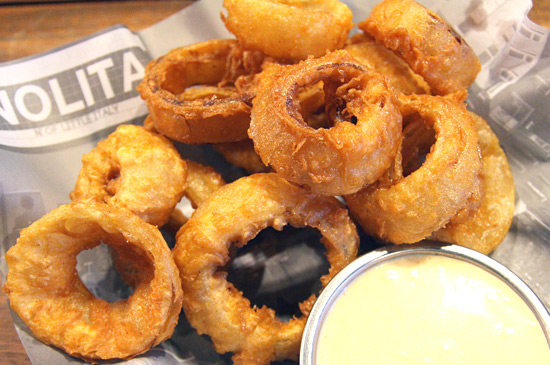 2. Nolita (P160)
We easily fell in love with-wait, we're having a hard time choosing if we love with these beer-battered onion rings because of the flavor, the crunchiness, or that zesty dip laced with Sriracha. This is one elusive treat, but that's exactly what love is about, right? You know what would make these amazing deep-fried munchies better? Yup, a cold one with friends.
Nolita is at Bonifacio High Street Central, Bonifacio Global City.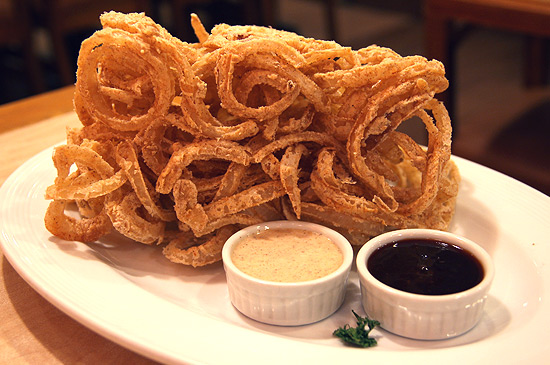 ADVERTISEMENT - CONTINUE READING BELOW
1. Racks (P210)
We're crazy about both the presentation and the flavor: the Onion Brick is exactly what it says it is: a thick brick (3 x 5 x 2 inches, to be exact) composed of mildly spicy, lightly battered onion rings, and it comes with Racks' original barbeque sauce and remoulade. Your job is to dismantle it ring by ring or slice through the whole thing with a fork, whichever works for you. We won't hold it against you if you just pick it up and eat it burger-style. It's that tempting.
Onion rings are ubiquitous apps and we love that Racks has branches around Manila. Easier for us to enjoy it when the craving hits.
Click here for a list of Racks branches.
Share this story with your friends!
---
Help us make Spot.ph better!
Take the short survey
Load More Stories