New Restaurant Alert: Ippudo at SM Mega Fashion Hall, Mandaluyong
Our first dibs on this popular ramen joint will definitely not be our last.
Ippudo
3/F SM Mega Fashion Hall, Mandaluyong City
Tel. No. 0999-886-7907
Open daily from 10 a.m. to 9 p.m.
ALSO READ: SPOT.ph Exclusive: A Sneak Peek into Ippudo Philippines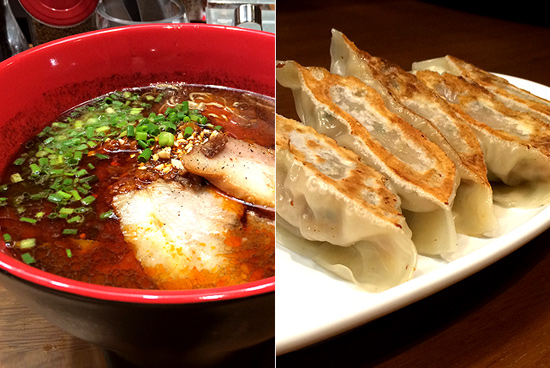 (SPOT.ph) Ramen is the end of a complex process: hours of simmering stock to get those accurate flavors, roasting pork until it's melt-in-your-mouth tender, exacting noodles for that appetizing bite. To appreciate that final product, however, is as easy as actually eating.
ADVERTISEMENT - CONTINUE READING BELOW
This is the case for Ippudo. The worldwide ramen sensation has sparked anticipation for its arrival in the Philippines since mid-2013, but its only on September 10, Wednesday, when it officially opens to the public, will rumor turn into reality. Just like eating ramen, it was a long, patient, but rewarding journey.
This is a different kind of Ippudo from what you may have encountered in Japan, Malaysia, Singapore, or even New York. "We adapted the menu to fit the [Filipino] preference," says Ippudo Representative Yota Shiiba, which also explains the delay. The minor adjustments, Shiiba revealed, are a customary practice in each country: the ramen in Ippudo Singapore, for example, is slightly different from the ones you'd find in Ippudo Hong Kong. For the Philippines, it took several revisions until everything was absolutely ready. All the dishes for the local franchise were carefully selected from Ippudo's wide selection.
ADVERTISEMENT - CONTINUE READING BELOW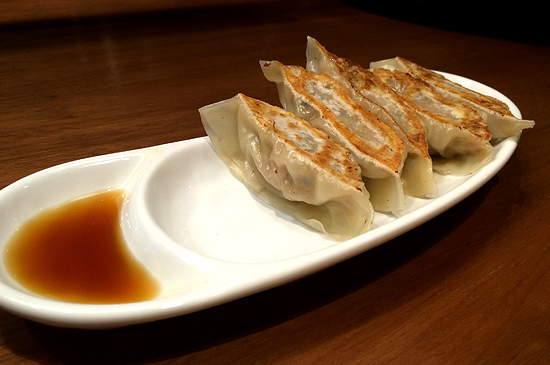 Very crisp gyoza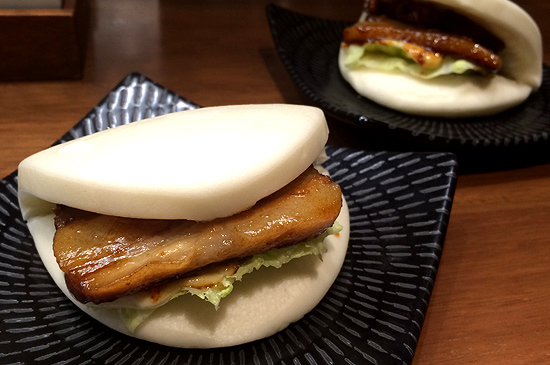 ]
ADVERTISEMENT - CONTINUE READING BELOW
Pork Buns
Candice Zialcita, marketing officer for the Standard Hospitality Group, the team responsible for bringing the brand to Manila, points at the pork buns (P100). "The pork used to be thinner, but we noticed that Filipinos like it thicker and with more fat," she explains. In between fluffy mantou are two layers of charsiu glistening in sweetish barbecue sauce, a contrast of greens, and Japanese mayonnaise. The fat imposes on the meat, but only until you put it in your mouth and it sinks like a sponge squeezing out flavorful juices.
The interior design is also exclusively local. A Japanese designer created the aesthetic, but it relates to SHG's other brand, Yabu's modern and hip ambiance. According to Shiiba, they took traditional Japanese elements like kawara roofs and paper lanterns and updated them. (Read about Ippudo PHs interior design here.)
"Old ramen places (in Japan) are dirty, small, and fast," describes Shiiba. "We want to change that." Still, their ramen speaks of tradition. Eighty percent of Ippudos ingredients, including the stock, are imported from Japan.
ADVERTISEMENT - CONTINUE READING BELOW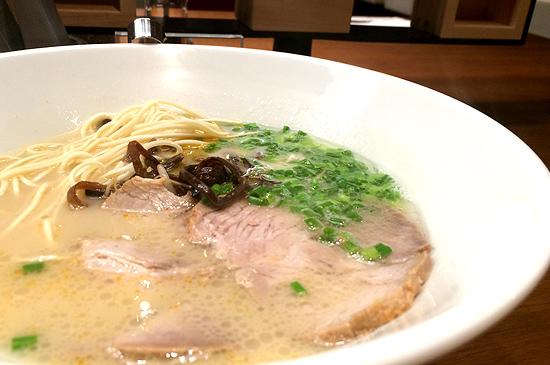 TheShiromaru Motoaji comes in a white bowl.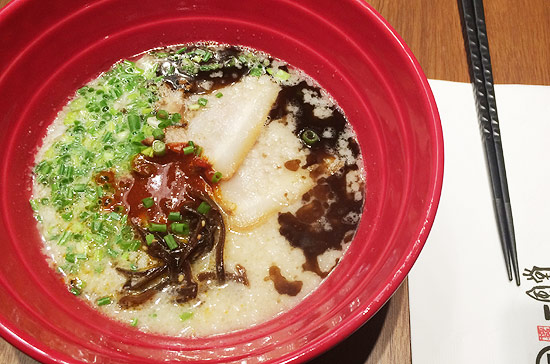 ADVERTISEMENT - CONTINUE READING BELOW
TheAkamaru Shinaji comes in red.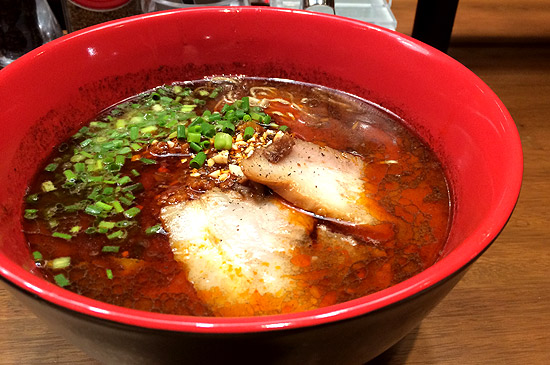 The Karaka-Men is classified by its black bowl.
There are three kinds of ramen to choose from, and each one increases in heat intensity. The friendliest is the Shiromaru Motoaji (P375), a Hakata-style bowl of luscious noodles in atonkotsu broth with charsiu, kikurage mushrooms, sprouts, and spring onions. A ticklish spice pervades the secret-blend miso paste and garlic oil in the Akamaru Shinaji (P390). Underneath the hazy soup and mixed with the mushrooms and spring onions, and pork are visible bits of fat that refuse to melt. Don't think about them except for their amazing contribution to the overall ensemble.
ADVERTISEMENT - CONTINUE READING BELOW
You can tell right away that the Karaka-Men (P390) isn't something to take lightly. It's a murky red shade that takes the Akamaru several spicy notches higher. Garlic crushers are provided at every table to provide another layer of flavor.
In true Fukuoka tradition, the noodles are slender and slippery strings that absorb as much of that flavor as possible. The menu suggests which add-on works best for each bowl if you need them, and the tamago looks good. And you definitely can't go wrong with extra (fatty) pork. Just like Yabu's tutorial on eating katsu, Ippudo has a similar illustration for ramen. Skip that page and well tell you how to enjoy it best: slurp away.
Like any Japanese restaurant, the waiters excitedly yell your welcome, as if they can't wait for you to try their stuff. And who could blame them? Their stuff is more than pretty good. The kind that will have you planning your next trip before you even finish your current one.
ADVERTISEMENT - CONTINUE READING BELOW
CONTINUE READING BELOW
Recommended Videos
Share this story with your friends!
---
Help us make Spot.ph better!
Take the short survey
Load More Stories