Steak Surprise: Top-quality Japanese Wagyu Beef at a Hole-in-the-Wall
SPOT.ph blogger Angelo Comsti visits one of only five shops allowed to import the highest-quality Wagyu in the Philippines.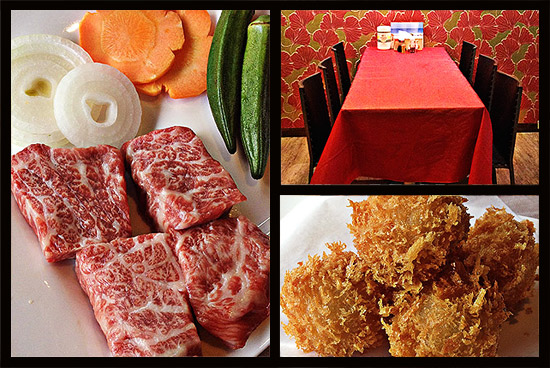 (SPOT.ph) The weary edifice amid a construction site doesn't seem like the type to house top-of-the-line Japanese beef, but the obscurity of its location and the diamond-in-the-rough, hole-in-the-wall feel make the quest to find Japanese Wagyu Beef truly rewarding.
The shop offers different cuts of Wagyu A5, the highest grade beef can have based on color and brightness, marbling, firmness, texture, and quality of fat. It has a velvety mouthfeel, rich meaty taste, and juicy flavor. The mere sight of its marbling will have mouths watering, and once it kisses the grill, the aroma will send appetites into overdrive.
Japanese Wagyu Beef is only one of five accredited importers of high-quality Wagyu beef in the country, and they carry them by blocks-chilled to four-degrees Celsius-which gives customers the option of purchasing their favored cuts. Mr. Hiroaki Higashi, a butcher with over 40 years of experience, readily explains the difference in the meats-from tenderloin, sirloin, or prized parts like chateaubriand-based on their preferred preparation and weight. He also lends advice on the proper way to cook them. Owner Takayuki Hayano claims that the pricing is pretty reasonable, with the value close to how much they are sold in Japan.
ADVERTISEMENT - CONTINUE READING BELOW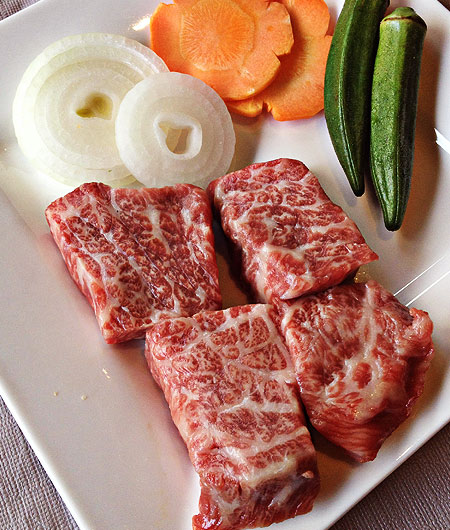 Look at the marbling!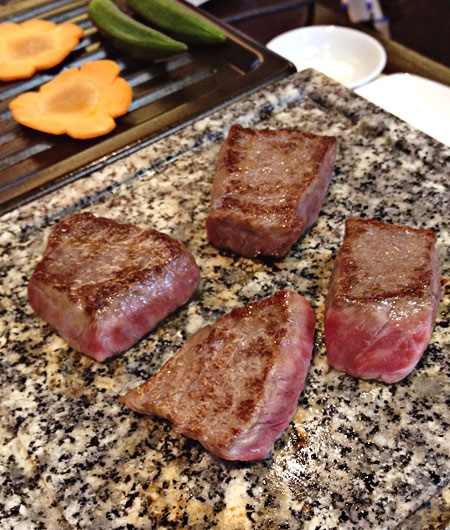 ADVERTISEMENT - CONTINUE READING BELOW
Sirloin on the stone grill
Okra pork from Takayuki's piggery in Tarlac is also available here. The pigs consume feeds mixed with liquid enzyme extracted from Japanese okra grown by his family, resulting in healthier, odorless meat with a clean taste.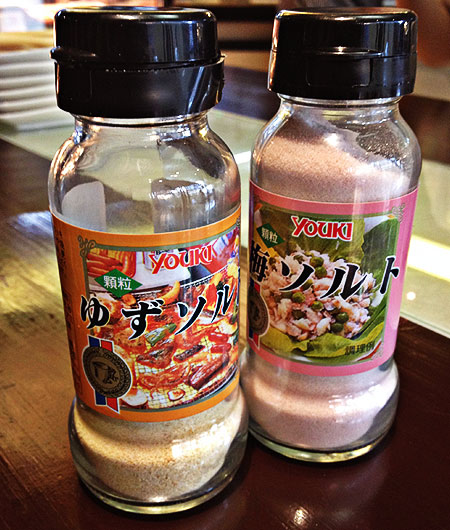 Yuzu and Plum Salts
People can get instant pleasure from the Wagyu meats on display by having their orders cooked on the spot with seasonings like yuzu salt and homemade sauces over a stone grill. Customers may also opt to have the steaks steamed (P300/150g pork belly; P600/150g sirloin), with a bed of vegetables absorbing the fatty juices. Depending on the cut, it can set you back from P80 (100g belly) to P1,200 (100g chateaubriand).
ADVERTISEMENT - CONTINUE READING BELOW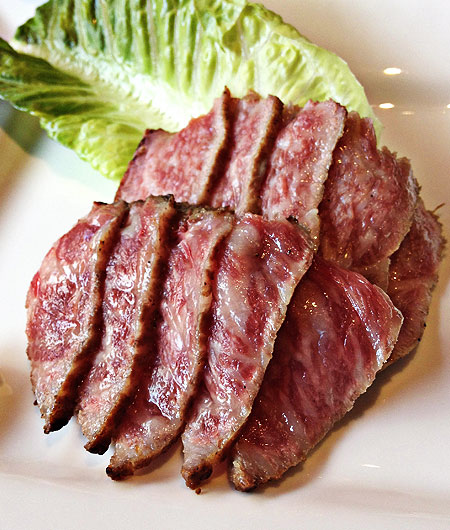 Wagyu Tataki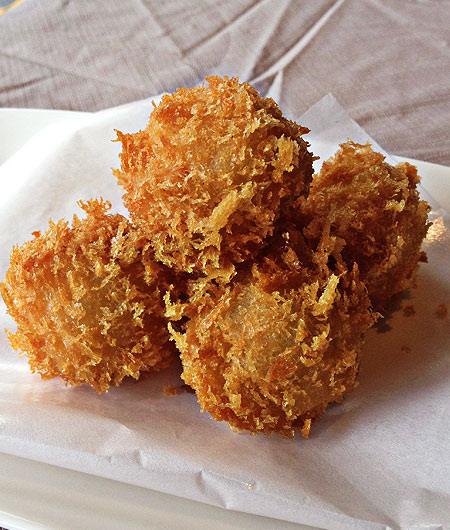 ADVERTISEMENT - CONTINUE READING BELOW
Cheese Croquettes
The Wagyu Tataki (P650) comes as thin slices of seared meat, which you dab with mashed garlic and dunk in a vial of ponzu sauce. The sear gives it a toasty crust that marries well with the beefy taste and the zing from garlic. The shop also offers croquettes, which have become a well-loved street snack in Japan. An order of the cheese croquette (P50) includes five golden balls breaded and crisp-fried in oil from Wagyu fat. Inside, there's a warm mound of smooth mashed potato subtly salted with the cheese.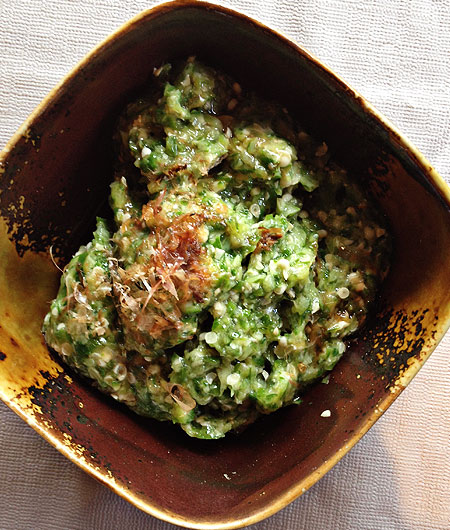 ADVERTISEMENT - CONTINUE READING BELOW
Okra Crush
The Okra Crush (P30/plain; P40/with konbu) makes use of their harvested Japanese okra again. It comes finely chopped and topped with a crown of bonito flakes. Drenched with ponzu sauce, the cold dish cuts off the heartiness from the meat. As a bonus, it aids your digestive system.
By adopting the popular Japanese concept of tachigui or stand-up dining, guests can just grab side dishes like salads, pork and beef cutlets, and tonkatsu sirloin designed by consultant chef, Seiji Kamura.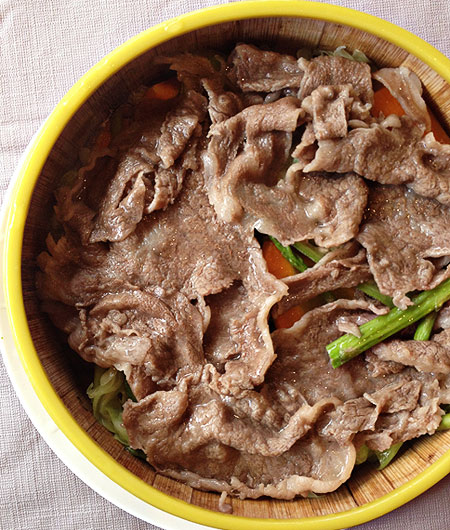 ADVERTISEMENT - CONTINUE READING BELOW
Steamed Wagyu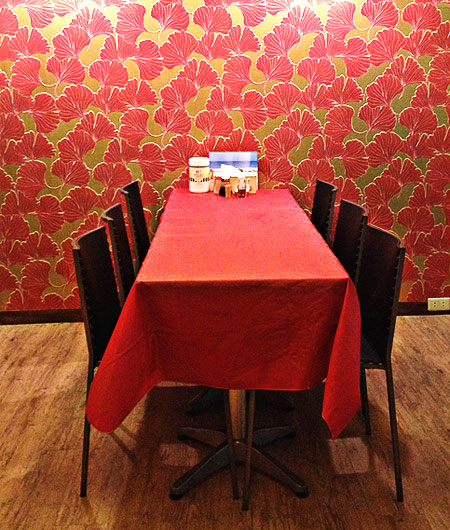 Second-floor dining
The second floor caters to as many as 10 people for those who plan on lingering and ordering a variety of Wagyu dishes from the menu. But there's a lone table on the ground floor that's perfect for wolfing down a dish in a matter of minutes-a quick steak fix, if you will.
ADVERTISEMENT - CONTINUE READING BELOW
Japanese Wagyu Beef and Snack Shop is at G20 Sunvar Plaza, Amorsolo corner Pasay Road, Makati City (808-9508); open daily from 10 a.m. to 10 p.m.
Angelo Comsti contributes to Yummy, Men's Health Philippines, and Esquire Philippines in addition to other publications. He studied at Le Cordon Bleu Australia. Recently, his bestselling book From Our Table to Yours, a collection of generations-old heirloom recipes from some of the country's best cooks and chefs, won the Gourmand Best in the World Award for Best Authors and Chefs Outside Europe. He is currently working on a sequel. Follow Angelo on Instagram (@fooddudeph) to catch more of his food discoveries.
CONTINUE READING BELOW
Recommended Videos
Share this story with your friends!
---
Help us make Spot.ph better!
Take the short survey
Load More Stories