SPOT.ph's Online Grocery Guide for Those Who Hate Actual Shopping
A quick list of websites where you can do your grocery shopping at the click of a button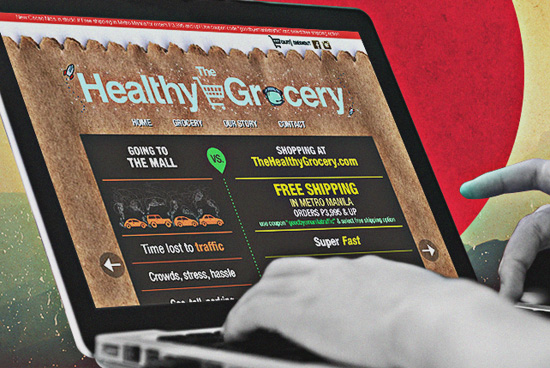 (SPOT.ph) For some people, grocery shopping can be a stressful experience. Brand X versus Brand Y? Generic versus commercial? Then there are matters of pushing a loaded cart, waiting in line, and carrying your groceries in paper bags because plastic's no longer allowed. We're not encouraging you to be lazy, but there are just days when you don't really have time to spend two hours at the grocery store. Here are seven solutions to your no-time-to-shop problems.
This list is not ranked.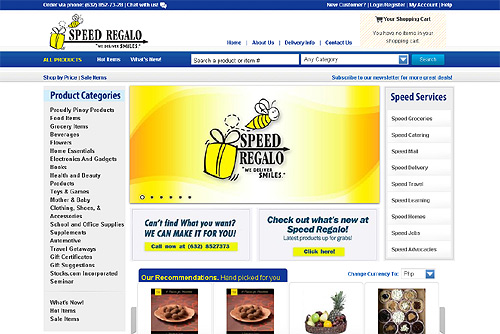 ADVERTISEMENT - CONTINUE READING BELOW
Speed Regalo
speedregalo.com
This one-stop shop is not exactly a grocery store. Speed Regalo is a quick and convenient way to send out gifts to yourself or to others. The logic behind the company is that instead of sending cash to relatives, customers can just cut the medium and send the actual goods. It has a curated selection of home-based bakers and entrepreneurs, as well as a variety of hampers full of snacks, toys, electronics, books, fruits, and flowers. You can even buy household appliances, houses, or trips and tours. Speed Regalo has its own logistics system, which makes shipping much easier.
Their food selection however, is especially noteworthy. They've put sweet heavyweights like RISA Chocolates, Pinkerton Ice Cream, Cookie Bar Manila, Cookie Lab, and more under one extremely comprehensive website.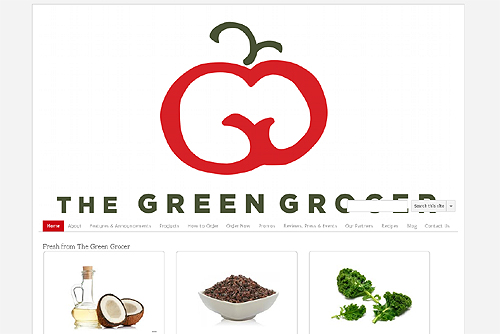 ADVERTISEMENT - CONTINUE READING BELOW
Green Grocer Manila
www.thegreengrocermanila.com
The Green Grocer gives you a good reason to skip the grocery store. It's an online haven for artisan bread, fresh produce, top-quality meats, deli stuff, and kitchen essentials. The website is organized so efficiently with categories and subcategories that you'll never want to wander aimlessly through aisles again. Among their stocks are Delimondo products, sardines, fish and meat, grains, wine, beer, potted herbs, household cleaning items, supplements, and even made-to-order goods.
Every weekend, a grocery list is uploaded to announce what's fresh and available, as well as their updated prices. Delivery is every Wednesday and Friday.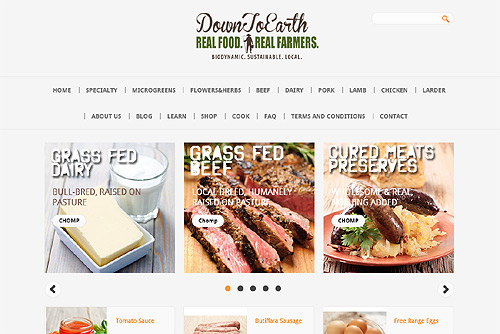 ADVERTISEMENT - CONTINUE READING BELOW
Down to Earth
www.downtoearth.ph
Organic. Local. Sustainable. Biodynamic. These words are being thrown around a lot in the food world recently, but for Down to Earth, it's a lifestyle that they want to share. Their greens are farmed using ecological multiple crop-rotation methods and are free from chemicals and pesticides. No antibiotics or extra hormones touch their grass-fed cattle and heritage-free pork. Likewise, processed items like dips and spreads have a strict no MSG, nitrates, and preservatives policy. They also have dairy, poultry, and herbs. Down to Earth is essentially your pantry-online.
Items change depending on the season, but order on Monday or Tuesday because they deliver from Wednesday through Friday. A minimum bill of P1,000 is required to qualify for delivery. Delivery fees (P100+) apply.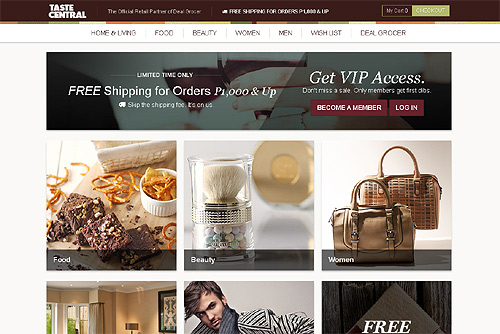 ADVERTISEMENT - CONTINUE READING BELOW
Taste Central
tastecentral.com
You're not going to find items like laundry detergent or flour here. Taste Central is a rather upscale, online solution to grocery shopping. They have makeup, toys, shoes, gym equipment, and lots and lots of food. There's no meat or produce, but there's a smorgasboard of spices and condiments, jams, cereals, pasta, salts, and confectionary-all gourmet and uncommon compared to your average grocery store. Brands include Betty Crocker, Sabatino & Co., Trader Joe's, J&D's, and Godiva, as well as local favorites like Casa San Luis, Pili & Pino, and Ritual. From the same people behind DealGrocer, Taste Central offers luxury shopping at a click of a button.
From SPOT.ph's personal experience, Taste Central has an efficient delivery service and orders may be marked for gifting.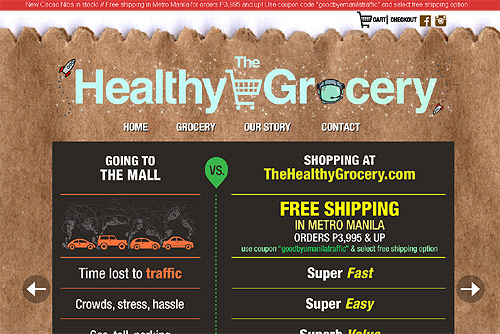 ADVERTISEMENT - CONTINUE READING BELOW
The Healthy Grocery
thehealthygrocery.com
The mantra: health products and superfoods at honest prices. If you've decided to embark on the path of wellness, supplement your lifestyle with items like maca, chlorella, acai, wheatgrass, cacao nibs-all raw-and more. The Healthy Grocery helpfully details the benefits of their merchandise. Not only do you get healthier, you learn a little something, too!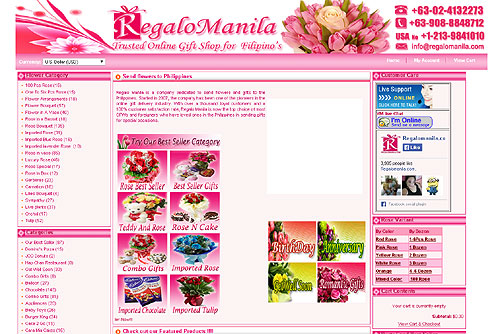 ADVERTISEMENT - CONTINUE READING BELOW
Regalo Manila
www.regalomanila.com
It's another gift-oriented website that won't stop us ordering for ourselves. Just like Speed Regalo, it's designed for OFWs who want to surprise their loved ones with something special. Not only does Regalo Manila offer grocery items, flowers, chocolates, appliances, and stuffed animals, it also allows you to order goods from restaurants in the city! On their website, they sell products from J.Co, Tous Les Jour, Cara Mia, Greenwich, Goldilocks, Sbarro, Hap Chan, and more.
Their flower menu is pretty impressive as well: orchids, tulips, carnations, gerberas, and roses (you can order as many as 100 pieces of them!).
The company was established in 2007 and it delivers nationwide.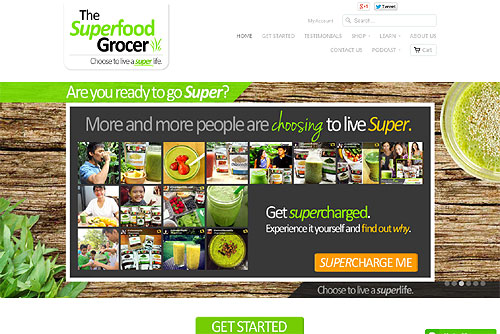 ADVERTISEMENT - CONTINUE READING BELOW
The Superfood Grocer
www.thesuperfoodgrocer.com
Let's face it, most major grocery stores aren't supplied with as many nutrient-rich and organic items as we'd like. The Superfood Grocer is on a mission to spread awareness on a cleaner and healthier lifestyle that's supported by sustainable and ecological methods. By introducing a venue to get these plant-based whole foods, vegan owners Ralph Go and Carmela Cancio are showing people that it's possible to eat green without deprivation. Their website even has a free downloadable Starter Guide to show you how it's done.
They have your everyday superfoods like maca, camu camu berries, chia seeds, cocoa nibs, moringa, and flax, but they also offer healthy treats like vegan chocolate chip cookies! For those uninitiated to this kind of diet, The Superfood Grocer has three types of starter packs to get you going.
CONTINUE READING BELOW
Recommended Videos
Share this story with your friends!
---
Help us make Spot.ph better!
Take the short survey
Load More Stories