10 Dim Sum Places to Try in Metro Manila
For your siomai cravings...and more!
(SPOT.ph) Dim sum: The word is enough to make our mouths water, bringing to mind stacks of steaming bamboo baskets, and the best of what Cantonese cuisine has to offer. Shrimp-stuffed dumplings, pillowy pork buns, and sticky rice wrapped with lotus leaves are the usual suspects that show up during yum cha (traditional Chinese tea time) and in menus across the metro. From opulent hotel restaurants at the heart of business districts to the cramped dim sum parlors of Chinatown, we've compiled a list to show you where you ought to chow when you've got your heart set on hot buns. So raise your teacups for another round of hot oolong, and let the feasting begin.
ALSO READ:
Top 10 Xiao Long Bao in Manila (2011)
Top 10 Hakaw in Manila (2011)
Top 10 Siomai Under P100 (2013)Top 10 Siomai Under P100 (2010)
This list is not ranked.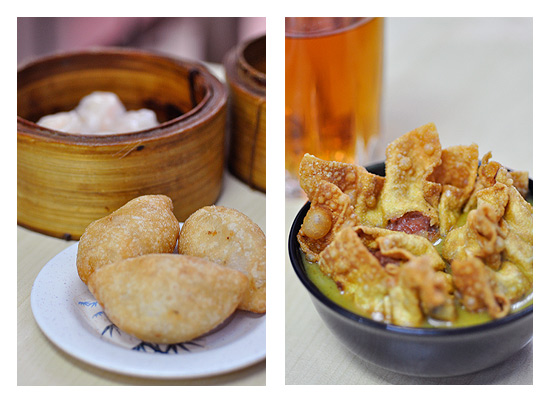 1. Wai Ying
ADVERTISEMENT - CONTINUE READING BELOW
What once was Chinatown's best-kept secret is now so popular, you might have to wait at the entrance for half an hour, dodging servers carrying baskets of steamed buns. Reward your patience: ask for the fried beef wontons in curry and century egg siomai. Wai Ying is generous with shrimp as well, their hakaw hefty and bulging.
Forget the rice and get the golden-fried ham soi kok. Its chewy, glutinous rice shell gives way to a moist, savory pork filling that's a cross between buchi and an empanada. Not enough? For sweet endings, check if there's lin yong pao, doughy buns filled with yellow lotus.
Wai Ying is at 810 Benavidez Street, Binondo, Manila.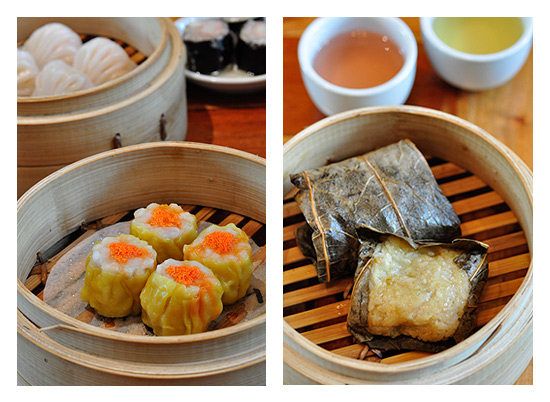 2. Pearl River Café
Cheese-stuffed shrimp spring rolls, chicken and char siu in fragrant lotus machang, crab roe and prawn siomai-it's hard to look the other way when these are just for starters at Pearl River Café. From the people behind Shi Lin comes this new casual dim sum diner, which currently occupies a quiet little spot at the al fresco floor of Trinoma. There's a focus on light Cantonese fare, the likes of radish cakes, spare ribs and taro in black bean, and a tasty kani-and-egg combo wrapped in nori.
CONTINUE READING BELOW
Recommended Videos
Don't leave without having the two winning dim sum desserts: first, the sticky rice balls covered in crushed peanuts and stuffed with piping hot black bean. Then, the sweet red-bean paste in chewy, adorable mini pumpkins. Much like Shi Lin, Pearl River offers a wide assortment of teas to go with your yum cha including buttermilk oolong, pinhead gunpowder, and silver needle leaves.
Pearl River Café is at 4/F Trinoma, North Avenue corner EDSA, Quezon City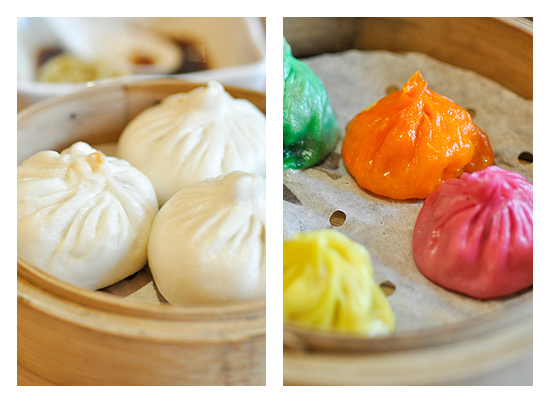 3. Crystal Jade
Though not quite dim sum, we swear by Crystal Jade's caramelized wu xi crispy eel, which first left us smitten in 2010's market opening. Both the quaint branch in V-Mall and its glitzier sister in High Street serve Cantonese and Shanghainese fare like pork dumplings bathed in vinegar and chili, and flaky radish puffs. Xiao long bao abounds too, like the savory foie gras version or the black truffle, which leaves a slightly earthy mushroom taste lingering long after.
ADVERTISEMENT - CONTINUE READING BELOW
Ask for the flavored xiao long bao sampler dyed in different colors. Orange gets you spicy chicken, green a shrimp and spinach fusion. Dessert comes by way of delicate red bean buns, and mochi-like rice balls with taro and coconut shavings.
Crystal Jade Shanghai Delights is at G/F V-Mall, Greenhills Shopping Center, San Juan; Crystal Jade Dining In is at Bonifacio High Street Central, Bonifacio Global City.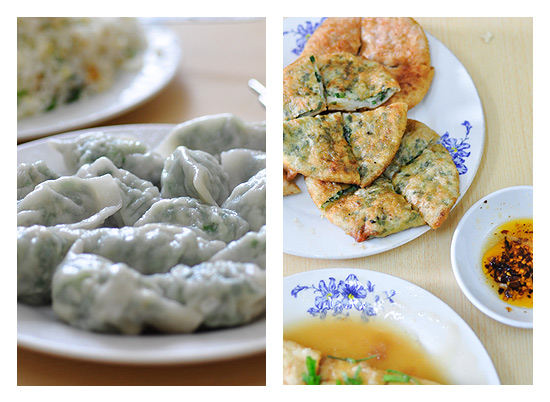 4. Dong Bei
It's easy to miss Dong Bei, which is tucked away two blocks from Ongpin, but any trip to Binondo isn't complete without swinging by the shop. The staff makes the raw dumplings by the entrance, then steams or tosses them into the fryer for walk-ins. They're also available frozen to take home. It's a cramped space, and on peak hours you'll either have to make do by sharing a table with other diners, or hovering behind another party until they leave. That, however, is part of the charm.
ADVERTISEMENT - CONTINUE READING BELOW
Dong Bei's formula for success seems fairly simple, involving words such as "pork," "vegetable," and "fried." Their bestseller remains to be the kuchay dumplings-with pork or just vegetarian-always served in no less than 12 pieces. It's a hefty portion so make sure to come as a group. Fried pancakes stuffed with pork are also perfect for sharing. There's also fried tofu to be had, diced neatly into squares sandwiching pork patties, which are-you guessed it-fried as well.
Dong Bei is at 642 Yuchengco Street, Binondo, Manila.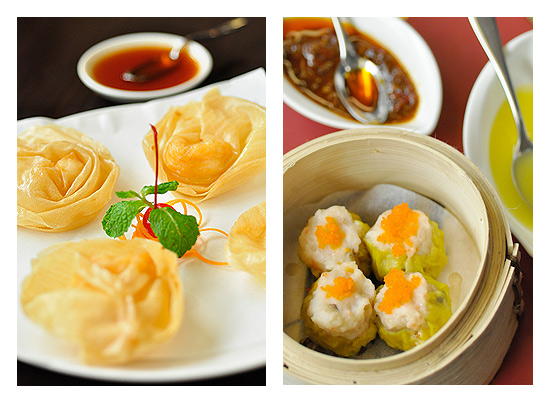 5. Passion
The affable and Filipino-fluent Chef David Chu Wai Fung spoils casino players and theater-goers with a rousing, full course of Cantonese specialties at Resorts World's Passion. You'll find all things mouthwatering in the vast dining hall from spring rolls encased in ethereal netted batter to deep-fried taro cubes topped with bell pepper to creamy egg buns. There's congee and noodles to be had, but hakaw lovers will swoon over Chef David and his team's creations. They make them big and juicy enough that you might forget the need for soy sauce. Make sure to grab an order of the crispy shrimp wonton fritters for good measure as well.
ADVERTISEMENT - CONTINUE READING BELOW
For meatier  fare, look for the crunchy caramelized pork or classic pork buns done right. The latter is fluffy with chewy dough and piping hot, sweetish asado filling.
Passion is at 2/F Maxims Hotel, Resorts World Manila, Newport Boulevard, Newport City, Pasay. Resorts World Manila also has a cheaper Chinese option, Victoria Harbour.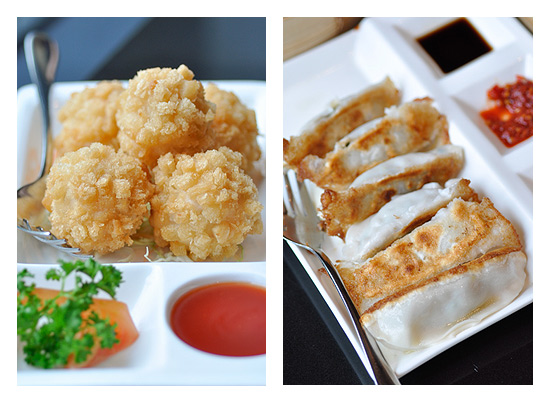 6. Lugang Cafe
We've had the pleasure of Lugang for quite some time; first in Connecticut, and now in some malls as well. Its San Juan home is a three-floor temple to food done in glass and chrome with a touch of imperial times. (Look for its mother store, Bellagio, in Beijing). The main dining floor leads to a viewable kitchen where a small battalion of cooks gingerly whip up noodles and dumplings in real time.
Lugang specializes in xiao long bao, those notoriously delicate morsels filled with soup. Conventional xiao long bao sports pork and an injection of gelatin meat stock that liquefies when steamed. The kitchen ups the ante with variants such as crab roe, kuchay with a whiff of truffle oil, and even molten chocolate. Elsewhere you'll find pan-fried pot stickers slathered with chili, and breaded shrimp balls stuffed with drippy mozzarella.
ADVERTISEMENT - CONTINUE READING BELOW
Lugang Cafe has branches at 115 Connecticut Street, North Greenhills, San Juan; SM Megamall, Mandaluyong City; SM Mall of Asia, Pasay City; SM North EDSA, Quezon City; SM Aura, Bonifacio Global City; and Glorietta 1, Makati City.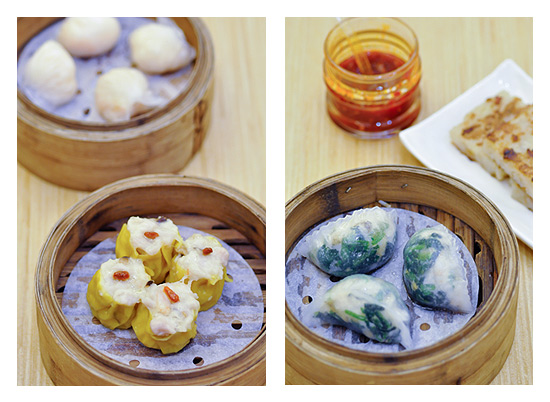 7. Tim Ho Wan
Newcomer to the Manila dining scene Tim Ho Wan is anything but new. After all, its Hong Kong and Singapore branches have been making noise for years, at one point, earning its Hong Kong flagship store a place in the Michelin Guide. Locally, its notoriety is a result of the long lines due to their soft, flaky char siu buns.
The menu isn't exceptionally vast, but it revolves around the simple joys of dim sum. Its spinach dumplings might be tasty, the congee heartening, and the prawn wontons laced with wasabi, but sooner or later you'll be wooed by Tim Ho Wan's so-called 'Four Heavenly Kings' (inspired by Hong Kong's four biggest pop stars): Aside from the pork buns, there's a tasty pan-fried carrot (radish) and turnip cake, egg noodles filled with pork liver, and lastly, a pillowy-soft egg sponge cake. The last one takes three days to make according to Hong Kong native Chef Teddy Chau Tze Man. Even in preparing the food, Tim Ho Wan is an exercise in patience, but one that's worth the wait.
ADVERTISEMENT - CONTINUE READING BELOW
Tim Ho Wan is at G/F SM Mega Fashion Hall, SM Megamall, EDSA, Mandaluyong City.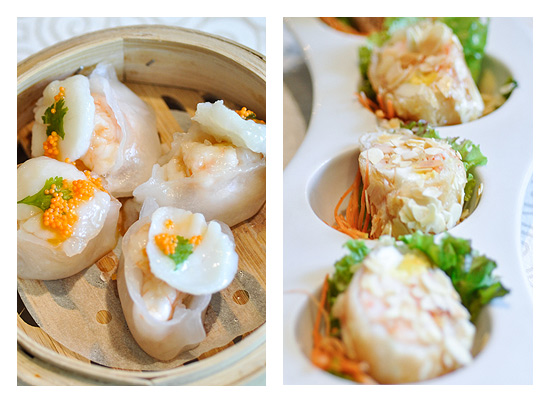 8. Summer Palace
Some of you might still recall the gastronomic madness that was Summer Palace's eat-all-you-can dim sum special last 2012. (The limited-time buffet was part of EDSA Shangri-La's 20th anniversary celebration.) Hundreds flocked to the restaurant, and with good reason: Summer Palace sports some of the most mouthwatering dim sum in town. Look for larger-than-usual beef siomai topped with shrimp and fish roe, juicy scallop dumplings, and hakaw in spinach wrap.
Summer Palace gets plus points for its specialties: the kani-and-lobster rolls mixed with salted egg and mayonnaise, studded with almond slivers are instant crowd-pleasers for instance. Another, the shrimp spring rolls with mango are sweet and mushy, the flavors and textures melding together once you get past the crispy, fried wrapper. Dab in sweet and sour sauce, and it's instant magic.
Summer Palace is at 2/F EDSA Shangri-La Hotel, 1 Garden Way, Ortigas Center, Mandaluyong City.
ADVERTISEMENT - CONTINUE READING BELOW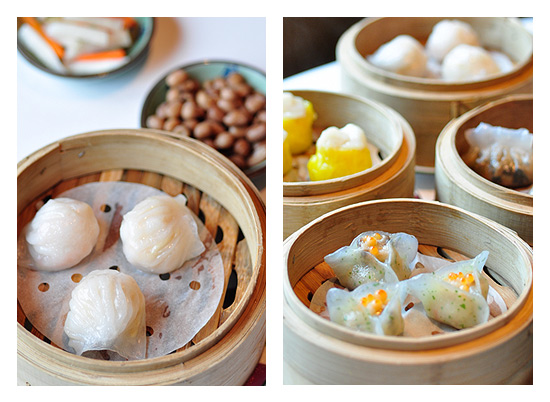 9. Li Li
There's a lot to love about Li Li, Hyatt Manila's ode to the Orient. The austere traditional tea rituals for one. The glorious dim sum buffet for another. With Hong Kong native Chef Andy Chang at the helm, the kitchen thoughtfully prepares an exquisite selection of dim sum to pique more refined tastes. There's oolong tea-infused soft boiled eggs ala ajitsuke tamago for starters followed by steamed dory topped with glistening pearls of Norwegian salmon roe. Minced cordycep mushrooms, crab claws and cuttlefish coated in almonds, indulgent crab fat (aligue) and black truffle dumplings-when it comes to imaginative creations, Chef Chang doesn't hold back.
In a world smitten with flavors and textures, there's another bonus: Li Li's Sous Chef Lauro Bulado makes an art out of glutinous flour sculptures. Colorful fish and bird miniatures populate his plates like edible kitsune. Who knows? He might be nice enough to show you some of his works.
ADVERTISEMENT - CONTINUE READING BELOW
Li Li is at 5/F Hyatt Regency Hotel and Casino Manila, 1588 Pedro Gil Street corner M.H. Del Pilar Street, Manila.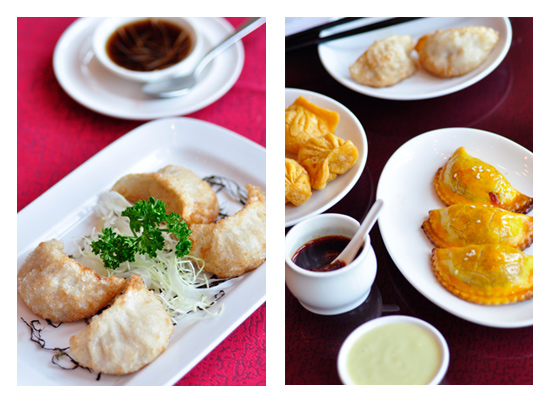 10. Xin Tian Di
Overlooking bustling Ortigas Avenue is Xin Tian Di, Crowne Plaza's stellar Chinese restaurant. And in some ways, the traffic outside does nothing but complement the leisurely pace at which to enjoy the perpetually flowing yum cha menu. (With 36 kinds and a few seasonal favorites, there's really no rush.) The emerald-green kuchay sprinkled with roe, and fried hakaw are obvious picks, though look out as well for the addictive salmon and taro puffs you'll want to slather with sweet and sour sauce.
The curiously named Michael Roll is playful with textures: Bite through the slippery rice noodle wrap, and find a second crispy layer stuffed with radish. The pan-fried xiao long bao is almost as chewy as gyoza albeit with meat stock soup. There's a special place in our hearts however for the asado pie. It's soft and flaky, and easily breaks apart to reveal ruby-red pork barbecue. Lastly, Xin Tian Di gets plus points for their ampalaya-shaped buchi and teardrop mantou oozing with chocolate.
ADVERTISEMENT - CONTINUE READING BELOW
Xin Tian Di is at 3/F Crowne Plaza Manila Galleria, Ortigas Avenue corner Asian Development Bank Avenue, Quezon City.
ALSO READ:
Top 10 Xiao Long Bao in Manila (2011)
Top 10 Hakaw in Manila (2011)
Top 10 Siomai Under P100 (2013)
Top 10 Siomai Under P100 (2010)
Share this story with your friends!
---
Help us make Spot.ph better!
Take the short survey
Load More Stories