Five Minutes with Celebrity Chef Matt Basile
This Canadian chef found love...in Philippine mangoes!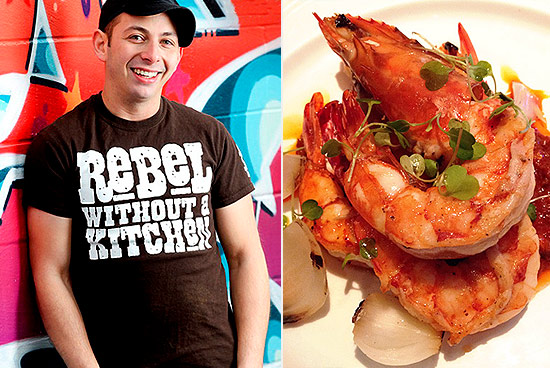 (SPOT.ph) Three years ago, Matt Basile was stuck at a desk in his hometown of Toronto, breaking his back for an ad agency, when he decided to change his life. The unsettling feeling of working as a copywriter, plus remembering what his Italian grandfather taught him about food growing up, drove him to shift gears. He became Fidel Gastro, Toronto's pop-up king and all-around food guy.
These days, he's dividing his attention between Priscilla, his beloved food truck; Lisa Marie, his flagship restaurant; an entertaining cooking show in the Asian Food Channel, Rebel Without A Kitchen; and a soon-to-be-released cookbook, Street Food Diaries. He recently embarked on an Asian tour, and Manila was one of the stops. Last Saturday, September 13, he prepared a delicious five-course dinner paired with Balvenie single-malt Scotch whisky.
The chef sat down with SPOT.ph to talk about about his newfound love for mangoes and the very memorable first meal he had in the Philippines.
ADVERTISEMENT - CONTINUE READING BELOW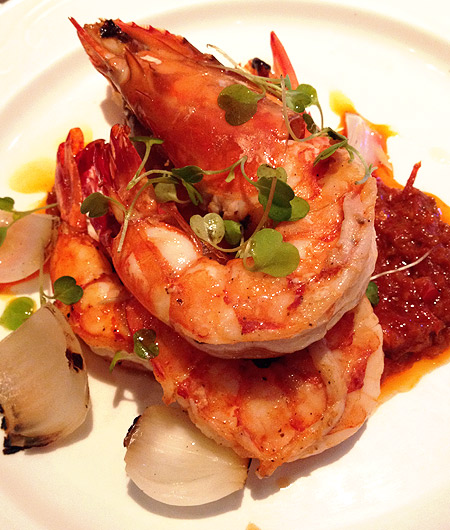 Salt and vinegar prawns with pickled cipolini and trinity sauce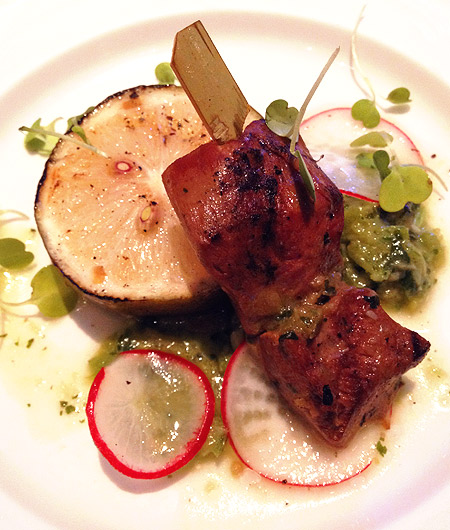 ADVERTISEMENT - CONTINUE READING BELOW
Salsa verde grilled beef hearts
Baby octopus with fennel salad, grilled beef hearts, lamb soup, beef tenderloin with edamame mash-you served quite an interesting mix of dishes for dinner. How did you come up with the menu?
It's a combination of things. Elements of it we did in the show Rebel Without A Kitchen. A lot of the sauces for example, like the Chinese sauce on the prawns and the Moroccan sauce on the beef tenderloin. The dessert, we do in our restaurant back home so I thought it'd be cool to bring some of that back here. The zoupa is my favorite dish to cook for my friends and family. People usually just devour it because it's so warm and you can really taste the fat from the lamb. The first time my chefs cooked the soup, they skimmed all the butter and fat off the top. I didn't know they did it. I tasted it and found something wrong with it. It was so thin and that's when I realized that they skimmed all the fat, which was the best thing about it. Then the salad is found in our cookbook. It draws from numerous cultures.
ADVERTISEMENT - CONTINUE READING BELOW
It's actually a good representation of yourself.
Yes. I tell everyone that we have a very Toronto menu. That means it has a range of flavors. We are able to pull from so many different cultures. We are able to treat beef as a canvas and do many things with it.
Given that diversity, is there any ingredient you don't like working with?
Oh man, I'll cook with anything. Turnips maybe. As a kid, I never really liked eating them. They're big and awkward. Or maybe papaya. I don't really like it that much. Or maybe I would change my mind because I never really was a big mango fan but when I came here [to the Philippines], I had the best mangoes I've ever had.
Conversely, what ingredient do you enjoy cooking with?
Garlic, butter, lemons. These put love into a dish.
What's something you learned in the kitchen the hard way?
ADVERTISEMENT - CONTINUE READING BELOW
Always make sure someone knows that you're behind them or things could turn out horrible. Always stay behind when you're behind people so they don't drop stuff or hit you with a knife. Make sure everyone's safe and good to go.
You're fortunate to be able to travel the world with your job.
Yes, I consider myself one of the luckiest people in the world. I think back to my life three years ago and how different it was. And if you asked me then, where do you see yourself in three years, I would have never have said this, what I do and have today. The fact that I could come to the Philippines and people know who I am, it's so weird for me. I'm a very humble person. It's amazing. I'm honored. I'm blessed. It probably won't last forever so for right now, it's all I got.
ADVERTISEMENT - CONTINUE READING BELOW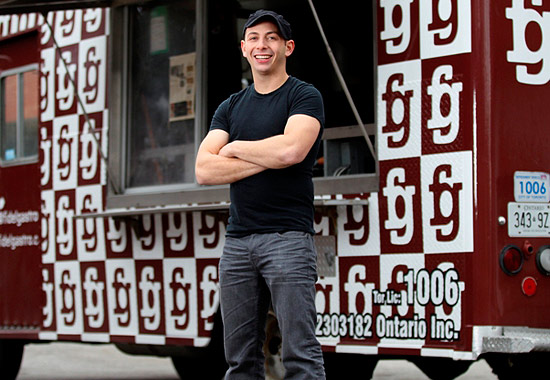 From your travels, what country has opened you up to things the most?
I traveled a lot to the US this past year and what's interesting about it is that there are a lot of different types of cities within the country. From one side to the other, north, south, east, west, middle, it's diverse. But not like how Toronto is diverse. Each [city] has its own identity. And that identity often translates to the food, music, personality, even accents.
ADVERTISEMENT - CONTINUE READING BELOW
Is there any other country you're raring to visit?
Looking at Asia, I'd love to go to South Korea, Thailand, and Taipei. I think I'm doing a pretty good job covering the basics in this current trip (Note: He just came from Singapore and after the Philippines, he is bound for Malaysia, Indonesia, then Hong Kong.), but those three I would come back to. Maybe Vietnam too. I have a friend in Hanoi. I've never been to South America and I think there's a lot to learn there too. Chile, Peru, Brazil, Argentina. Amazing food and spices.
Got any guilty pleasures?
I love Star Wars. If it's on TV, I'll watch it. I don't care how many times I've seen it, I just love Star Wars. For food, I love taking just a nice piece of bread, cutting it in half then putting cheese on it, placing it under the broiler and letting it melt. My favorite kind of cheese is Friulano, an Italian cheese that melts well. I like cheese that melts at high temperature that it bubbles up.
ADVERTISEMENT - CONTINUE READING BELOW
What has been the biggest revelation for you in Manila?
My first meal here will stand out in my mind for the rest of my life.  I'll never forget it. Dampa. It was amazing. Everything about it was phenomenal. From the way we picked the food and eating it afterwards, that meal will go down in history as one of the most memorable dining experiences I'll ever have. That's how I approach food trucks too, creating experiences. (Note: They went to Hong Kong Master Cook Seafood Paluto in Pasay and particularly liked the grilled and baked scallops, deep-fried sea bass, crabs and shrimps and boiled clams in ginger broth.)
Speaking of food trucks, what's the best thing about it, compared to a restaurant?
My favorite thing about it is that I get to see everybody. And it's very high energy. Sometimes you open the window and you have 300 people you got to serve for hours. You have to be fast; it's full of energy; the music is loud; we are loud and all pumped up. I get to see everybody at the window and you have to be engaged all the time.
ADVERTISEMENT - CONTINUE READING BELOW
Catch Matt Basile in Rebel Without A Kitchen every Thursday, 10 p.m. on the Asian Food Channel.
CONTINUE READING BELOW
Recommended Videos
Share this story with your friends!
---
Help us make Spot.ph better!
Take the short survey
Load More Stories