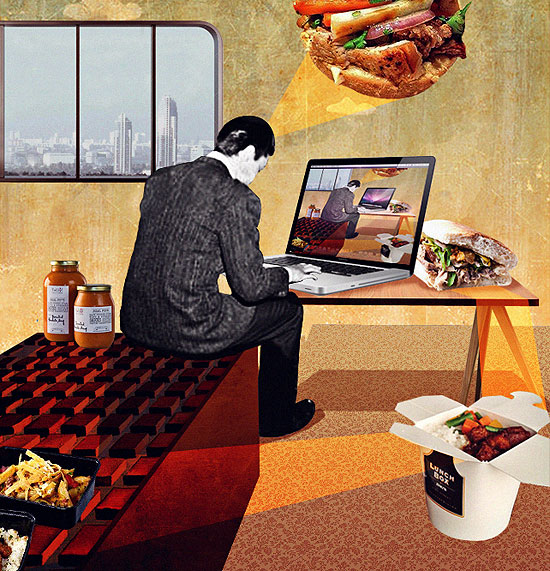 (SPOT.ph) No empty table in the canteen? No actual time to go to said canteen? Does your office even have a canteen? It's okay, because some meals only require a flat surface a.k.a. your desk to enjoy. Packaged rice dishes that won't make a mess, neat sandwiches that don't spill out over the sides, finger food that'll make you full, and even soup that you can sip like a drink-the point is, they're all convenient, tidy, and paperwork-friendly meals that won't be a hassle when you're working.
By the way, these meals aren't boss-proof. If you're not allowed to eat in your cubicle, you can still enjoy them somewhere else.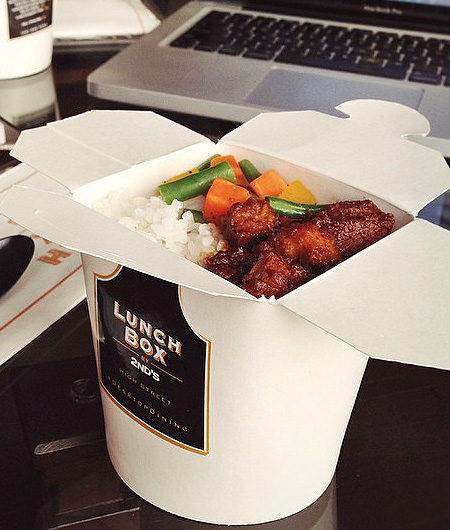 ADVERTISEMENT - CONTINUE READING BELOW
1. Lunch Box by 2nd's
If you can't go to 2nd's, then 2nd's will come to you. This Bonifacio Global City staple is extending their reach with packed lunch versions of their heavenly comfort dishes delivered daily. Skip the tableware. Each meal comes in a convenient takeaway carton (think rice toppings) that's easily spoonable and consummable. The delivery man walks around BGC carrying a giant insulated knapsack that ensures hot-off-the-kitchen lunches. The best part is that they never forget to put the flatware and napkins. You can just eat merrily as you read through reports or chase after deadlines. In a meeting? Yup, this works, too.
Must-tries: Mac N' Cheese (P245)-it's our No. 1, Beef Belly Bulgogi Rice (P185), Chorizo Aglio Olio (P155), Lamb Caldereta Rice (P265). Toss in a fried egg for an extra P20.
For orders, contact Lunch Box by 2nd's at 846-5293. They deliver from 10 a.m. to 5:30 p.m. Lunch Box is currently limited to Bonifacio Global City, but they're planning to expand their delivery area soon.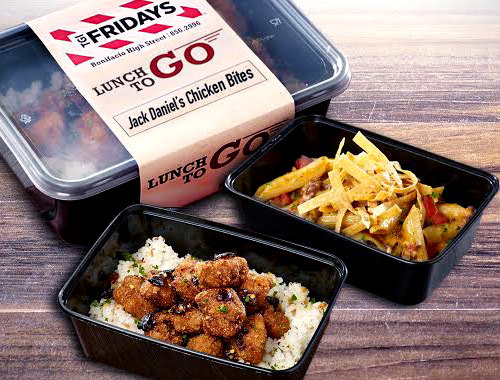 2. T.G.I. Friday's
Feel like it's always Friday in the confines of your desk with some of T.G.I. Friday's signature dishes available for delivery in convenient microwavable boxes. The lunch kits aren't available for delivery-yet-but they're a must faster resource than actually staying in the restaurant, especially when you're with friends.
ADVERTISEMENT - CONTINUE READING BELOW
Must-tries: Cajun Fish Wraps (P195), Tex Mex Mac and Cheese (P225), Chicken Pesto Cream Pasta (P225), Jack Daniel's Chicken Bites (P210)
For orders, contact T.G.I. Fridays at 752-7685. Available only at the Glorietta and Eastwood branches.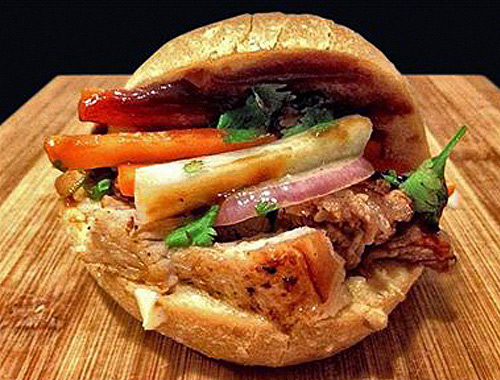 3. Baguettini
Sometimes, all you need is quick sandwich to keep hunger at bay. Ava Daza's mini baguettes, or "baguettinis," are quick four-inch-sized solutions for those situations. They may seem a tad small, but a minimum of six orders is required. Share them with your office BFF, have them as snacks for a conference, or spread them out within the day. The beauty of it is that you enjoy them with one hand as you type away with the other. It's the compromise between hunger and work.
ADVERTISEMENT - CONTINUE READING BELOW

Must-tries: Sloppy Joe on Onion and Leek Cream Cheese (P90), Four-Cheese Truffle Honey (P90), Vietnamese Banh Mi with Roasted Sesame Dressing (P110), Maple Bacon Breakfast (P110)
For orders, contact Baguettini at 0906-465-1579. Orders may also be coursed through speedregalo.com.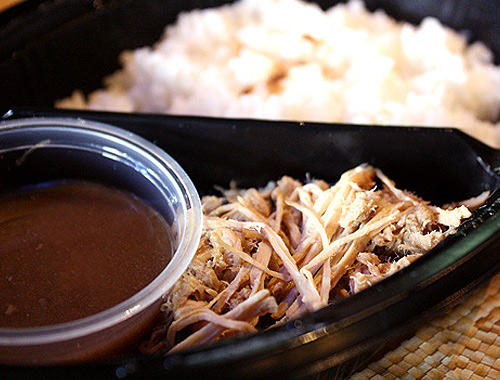 4. Claude Tayag's Chef Creations
Chef Claude Tayag's renowned lechon offerings are Anthony Bourdain-approved, but his restaurant is all the way in suburban Pampanga! You don't have to go to these fancy schmancy places for a good meal though. Just pop into your neighborhood 7-Eleven, grab a box of their Chef Creations by Claude Tayag, and pat yourself on the back (or stomach) for finding a convenient, affordable, and yummy meal. The dishes are packaged in microwave-friendly trays, but they're prepared fresh everyday in a commissary. Chef Claude designed them to be eaten with ease-no bones, no seeds, no mess.
ADVERTISEMENT - CONTINUE READING BELOW
Must-tries: There are only three flavors, but the Pulled Pork Adobo with Adobo Dip (P95) is a favorite. Read more about Chef Creations here.
Available at 7-Eleven outlets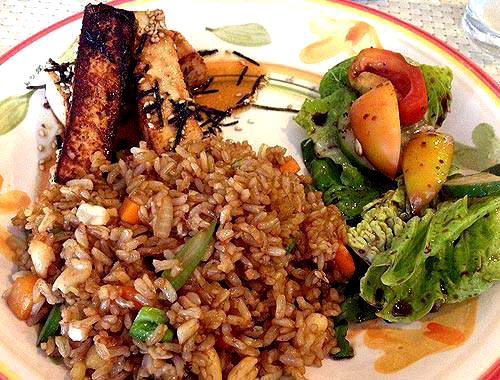 5. Edgy Veggy Vegetarian Food
Edgy Veggy has very limited delivery resources, so it's actually pretty impressive that from their little nook on Brixton, they can deliver to as far as Makati and Quezon City. The cuisine is vegetarian, good it-doesn't-really-taste-healthy-because-it's-too-delicious vegetarian. Practically everything on the menu is available for delivery, but save yourself the hassle and get the brown rice ones for an instantly complete meal.
ADVERTISEMENT - CONTINUE READING BELOW
Must-tries: Mushroom Longganisa Rice Meal (P190), Moroccan Rice Meal (P240), Three Kinds Mushroom Brown Rice Risotto (P250), Japanese Rice Meal (P240), Korean Rice Meal (P240). Delivery charges apply.
For orders, contact Edgy Veggy at 0917-847-4831. Delivery can be a bit sluggish, so we suggest ordering before 4 p.m. the day before. Read about the restaurant here.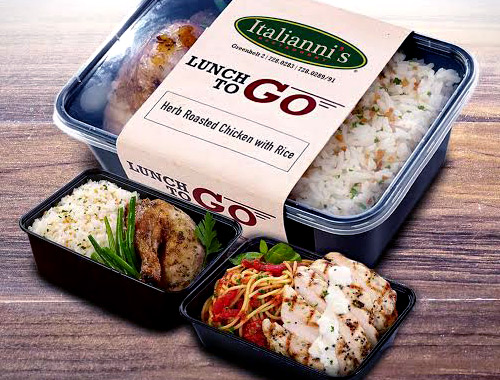 ADVERTISEMENT - CONTINUE READING BELOW
6. Italianni's
Italianni's is joining its sister restaurants (Krazy Garlik, Village Tavern, and T.G.I. Friday's) in offering desk-friendly items that allow customers to enjoy their hearty flavors even when they don't have enough time to spend in the restaurant. The process is simple: call ahead, drop by, pick it up, enjoy. Think of it as Italianni's express.
Must-tries: Spaghetti Pomodoro and Chicken Breast (P195), Herb-Roasted Chicken with Rice (P225), Parmesan-Crusted Fish Fillet with Rice (P225), Crispy Pork Ribs with Rice (P250)
For orders, contact Italianni's at 728-0283 and 729-0289. Available only at the Greenbelt branch.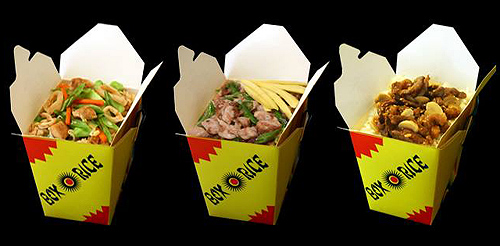 ADVERTISEMENT - CONTINUE READING BELOW
7. Box O' Rice
This one's a classic carb-fest in a carton. Box O' Rice has mastered the art of packing fried rice in a box. They cook it fresh upon order, smooshing the rice with sauce and toppings on a griddle (if you have enough time to drop by a kiosk or store, let your mouth water with the delicious smells). There's more rice than anything, but the sauce seeps to the bottom to provide more than enough flavor. After they put it in that iconic yellow container, they add more toppings and sauce, then serve it with a spork. It's that simple.
Must-tries: Beef Salpicao (P61 to 81), Chicken Misono (P56 to P76), Veggie Mongolian (P46 to P66), and Sisig Rice (P55 to P75)
Box O' Rice has kiosks all over Metro Manila.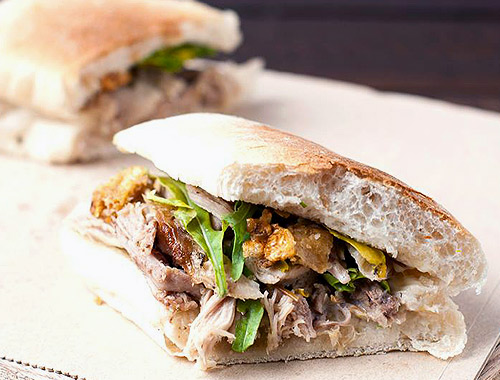 ADVERTISEMENT - CONTINUE READING BELOW
8. The Pantry Sandwicheria
Say what you will about sandwiches and not feeling full, but you can't say that about The Porky. Fluffy ciabatta bread filled with crunchy pork crackling. Period. This is only one of Monica Barretto Savellano's creations. She's a sandwich lover who wants to spread the love with a selection of six subs prepared fresh and delivered daily. She doesn't scrimp on ingredients: her gambas sandwich, for example, is shrimp through and through. But she doesn't overpack them either-no overflowing lettuce, no bits of grated cheese spilling out, no sauce staining your hand or making your bread soggy. Everything is in a neat little package that's quick and hassle-proof.
Must-tries: The Porky (P165), Veggie Good (P130), La Roja (P190), Early Bird (P135).
For orders, contact The Pantry at 0927-965-2519. Orders must be placed before 10:30 a.m. and delivery is available for purchases of at least P500. Read more about The Pantry here.
ADVERTISEMENT - CONTINUE READING BELOW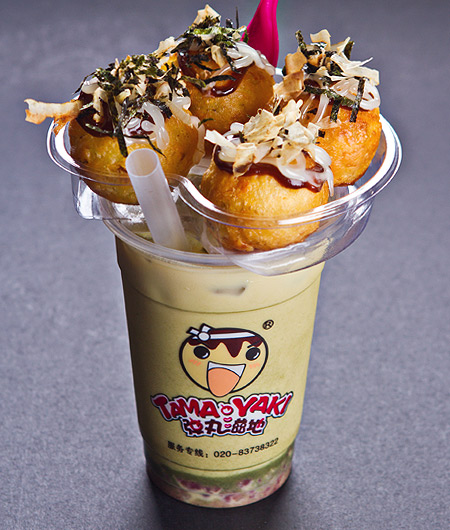 9. Tamayaki
It's not a three-course lunch, but it is enough to keep hunger pangs at bay. This takoyaki haven is both a resource for delicious teas (milk, fruit, juice) and wheat-flour, octopus-filled balls. They offer a cool combo meal with a four-piece takoyaki tray perfectly fitted on top of the cup. There's a gap for the straw so you can sip away as you chomp away. It's perfect for walking, but it's also a spacesaver for a desk full of paperwork.
ADVERTISEMENT - CONTINUE READING BELOW
Must-tries: Seasoned Octopus (P115), Squid Satay (P115), Grilled Steak (P135). The combo meal is P175, with a curated selection.
Tamayaki has branches at P. Guevarra Street, San Juan; SM North EDSA Quezon City; Fishermall, Quezon City; Landmark Makati; and SM Fairview, Quezon City.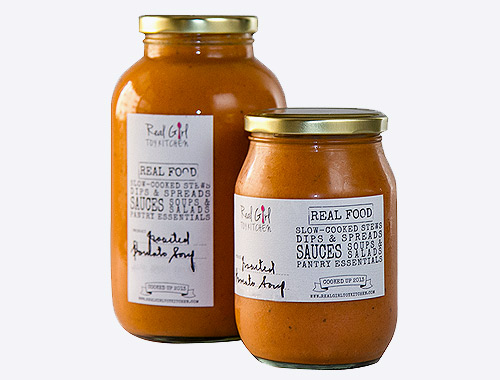 10. Real Girl, Toy Kitchen
The mission? To provide delicious, home-cooked meals for those who don't really have time to make them. Johanna Garcia's repertoire of dishes ranges from soups to stews to sauces, and all of them are packed in cute little bottles for easy storage and even easier dining. When refrigerated, they can keep for up to a week, then just pop them in the microwave to heat. Order them in advance and share the huge servings with your office buddies. For something simpler, stick with the soups and salads. They're not the cheapest items on this list, but Johanna stresses on premium. Her meats are grass-fed and antibiotic-free, greens are fresh, oils are never reused. Her toy kitchen pulls out unbelievably good "real" food from a woman who just wants to share her dishes to your table-or desk, in this case.
ADVERTISEMENT - CONTINUE READING BELOW
Must-tries: Spicy Chili Con Carne (P350/500ml, P650/946ml), Roasted Tomato Soup (P300/500ml, P550/946ml)
For orders, contact Real Girl, Toy Kitchen at 0917-808-5302, 799-9120, or e-mail johanna@realgirltoykitchen.com. A minimum order worth P650 is required for delivery (additional fees apply). Orders may also be picked up at Fairways Tower, Bonifacio Global City. A three-day lead time is required for main courses.
Share this story with your friends!
---
Help us make Spot.ph better!
Take the short survey
More Videos You Can Watch
Load More Stories