Marufuku Japanese Restaurant
Crescent Building, 29 San Miguel Avenue, Pasig City
Contact: 570-3989
Open daily from 11 a.m. to 2:30 p.m. and 6 p.m. to 10:30 p.m.
Also read:
CHECK IT OUT: Marufuku Japanese Restaurant, Pasig City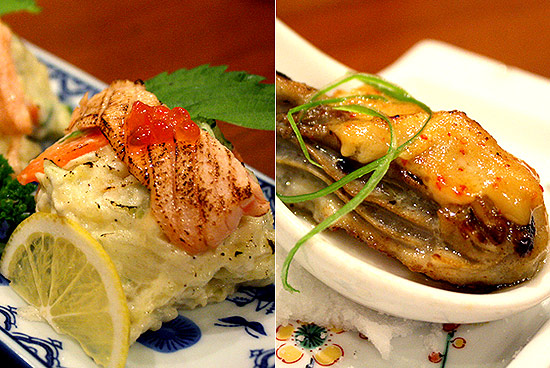 (SPOT.ph) Unless you're one of those lucky few with expandable appetites, you're expected to crawl out of a 15-course meal with your stomach exploding, head throbbing, and with sleep beckoning. Not at Marufuku, though. This doesn't mean you have to eat 15 in one sitting-have one and it will be nonetheless satisfying-but consume that much and you'll still walk out feeling good that you ate something great. That lightness is a testament to their chefs' preference for quality ingredients and clean cooking.
Marufuku is one of those Japanese restaurants that have most of what you'd expect in Japanese food: oversized sushi, fresh sashimi, teriyaki, and even a tantanmen that's devoid of peanut butter. The difference is that they nail most, if not all, of it.
ADVERTISEMENT - CONTINUE READING BELOW
Chef Kiyoshi Ogawa thinks freely in the kitchen and the result of this freedom is an ever-growing menu and more novel ways to serve his home cuisine. He has this Nikomi (P280) that looks and feels like soup, but is actually meant as a match for sake. He carefully picks out the softest part of ox tongue and tosses them into a brown stew slightly sweetened by onions. What sisig?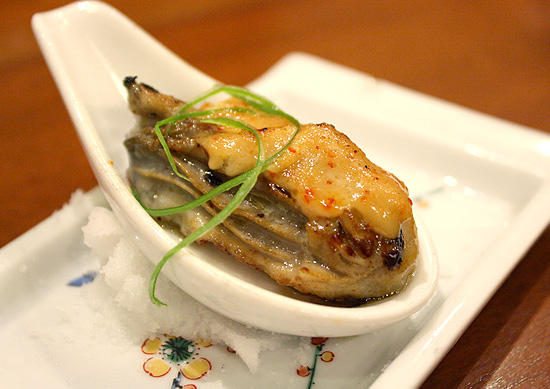 An oldie worth coming back for: Kaki Motoyaki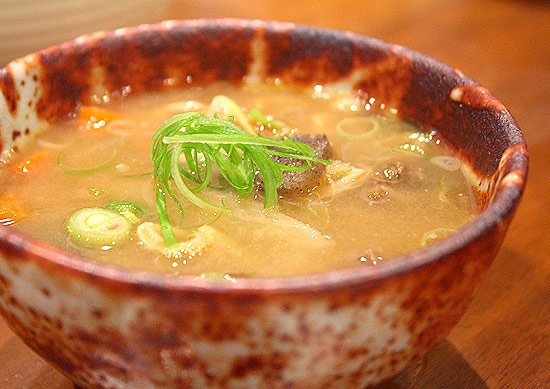 ADVERTISEMENT - CONTINUE READING BELOW
Recommended Videos
Nikomi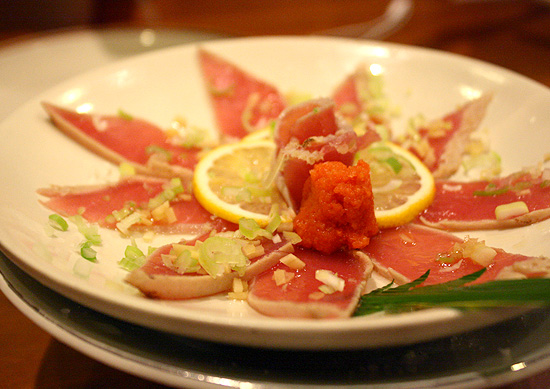 Tuna Tataki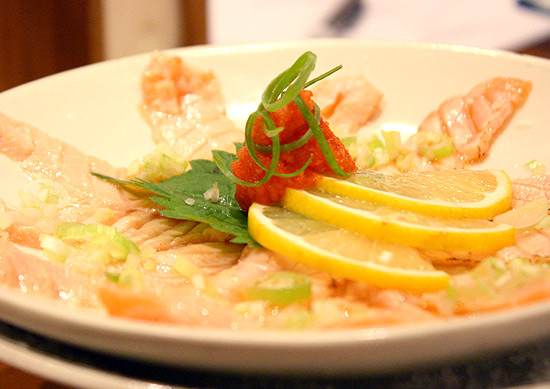 Salmon Tataki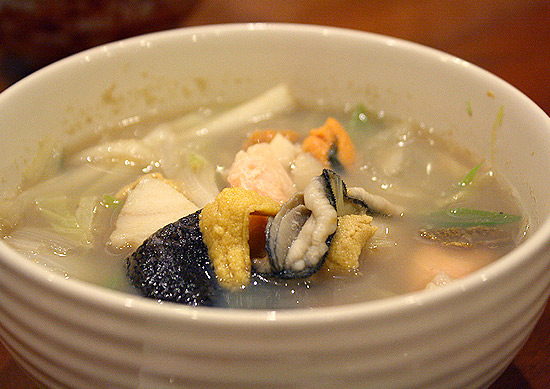 ADVERTISEMENT - CONTINUE READING BELOW
Hokkaido Soup
His actual soup, which he names after Hokkaido (P600), is an ocean sampler of sorts: uni, cod fillet, oysters, and salmon swimming in a thick clear soup brightened by greens and onions. Seafood is Chef Kiyoshi's strong point: his Salmon Arataki utilizes a fatter bit of the salmon for utmost tenderness; the Maguro and Salmon Tataki (P450) are delightfully zingy. Ingenuity reflects in the way he uses nori to flavor the noodles of the Sumiyaki Udon and complements that in-the-sea tone with generous helpings of fish fillet, shrimps, ginkgo nuts, eel, and squid. He even has these tiny crispy-fried shrimp that could easily become addictive with a shake of salt and pepper.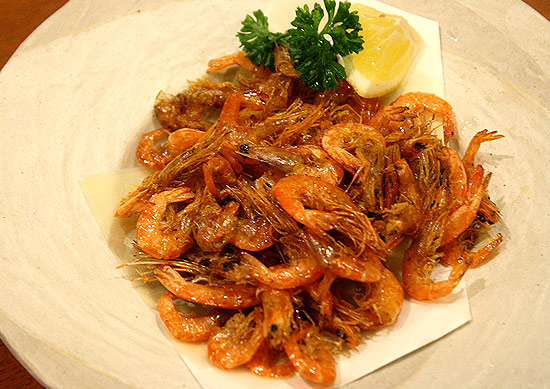 The addictive shrimps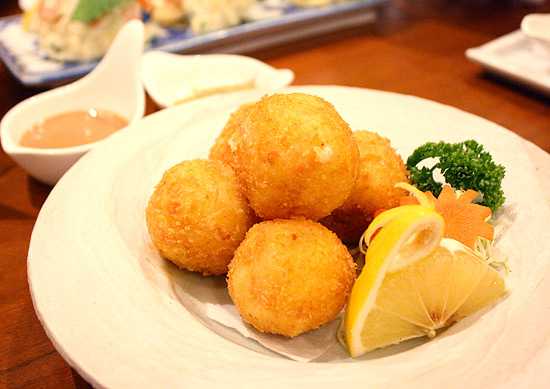 ADVERTISEMENT - CONTINUE READING BELOW
Creamy Kani Croquettes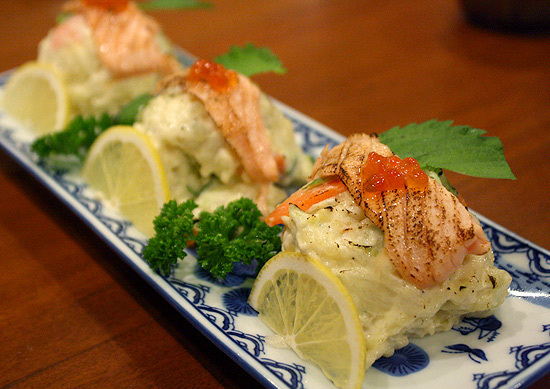 Potato Salad
The Kani Croquettes (P300) and Potato Salad (P250), as commonplace as they sound, aren't exempted from Chef Kiyoshi's meticulous standards. The potatoes are stirred for hours to develop that smooth softness inside the breadcrumb crust, while a torched blanket of salmon keeps the potato salad warm.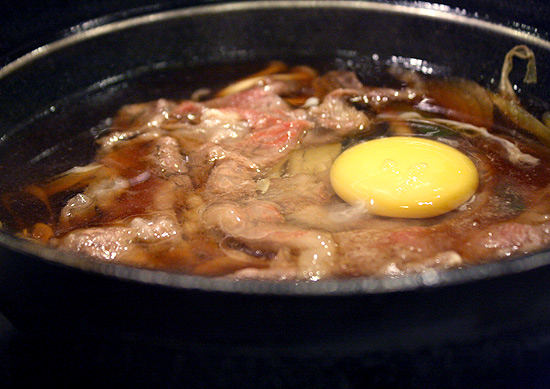 ADVERTISEMENT - CONTINUE READING BELOW
Wagyu Sukiyaki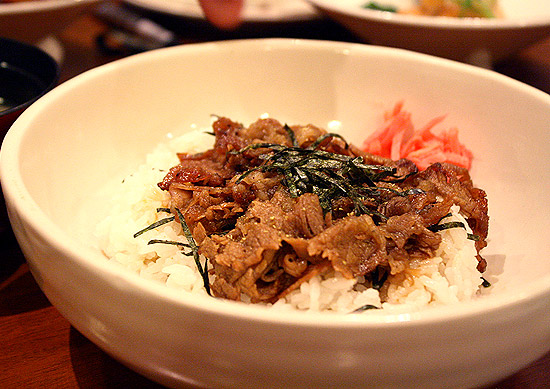 Yakiniku Don
He's definitely an all-around talent. A gloomy day suddenly seems understandable if only to enjoy the Wagyu Sukiyaki (P1,500): warm, simple, sweet, and comforting. If you'd prefer an unfussy meal, the obvious choice is the Yakiniku Don, which is rice with strips of tender, fat-laced beef.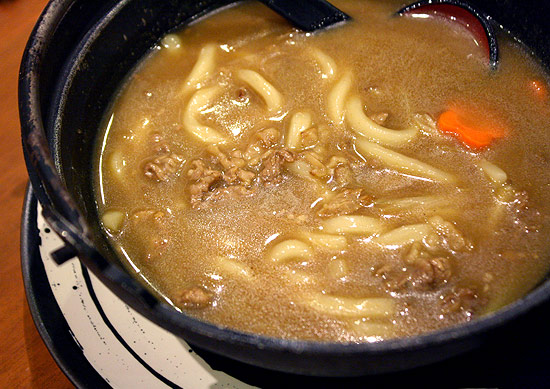 ADVERTISEMENT - CONTINUE READING BELOW
Curry Udon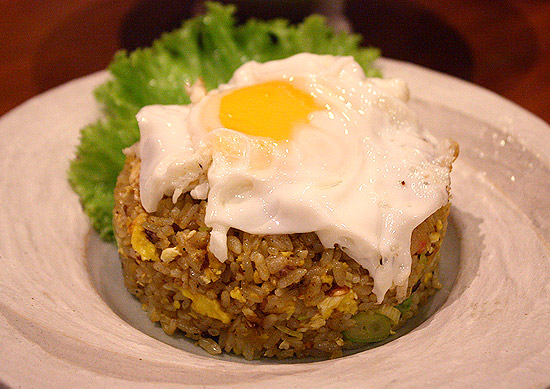 Curry Chahan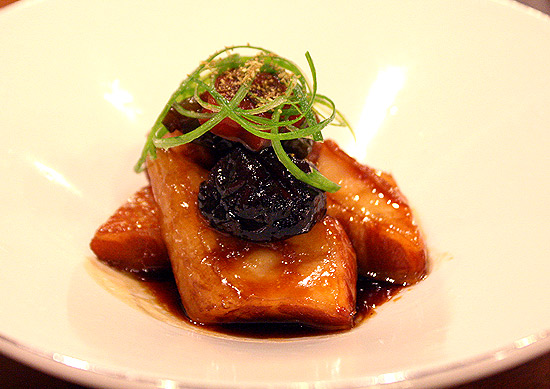 Salmon Belly Arataki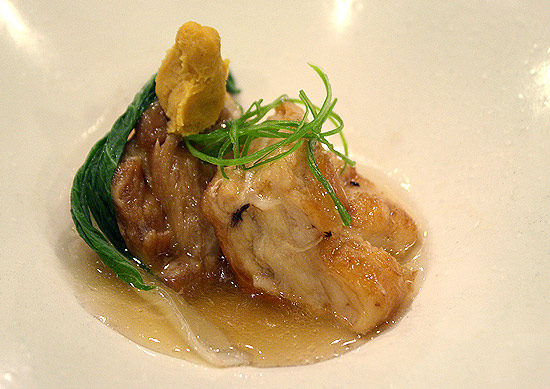 ADVERTISEMENT - CONTINUE READING BELOW
Buta Kakuni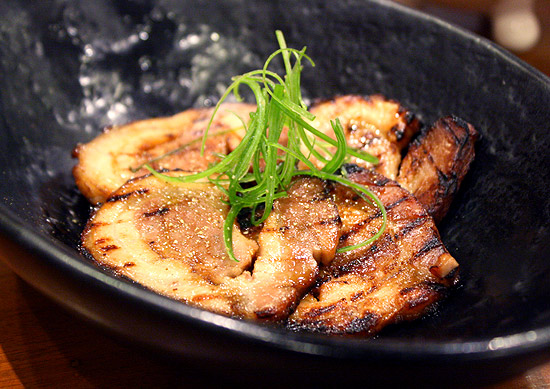 Yaki Buta, which are very similar to charsiu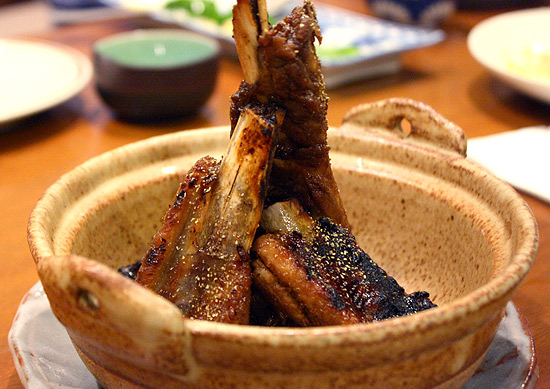 Buta Spare Ribs
Still, more of the good chef's ideas are translated into unforgettable eats: curry in soft, supple rice (P250) and teasing in a bowl of udon (P380); braised squares of pork or buta kakuni (P400) that are heavy with melting clouds of fat; barbecued pork ribs (P300) that boast flavor right down to the bone.
ADVERTISEMENT - CONTINUE READING BELOW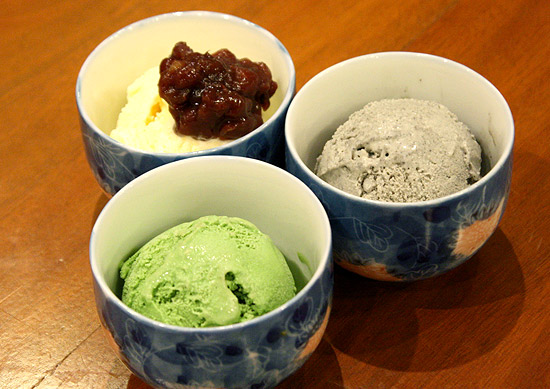 Big Scoop ice cream
Chef Kiyoshi skips the dessert, however. The complexity of his dishes is a contrast to the ease and familiarity of Big Scoop ice cream in flavors like Vanilla with Red Bean, Black Sesame, and Green Tea. We have to hand it to him, he knows when to draw the line and focus.
Also read:
Share this story with your friends!
---
Help us make Spot.ph better!
Take the short survey
Load More Stories