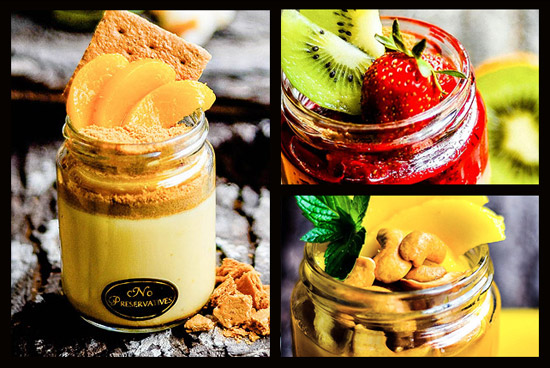 (SPOT.ph) Gimmicks can only take you so far. In the end, the quality will still determine whether your food deserves some lovin'. I'm often skeptical about trend-surfing, but I never turn down an occasion to try new stuff. When I first heard about Swannie's, I dismissed it as another one of those things trying to ride on a trend, but I was proven wrong way before I finished a jar.
After having their first child in November 2013, married couple Irwin and Jasmin Pundamiera looked for a way to expand their income outside of their day jobs. He was working in a bank and she was with a BPO. Then he remembered his mom's famous leche flan. "Friends and family order from her especially when it's Christmas or there's a fiesta," Irwin says. "I thought of making her flan, but incorporating flavors in it." He planned to make them during the weekends and sell them throughout the week. The now six-month-old, home-based business was born, fittingly named after the woman who started it all-his mother, Susan.
ADVERTISEMENT - CONTINUE READING BELOW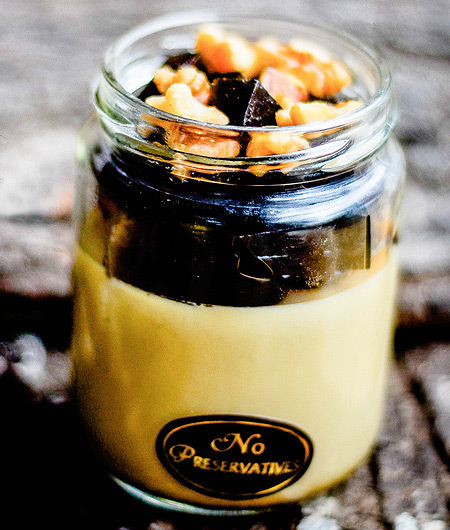 Coffee Jelly Walnut
He consulted his chef friend, RJ Ungco of Peri-Peri Chicken and Spatzle, who readily offered his suggestions. Irwin concocted five fancy flavors and, inspired by the recent cake jar trend, put them in pretty food-grade containers, each with a disposable wooden spoon. He tested them with his officemates and he received orders that very same say. One of his bank clients also ordered 100 to give away for her child's seventh birthday.
Irwin saw marketing potential. He asked his celebrity friends to try his flan jars and, if they liked it, to help promote the brand in their social media accounts. It worked: after actors like Luis Manzano, Dominic Roque, Ellen Adarna, and Diana Zubiri posted photos, Swannie's steadily gained followers. Six months into the business and the young couple is now selling an average of 80 jars per day from their start-up of just 20 a week. The demand has them making at least 200 jars four times a week, building a bigger kitchen, hiring staff for production, and setting up a delivery system. They now also deliver to provinces via courier. "We had a client who ordered 350 jars, our biggest placement to date. And another time, we serviced two weddings, one ordered 150 pieces and the other, 200," Irwin says.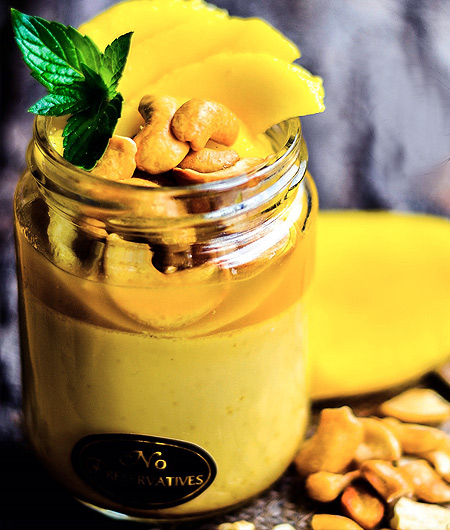 ADVERTISEMENT - CONTINUE READING BELOW
Mango Cashew
It may be a novel idea and it may have been backed up by celebrities, but it just wouldn't have clicked if the product had not been that good. I got to try two flavors and I have been happy with both. The Mango Cashew (P140) has a mango-flavored flan with a creamy mouthfeel, like licking a spoon full of dulce de leche. It is not as dense as pudding, but it is slightly thicker than a crème brulee, with a sweet milky flavor tempered by the slight bitterness of mango. A layer of jelly and roasted cashew nuts top the custard, adding a lovely contrast in texture.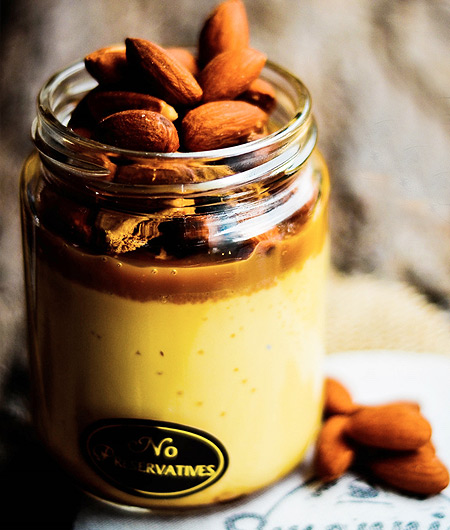 ADVERTISEMENT - CONTINUE READING BELOW
Caramel Almond
The Caramel Almond (P140) is my favorite so far. Vanilla flan is simply layered with a caramel sauce then topped with almonds. It's closest to the traditional, allowing the flan to shine through and be enjoyed at its purest.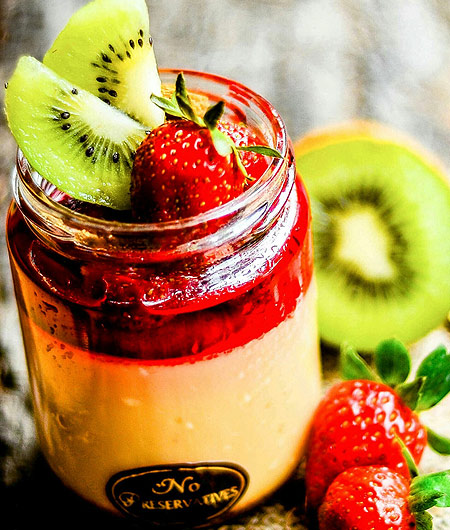 Strawberry Kiwi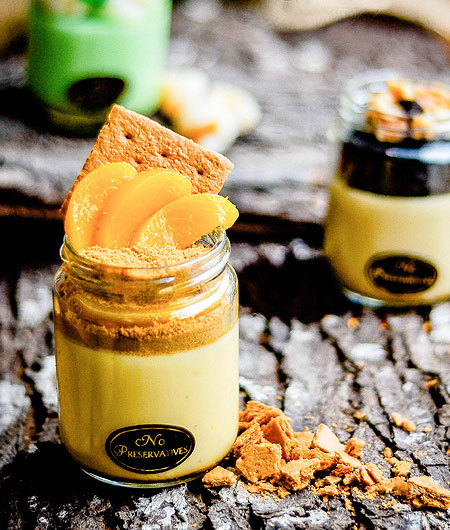 ADVERTISEMENT - CONTINUE READING BELOW
Graham Peaches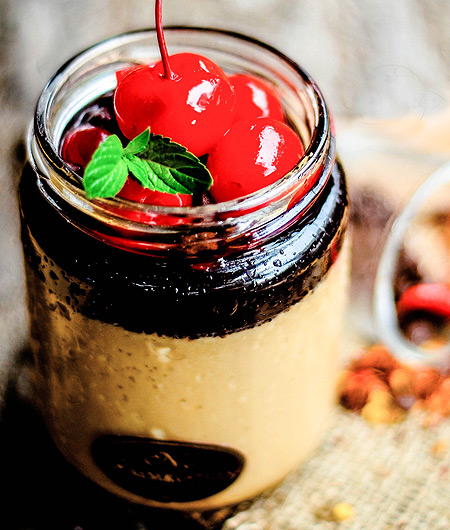 Chili Chocolate Cherry
Three others make up the original five (P140 each)-Banana Lemon Oreo (lemon flan, banana chips, and crushed Oreo cookies), Strawberry Kiwi (strawberry flan, fresh strawberry and kiwi slices, strawberry gelatin), and Chili Choco Cherry (chocolate flan with paprika, choco syrup, and cherries). They recently added three new flavors to their list (P170 each): the Graham Peaches (vanilla flan, crushed Graham crackers, and fresh peaches), Coffee Jelly Walnut (decaf coffee flan, coffee jelly, and walnuts), and the bestselling Pandan Nata Lychee (pandan flan, lychees, and nata de coco). Swannie's is currently developing more variants, including organic and sugar-free.
ADVERTISEMENT - CONTINUE READING BELOW
For orders, contact Swannie's at 0917-506-3849 or 642-1920. Orders must be placed before 10 a.m. to receive the jars within the day; for bulk orders, call four days in advance. The flan jars are available in different containers: a wooden carrier that can hold two jars for an additional P190, a basket that can hold four jars for an additional P200, and a burlap box that can hold five jars for P400.
Angelo Comsti contributes to Yummy, Men's Health Philippines, and Esquire Philippines in addition to other publications. He studied at Le Cordon Bleu Australia. Recently, his bestselling book From Our Table to Yours, a collection of generations-old heirloom recipes from some of the country's best cooks and chefs, won the Gourmand Best in the World Award for Best Authors and Chefs Outside Europe. He is currently working on a sequel. Follow Angelo on Instagram (@fooddudeph) to catch more of his food discoveries.
ADVERTISEMENT - CONTINUE READING BELOW
Share this story with your friends!
---
Help us make Spot.ph better!
Take the short survey
More Videos You Can Watch
Load More Stories