(SPOT.ph) One of the more famous stories is that this dessert was first made in 17th-Century Tuscany. However, Jane Black of the Washington Post discovered that the story is nothing more than myth: Mascarpone, a cheese that's the backbone of the tiramisu, wouldn't have been something you could find in Tuscany at the time.
It wasn't until the 1980s that articles about tiramisu began to be published, which lends credence to pastry chef Carminantonio Iannaccone's claim that he created it in 1969. Whichever tale you prefer, what we can agree on is that tiramisu as we know it is heaven in a dessert.
The indulgent, layered dessert is traditionally made with creamy mascarpone cheese, eggs, ladyfinger cookies (known in the Philippines as broas) dipped in coffee, and Marsala wine. Tiramisu outside of Italy, however, usually switches ladyfingers for sponge cake, and kahlua for Marsala.
This list doesn't focus on meeting the checklist of traditional ingredients. Instead, priority is put on the overall balance of flavors: salty-creamy cheese, bitter coffee, and sweet layers of bread. And because as desserts go, tiramisu tends to be pricey, value for money is important as well.
Here are the top 10 tiramisu in Metro Manila.
All SPOT.ph Top 10 lists are researched, paid for, tested, and selected by the writers and editors. They are discreetly conducted without any notice made to the restaurants or their owners.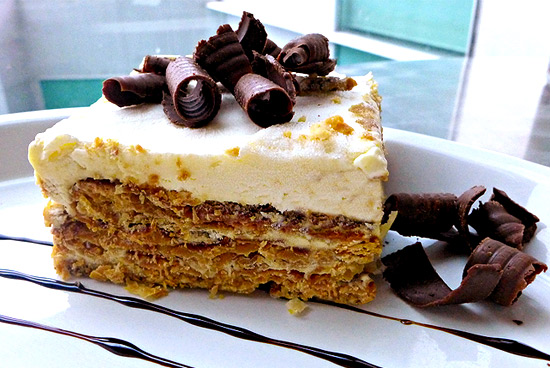 ADVERTISEMENT - CONTINUE READING BELOW
10. CIBO's Tiramisu Croccante (P290)
Measurements: 4 inches x 3.5 inches x 2 inches
This dessert, which is "brittle tiramisu" translated, uses puff pastry instead of the more common ladyfingers or sponge cake. Served frozen, the result is more like a cross between a Danish and an ice cream cake. The cheese is rich, although the coffee flavor isn't apparent. Because of its dry texture, this is best enjoyed by sipping coffee in between bites.
Click here for a list of CIBO branches.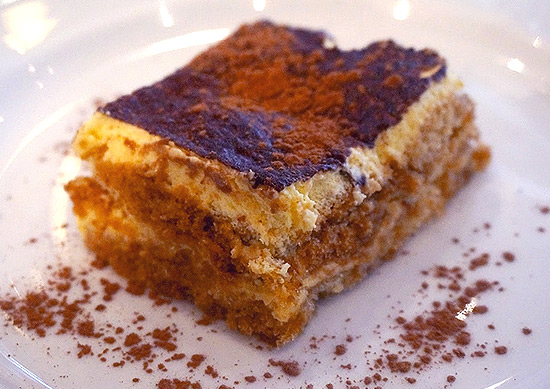 9. Cafe Adriatico's Tiramisu (P130)
Measurements: 2 inches x 2 inches x 1 inch
Why does it look lumpy? It turns out the uneven texture is because they use actual, curved ladyfinger cookies soaked in coffee instead of sponge cake, which is more commonly used in the Philippines. Instant brownie points-or should we say tiramisu points? The downside to Cafe Adriatico is the ambiance. Sometimes, even on cloudy afternoons, the lights aren't turned on. We wonder why because a brighter glow would make the most of their old-school interiors.
ADVERTISEMENT - CONTINUE READING BELOW
Recommended Videos
This item isn't on the regular menu. Just ask the waiter. They'll know what you're talking about.
Cafe Adriatico has branches at SM Mall of Asia, Pasay City; Alabang-Zapote Road, Muntinlupa City; Gateway Mall, Cubao, Quezon City; and 1790 Remedios Circle, M. Adriatico Street, Malate, Manila.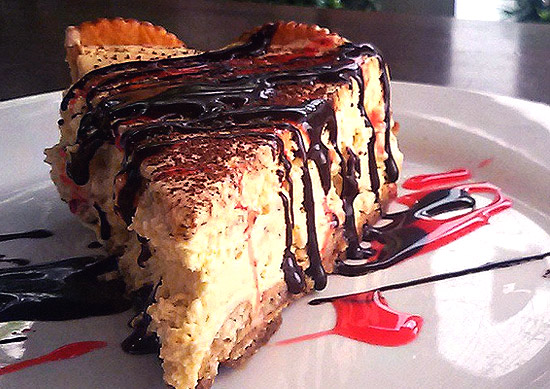 8. Pino's Fita Tiramisu (P150)
Measurements: Pie-type, 4.5 inches long x 2 inches high x 3 inches on the widest part
This tiramisu looks Pinoy but tastes Italian. Despite the garish, cake-like look of the dessert (so much syrup!) the coffee flavor comes through surprisingly well in the mousse-like consistency. The Fita adds a salty note, but instead of being the crunchy biscuit that we're used to, it's actually soft in the same way that ladyfingers are.
It's a densely packed slice that's good for sharing and seems tailor-made for those who aren't into overly sweet desserts.
Pino has branches at Malingap Street, Teachers Village, Quezon City; and Jupiter Street, Makati City.
ADVERTISEMENT - CONTINUE READING BELOW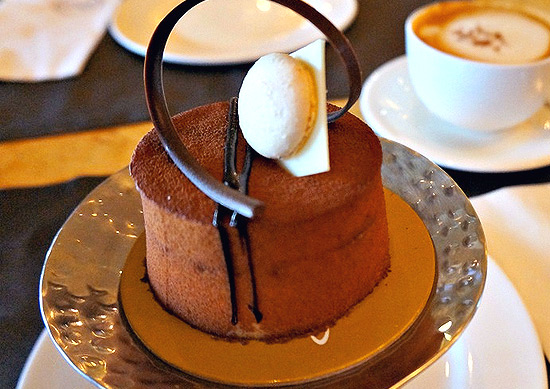 7. Bizu's Tiramisu (P225)
Measurements: 2.5 inches diameter, 1.5 inches high (without toppings)
Unlike other tiramisus which are cut from a larger tray, Bizu's is specifically made for one, a short cylinder dusted all around with cocoa powder and topped with chocolate curls and a plain macaron. Order it with their frothy cappuccino (P127) for the full effect.
However, it seems Bizu's tiramisu was baked longer to hold its shape, which is why the mascarpone layers are textured more like icing than cream. The two thin layers of cake make it very light-only enough for a sweet ending.
Click here for a list of Bizu branches.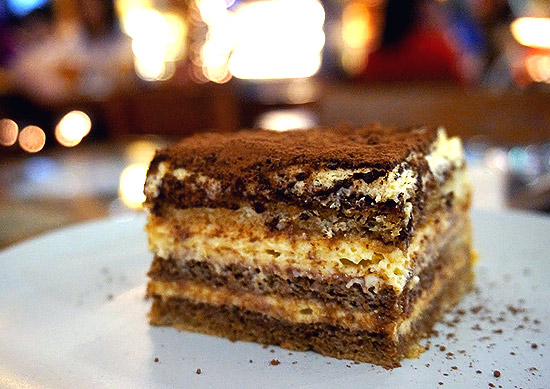 ADVERTISEMENT - CONTINUE READING BELOW
6. Cafe Mary Grace's Tiramisu (P110)
Measurements: 2 inches x 2.5 inches x 2 inches
The tiramisu here has layers of sponge cake that are thicker than the creamy cheese. That said, the coffee flavor is pronounced within the cake. Pair this with a sweeter coffee like cafe latte to build up that profile better. Factor in the reasonable price and the homey ambiance of their cafes, and Cafe Mary Grace's tiramisu is a clear choice for the top half of the list.
Click here for a list of Cafe Mary Grace branches.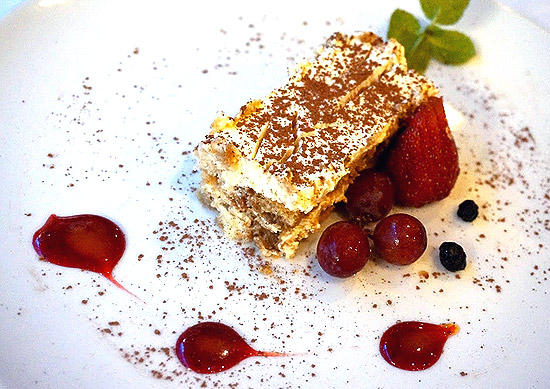 5. Melo's Tiramisu (P215)
Measurements: 4 inches x 1.5 inches x 1.5 inches
This tiramisu is small for the price, but Melo's makes up for it with creativity. Fresh berries cut through the richness of the mascarpone, plus you can roll the cake around in berry-and-caramel syrup.
The elegant ambiance and excellent service at Melo's is a factor, too. With the hushed talk and attentive waiters, you won't feel so bad about the splurge.
ADVERTISEMENT - CONTINUE READING BELOW
Melo's has branches at Burgos Circle, Bonifacio Global City; 58 Sergeant Esguerra Street, Quezon City; and Alabang-Zapote Road, Muntinlupa City.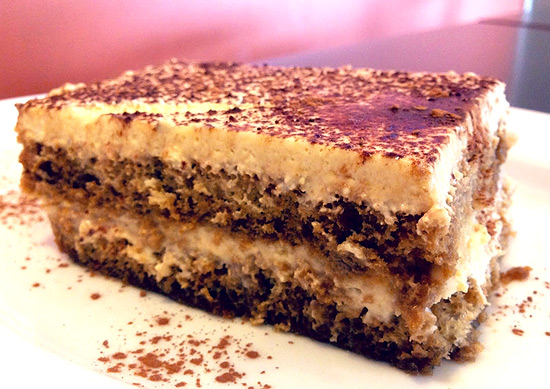 4. UCC's Tiramisu (P260)
Measurements: 3.75 inches x 1.5 inches x 2.5 inches
UCC's tiramisu arrives without fanfare: a single slice placed on a white saucer. But what it lacks in fancy presentation, it more than makes up for in taste. Think creamy mascarpone and layers of sponge cake that ooze with coffee flavor in each bite. UCC's take on the dessert is satisfyingly moist, and they also offer a sugar-free version for those on special diets.
Take their house brew siphon coffee (P109) black; the dark, rich brew cuts through the richness of tiramisu.
Click here for a list of UCC branches.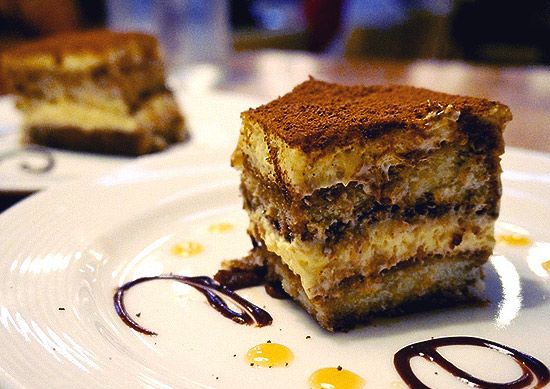 ADVERTISEMENT - CONTINUE READING BELOW
3. Conti's Tiramisu (P70/slice)
Measurements: 2 inches x 2 inches x 2 inches
When it comes to value for money, Conti's takes the cake (no pun intended). Conti's tiramisu is small, but you can get three of these babies for the price of some of the other entries on this list-and this comes out to more tiramisu for you! The sponge cake layers are drenched with coffee and liquor; pair this with their brewed coffee, which is also a steal at P65 and comes with one refill. Heavy on tastiness and light on the budget, Conti's always hits the spot.
Click here for a list of Conti's branches.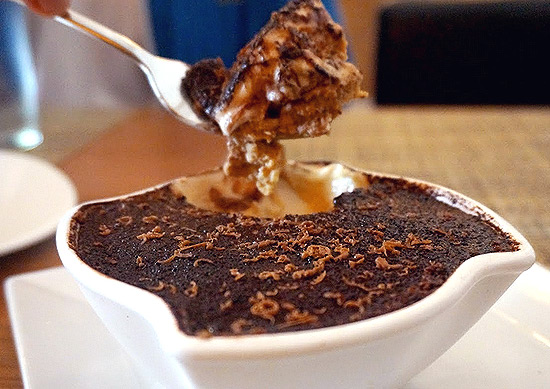 2. Benassi Alimento E Caffe's Mascarpone Cake (P220)
Measurements: 4 inches wide x 2 inches high
This is the real deal. Benassi gets its name from Filipino-Italian owner Katia Benassi De Guzman, whose recipes come from her family's kitchen in Massa, Italy. We're talking brick-oven pizza topped with Parma ham and arugula; porcini mushroom-stuffed ravioli, and of course, tiramisu.
ADVERTISEMENT - CONTINUE READING BELOW
Instead of multiple layers, you get one thick layer of cake topped with another thick layer of mascarpone. The whole thing is then topped with coffee and chocolate shavings. The coffee flavor is very subtle here, and the balance is right if you're having it after a savory lunch. Don't believe that label on the menu that says it's good for two. We could finish one all by ourselves.
Benassi Alimento E Caffe is at G/F Exchange Regency, Meralco Avenue corner Exchange Road, Ortigas, Pasig City.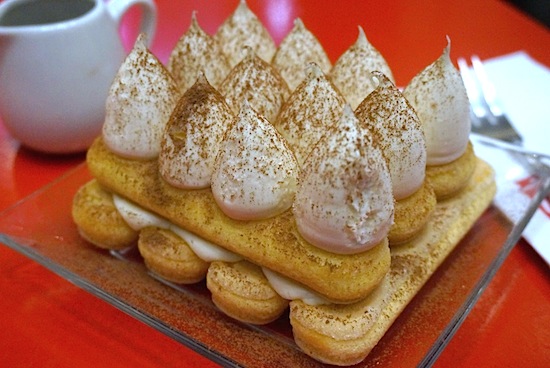 1. Espressamente Tiramisu Cake (P295)
Measurements: 4.5 inches x 4 inches x 3 inches high
Nine ladyfinger cookies are layered and topped with dollops of cheese and cocoa powder. You're given a cup of espresso to pour over it, soaking the crunchy cookies in strong coffee flavor. The play of textures is great: The ladyfingers become soft without turning soggy, while the cheese is like soft pudding.
ADVERTISEMENT - CONTINUE READING BELOW


Unique presentation, rich taste, and good value for money-Espressamente's Tiramisu Cake is worth every peso. It's also big enough to share, and you'll definitely want other people to know about this amazingly delicious dessert.
Espressamente is at G/F Shangri-La Plaza, Mandaluyong City.
Share this story with your friends!
---
Help us make Spot.ph better!
Take the short survey
Load More Stories