Locavore
10 Brixton Street, Kapitolyo, Pasig City
Contact: 632-9600
Open daily from 5 p.m. to 1 a.m.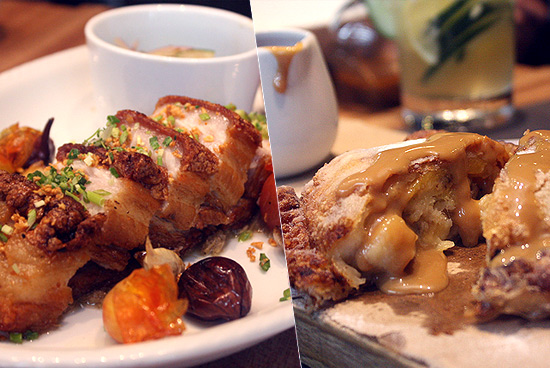 (SPOT.ph) Discovering Locavore's Sizzling Sinigang (P530) is akin to hearing about deep-fried Coca-Cola or seeing the charcoal burger on the Internet. What? Why? How? No matter the question, however, the answer will always be the same: of course. Of course, you'll try it. The sinigang is actually beef short ribs on a piping-hot skillet with chives, shallots, peeled cherry tomatoes, French beans, and a tangy sampaloc-infused gravy that is a rather clever play on the sour broth and another Filipino favorite, sizzling bulalo.
ADVERTISEMENT - CONTINUE READING BELOW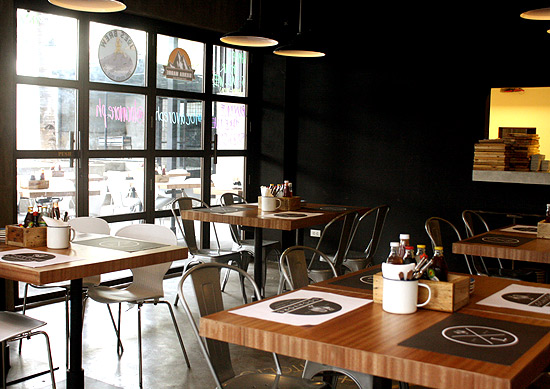 Eric Matic, Tin's husband, designed the cozy industrial space.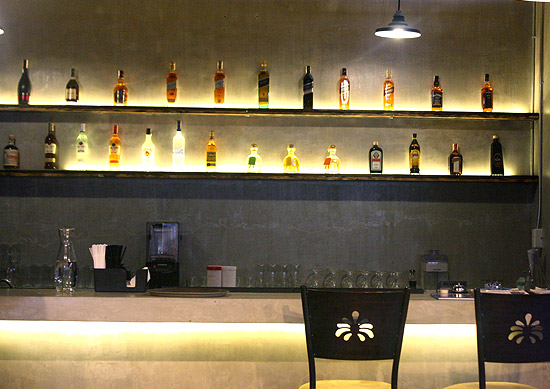 The bar
The dimly painted, high-ceilinged gastropub on Brixton doesn't automatically translate to a trove of Filipino food. There are bamboo details on the windows and more over the bar, but that's barely endemic to the country. Locavore, as the name suggests, is all about keeping it as close to home as possible: "locally grown, locally made, and locally produced," says co-owner Tin Magsaysay-Matic. She adds that 80% of their ingredients are organic, too.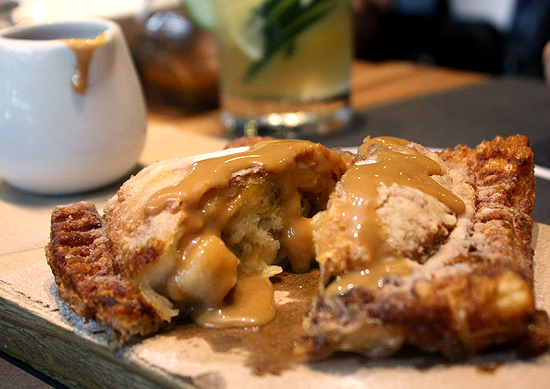 ADVERTISEMENT - CONTINUE READING BELOW
Turon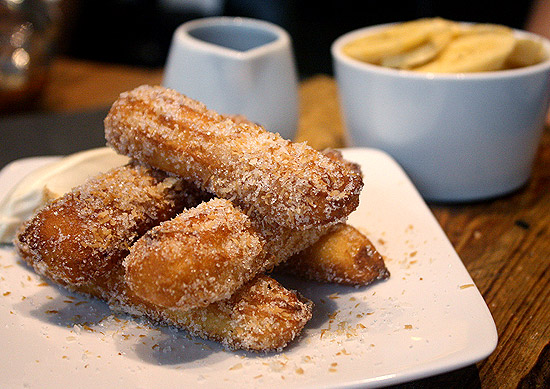 Bicho Bicho
Chef Mikel Zaguirre hesitates to call Locavore's food modern. The former head chef of La Regalade uses French techniques to spin homestyle dishes into restaurant quality-his Bicho Bicho (P160) resembles madeleines and his langka-and-banana turon (P200) comes in a puff pastry turnover-but the flavors are left to tradition. He points at his favorite Luglog (P340): Korean glass noodles are painted with a bisque that's thickened by heart-stopping aligue and flourished with chicharon, atsuete, and a sampling of squid and shrimps. A shy sprinkle of spring onions cuts the heaviness down a notch.
ADVERTISEMENT - CONTINUE READING BELOW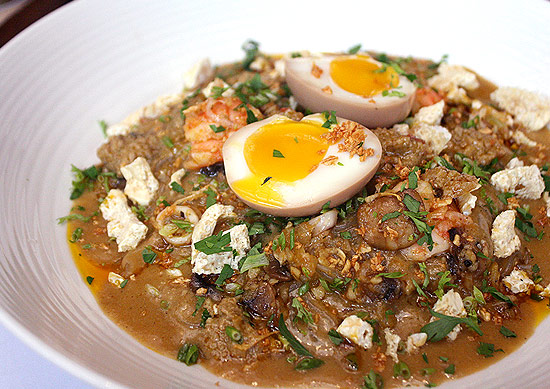 Luglog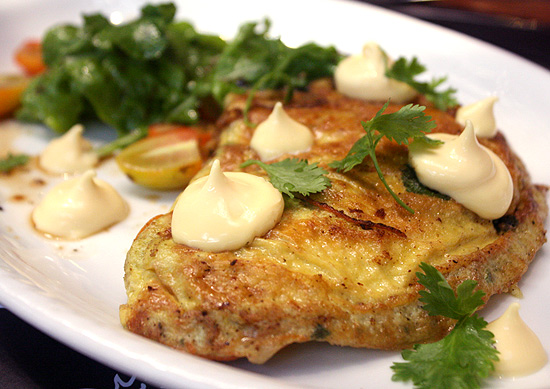 ADVERTISEMENT - CONTINUE READING BELOW
Tortang Talaba
If the Tortang Talaba (P300), a medley of oysters, mushrooms, bean sprouts, and bacon in a cake of scrambled eggs topped with Japanese mayonnaise, challenges your ability to share, you'll want to split the weight of the Sugpo con Mayonesa (P650). The chef isn't afraid to utilize fat to push for flavor and so his extra large prawns swim in a pool of buttery, chunky crab fat embellished with garlic and Japanese mayonnaise. The flavors are so good that you'll want to eat more, but so rich that your innate generosity will kick in.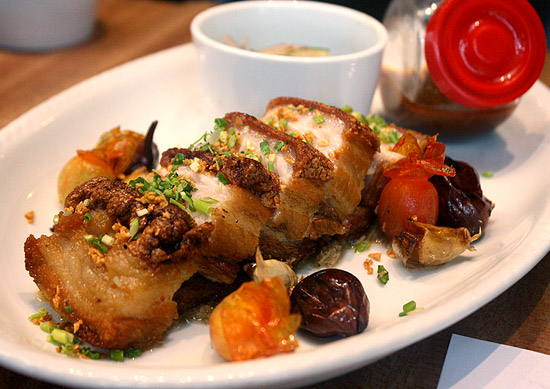 ADVERTISEMENT - CONTINUE READING BELOW
Boneless Pork Belly
The Boneless Pork Belly (P550) takes a trip around the kitchen before it's served.  This version of a Cebu lechon is brined overnight, then cooked confit for a further five hours. A semi-roast creates that crackling brown coat before it's fried to a crispy and tender finish. Chef Mikel purées lemongrass, ginger, onion, and fennel-the same spices in a Cebu roast-and smears it on the bottom like a sauce. Then, on top, a generous layer of garlic and spring onions.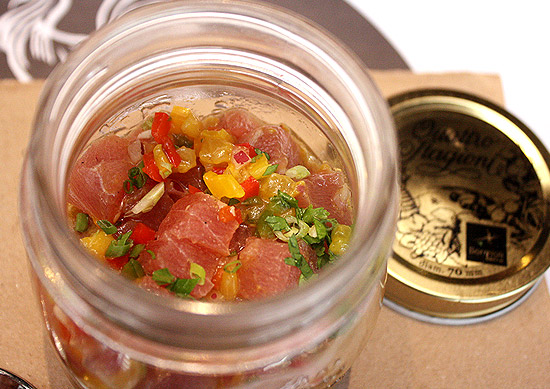 ADVERTISEMENT - CONTINUE READING BELOW
Tuna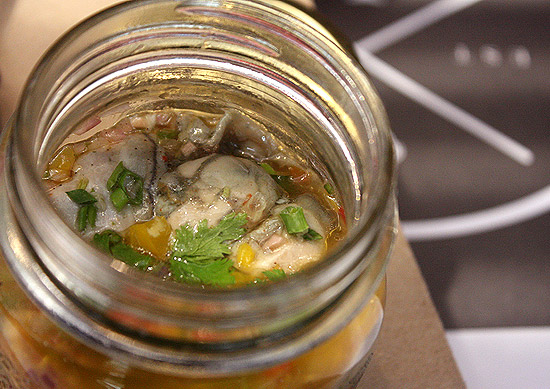 Aklan Oysters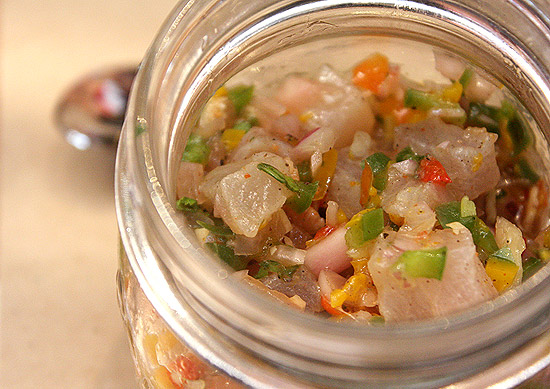 ADVERTISEMENT - CONTINUE READING BELOW
Tanigue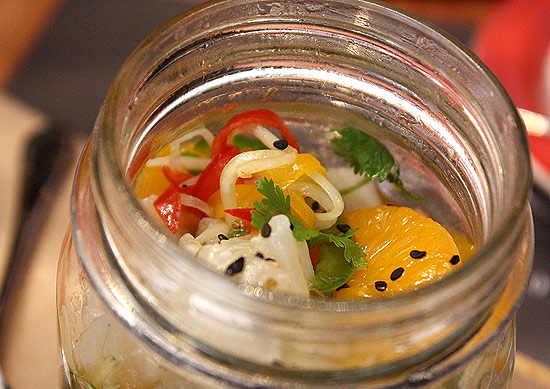 Lapu-Lapu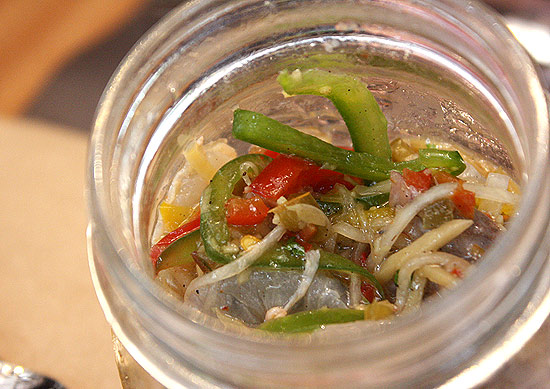 ADVERTISEMENT - CONTINUE READING BELOW
River Shrimps
Nearly a third of the menu focuses on kinilaw. Locavore aims to be a chill, neighborhood night spot, and nothing brings out the flavor of their Don Papa-infused cocktails better than a cool bite of local ceviche. Various techniques are used: the Tanigue (P220) and Kalibo Oysters (P220)-jumbo shellfish-are more traditional with that sharp zing from vinegar and zest from coriander. If tart on tart is your preference, the Calamanjito (P240) is a taste of summer, with the brightness of mint and calamansi to complement the punch of kinilaw.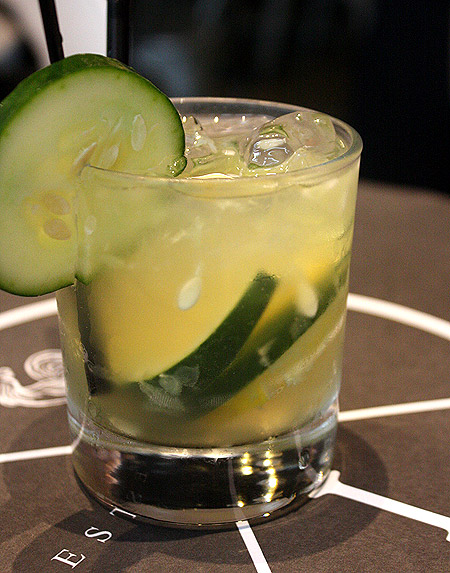 ADVERTISEMENT - CONTINUE READING BELOW
Sexy Sili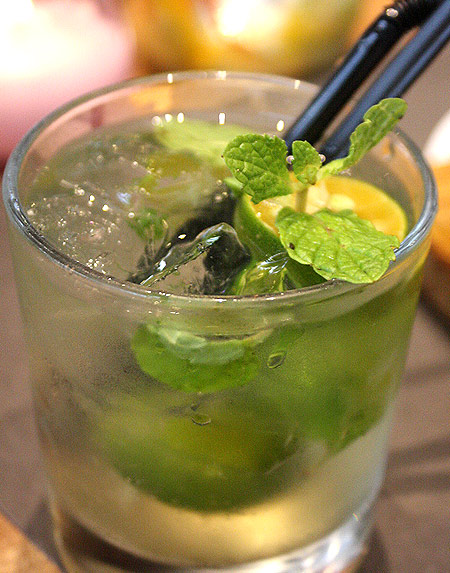 Calamanjito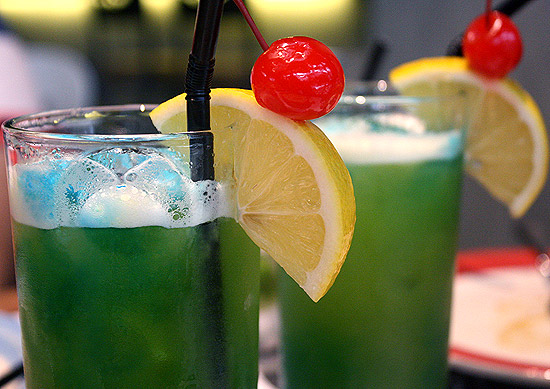 ADVERTISEMENT - CONTINUE READING BELOW
Perlas
Ripe mangoes give the Tuna (P220) and Lapu-Lapu (P220) a refreshing sweetness which works well with the Perlas (P240), a fruity blend of melon and pineapple. The patis-tinged Fresh River Shrimp (P220) might benefit from the heat of the Sexy Sili (P240), a spicy chili-infused tequila cooled down by a bit of cucumber and calamansi.
The two-week-old Locavore is reintroducing a new kind of Filipino comfort, and like all introductions, it's only the beginning. There's going to be more heirloom recipes and more local booze to enjoy-soon.
Locavore will also open for lunch before the year ends.
Share this story with your friends!
---
Help us make Spot.ph better!
Take the short survey
More Videos You Can Watch
Load More Stories