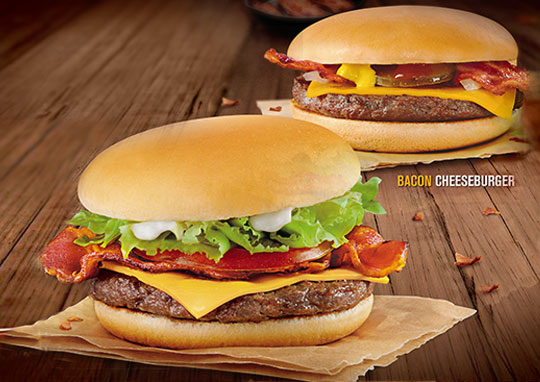 We're not really sure what happened, perhaps it's the subconscious collective plea of every self-respecting bacon lover in the Philippines or it's just that the bacon gods are feeling a bit generous and probably have given an earful of advice to McDonald's Philippines but we're not complaining.
To be honest, it kinda felt that it was about time that they finally incorporate one of the most well-loved piece of meat on Earth (not the burger patty itself) into one of their staple offerings. As for us, here are ten reasons why like everyone else, we're head over heels for the new McDonald's Bacon Cheeseburger.
1. It has bacon. Duh.
We don't know about you but we're pretty sure that if there's one thing that most people in the world will agree on without killing each other, it's gotta be the love of bacon. It's probably the most versatile meat on Earth since it can be used for breakfast to dessert without it tasting dreadful. Adding bacon strips to a McDonald's Cheeseburger is nothing short of magical since the crispiness and smoky flavor of bacon contrasts nicely with the tenderness of the patty and the tanginess of the pickles.
ADVERTISEMENT - CONTINUE READING BELOW
And it's bacon, c'mon...seriously.

2. A carnivores' delight
There's one thing that carnivores love more than meat: more meat. The new McDonald's Bacon Cheeseburger duo offers both the trademark juicy and tender McDonald's patty which is beef and glorious bacon which is pork. Meat lovers will particularly adore this setup since it offers them two different meat cuts for the price of one.

3. You can pair it with the next best thing: Twister fries.
We've no doubt that if you love burgers, you probably love French fries as well and it was only recently that McDonald's reintroduced their much loved Twister fries. While the original fries are great and will probably be enough for you, the Twister fries are sure to add even more excitement and flavor to your already sumptuous fare. It must be noted too that the Twister fries are for a limited time only, same as McDonald's Bacon Cheeseburger, you should hurry up and grab yourself a pair right now before the promo ends.
4. The CHEESE
Alright, it's not like we're not used to good old cheddar cheese that always accompanies our cheeseburgers, but then partially melted cheese with beef patty and bacon has always been a welcome sight to our weary and hungry eyes.

5. Available in every McDonalds' branch
If you're someone that's always updated with the latest food craze or on the lookout for new and exciting food to try, you probably know that most of them are just experimental and that not all branches have them. For McDonald's Bacon Cheeseburger, it's a completely different story: it's available in all branches of McDonald's nationwide! Also, it's available for dine in, take out, Drive-Thru or McDelivery. Though you may want to try it now since the holy grail of burgers is only available for a limited time.
6. Resitance is futile because it's just too good

The juicy patty and bacon, topped with cheddar cheese might earn disapproving looks from your gym trainer or your fitness coach, but then it's really good that guilt feelings disappear the moment you take a bite. Besides, we only live once, right?

7. A great stress food

ADVERTISEMENT - CONTINUE READING BELOW
We all had that bad day wherein we felt that we'd like nothing more than to just stand up and leave that stressful job and your d-bag boss forever. What soothes stress, even temporarily, is treating yourself to your comfort food. The new McDonald's Bacon Cheeseburger is a great stress reliever since it has three of the most common comfort food components in the world: bacon, cheese and then beef. If that's not enough, you can always upgrade your regular fries to medium.
8. Desire that you can buy

If there's one thing that life has taught us, it's that if you desire good things, be prepared to shell out more than a few bucks. However, for McDonald's Bacon Cheeseburger, you won't be paying an arm and a leg for a serving. It's priced competitively so that more people can have a taste of this sinfully delicious treat from McDonald's.
ADVERTISEMENT - CONTINUE READING BELOW
9. It comes in deluxe as well

This also comes in Deluxe! Enjoy your McDonald's Bacon Cheeseburger with a tomato slice, crisp and fresh lettuce and a special dressing. This healthier option is perfect for catch-up time with your friends or bonding moments with the family.
10. It's perfect for lunch-outs

We understand that you might not be the sharing kind when it comes to food, but then McDonald's Bacon Burger duo is best eaten with your friends or officemates since eating is a social activity especially for us, Filipinos. Who wouldn't want to trade the latest office gossip over burgers, anyway?

---
Feeling a bit hungry now? Great! Go to the nearest McDonald's and treat yourself to a Bacon Cheeseburger! Visit McDonald's website and their Facebook and Twitter pages for more info.
Share this story with your friends!
---
Help us make Spot.ph better!
Take the short survey
More Videos You Can Watch
Load More Stories