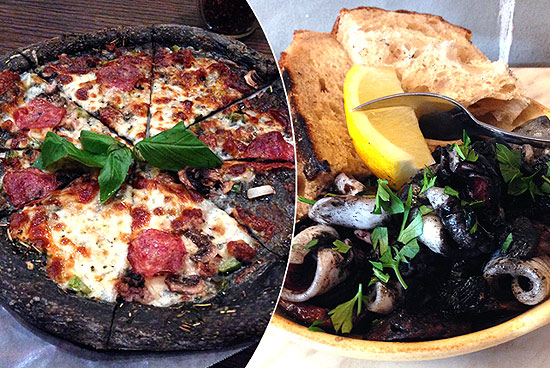 (SPOT.ph) What was once an unwelcome sight on the dinner table is now the star of many restaurant menus. Squid ink, black sesame, pig's blood, and even charcoal lend their tint in making dishes as delicious-and handsome-as possible. Move over, red velvet, pink salt, and blue cheese! It's back to black these days.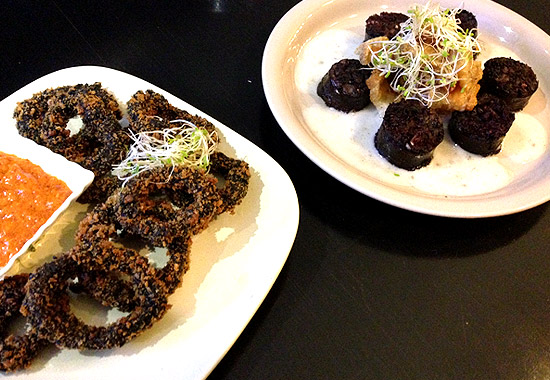 10. Pino's Calamares Negra (P275) and Dinuguan 2.0 (P265)
On the long list of appetizers, you will find the Calamares Negra, a rendition of plain ol' squid rings, coated with squid ink, then deep-fried to a perfect crisp. It's served with addicting crab fat and lemon aioli-a good contrast in both flavor and color. Another item on the list is the dinuguan, reincarnated into pork blood-packed longganisa, topped with crispy golden bagnet bits. It's an unusual twist to a classic, but it will definitely make you appreciate Pinoy flavors in a whole new way.
Pino has branches at 39 Malingap Street, Teachers Village, Quezon City (441-1773); and 38 Jupiter Street, Bel-Air, Makati City (550-1781).
ADVERTISEMENT - CONTINUE READING BELOW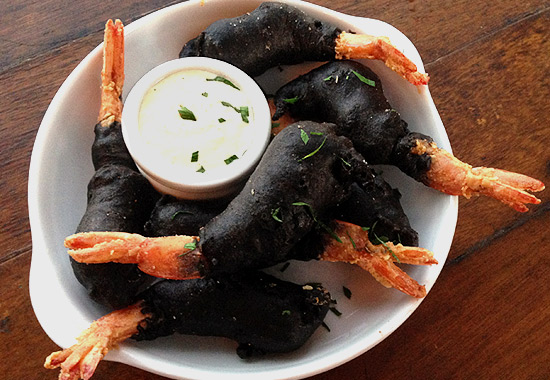 9. Black Olive Cerveceria's Squid Ink-Battered Prawns with Jalapeño-Honey Aioli (P390)
Love ebi tempura or camaron rebosado? Then you'll also get hooked on these squid ink-battered prawns. Juicy, plump pieces of prawns are coated in a batter that strikes a balance between crispness and thickness. The rich, creamy sauce complements the briny features of the dish. Best enjoyed as an appetizer or as a partner to their paella negra!
Black Olive is at Unit R3A & B, Camino Verde Avenue, Capitol Commons, Meralco Avenue corner Shaw Boulevard, Pasig City (633-2071, 0917-5073512).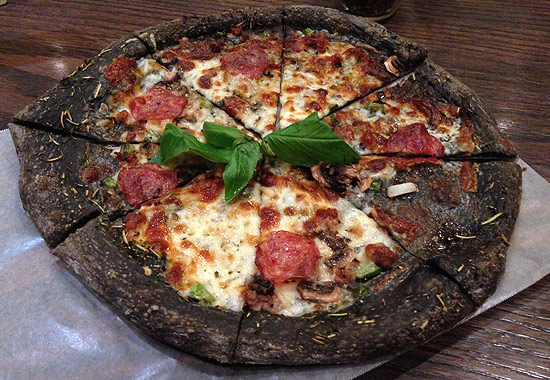 ADVERTISEMENT - CONTINUE READING BELOW
Recommended Videos
8. Village Tavern's Black Pizza (P475)
Nope, this pizza crust wasn't left in the oven to burn. The thin, chewy crust is made with the addition of squid ink, giving it a lovely dark hue. It also serves as a good canvas to a bevy of bright and cheery toppings-Parmesan, Gruyere, mozzarella, pepperoni, mushrooms, bell peppers, onions, and fresh basil leaves. It scores high in terms of novelty, but not far behind is its grade for flavor.
Village Tavern is at 2/F Bonifacio High Street Central, 7th Avenue, Bonifacio Global City (621-3245).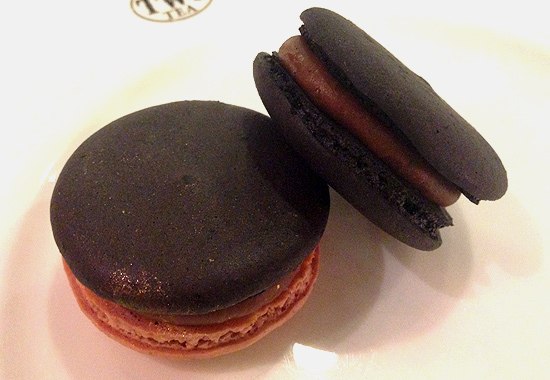 7. TWG Tea's Napoleon Tea and Caramel Macaron and Salted Caramel Macaron (P50 each)
Black tea to end a meal isn't exactly a new concept, so you shouldn't be surprised that TWG infuses their delectable macarons with their signature black teas. What might surprise you, however, is their color. The shells are black, and biting into them, you'll discover that the pastry is black through and through. The Napoleon Tea and Caramel macaron features French spices paired with luscious golden caramel; while the Salted Caramel macaron highlights the nutty Brother's Club black tea.
ADVERTISEMENT - CONTINUE READING BELOW
TWG has branches at  Newport Mall, Pasay City; Shangri-La Plaza East Wing, Mandaluyong City; Century City Mall, Makati City; Power Plant Mall, Makati City; and Greenbelt 5, Makati City.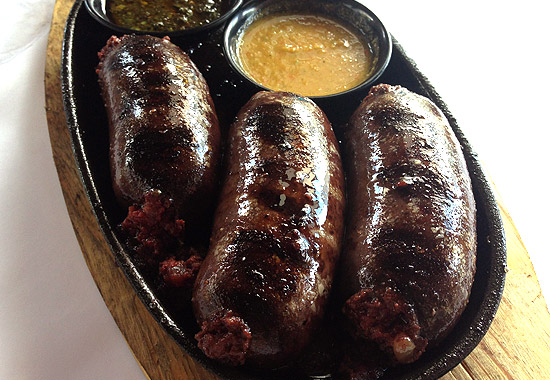 6. La Cabrera's Morcilla Criolla (P490)
It's easy to be overwhelmed by La Cabrera's menu featuring the best Latin American flavors. But if you want to treat your palate to something new and novel, zero in on the Morcillo Criolla. These grilled sausages are far from ordinary-they're made using pig's blood, which gives them that distinct color. Compared to a typical sausage, the consistency is softer and mushier-similar to pâté-and it's also best paired with warm bread. Make sure you make good use of the chimichurri and criolla salsa served on the side-they provide a good contrast in acidity and texture.
La Cabrera is at 6750 Ayala Avenue Business Tower, Glorietta Complex, Ayala Avenue, Makati City (0905-290-0703).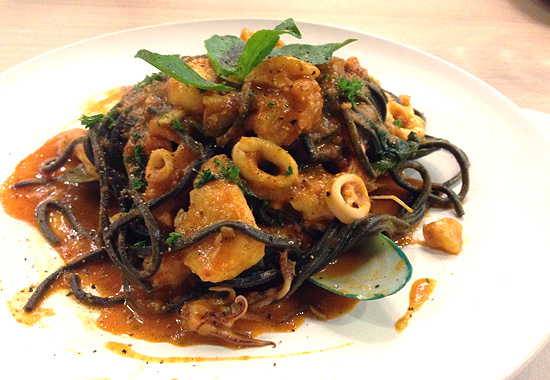 ADVERTISEMENT - CONTINUE READING BELOW
5. Va Bene's Black Ink Tagliolini (P440)
Va Bene's Chef Massimo Veronesi knows Italian food to a tee, and he's not one to rely on gimmicks to make his food stand out. Take the Black Ink Tagliolini: a gracious pasta dish loaded with shrimp, mussels, and squid, tossed in a lovely marriage of marinara and light cream sauces. The black pasta isn't for mere aesthetic purposes-it helps in highlighting the fresh flavors of the seafood and lends a hint of saltiness in each bite.
Va Bene is at Cinema Level, 3/F Central Square Building, Bonifacio High Street, 5th Avenue corner 30th Street, Bonifacio Global City (556-9442, 216-9879).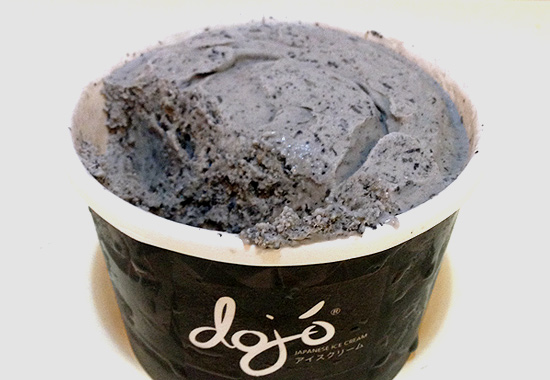 4. Dojo Dairy's Black Sesame Ice Cream (P240/8 oz., P450/16 oz., P850/32 oz.)
A popular flavor in Japanese desserts, black sesame is churned into a milky, creamy ice cream by the geniuses behind Dojo Dairy. Every scoop features the flavor of toasted and ground sesame-nutty, deep, with a hint of sweetness. Most are probably familiar with black sesame as part of the grinding ritual before every tonkatsu feast. This time, it's transformed into a beautiful dessert, and it's one that'll surely add thrill and excitement after any meal.
ADVERTISEMENT - CONTINUE READING BELOW
Available at Little Tokyo, Chino Roces Avenue, Makati City; www.dojodairy.com (0918-888-3656).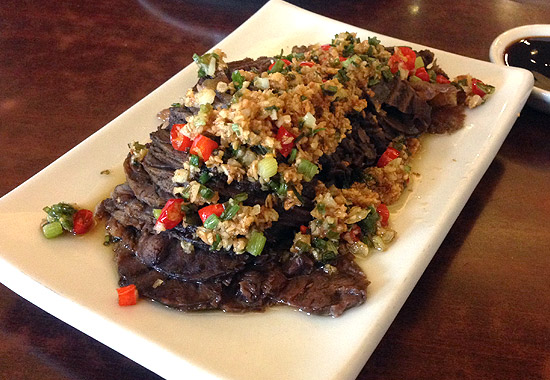 3. Suzhou Dimsum's Steamed Beef in Garlic (P360)
The color could be a sign of the age and condition of the meat, but it could also be a sign of great things to come-which is the case for Suzhou Dimsum's delicious beef. Thin slices of beef brisket are marinated in soy sauce, then steamed with garlic and a handful of spices. It's served crowned with fried minced garlic and chopped chilies. The result? Nothing like you've had before-beef so soft and so flavorful, you'll be grateful that it actually came out black.
Suzhou is at 837 A. Mabini Street, Mandaluyong City (721-6105).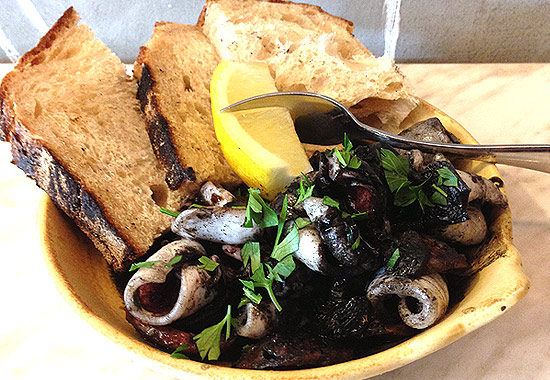 ADVERTISEMENT - CONTINUE READING BELOW
2. Chef du Partie's Black Stew (P455)
It's not the most photogenic of things, but what this baby squid dish exemplifies is balance: of colors, flavors, and textures. The savory rounds of chorizo lend a pop of orange-and a good hint of spice-in the sea of black. The aioli provides a slight softness to the powerful squid ink. The side of sourdough bread provides heft in an otherwise delicate stew. There is harmony between elements in this dish, and the outcome is nothing short of delicious.
Chef du Partie is at R1 Power Plant Mall, Lopez Drive, Rockwell Center, Makati City (556-4454).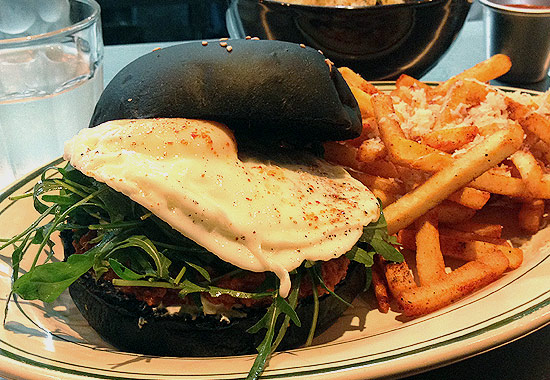 1. Your Local's Fried Egg and Bacon Jam Sandwich (P475)
"Have you tried the black sandwich?" is a question frequently asked within food-loving circles. You're missing out-a lot-if your answer is no. The sandwich is made up of coffee-infused bacon jam, blue cheese, a runny fried egg, and wild rocket. Served with Parmesan fries and chorizo ketchup on the side, this hefty meal creates a profile that would make you want to forget your name. There is a colorful world-one of pure bliss-hidden inside this dark treat.
ADVERTISEMENT - CONTINUE READING BELOW
Your Local is at Universal LMS Building, 106 Esteban Street corner V.A. Rufino, Legazpi Village, Makati City (823-6206).
Share this story with your friends!
---
Help us make Spot.ph better!
Take the short survey
Load More Stories