CHECK IT OUT: Nest Modern Table & Bar at Bonifacio Global City
The latest contender in top-of-the-city hangouts
Nest Modern Table & Bar
Roof deck, W 5th Building, 5th Avenue corner 32nd Street, Bonifacio Global City
Contact: 0917-874-9999
Open from 5 p.m. to 2 a.m. (Monday to Saturday)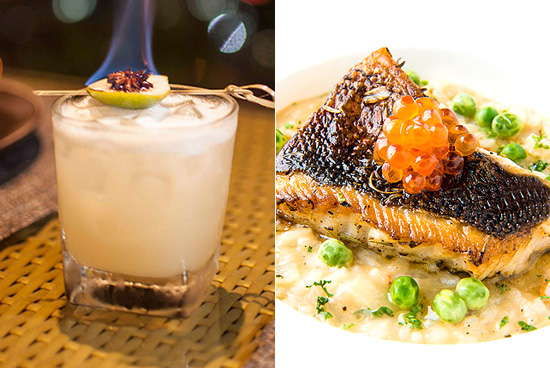 (SPOT.ph) Nest doesn't alienate. Instead, it draws you closer to its self-proclaimed sanctuary, a home nestled on top of the city. It is an escape with an al fresco setup and an arresting view of the city skyline. The interiors house earth-toned patio furniture, and the tables are thoughtfully adorned with garden-themed arrangements.
But a coherent theme is just one thing: it's the dining experience that seals the deal. Co-owner Eric Virata, more popularly known as Boys' Night Out DJ Slick Rick, says: "The difference is we have a great combination of food and drinks. That's what makes us a great alternative from the rest."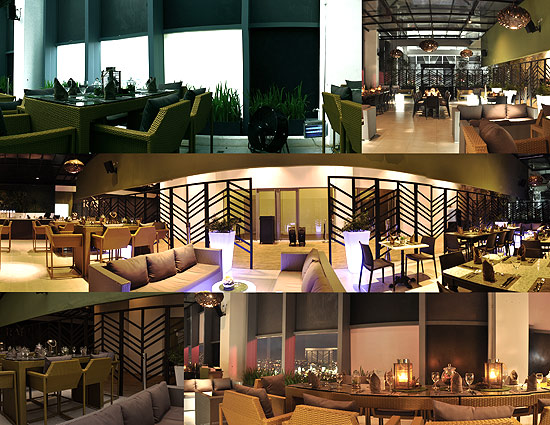 ADVERTISEMENT - CONTINUE READING BELOW
View from the top
Nest, from the same group that developed URBN Bar & Kitchen and Raven Manila, delivers Asian flavors and Western-style cooking paired with carefully concocted signature cocktails. In the kitchen, Chef Benjo Tuason takes the lead, keeping a mantra: "Prep with care, cook with love, and serve with pride." Over at the bar, beverage consultant Lee Watson oversees the creation of 12 signature cocktails that he says guarantees "the right combination and balance."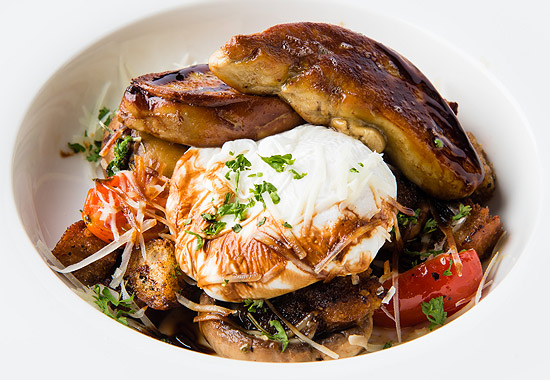 Foie Gras and Mushrooms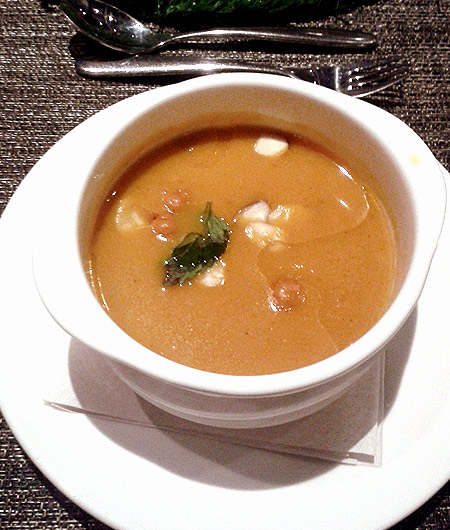 ADVERTISEMENT - CONTINUE READING BELOW
Chunky Butternut Squash and Chickpea Soup
For starters, Nest offers a winning Foie Gras and Mushrooms (P550) dish. Generous and guilt-inducing slices of foie gras and a delicate poached egg sit on top of a balsamic-infused medley of mushrooms, cherry tomatoes, and croutons, finished off with grated Parmesan. A more modest choice, the Chunky Butternut Squash and Chickpea Soup (P150), packs a spicy kick, with a very pleasant aftertaste.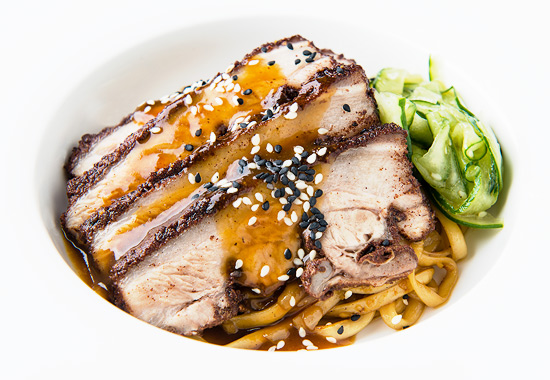 5 Spiced Roast Pork Belly
The Pan-seared Snapper (P470) is smoky with hints of herbs, while the accompanying prawn and salmon roe risotto layers in more dimension. The savory Kurobuta pork belly, though satisfying on its own, finds a powerful match with the soy and garlic noodles in the 5 Spiced Roast Pork Belly (P250).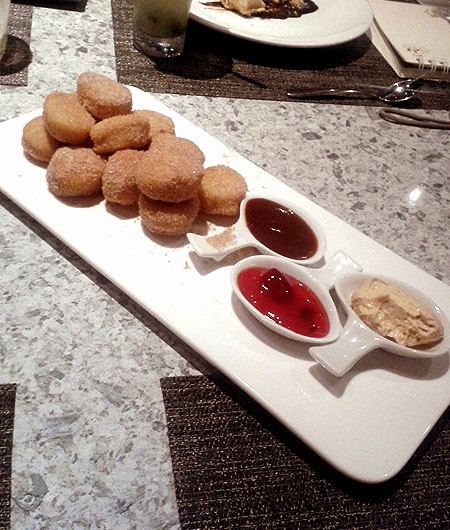 ADVERTISEMENT - CONTINUE READING BELOW
Donuts and Dips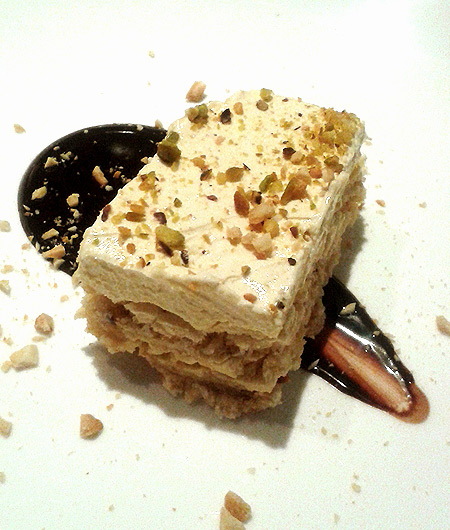 Reese's Sansrival
The Donuts and Dips (P200) dessert is where you get to have a bit more fun. The cinnamon-wrapped donuts are best enjoyed with your choice of dip-peanut butter cream, salted caramel, or strawberry jam. The Reese's Sansrival (P200), on the other hand, is a bit more straightforward with peanut butter cream in between layers and just a bit of chocolate ganache for variety.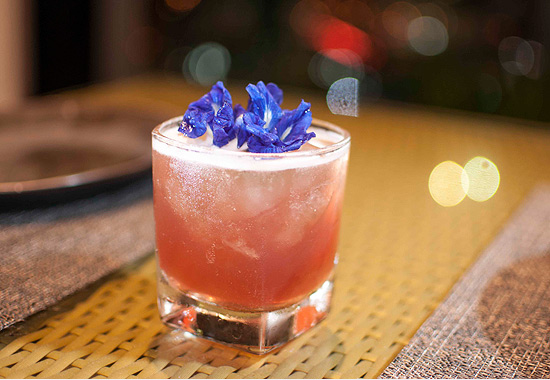 ADVERTISEMENT - CONTINUE READING BELOW
Blue Moon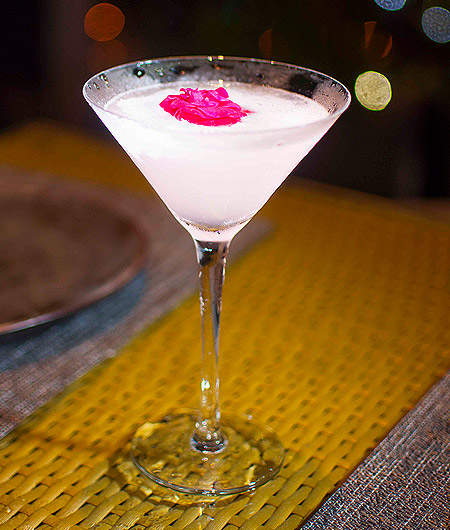 Sexy and I Know It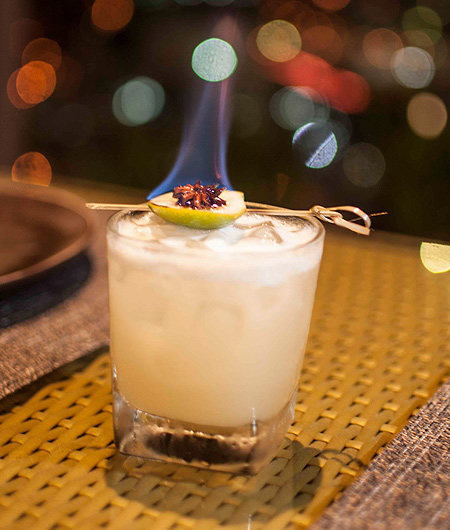 Smokin'
Among the 12 signature cocktails is Smokin' (P414), a unique mix of single-malt scotch and coconut syrup, honey, and lime. The Blue Moon (P331), strong yet easy to drink, mixes Maker's Mark Bourbon, black currant, lemon, and Angostura. A certified ladies drink, thicker in consistency and sweeter in taste, is the Sexy and I Know It (P331) with vanilla vodka, rose syrup, and lemon and maraschino cherry liqueur.
ADVERTISEMENT - CONTINUE READING BELOW
Load More Stories