The 10 Best Things We Ate in November
Noteworthy dishes in this food-filled month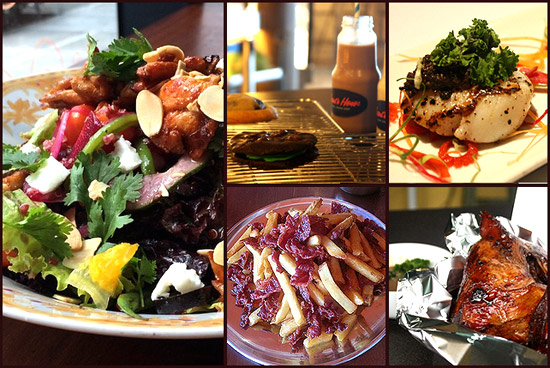 (SPOT.ph) If you didn't already know, here at SPOT.ph, we love food. You need it to live, but we find that there are some dishes that go well past the virtue of necessity. While others content themselves with a deep fryer and the usual salt and pepper, there are some who make-or at least try to make-an art out of it, with delicious displays and even yummier flavors. We believe those that go above and beyond their duty deserve necessary recognition. So here are our top picks among the dishes we ate throughout November.
This list is not ranked.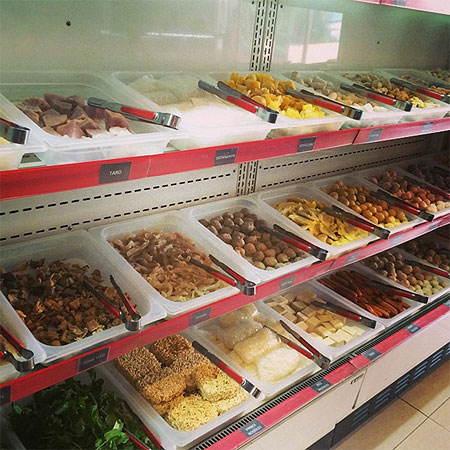 Huat Pot's Salted Fish Beef
It's difficult to choose a favorite from Huat Pot's market of unlimited hotpot toppings, so we decided to skip the pain of choosing all together and go towards a different route. On the side of the buffet, as you wait for your lobster balls to cook in broth, you can enjoy a few ready-made dishes, including a salted fish beef. It's Chef Jonas Ng's take on an adobo, with tender beef soaking in a fish-based stock, giving it a novel kind of brine that's ultimately more lip-smacking.
ADVERTISEMENT - CONTINUE READING BELOW
Huat Pot is at 2/F Metropoint Center, P. Guevarra Street corner Wilson, Greenhills, San Juan.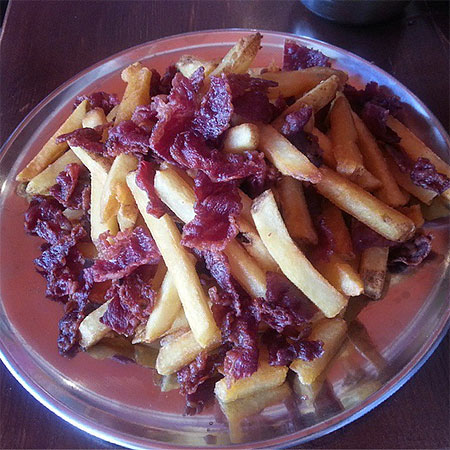 CONTINUE READING BELOW
Recommended Videos
Señor Pollo's Wagyu Beef Bacon
How can anyone get over the chicken in this hole-in-the-wall-both fried and roast? But we're cheating on fowl with beef. Bacon, that is. For P450, Señor Pollo takes their usual fries and embellishes them with salty, succulent bacon made from Wagyu beef. It's cooked to a crisp so they're utterly addictive. We never thought we'd say this, but we actually forgot about the fries.
Señor Pollo's latest branch is at 5767 Ebro Street, Makati City.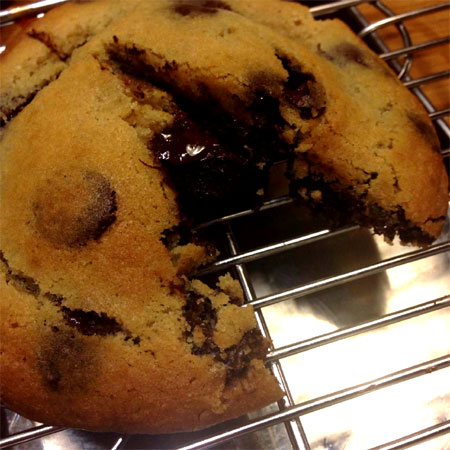 ADVERTISEMENT - CONTINUE READING BELOW
The Inception from Scout's Honor
Imagine a chocolate chip cookie, but wait, there's something different with the way this one looks. It looks almost...pregnant, in fact. With a whole Oreo. The perimeter is slightly crisp, which appeals to those who prefer their cookies with a little more bite, but the rest is chewy, crumbly, with chocolate fudge giving an uncharacteristic amount of lusciousness. The trip to the oven makes that Oreo soft, blending seamlessly with the rest of the components.
Scout's Honor is at Hole in the Wall, 5/F Century City Mall, Kalayaan Avenue, Makati City.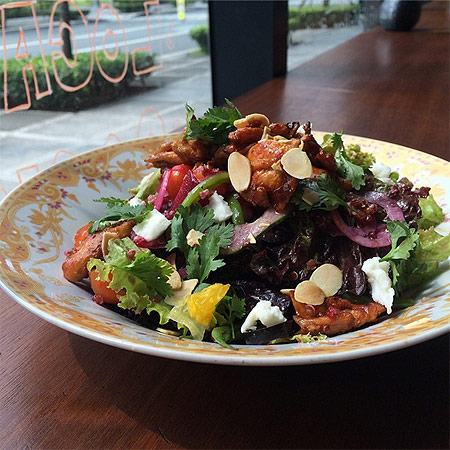 Crisp on 28th's Barbecued Chipotle Chicken Salad
The crisp leaves of lettuce are dressed with so much flamboyance: flavor everywhere-the nuttiness of quinoa, the heat from the chicken, sweetness from the beets and cranberries, and the milkiness of almonds. There's diversity in every bite, and despite the seemingly overwhelming number of ingredients, each component makes itself stand out...while still coming up with one delicious ensemble (P215).
ADVERTISEMENT - CONTINUE READING BELOW
Crisp on 28th is at 28th Street, Alveo Building, Bonifacio Global City.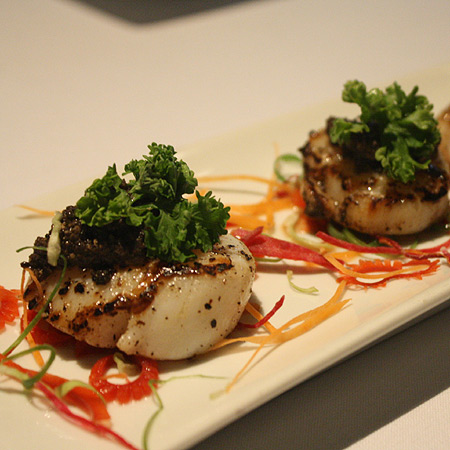 22 Jupiter's Scallops with Foie Gras Mushroom
Three large pieces of scallops (P550), pan-seared long enough only to get a good color, serve as the stage for earthy dollops of foie gras-infused blended mushrooms that explode with the flavor of truffle. A tangle of crisp vegetables offers a hint of freshness, but the most impressive aspect is the balance that Chef Marco Legasto manages to put together. If you value satisfaction over anything else, you'll definitely want to order more than one.
22 Jupiter is at 22 Jupiter Street, Makati City.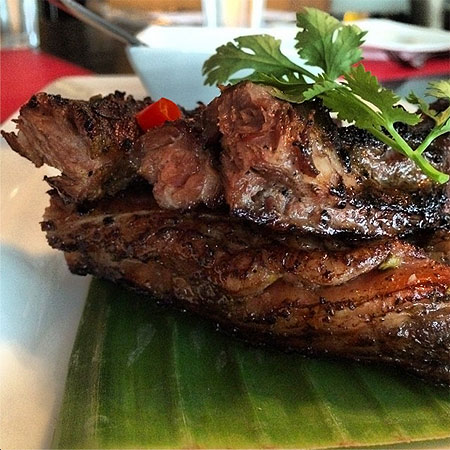 ADVERTISEMENT - CONTINUE READING BELOW
Azuthai's Beef Ribs
First, they're boneless so there's nothing coming between you and...gobbling everything up. Remember that Azuthai is an upscale Thai restaurant so you might want to exercise some restraint. We know it's hard, we've been there. The dish is made for 24 hours, guaranteeing unresisting textures and defined flavors. It's good on its own-smoky, savory, meaty-but there's a side of tamarind sauce that turns it to something completely different: bright, delectable, absolutely addictive. Rice, please?
Azuthai is at Milkyway Building, 900 Arnaiz Avenue (Pasay Road) corner Paseo de Roxas, Makati City.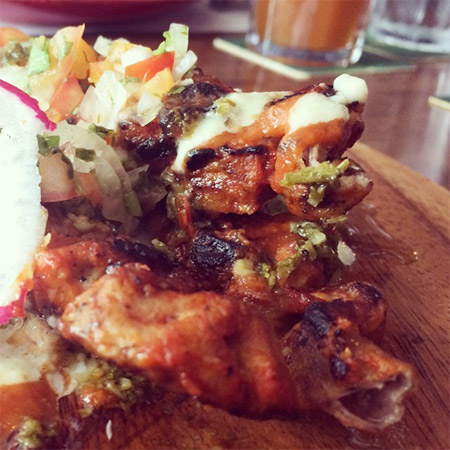 Puñta's Chinchulines
You probably have some default street vendor for your trusty isaw, but this one is different. A pair costs P165, huge curls of pork intestines that are boldly seasoned, chewy with a touch of smokiness, and, of course, a guarantee of sanitation. Latin flair comes in the form of chimichurri, crema de ajo, salsa roja, and pico de gallo, all generously drizzled over the skewers.
ADVERTISEMENT - CONTINUE READING BELOW
Puñta is at Liberty Center, Shaw Boulevard, Mandaluyong City.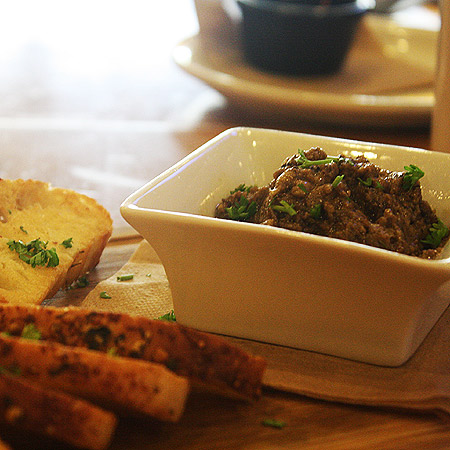 Spinach Artichoke Dip from California Pizza Kitchen
Sometimes, all you need is something simple done right and well. The strong shades of herbs in this dish (P250) makes a perfect companion to parsley-spiked slices of baguettes. It's a classic topping on buttery bread, but California Pizza Kitchen does it justice.
Click here for a list of California Pizza Kitchen branches.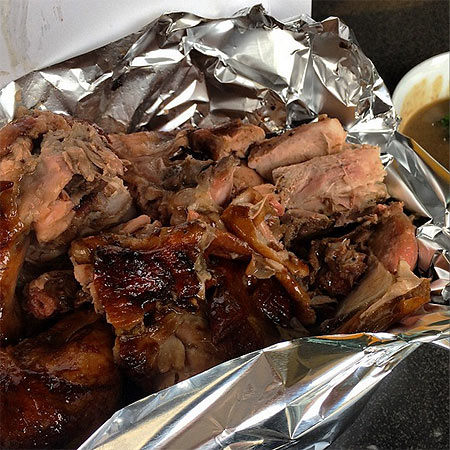 ADVERTISEMENT - CONTINUE READING BELOW
Captain Manok's Lechon Manok
There's something different about this roast chicken. First, the meat itself. It's not white, not even the breast part. Even fully cooked, there's a purplish, reddish hue that hints at the flavors that have managed to seep deep within the chicken. It's so tender that you can tell just how practiced the timing is: it's not left in the rotisserie any longer than necessary; the skin is a soft, brown blanket that's sweaty with juices. The chicken takes three days to make: marinating, brining, injecting, all steps to contribute flavor. A pool of juices spill to the bottom of the plate for you to mop up with your forkful of meat. For a whole order priced at P210, this chicken is our new potluck centerpiece.
Captain Manok is at 152 San Francisco Street, Barangay Plainview, Mandaluyong City.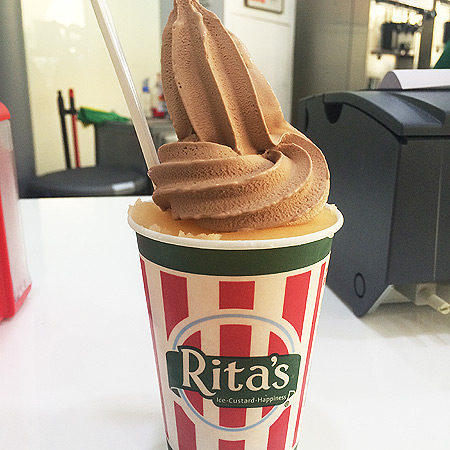 Gelati at Rita's Italian Ice
ADVERTISEMENT - CONTINUE READING BELOW
Choosing the best combination of flavored ice and custard would be cheating on the other combinations. Rita's allows you to mix and match, say Watermelon Ice and Chocolate Custard or Mint Oreo Ice and Light Vanilla Custard, and create your signature cool treat. Of all the permutations, we love the Gelati (P130 to P160) best. It's a triple-layer cup of custard, ice, and more swirly custard. The custard is a strong point at Rita's. No matter what flavor you get, you're given a slow-to-melt, dense cream that's undeniably sinful.
Rita's Italian Ice is at G/F V-Mall, Greenhills Shopping Center, San Juan.
Your guide to thriving in
this
strange new world.
Share this story with your friends!
---
Help us make Spot.ph better!
Take the short survey
Load More Stories