CHECK IT OUT: Captain Manok at San Francisco Street, Mandaluyong
Exciting roast chicken at a hole-in-the-wall
Captain Manok
152 San Francisco Street, Barangay Plainview, Mandaluyong City
Contact: 935-8926
Open daily from 11 a.m. to 10 p.m.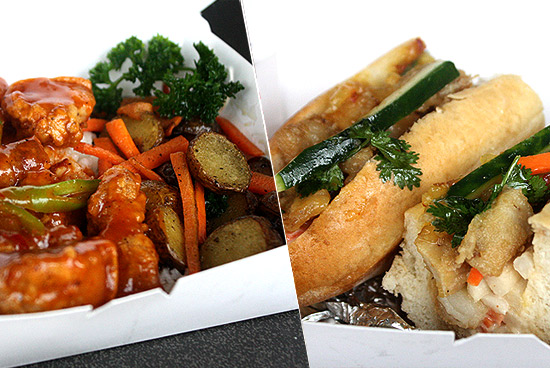 (SPOT.ph) San Franciso Street in Mandaluyong is a mess right now. The entire road is under construction to repair the drainage system: There are sacks of cement everywhere, debris all over the place, and heavy equipment clogging passage.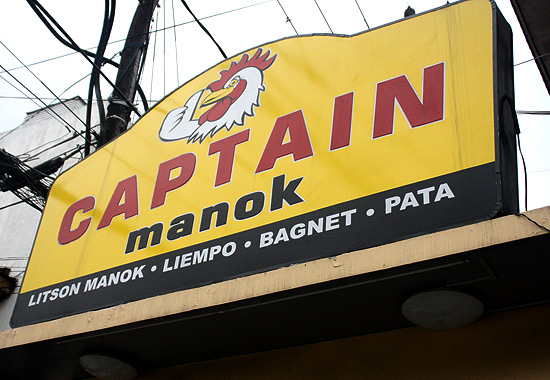 ADVERTISEMENT - CONTINUE READING BELOW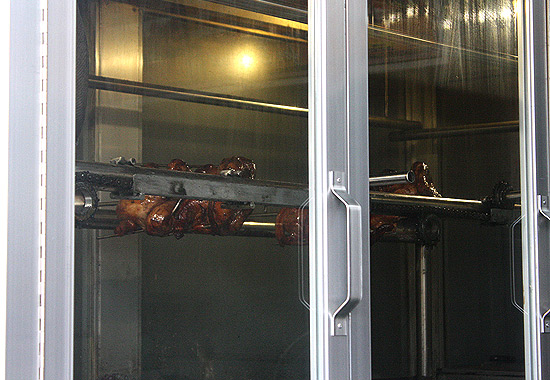 CONTINUE READING BELOW
Recommended Videos
The final steps of the process
But the best surprises come from the most unexpected places. Consider the disorder an adventure: the goal? Captain Manok. In this hole-in-the-wall, where a metal counter without chairs is as far as seating goes, they have done something wonderful with chicken. And pork.
The place isn't much: just a yellow sign with a chicken emblem, a large rotisserie, and a modest kitchen. Drilling, hammering, and pounding make up most of the ambient sound. "It's more for taking out," says co-owner and chef Raj Daswani. "The crowd here isn't up for dining leisurely."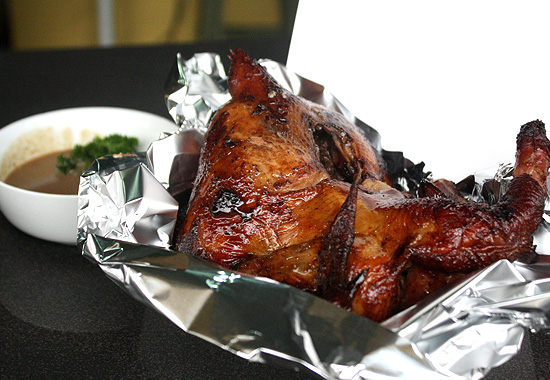 ADVERTISEMENT - CONTINUE READING BELOW
The chicken
It's a shame because everything is prepared only upon order and fresh is the best way to enjoy the carefully selected but diverse menu that Chef Raj has prepared. He's cooked in places like India, the Caribbean, and Curacao, and knows how to draw out the right amount of flavor. And by right, we mean lots of it. The rich and smoky smells that seep out from the package of Lechon Manok (P210/whole) is enough of a hint of that exactness-so much so that it's difficult not to just rip it apart.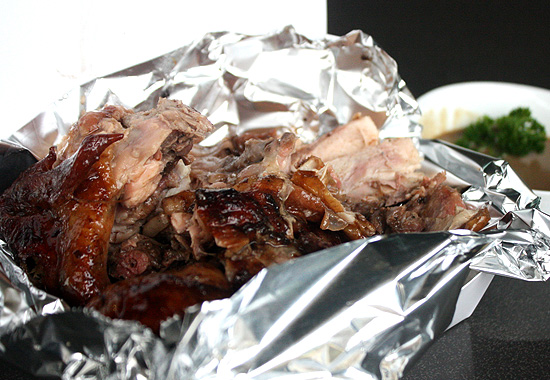 Notice the ruddy color of the meat
If the breast is the measure of flavor, then Captain Manok's doesn't shy away from that deep, pronounced savoriness right until you reach the bone. Each shred of meat is moist with a light touch of tangy brininess. Chef Raj protects the secret behind his recipe, revealing only ingredients like "love" and "happiness."
ADVERTISEMENT - CONTINUE READING BELOW
The chicken actually takes three days to complete, with a day each dedicated to marinating, injecting flavor, and more marinating before the few hours rolling in the rotisserie. It's cooked through, but still wonderfully fork-tender-like it was taken out of the fire at the precise moment that the cooking's done and not a second more. Juices spill onto the foil that you can mop up with a forkful of chicken. There's a pair of homemade liver and soy sauces, but it seems almost insulting to the already intense profile of the chicken.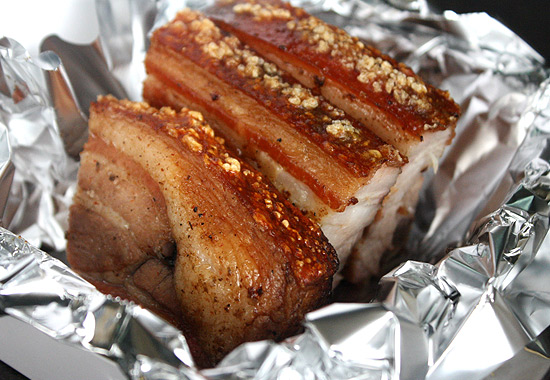 Liempo
Not that those sauces aren't good. Chef Raj understands that they're not meant to cheat flavor entirely. The mellow flavors work well to embellish the Liempo (P159). A significant part of Captain Manok's menu is familiar Filipino comfort food, but the chef says the difference is in the execution. His grilled pork belly, for example, uses the upper part of the pig: leaner, but with just enough fat to please the local palate. It dissolves into a slightly salty juice over alternating layers of melting pork. The best part, the skin: a bubbling crispy blanket that we'd love to eat on its own.
ADVERTISEMENT - CONTINUE READING BELOW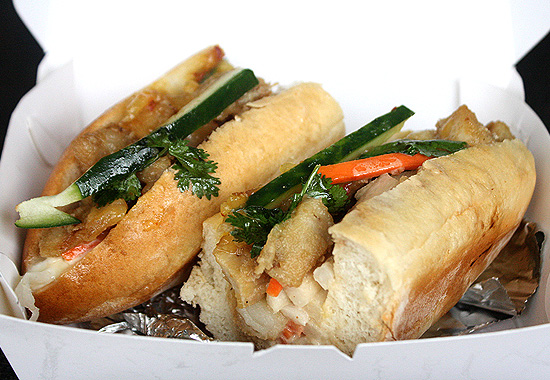 Saigon Sandwich Pork
More global influences make their way into the sandwiches, which are more banh mi-style. The Saigon Sandwich Pork (P69) uses the same part of the belly as in the liempo, but it's fried and coated in a tangy homemade sauce. There's a good combination of textures, with pickled jicama, cucumber, and carrots that somehow maintain their snap; perfect against the crackling baguette they're sandwiched in. A light coat of chili sauce offers a whisper of heat that ties together the zesty and hearty flavors.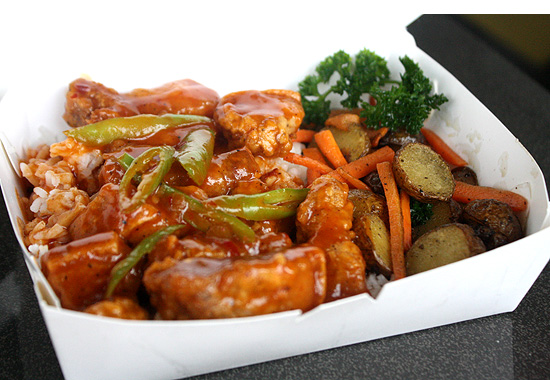 ADVERTISEMENT - CONTINUE READING BELOW
Spicy Juicy Pork
Chef Raj is adamant that customers get what they expect. Among his versions of a rice bowl, the Spicy Juicy Pork (P79) is fire in your mouth. He's a fan of Bicol Express and he wanted to imitate that profile. There's something very sweet and sour pork about this dish, but you get complex layers under that fiery overtone. It also comes with parsley marbled potatoes, which makes this fiesta of a meal a great steal.
A trip to Captain Manok is an adventure deep into the heart of Mandaluyong (take a right at the Shakey's across the City Hall). There's always a question of whether to take it home or to just brave the sweltering heat and "construction" music and enjoy the moment. Take it from us: Eat it right there because it's best fresh-and you probably won't be able to help yourself anyway. The way Chef Raj firmly kept his culinary ideals, a meal at Captain Manok is all about taking a stand. Literally.
Share this story with your friends!
---
Help us make Spot.ph better!
Take the short survey
Load More Stories