10 Weird Dishes We Dare You to Try
Strange is subjective, but we're confident you'll find something new here.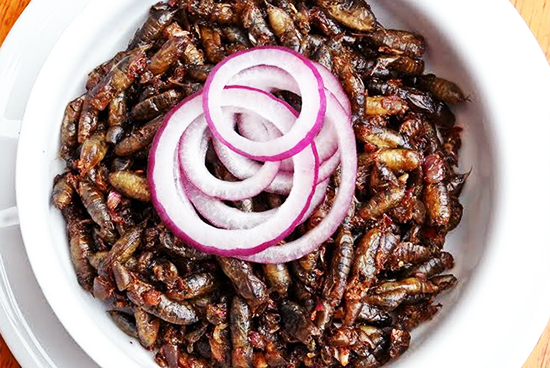 (SPOT.ph) It's a new year, so it's the perfect time to be a little bit more adventurous. Set aside the usual pork, chicken, and beef dishes. We scoured the whole of Manila, from hole-in-the-wall eateries to hidden restaurants for unusual dishes that'll make you feel excited in the way only new things can. Don't turn your nose up on unlikely combinations and proteins! As per Andrew Zimmern's words, if it looks good, eat it.
We present here a range of things to try, from something sort of familiar to dishes that will make you feel queasy. If you've already tried them and you think these aren't weird enough...good for you.
This article has been edited to replace Mad for Garlic's garlic gelato. Mad for Garlic has shut down and has been replaced by Ramen Iroha.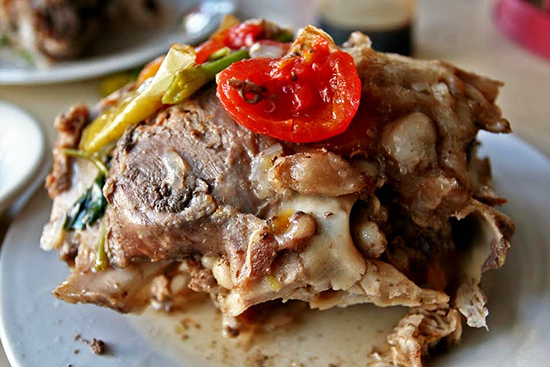 1. Sinigang na Pisngi ng Baboy (P80)
A mountain of tender meat that has been stewed to perfection for hours­­, this dish is just the meal you need after a long day. Come in hungry because it deserves an extra serving of rice. Prepare for warm broth of tangy soup and fall-of-the-bone meat. You have to be tough though, because these are pig cheeks-literally half a pig's face. Not for the faint of heart. Teeth and eyes sometimes included.
ADVERTISEMENT - CONTINUE READING BELOW
Look for this dish at 3075 Bautista Street, Palanan, Makati City.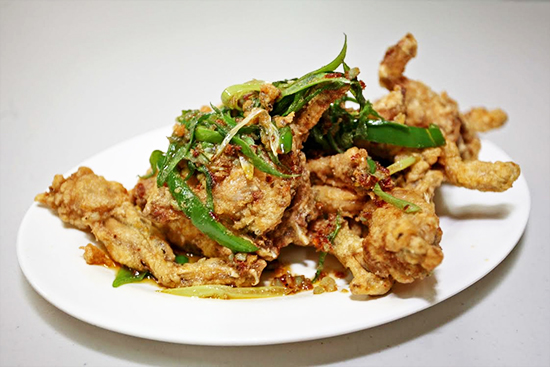 CONTINUE READING BELOW
Recommended Videos
2. Fried Frog Legs (P120)
We cannot emphasize enough that frogs really taste like extra bony duck, what with all of the crispy skin clinging onto those tiny bones. The frog legs go perfectly with the chili and salt, which you could also get in different variations such as Garlic, Butter, and Plain.
Look for this dish at Estero, Ongpin Street, Binondo, Manila.
3. Powdered Fast Food
They say that fast food isn't "real" food, but what do you make of this Japanese invention? It's actual powder that, with a bit of stirring and molding and pressing, turns into pint-sized (and by this, we actually mean palm-sized) versions of your favorite fast-food treats. And it's not just a burger or a pack of French fries either-Kracie comes up with complete sets: burgers, fries, and a drink. They have instructions on how to do everything, from the bun to the packaging. Read more about it here.
ADVERTISEMENT - CONTINUE READING BELOW
Available at Funchomp.com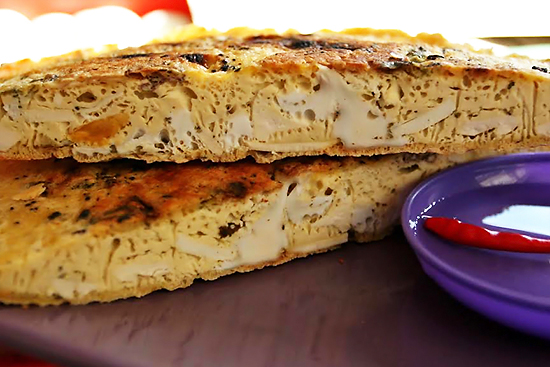 4. Bibingkang Abnoy (P60)
Bibingkang Abnoy is an omelet made from unfertilized duck eggs. It smells more like a certain soil additive you handle with gloves to grow roses, but this is a must-try if you like salted eggs in a textured fritata. You'll grow to love the smell soon enough.
Look for this dish at 952 P. Herrera Street, Pateros.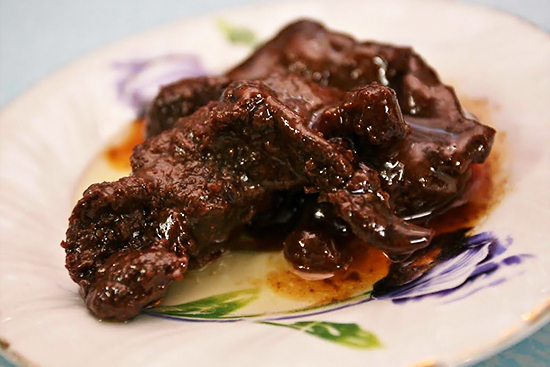 ADVERTISEMENT - CONTINUE READING BELOW
5. Tapang Kabayo (P55)
For this hidden gem in Malabon, we're willing to pack like nomads and brave the commute. Tapang kabayo is sweet and savory, with the right amount of saltiness. It looks tough so it's a pleasant surprise when it offers no resistance when chewing, with a hint of a coppery taste that goes well with vinegar.
Aling Mely's is at No. 10 A. Bonifacio, Malabon City.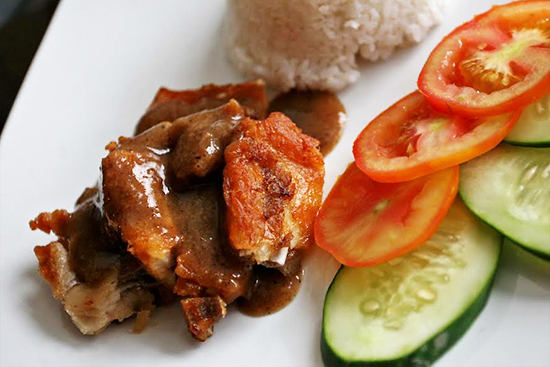 6. Croc Wali or Crocodile Meat Lechon Kawali Style (P210, with rice)
Fried Crocodile Meat is a surprising combination of crispy on the outside and moist on the inside, with the rather adorable little bones. It's quite chewy, in a good way that makes you savor its taste. It's also quite healthy: low in fat and cholesterol, but high in protein.
Nueve Café is at G/F Wilcon Center, Tandang Sora, Quezon City.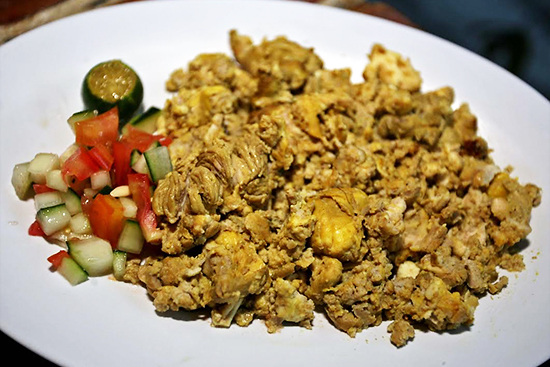 ADVERTISEMENT - CONTINUE READING BELOW
7. Ox Brain (P125)
One of Mister Kabab's bestsellers, you better call ahead to make sure they're available. Brain sells, apparently. One spoonful of this and you'll immediately understand why zombies go bonkers for this all-important organ. The texture is reminiscent of perfectly cooked liver-creamy and soft and is perfect with garlic sauce or a dash of kalamansi.
Mister Kabab has branches at West Avenue, Quezon City; UP Ayala Technohub, Commonwealth Avenue, Quezon City; and Fairview Terraces, Fairview, Quezon City.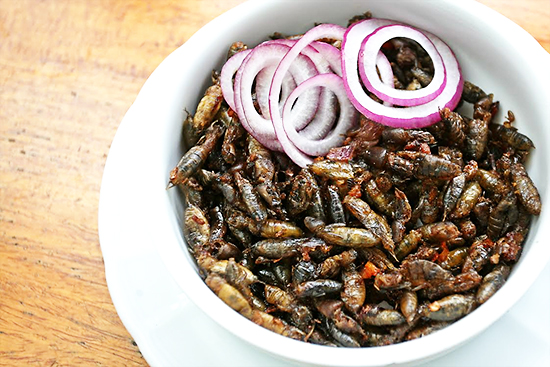 8. Arobung Kamaru (P260)
Arobung Kamaru, a delicacy from Pampanga, is made up of field crickets sautéed in garlic, chili, and tomatoes then topped with freshly sliced onions. The charming bugs absorb the rich flavor of the marinade and if you close your eyes, you can pretend you're not eating something with more legs than you're used to. Pair it with garlic rice and maybe also try Abe's Betute, which is farm frogs stuffed with minced pork, garlic, and spices.
ADVERTISEMENT - CONTINUE READING BELOW
Abe has branches at 26th Street, Serendra, Bonifacio Global City; TriNoma Mall, North EDSA, Quezon City; SM Mall of Asia, Pasay City; and Lifestyle Strip, Alabang Town Center, Commerce Avenue, Muntinlupa City.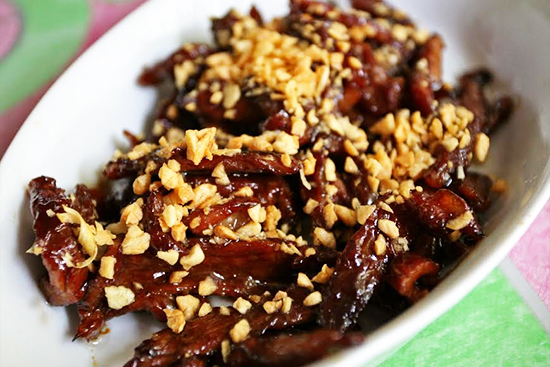 9. Tapang Usa (P120)
Try not to think of Bambi...and Bambi's not from Aurora anyway, which is where the meat for the dish is sourced. (Plus, venison is common in other parts of the world.) It's sweet and salty, topped liberally with fried garlic. The vinegar marinade on the lean meat does its best to mask any hint of awkward "Yep, I'm eating deer" moments and they've cut it enough to make it look like it's just any old savory meal from your favorite carinderia. Also available: Tapang Baboy Ramo.
Kainan ni Doc May is at 76B, Visayas Avenue, Quezon City.
Disclaimer: The Visayan spotted deer is in the endangered species list and is not the type of deer served in Doc May.

ADVERTISEMENT - CONTINUE READING BELOW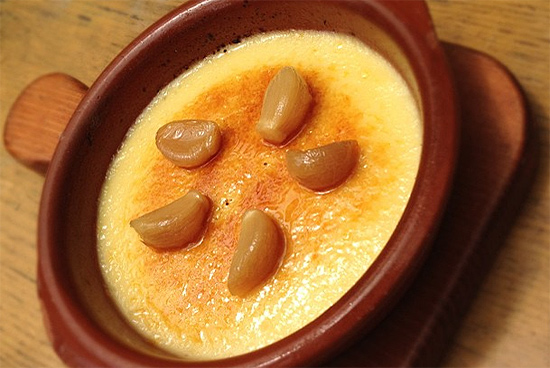 10. Garlic Crema Catalana (P195)
This could have been your standard Spanish-style creme brulee: a beautiful, creamy, golden sea that shimmers with a torched sugar surface. But it's hard to ignore the cloves of garlic on top. You can pretend they're candied apricots, but underneath the sweetness of caramel is the distinct bitterness of garlic. It doesn't overpower, but it lets you know it's there. After a revelatory first bite (you have to eat the garlic with the custard to really understand that flavors that this dish is trying to relay), it kind of grows on you. In fact, you might call this pairing a new take on bittersweet.
Krazy Garlik has branches at Greenbelt 5, Makati City; Alabang Town Center, Muntinlupa City; Newport Mall, Pasay City; and Promenade, San Juan City.
Share this story with your friends!
---
Help us make Spot.ph better!
Take the short survey
Load More Stories