Top 10 Carbonara Dishes in Manila
If you must have restaurant-served carbonara, these 10 dishes are your best bet.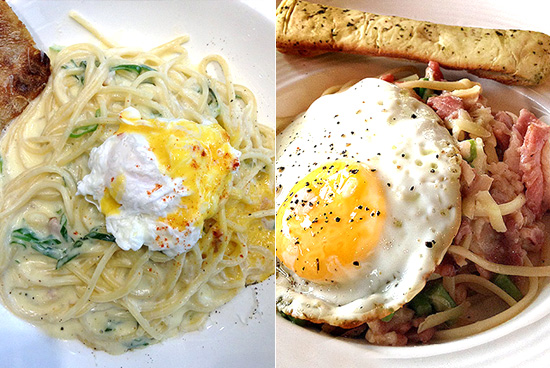 (SPOT.ph) There's something uniquely rewarding about carbonara. It's a recognizable dish that's on most menus, and it's easy enough to prepare at home. You have the rich, white sauce that's cream or egg-based. Top it with meat in the form of pancetta, ham, or delicious, crispy bacon. Switch it up with some mushrooms, and you're good to go! Spaghetti is traditionally used but other types of wide pasta, such as linguine or fettuccine, are also popular options.
For such a simple dish, what constitutes the best carbonara is far from simple. We based our rankings on three main criteria: creativity (presentation, ingredients, how unique was the dish); homeyness (does the pasta "take you home," even if you're in a restaurant?); and balance (ideal portion control, sauce to pasta ratio, how complementary the ingredients were with one another).
The ideal carbonara would score a perfect three-which in itself, is a feat. The ones that came out on top may not be what mom makes, but they come pretty close.
Here are the top 10 carbonara dishes in Manila.
Also read: 10 Must-try Pasta Dishes in Manila
All SPOT.ph Top 10 lists are researched, paid for, tested, and selected by the writers and editors. They are discreetly conducted without any notice made to the restaurants or their owners.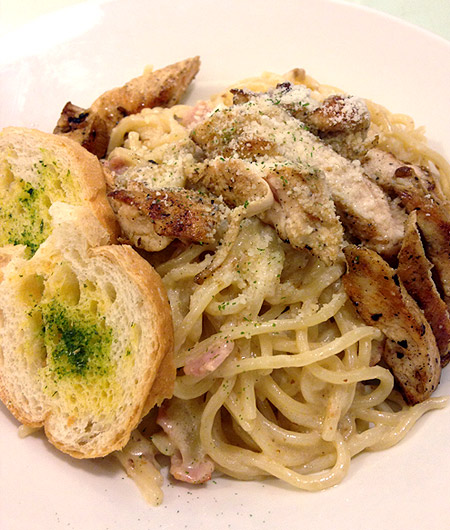 ADVERTISEMENT - CONTINUE READING BELOW
10. Press Cafe's Carbonara (P240)
The spaghetti pasta at Press Cafe is generous with its rich, cream sauce, but gets the balance just right; you can have as much as you want without the dreaded umay feeling. The country bacon is flavorful, but the star is the tender grilled chicken. It's a dish that succeeds in its simplicity. Pair your meal with a newly purchased book from Fully Booked, and you're all set.
Press Cafe is at 3/F Power Plant Mall, Rockwell, Makati City; Fully Booked Building, Commerce Avenue, Alabang, Muntinlupa City; and 2/F Promenade Mall, Annapolis Street corner Missouri Street, Greenhills Shopping Center, San Juan City.
CONTINUE READING BELOW
Recommended Videos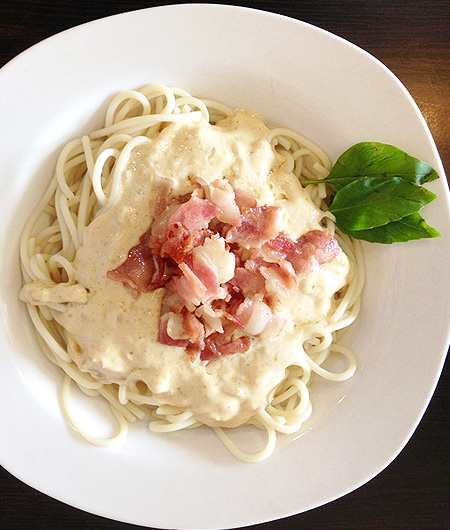 9. Chubby Chicken's Carbonara (P105)
This humble dish is as unassuming as the hole-in-the-wall that serves it: long strands of limber spaghetti with a generous dollop of cheesy cream and a halo of crispy bacon tidbits. It's as straightforward as you're ever going to get-salty with a touch of sweetness underneath that heavy sauce. Don't ignore the basil leaves on the side-tear it up, sprinkle it with every spoonful, and let that minty, herb flavor give this dish a delicious well-roundedness.
ADVERTISEMENT - CONTINUE READING BELOW
Chubby Chicken is at Esteban Abada Street, Quezon City.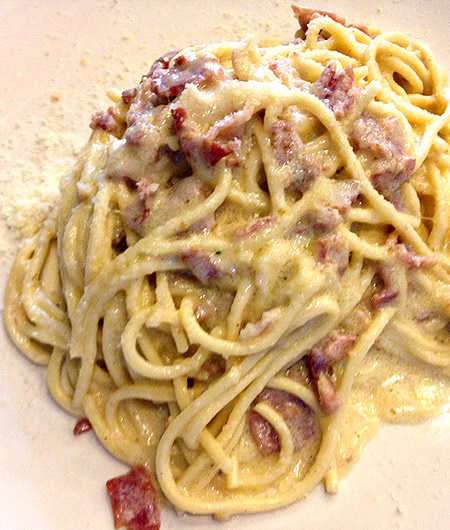 8. Va Bene's Tagliolini Carbonara (P430)
Do a quick browse through Va Bene's menu, and you'll find the carbonara dish placed under the kid's section. Don't despair, Chef Massimo Veronisi can easily whip up an adult-sized plate for you. They recommend tagliolini pasta, which is thicker than spaghetti so its texture is considerably heavier. Coat every forkful with their thin sauce (choose between cream or egg-based) for a harmonious and very, very filling meal.
Va Bene Pasta Deli is at 2/F Petron Gas Station, EDSA corner Pasay Road, Dasmariñas, Makati City.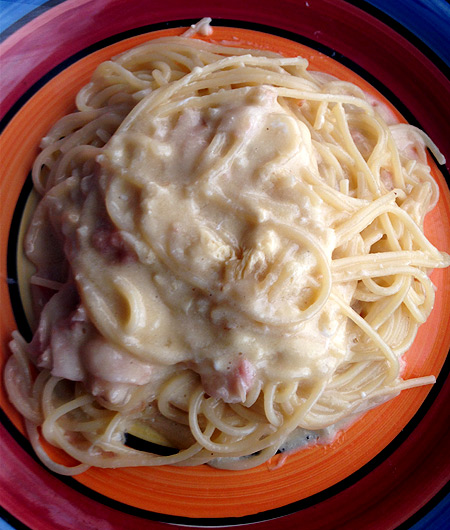 ADVERTISEMENT - CONTINUE READING BELOW
7. Bellini's Carbonara Italiana (P330)
After 10 years, Bellini's can still be relied on for classic and consistent Italian fare. Don't be fooled by its modest and uncomplicated presentation. Its version of carbonara is, in one word, light-a rare sight for a dish that's heavy on flavors. Thin strips of smoked ham lend texture to the creamy pasta that can very well stand on its own.
Bellini's Italian Restaurant is at Cubao X, 68-69 General Romulo Street, Araneta Center, Cubao, Quezon City.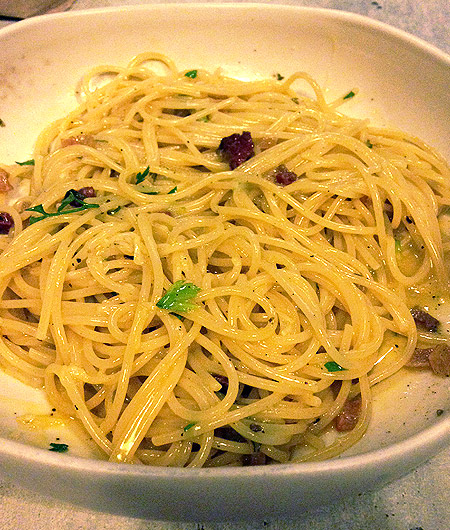 6. Grace Park's Spaghetti Carbonara Deconstruct and Two Organic Yolks (P510)
Grace Park's balanced take is an unexpected, well-thought out alternative to the usual carbonara fare. Al dente pasta is tossed in an unbelievably light egg-based sauce, with chorizo bits that add a slight kick of heat to every forkful. The only thing missing is a thick slice of bread to finish off the sauce. A lingering taste of herbs will have you craving another visit in no time.
ADVERTISEMENT - CONTINUE READING BELOW
Grace Park is at G/F One Rockwell Building, Rockwell Drive, Makati City.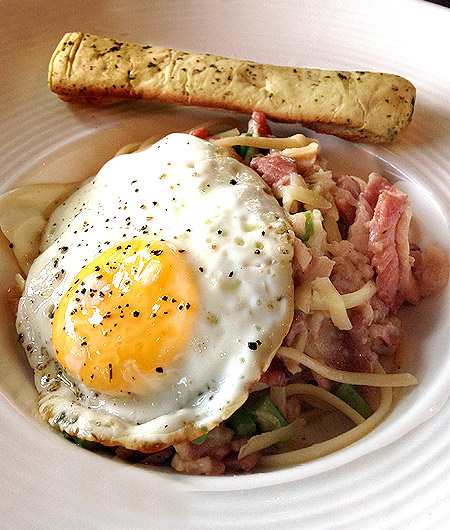 5. Refinery's Hangover Pasta (P260)
Refinery makes a standout version of carbonara, and it's not just because of the name. The comforting dish can be enjoyed whether you're nursing a killer headache or not. Linguine pasta swims in a pool of subtle parmesan sauce, then embellished with generous chunks of smoked bacon temptingly laced with fat, and asparagus that adds just a bit of crunch. Cut through the runny fried egg, and you'll have a hearty meal that's definitely worth a return trip or two.
Refinery is at Joya Lofts and Towers, Rockwell, Makati City.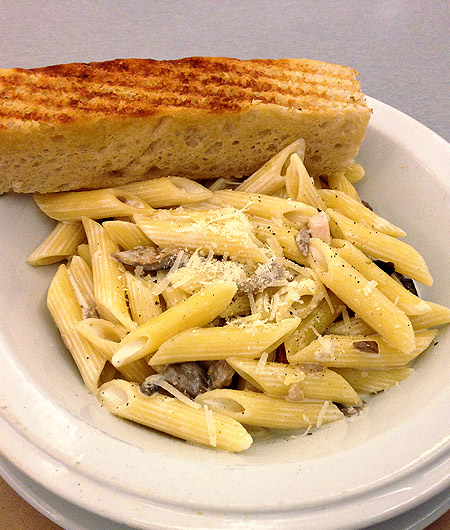 ADVERTISEMENT - CONTINUE READING BELOW
4. Cibo's Linguine alla Ghiotta (P340 for regular, P595 for family)
If you love mushrooms, you'll love Cibo's interpretation, with its earthy flavor singing through every satisfying bite. The requisite homey ingredients are all there-cream, fatty bits of slab bacon, and parmesan cheese-but the dish surprisingly doesn't overwhelm as carbonara dishes often do. It may visually look heavy, but shows noteworthy balance in its cream sauce, which you'll want to scoop up with the soft focaccia bread that comes with the dish. Plus, you get the added option of choosing your own pasta.
Click here for a list of branches.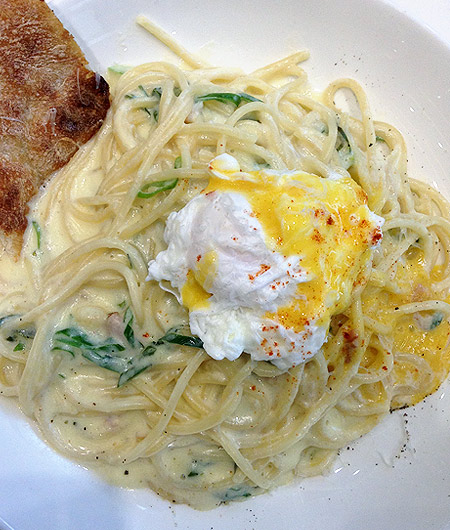 3. Chelsea Kitchen's Yellow Carbonara (P320)
Chelsea's latest incarnation may be new to the game, but its take on a classic carbonara is more than formidable. If it weren't for the surrounding Zara and H&M stores, you'd feel as though you're happily digging into pasta lovingly made in your own kitchen. The dish finds new meaning with hollandaise sauce that, when mixed with runny poached egg, is all the more gratifying. The sauce, however, is on the heavier side compared to others, which will have you wanting bread to finish it off. Their serving is big enough for sharing, but then again, you might not want to.
ADVERTISEMENT - CONTINUE READING BELOW
Chelsea's Kitchen is at G/F SM Mega Fashion Hall, Mandaluyong City.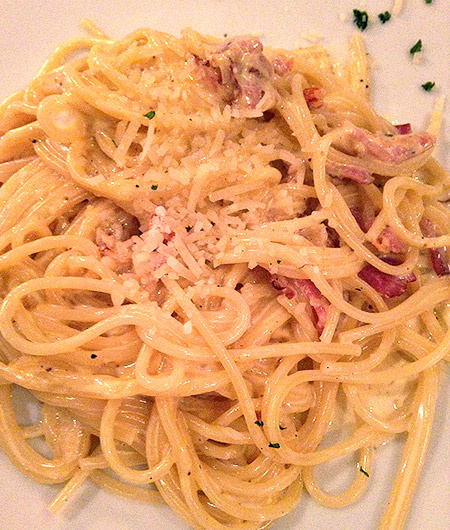 2. Caruso's Spaghetti Alla Carbonara (P490)
Caruso Ristorante's carbonara may look unassuming, but it's a dish that makes an impact. You'd have to shell out for a plate, but there's no mistaking the hearty and comforting flavors that make you feel right at home-upscale interiors aside. Caruso is exceptional with its balance: ideal yet hefty servings, and a light and silky sauce that coats every perfectly cooked spaghetti strand. There's a burst of flavor with smoky bacon and earthy mushrooms, though you can easily have the pasta and sauce on its own. Oh, and it comes with a more than generous side of parmesan, too.
Caruso Ristorante is at 210 Nicanor Garcia Sreet, Bel-Air Village, Makati City.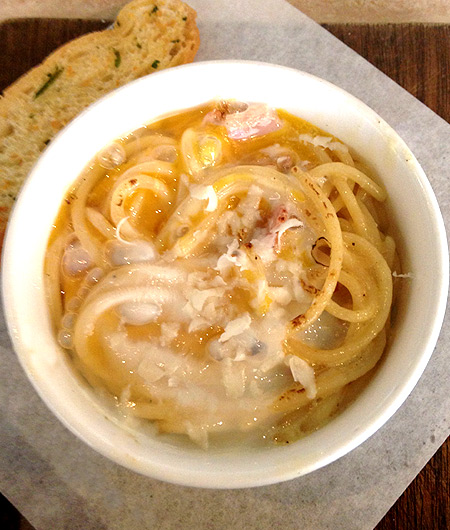 ADVERTISEMENT - CONTINUE READING BELOW
1. 2nd's Good Morning Carbonara (P360)
The "old soul" ambience of 2nd's might feel mature and sophisticated, but their version-though unconventionally prepared-boasts flavors right out of your mom's recipe. The pasta is tossed in cream sauce, bacon, onions, and garlic, topped with egg then baked in an oven. The result? Gooey and luscious carbonara served in a modest dish. What makes 2nd's so notable is its impressive restraint: the presence of both egg and cream should render it heavy and overpowering, yet the carbonara is anything but. Don't be surprised if you finish it all before even realizing it. If only we could greet every morning with this dish...without the added calories, of course.
2nd's is at 2/F Quadrant 3, Bonifacio High Street, Bonifacio Global City, Taguig City.
Share this story with your friends!
---
Help us make Spot.ph better!
Take the short survey
Load More Stories