New Restaurant Alert: Spud Buds at SM Mall of Asia, Pasay
This is the place where potato lovers converge.
Spud Buds
G/F Entertainment Mall, SM Mall of Asia, Pasay City
Open daily from 10 a.m. to 10:30 p.m.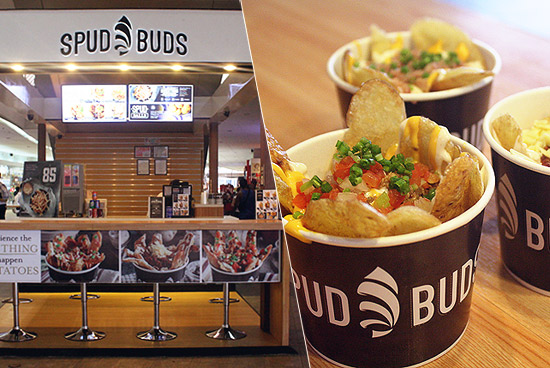 (SPOT.ph) The good news is that potatoes may actually keep you thin. That is, if you believe the research conducted by Canada's McGill University. The study, which was featured on Grubstreet.com, tested lab mice by feeding them a daily potato extract that equaled 30 of the tubers. The ones who received this exceptional potato diet gained fewer pounds than those who didn't.
ADVERTISEMENT - CONTINUE READING BELOW
Stan Kubow, who authored the study, doesn't advise testing the results by going through 30 potatoes a day. But study or not, weight gain or weight loss, it's hard not to gorge on these starchy crops when you're at Spud Buds, a local purveyor of the gustatory powers of potatoes as a snack food.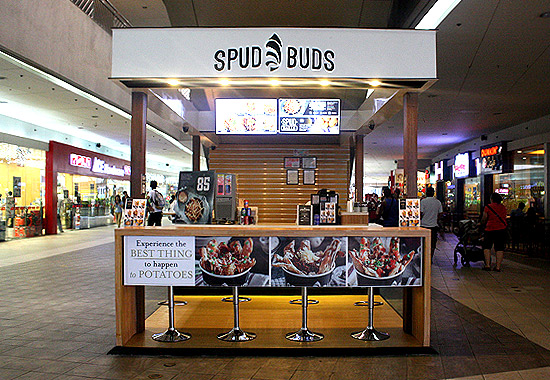 CONTINUE READING BELOW
Recommended Videos
ADVERTISEMENT - CONTINUE READING BELOW
The Spud Stall
Spud Buds in the middle of SM Mall of Asia is nothing more than a stall-set up on a platform and with four bar stools set up under a long stretch of a bar. Woody, black accents, and potato puns, from afar it looks rather like a stylish coffee shop for a quick jolt of caffeine in between shopping. Up close, it's a little piece of tater heaven.
Co-owner Leonard Co, a potato lover himself, was determined to turn his affections into fruition. "I told my brother, 'I really want to have a concept for potatoes'." Incidentally, his brother, Kendrick, is one of the owners of the lovely Early Bird Breakfast Club franchise, and he helped develop the look of a hip snack nook.
You can get your potatoes three ways at Spud Buds: skins (crisp-edged, golden brown, and enriched with a variety of toppings); balls (perfect croquette spheres with ham and cheese); and shoestring (crunchy fries seasoned with flavored powders).
ADVERTISEMENT - CONTINUE READING BELOW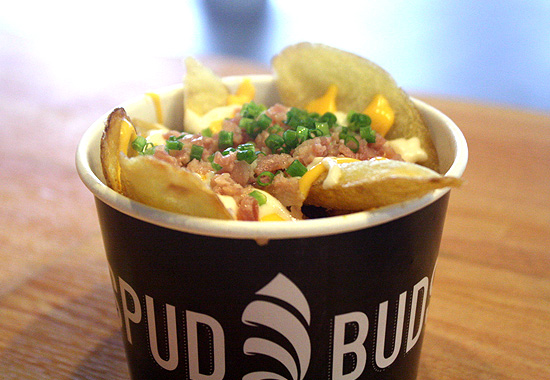 Bacon and Cheese Ultimate Potato Skins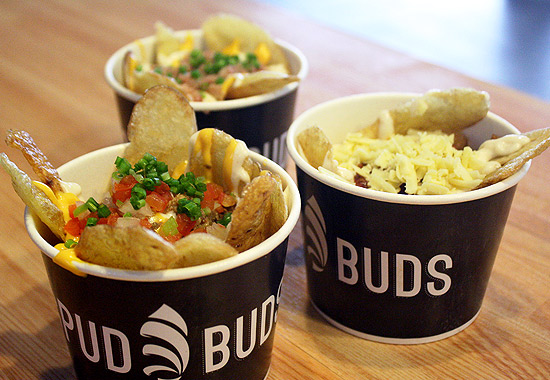 ADVERTISEMENT - CONTINUE READING BELOW
Three's a crowd: Mexican Picadillo and Texas Chili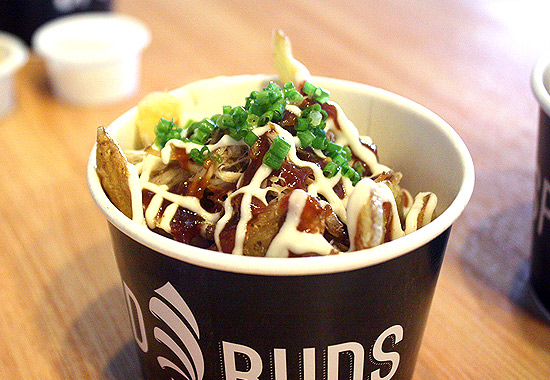 Pulled Pork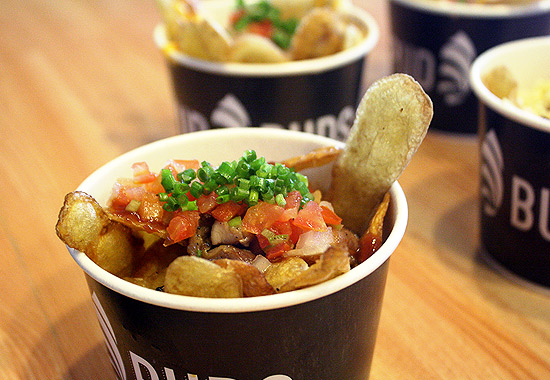 ADVERTISEMENT - CONTINUE READING BELOW
BBQ Chicken
Leonard can't count the number of potatoes they prep every day, but each is cut and peeled by hand-"A labor of love," he says. For the Ultimate Potato Skins (P150), the toppings take inspiration from classic comforts. Three of them, Leonard and his co-owner Harry Ong brought over from their time in bazaars: the timeless marriage of Bacon and Cheese, the nacho-spurred Mexican Picadillo, and the mildly spicy Texas Chili. The latter, sweetish ground beef with a white sauce, makes you wonder if crispy potatoes are what you need to make chili even better.
Two new flavors join the party of five: a jam-packed Pulled Pork and luscious BBQ Chicken.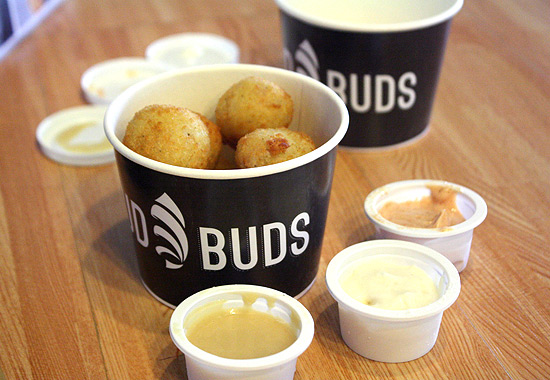 ADVERTISEMENT - CONTINUE READING BELOW
Spud Balls (two servings are in this bowl)
The Spud Balls (P120) come in five equally sized globes of pure potato packing worlds of flavor, especially when dipped in sauces-Honey Wasabi, Spicy Cajun, and Garlic Aioli-that are bold enough to be relevant but subtle enough to avoid being cloying. Their golden cloak gives away a muffled crisp, exposing the bits of ham and cheesy core. "We make sure every piece of cheese inside the ball is uniform," says Leonard, thus ending any potential arguments among sharing friends.
Spud Buds puts their Flavored Shoestring Potatoes (P85/regular, P120/large, P150/cinema) in a paper bag that absorbs any excess oil. Shake it to really get those powders clinging onto the crispy sticks. The Strong Cheese and Onion is their answer to sour cream and onion, one of potato's most beloved companions. They use a white cheese powder which is much more attractive in the aftermath than orange-stained fingers.
ADVERTISEMENT - CONTINUE READING BELOW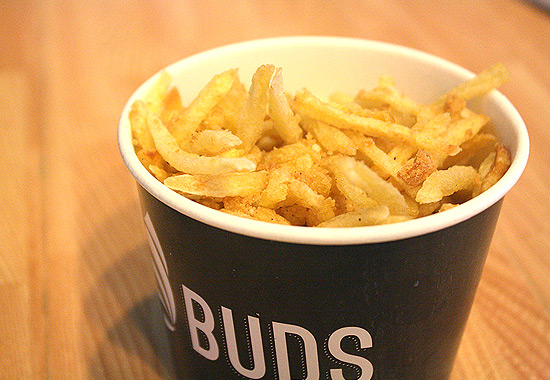 The Zesty Ranch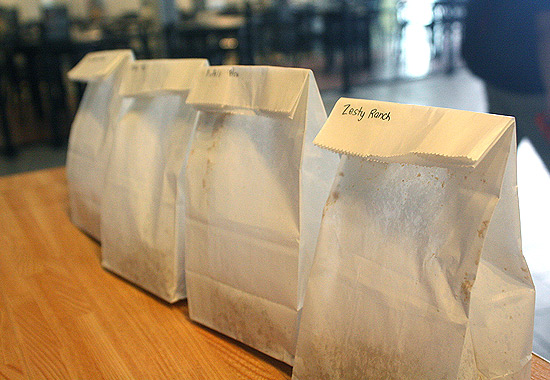 ADVERTISEMENT - CONTINUE READING BELOW
The shoestrings come in these paper bags.
The Buffalo Bleu is a perfect translation of that smoky sweet flavor on shoestring fries. The Zesty Ranch and Spicy Thai are milder, much more guiltless, the ones that will have customers unconsciously and guiltlessly digging.
The two spud buddies, Leonard and Harry, designed the dishes to be cinema-friendly, served in takeaway paper bowls and paper bags with handwritten messages-lyrics from songs but potato-fied. The sizes are portioned just enough to enjoy potatoes which can easily get surfeit. Mr. Kubow's discourages 30 potatoes, but a few bowls couldn't hurt, right?
Share this story with your friends!
---
Help us make Spot.ph better!
Take the short survey
Load More Stories