10 Mouthwatering Ideas for Your Potluck Christmas Party
The perfect centerpiece for a holiday spread is a terrific dish.
(SPOT.ph) Have a merry time with friends and family, and celebrate the holidays with great food on the table. Since Christmas is the time of sharing, make sure to offer something great as your own contribution to the feast. Put down that bucket of chicken (didn't you bring that last year?) because here are 10 other savory options that you might consider ordering instead.
Also read: 10 Potluck Food Ideas for Christmas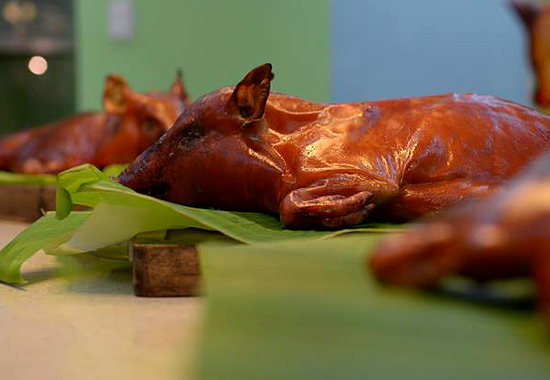 ADVERTISEMENT - CONTINUE READING BELOW
Cochinillo del Cielo from Mr. Cochinillo
Photographer-turned-lechon master Tinee De Guzman a.k.a. Mr. Cochinillo doesn't fool around with his pork. His meticulous standards begin with choosing the piglet-free-range, freshly weaned-marinated to exact proportions of spices-which he personally oversees. He roasts it in a special brick oven where he lets it take its time soaking up flavor and juices, and developing that beautiful bronzed skin over a thin, rewarding layer of fat. Each order is made fresh and served in a woven basket over a banana leaf, like a small-scale centerpiece to a town fiesta, with the traditional platito that's used as a knife. Mr. Cochinillo also offers a wild boar version that's slightly leaner but also heavy on the flavor.
CONTINUE READING BELOW
Recommended Videos
Cochinillo is priced at P6,000 (small/eight to 12 people) and P6,500 (regular/14 to 18 people); Wild Boar (subject to availability) is P10,000. Contact Mr. Cochinillo at 633-0043, 0999-881-0810; e-mail cochinillodelcielo@gmail.com.
ADVERTISEMENT - CONTINUE READING BELOW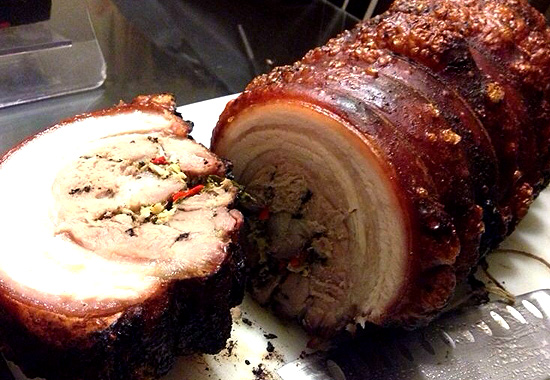 Wabu Boneless Lechon Belly
Get the Chili Garlic to put a little heat on your table, but the Garlic Pepper does a pretty fine job of delivering punchy flavors as well. Wabu's Boneless Lechon Belly is a hulking, golden log that hides an entire catalogue of local herbs and spices underneath the spools of melting fat and heavenly fork-tender pork belly. It's cooked low and slow to keep it flavorful and moist, and pick-up and delivery schedules are timed (order at least a day in advance) to ensure absolute freshness.
ADVERTISEMENT - CONTINUE READING BELOW
Wabu is priced at P2,200/three kilograms. Contact Wabu at 502-1757, 0928-505-5002, 0917-884-5089; www.wabulechonbelly.com.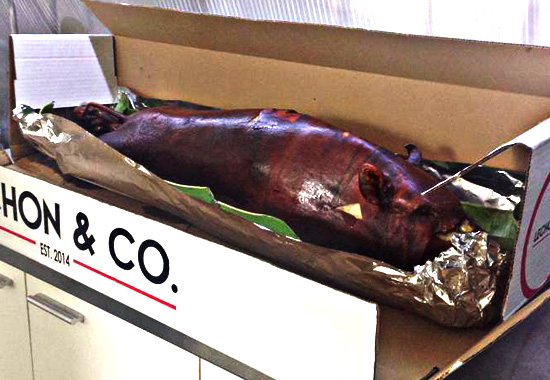 Lechon and Co.
This is authentic Cebu lechon right at the heart of Makati. Lechon and Co. is still fairly new that they deliver only in Makati and Fort, but you can just call in advance and pop in to pick up the goods-delectable roast pork that's so full of flavor that it can put sauces out of business. The seasoning is time-tested: It's a recipe handed down from the family's elders. You can order the pig as a whole or per kilo-either way, it comes in easy-carry (you might still need a hand with the whole pig) cartons.
ADVERTISEMENT - CONTINUE READING BELOW
Lechon and Co. is priced at P600 for every kilo of the whole pig and P650 per kilo order. Contact Lechon and Co. at 411-3681.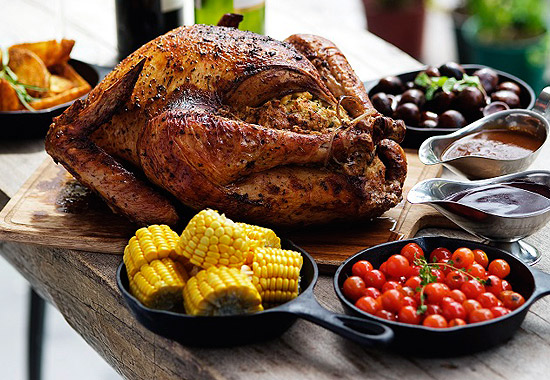 'Cue Modern Barbecue's Marinated Roast Turkey
Thanksgiving may be over, but turkey is a versatile star that can shine whatever the season. (Besides, you're in the Philippines and the pilgrims never came here.) Showing gratitude is timeless and we're thankful for the gift of this marinated roast turkey with bread stuffing. The beautiful bird is served whole with giblet sauce, roasted chestnuts, and your choice of starch (creamy mashed potato, spiced herbs potato wedges, herb-roasted garlic rustic marble potatoes). The order is good for 10 to 15 people, but remember to order at least two days in advance.
ADVERTISEMENT - CONTINUE READING BELOW
The turkey is priced at P4,350. Contact 'Cue Modern Barbecue at 621-4052, 0917-899-2283; Bonifacio High Street Central, Bonifacio Global City.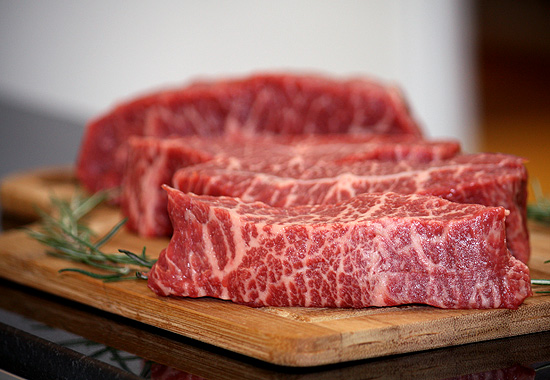 Generic steak photo from www.signaturebeef.com.au
Wagyu Oyster Blade Roast from Andy's Good Eats
It's not the most popular cut of beef, but this muscle from the shoulder has a good amount of marbling and a rich profile. It's normally served as a steak (flat-iron), but slow-cooking methods really help reach that desired tenderness. In the case of Andy Huang, he cooks it sous vide for 48 hours, achieving melt-in-your-mouth beef and even more intense flavor. He then drizzles it with truffle oil before serving with gravy and balsamic cream. Portions are good for six to eight diners.
ADVERTISEMENT - CONTINUE READING BELOW
The Wagyu Oyster Blade Roast is priced at P1,600. Contact Andy's Good Eats at 0917-525-2072, 0917-815-8631, 897-1676; andysgoodeats@gmail.com; 3 Hydra Street, Bel-Air III, Makati City.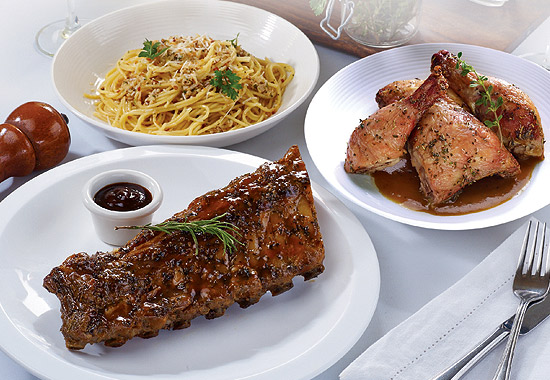 Farmer's Bundle at Italianni's
This neat package is enough for a small get-together for four people. Pack up a potluck picnic with sweet and smoky baby back ribs, four pieces of herb roasted chicken, and your choice between Spaghetti Aglio Olio or Spaghetti Pomodoro.
ADVERTISEMENT - CONTINUE READING BELOW
Farmer's Bundle is priced at P1,450. Click here for a list of Italianni's branches.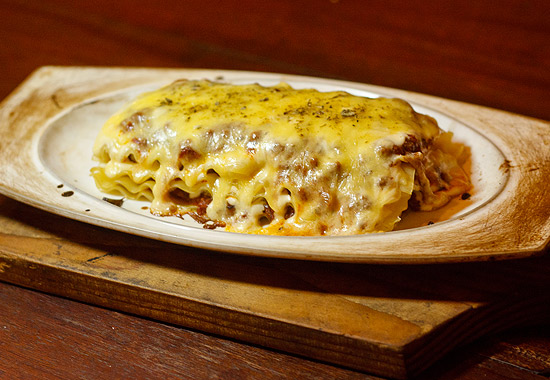 House of Lasagna's Beef Lasagna
Chef Erick Congmon's lasagna recipe is a legacy-four generations-old and becoming more and more perfect with every one. The wavy sheets of pasta are cooked just right so they're able to hold the weight of their herb-slinging tomato meat sauce. Chef Erick makes sure that each bite comes through in terms of flavor: He sprinkles more dried herbs over the gooey, cheesy, golden structure because nothing is too much for the palate. There's a reason why House of Lasagna won our hearts for Top 10 Meaty Lasagnas. The solo serving is also a generous size for two, but orders for half and full trays are available.
ADVERTISEMENT - CONTINUE READING BELOW
A solo order of Beef Lasagna is P280, half tray is P800, and full tray is P1,400. House of Lasagna has branches at V-Mall, Greenhills, San Juan (571-3852); Unit 1-B G/F G&L Building, J. Abad Santos Street corner V. Cruz Street, Little Baguio, San Juan (570-8610); and Eton Centris, Quezon Avenue, Quezon City (709-7004).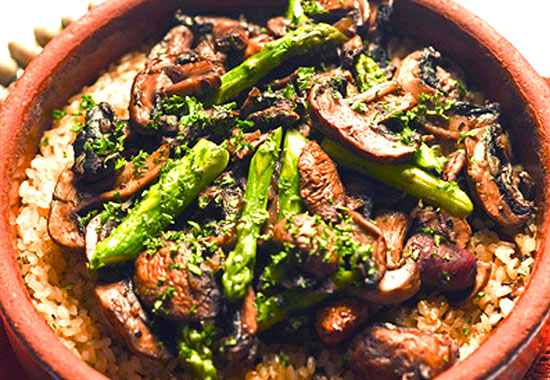 ADVERTISEMENT - CONTINUE READING BELOW
El Cirkulo's Paella Montaña
If you're the person who volunteered to bring rice, we suggest you impress a little with something infinitely more festive than plain dinorado. This El Cirkulo staple is a fragrant and flavorful rendition of a Spanish favorite: beautifully cooked grains complete with Portobello mushrooms, roasted garlic, asparagus, and truffle oil.
The Paella Montaña is priced at P2,685 (small/10 to 12 people) and P4,475 (large/15 to 20 people). For orders, contact El Cirkulo at 810-8735, 810-2763; Milkyway Building, 900 Arnaiz Avenue corner Paseo de Roxas, Makati City. Orders may also be picked up at the Milkyway branch in Power Plant Mall, Rockwell, Makati City.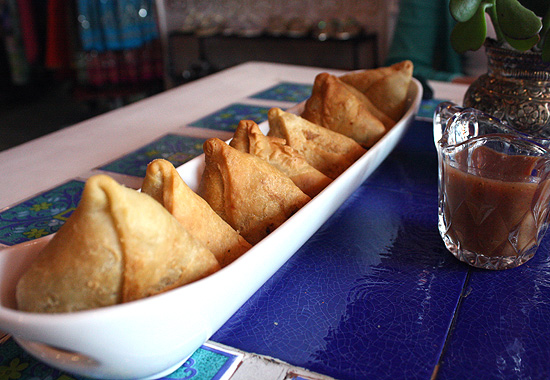 ADVERTISEMENT - CONTINUE READING BELOW
Samosas from OM Lifestyle + Cafe
Spiced potatoes inside pastry pyramids? Add a little Indian flair to the meal with these yummy treats from OM. The greaseless pouch is crisp but soft, easily breaking apart to reveal cubes of potatoes that are so deeply seasoned that you get whiffs of smokiness, heat, and pepperiness in each small offering. The side of tamarind chutney only layers in more flavor, this time a subtle sweetness that makes it all the more delightful.
The samosas are P40/piece. OM Lifestyle + Cafe is at 2/F Fox Square Building, 52 Connecticut Street, San Juan (705-7072, 631-6983, 0917-506-7288). Calling ahead is recommended for bulk orders.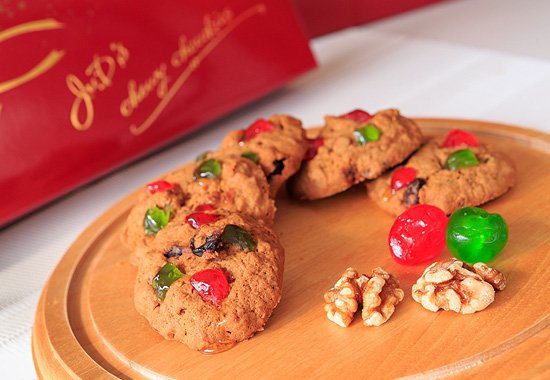 ADVERTISEMENT - CONTINUE READING BELOW
Ju.D's Eggs Apricot, Cranberry Cookies, and Chewy Chewkies
The queen of fruitcake, Ju.D Lao has been vending this Christmas icon for 39 years. In fact, she's become sort of like tradition herself. Lately, she's been experimenting with converting her cakes into cookies with much success. Each piece is like a gateway to getting in on the fruitcake bandwagon, and it's a nice sweet end to a hearty holiday meal. Display them on a cake stand and imagine the colorful jewels of fruit as Christmas ornaments.
A box of Ju.D's cookies is P300/dozen. For orders, contact Ju.D's at 633-1188, 633-0260.
Also read: 10 Potluck Food Ideas for Christmas
Photos courtesy of the respective establishments and by Pia Guballa (House of Lasagna)
Originally published on December 1, 2014.

Share this story with your friends!
---
Help us make Spot.ph better!
Take the short survey
Load More Stories