10 Mouthwatering Bacon Dishes to Break Your Diet
The legend of bacon will never end.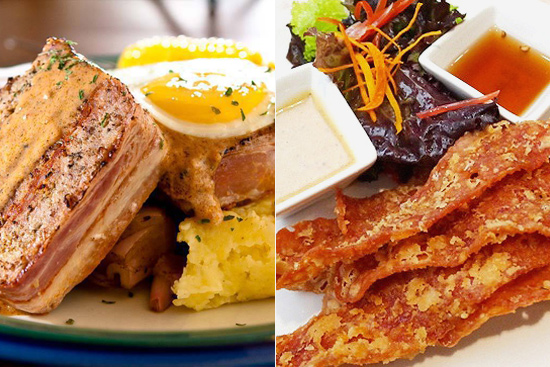 (SPOT.ph) There's a Facebook page that pushes for people to stop putting bacon on everything. Our reply is simple: why? Consumed in moderation, you'll find that a single strip-juicy, crispy, wonderfully salty-can brighten a mood almost instantly. Bacon is a good thing, especially when you share.
You might still be reeling from the holiday binge, but when you're bored with your salads, make your cheat days worth it with a good reward of bacon. To the bacon haters out there, you don't have to put bacon on everything, but if you must, here are 10 that did it justice.
This list is not ranked.
Also read: 10 Mouthwatering Gifts for Bacon Lovers
Photo by Regine Rafael
Bacon Maple Turon (P35) from Turonne de Manila Cafe
Just as people love putting butter on everything, Turonne de Manila Cafe owner Danz Semilla is the same with bacon-a love that's a bit too much. But who's complaining? Amid the sprinkle of crushed cookies and the slosh of ube, the pale-yellow whipped cream jeweled with glossy bits of ruby red obviously stands out. His most impressive creation is a fried banana spring roll dressed with cream and maple syrup, and then enriched with the crunchiest bacon. It's a wonderful marriage of sweet and savory, soft and crispy. The bananas take the edge off something this sinful.
ADVERTISEMENT - CONTINUE READING BELOW
Available at Mercato Centrale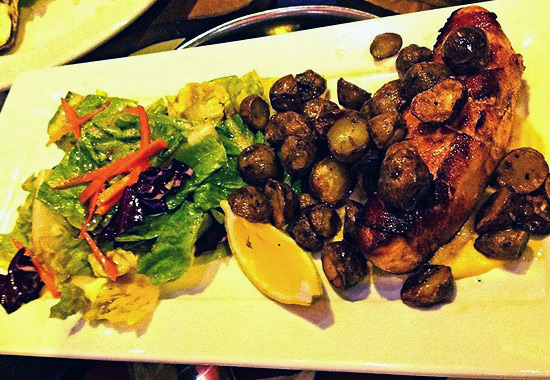 CONTINUE READING BELOW
Recommended Videos
Photo courtesy of hekaonechan.blogspot.com
Bacon-wrapped Salmon (P545) from Clawdaddy Great American Grill
This scene-stealing dish is an unusual take on a classic surf 'n' turf. Instead of serving each other side by side, the bacon wraps itself around a salmon fillet, the same way that a hug makes everything better. Take it as a sign that you're meant to eat them together: Let the salty-sweet flavors of bacon perk up the earthiness of this particular pink fish, lending extra juiciness and decadence to the otherwise simple center.
Clawdaddy Great American Grill is at Bonifacio High Street, Bonifacio Global City.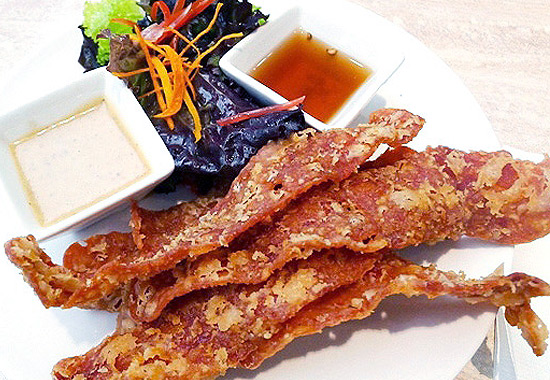 ADVERTISEMENT - CONTINUE READING BELOW
Bacon Chicharon (P340) from 2nd's
People have long been singing praises for this straightforward yet outstanding dish. The secret to the legendary appetizer is somewhat reassuring: lean bacon, reveals 2nd's Marketing and Operations Manager Nadine Howell Fanlo. Less fat means less moisture, and while that doesn't sound much to the indulgent standpoint, it's what causes that desired crispiness. Battered with a light robe of flavor, the crispy strips work best with the spiced vinegar which brightens that robust profile. There's one version, tossed in Buffalo sauce and served with blue cheese though, if you're looking to take your palate for a hearty ride.
2nd's is at 2/F Building B, 9th Avenue, Bonifacio Global City.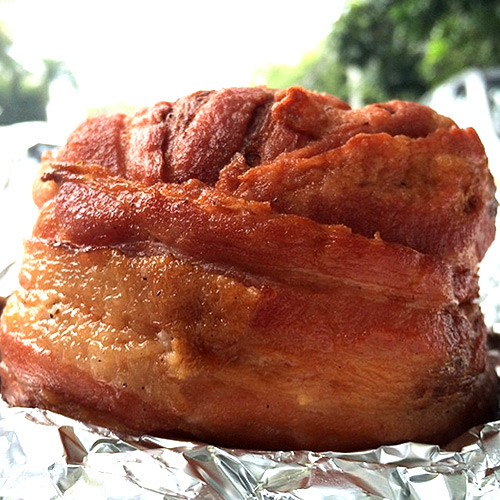 Deep-Fried Bacon Burger (P240) from Zark's
This burger has a dilemma. It's trapped in a tightly woven cage-but that cage is made with bacon, lean, crisp, flavorful bacon in the most mouthwatering brickish hue. We don't know about you, but there's something strangely appealing about being mummified in bandages of pork. We would eat our way out for sure if that were the case, but with its juicy burger core, we could work from outside-in and end up just as satisfied.
ADVERTISEMENT - CONTINUE READING BELOW
Zark's Burgers has branches at Archer's Nook, Taft Avenue, Manila; President's Avenue, BF Homes, Parañaque City; and Katipunan Avenue, Quezon City.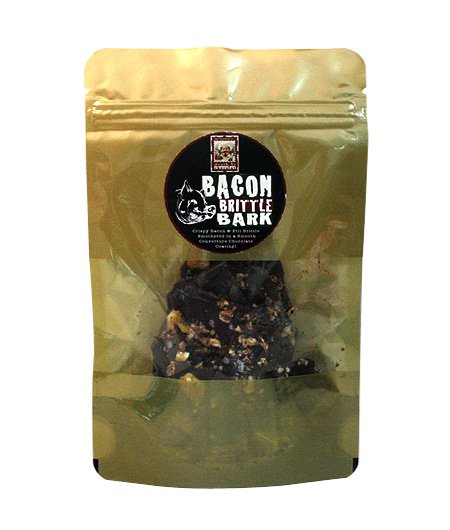 Bacon Brittle Bark (P200) from Chef Daniel Hesse's Death by Chocolat
Those who have discovered the wonders of chocolate with salt will find themselves converted with this savory-sweet explosion: Belgian couverture chocolate that's almost like velvet in your mouth, except for the speckles of crispiest bacon and fine sea salt. Each broken block of deep chocolate is gritty, edgy, and subtle all at the same time.
For orders, contact Chef Daniel Hesse at 0917-232-2972, 0917-885-1334.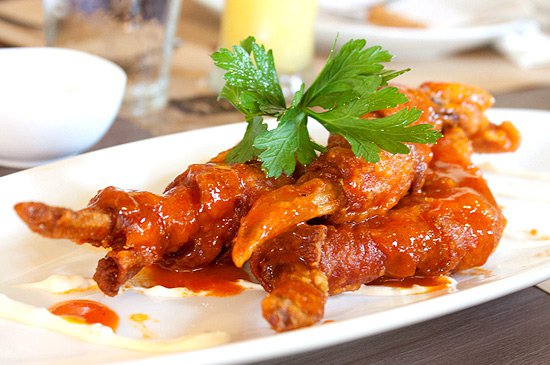 ADVERTISEMENT - CONTINUE READING BELOW
Pig Wings (P320/three pieces, P440/five pieces) from Livestock
The wings are a glossy bright red, but it's what's underneath this fiery veneer that makes this dish really shine. Strips of bacon wrap themselves around large wings like they were a delicious gift-which they are, to some extent. The bacon adds a wondrous touch of saltiness and smokiness as well as a rugged texture to the succulent chicken. The radiant sauce is tangy and bold, keeping up with the hearty demands of this pork and chicken mash-up.
Livestock is at 34 Sergeant Esguerra Avenue, Quezon City.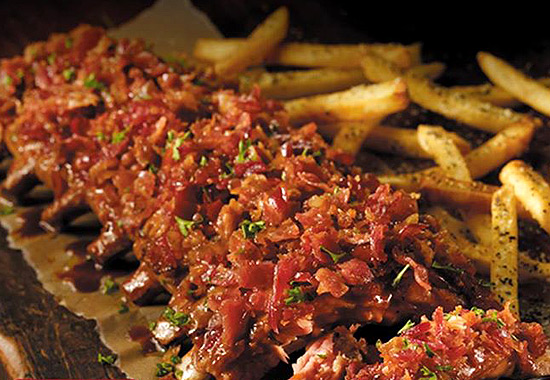 Bacon-crusted Ribs (P895/half slab, P1,595/full slab) from TGI Friday's
Perhaps someone in TGI Friday's kitchens realized, "These pork ribs aren't pig enough, bring in the bacon!" The sweetish applewood-smoked bacon bits stick to the rack via a sauce made of spicy-sweet chipotle and onion relish. If it helps, they also tossed in some crushed parsley amid the bacon. This meaty spectacle was launched in the US early November last year, with the local franchise catching up a few weeks later. We would've protested if it didn't.
ADVERTISEMENT - CONTINUE READING BELOW
Click here for a list of TGI Friday's branches.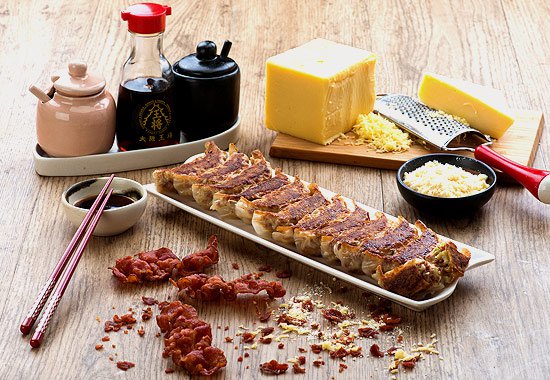 Bacon and Cheese Gyoza (P190/six pieces, P380/12 pieces) from Osaka Ohsho
This should've been obvious, but it was only late last year when Osaka Ohsho, "the World's No. 1 Gyoza," decided to stuff pizza toppings into their velvety pan-fried pouches. The bacon is cured in honey, giving it just a faint sweetness; the crispy texture holding up amid the gooey cheese. The combination is fool-proof, as if an appreciative reward to the customer. One bite (it takes around two to polish off one piece) is a burst of comfort.
Osaka Ohsho is at SM Mega Fashion Hall, Mandaluyong City.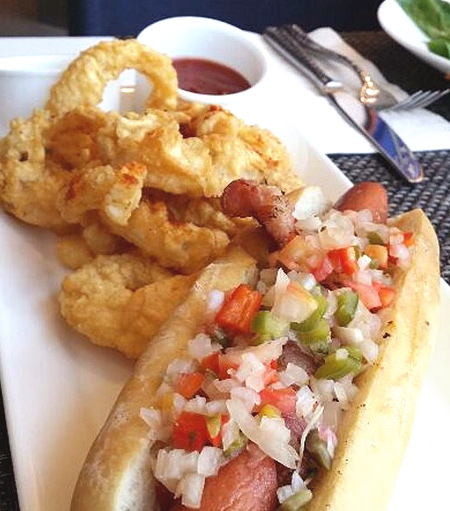 ADVERTISEMENT - CONTINUE READING BELOW
Photo posted by Cupcake on Foodspotting.com.
Bacon-wrapped Hotdog (P275) from NBA Cafe
Sometimes, bacon bits aren't enough of an embellishment to your good ol' hotdog. A bacon twisting itself around a banger? Do we even have to explain? Then there's the actual garnish-a pop of freshness from a relish of onions, jalapeños, and bell peppers, then a rubbing of mustard. A dish like this doesn't ask too much from its customers, but there's thoughtful balance among the elements. Forget popcorn and nuts. This is what we want to eat when we're cheering for our favorite teams.
NBA Cafe is at SM Aura, Bonifacio Global City.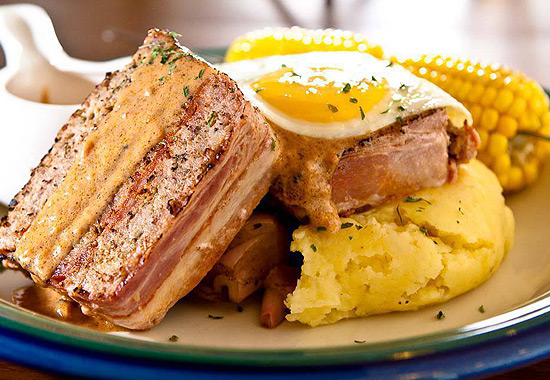 Grandma's Country Herb Bacon Wrapped Meatloaf (P425) from MoMo Cafe
You're probably fiercely devoted to your mother's homemade meatloaf, and why wouldn't you be? It's a dish best kept down-home...but then there's MoMo Cafe, which challenges your momma's cooking-and essentially beats hers hands down. The secret? That outer layer of yummy, yummy bacon.
ADVERTISEMENT - CONTINUE READING BELOW
But this dish doesn't cheat by letting the bacon do all the work. They top the entire meaty edifice with perfectly runny sunny side-up eggs. A smear of gravy and a forkful of chunky mashed potatoes-this dish is golden.
MoMo Cafe is at Eastwood Mall, Libis, Quezon City.
Share this story with your friends!
---
Help us make Spot.ph better!
Take the short survey
Load More Stories