10 Yummy Things From the Internet That We Want in Manila
A problem-solving beer, macaroni and cheese bread cones, edible containers, and more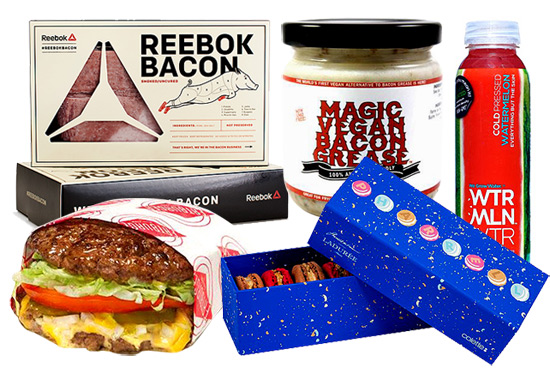 (SPOT.ph) The Internet is a trap for all things cute, strange, and enviable-especially when it comes to food. From Pinterest to just random Googling, it's a wonderful place to dig for inspiration. Restaurateurs and chefs, can we make a request? Because we'd love to see these items (or at least some version of them) in the Philippines.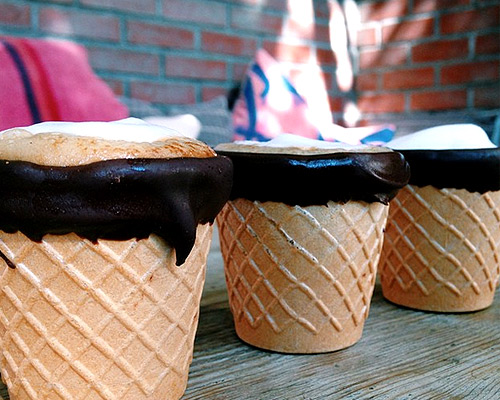 1. Edible Coffee Cups
Dominique Ansel's cookie shots may have spiraled a cottage industry of edible wares. One of which is these edible "coffee cups" from Los Angeles-based celebrity spot Alfred Coffee. They're actually chocolate-lined wafer cones that add an extra shot of flavor to your regular joe, turning your coffee into something of a mocha. According to The Huffington Post, the cups are a secret-menu item-though Alfred Coffee has been freely posting images of them on their Instagram account.
Photo from @alfredcoffee Instagram account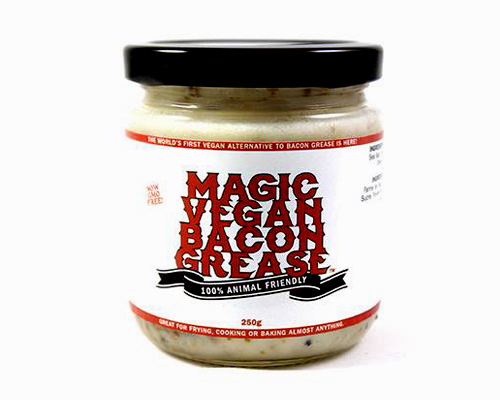 ADVERTISEMENT - CONTINUE READING BELOW
2. Magic Vegan Bacon Grease
We've pretty much made our love for bacon known here and here, and we believe that the magical taste of this porky gift shouldn't be kept exclusive to carnivores. Alas, the Magic Vegan Bacon Grease which rubs on that delectable flavor without harming any animals. Toss it in a salad, swipe it over bread, put it over anything edible. Non-GMO, non-hydrogenated, and low in cholesterol, it offers the promise of bacon without the bad parts. Unfortunately, it's still only available in North America.
Photo from Vegan Magic's official Facebook page
CONTINUE READING BELOW
Recommended Videos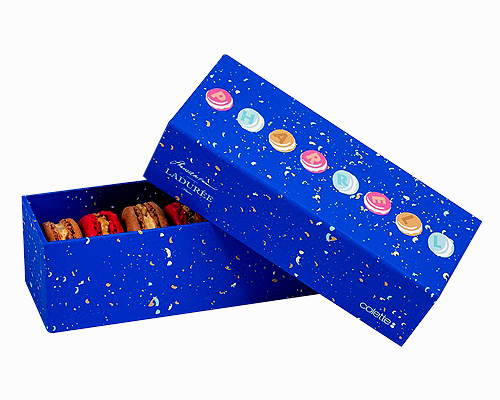 3. Pharrell's Macarons
In honor of Ladurée's impending opening in Makati City, we're feeling some nostalgia for Pharrell's totally cool limited-edition French cookies, which were launched late last year but only in Paris. The macarons, which were available in Cola and Peanut Butter, were a collaboration between the singer, the upscale French bakery, and French retailer Colette. At $22 for a box of six, these things damn well should have tasted "happy."
ADVERTISEMENT - CONTINUE READING BELOW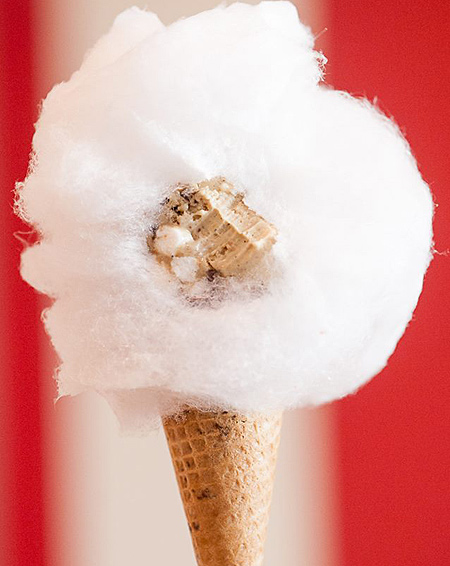 4. Cotton Candy Cone
What is underneath that large tangle of sugar? Aren't you infinitely curious? This hybrid treat was first introduced by Oddfellows Ice Cream Co. in Brooklyn sometime last September. The first of what was supposed to be a series combined a circus snack favorite with campfire classics: Inside the cloud of smoked cotton candy is s'mores ice cream with burnt marshmallows, graham crackers, and chocolate over a chocolate-rimmed sugar cone.
Photo from Oddfellows' official Facebook page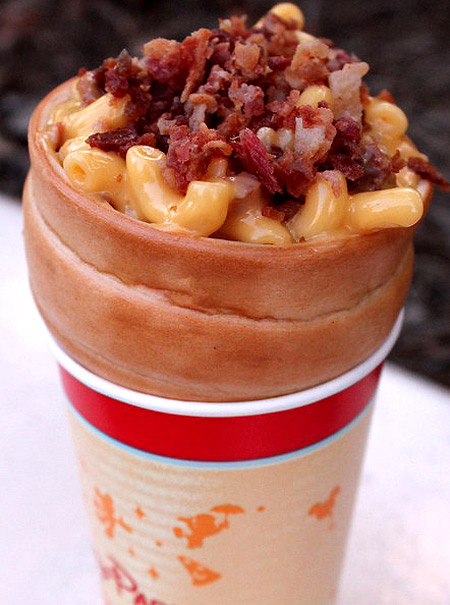 ADVERTISEMENT - CONTINUE READING BELOW
5. Macaroni and Cheese Bread Cones
We solemnly swear that this is our last cone-related food wish. These comfort cones were available in selected Disney theme parks as a summer feature last year, but it was soon later retired. It wasn't until photos of the mouthwatering tumbler-sized edifice went viral that hungry citizens suddenly started clamoring for them-a little too late. Served in a giant plastic cup, the bread cones were packed with cheesy macaroni and cheese then topped with bacon bits. Another flavor was Fiesta Chili-Cheese, which dripped with tomato-ey chili and spiked with jalapeños and tortilla chips.
They're no longer available anywhere, but www.thedisneychef.com developed a handy hack for those who know their way around the kitchen.
Photo from The Disney Food Blog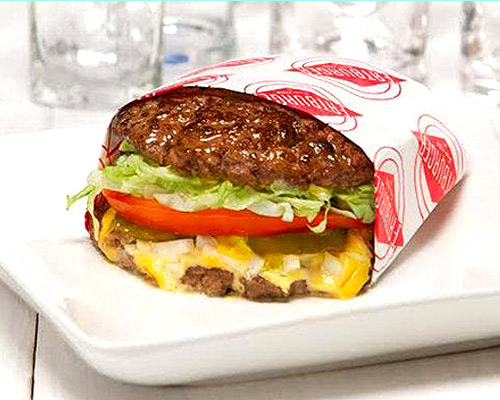 6. Protein-style Burger
There's one restaurant in Manila that peddles bun-less burgers, serving only a patty with the usual garnish and sandwiched in lettuce. That used to be the technical definition of a "protein-style" burger. That is, until KFC came out with their thrilling Double Down (and all other subsequent versions), where two fried chicken fillets replace the bread. American chain Fatburger's answer to Colonel Sanders' attempt? A beef version. A pair of beef patties enveloping tomatoes and greens. It's for those who like to double the fun by doubling the challenge and doubling the potential for a heart attack.
ADVERTISEMENT - CONTINUE READING BELOW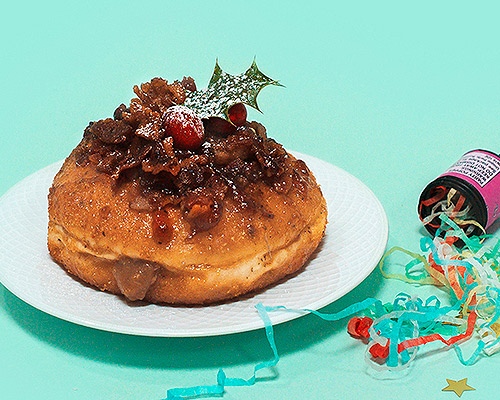 7. Ho-Ho-Honut
Christmas is never out of season (there's never an off time to give or receive a present), but, unfortunately, these holiday sweets are. The Ho-Ho-Honut was an entire Christmas feast trapped in a little donut. Made by Godfreys in England, the sage-flavored bun was filled with sausage and onion gravy, embellished with turkey salt and roasted potato crumble, doused in maple syrup, glazed with a cranberry sauce, and sprinkled with candied bacon. Converted to Filipino flavors, we can imagine a donut conglomeration of bibingka, lechon, and tsokolate. Yum!
Photo from Karmarama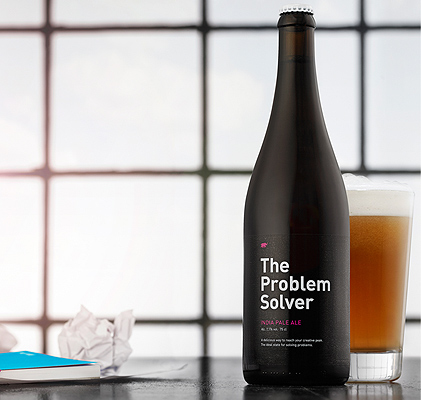 ADVERTISEMENT - CONTINUE READING BELOW
8. The Problem Solver
To the people who tell you that drowning your sorrows in liquor is never the answer, show them this witty bottle. It is a problem solver. According to Food & Wine online, Danish company Rocket Brewing developed this beer after studies showed that those with blood alcohol content of 0.075% are at their most creative. The Problem Solver, designed to induce your creative peak, is an IPA (7.1% alcohol by volume). It comes with a chart on how to reach just that 0.075% and a warning-"Drinking the right amount will enhance your creative thinking, drinking more will do the exact opposite."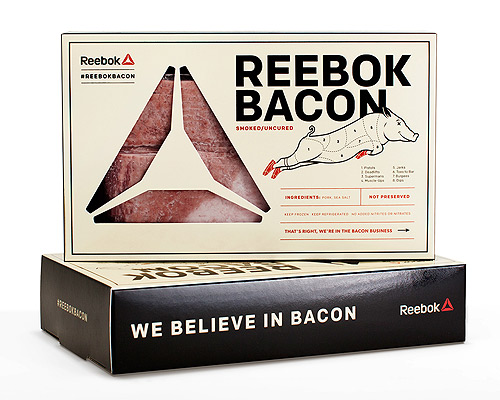 9. Reebok Bacon
Nope, your eyes do not deceive you. These aren't kicks that look like bacon, or even rash guards that give off a bacon-y whiff. It's actual, edible bacon, smoked, uncured, no MSG, no preservatives, no sweeteners, no nitrates, and in a cool little box. Reebok launched their meaty fare in mid-2014 to get in on the Paleo Diet trend, according to an article in The Mirror Online. The athletic-wear company even rolled out a food truck peddling bacon dishes called Bacon Box (a play on a CrossFit term) during the CrossFit Games in California. That was the only time the Reebok Bacon was made available, but talk about diversifying!
ADVERTISEMENT - CONTINUE READING BELOW
Photo from the Reebok website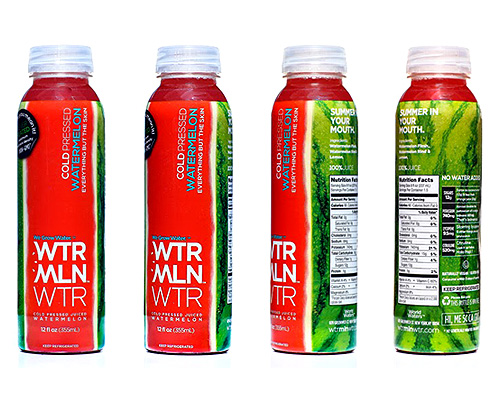 10. Watermelon Water
This is, more than anything, intriguing to us. On the website are the words: "No Water Added," but aren't watermelons already 90% water? Even more mysterious is how this drink, fashioned as WTRMLN WTR, is described as 100% watermelon but with a bit of lemon juice. It's essentially a portable, seedless version of the fruit.
The Best Juice winner by BevNet claims to contain potassium, vitamin C, the amino acid L-Citrulline, and lycopene. Touted as "the next coconut water," WTRMLN WTR CEO Rob Paladino says it's actually more nutrient-dense than coconut water.
Photo from wtrmlnwtr.com
Share this story with your friends!
---
Help us make Spot.ph better!
Take the short survey
Load More Stories