10 Food Gadgets We Need Right Now
...that are, unfortunately, not available in Manila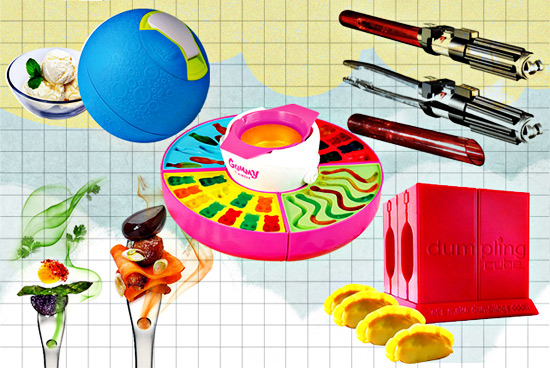 (SPOT.ph) Technology is a wonderful thing. Back then you used to hire bartenders, now you only have to click and slide to get your drink (what would James Bond say about that?). Back then you had to force kids to eat their vegetables, now you can trick them into thinking vegetables taste like sweets. Back then twirling spaghetti was an art, now there's essentially nothing to it.
Despite the vast amounts of technology available to improve gustation, not all of it is available in the Philippines. We sorted out the ones that are so cool, we wish they were available locally. Then again, there is international shipping (but for a pretty penny).
This list is not ranked.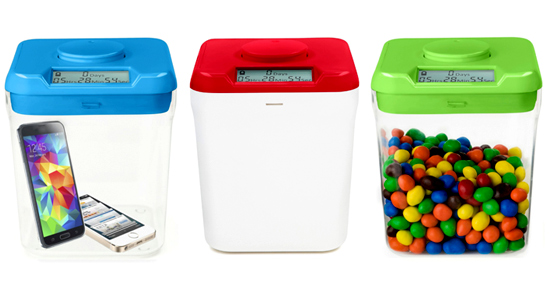 1. Kitchen Safe
Dieting for the new year? Protect yourself from yourself with this nifty tool that offers self-control to those who have none. According to a feature on Mail Online, junk-food-obsessed David Krippendorf would often ask his wife to hide his treats to help him stick to his diet. The will to eat was stronger though, and he eventually hunted down the stash. This plastic box has a lid that locks for a specified span (from one minute to 10 days). Though there's a five-second window for scheduling errors, the box cannot be opened until that time frame ends. Nope, removing the batteries won't help either. Break the Kitchen Safe only in case of extreme hunger.
ADVERTISEMENT - CONTINUE READING BELOW
Price: $49, ships up to Hong Kong. Visit thekitchensafe.com.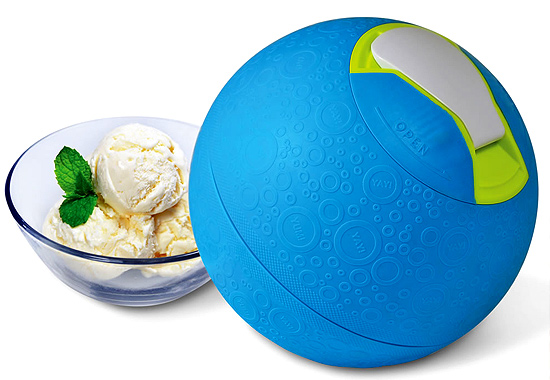 CONTINUE READING BELOW
Recommended Videos
2. Shake, Rattle, and Roll Ice Cream Maker
The best reward after a workout? Ice cream, of course! This ball uses the basic technique for creating ice cream (putting a sealed-off concoction inside a container filled with ice and rolling it around until it solidifies), but adds a little more fun to it. Simply pour your ice cream blend inside the compartment, shut it tightly, and kick-for about 20 minutes. Toss it, shake it, throw it. Perfect for kids and the kids-at-heart, this volleyball-sized dessert maker is a two-in-one gadget of fun!
Price: $34.95, ships internationally. Visit hammacher.com.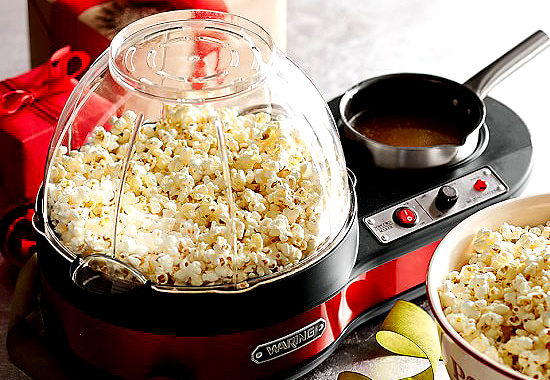 ADVERTISEMENT - CONTINUE READING BELOW
3. Waring Popcorn Maker with Melting Pot
What's better than your everyday popcorn machine? A popcorn machine that has its own melting pot built in. You know, for caramel, chocolate, and all those other delicious extras that take a movie-house-favorite into something really indulgent. The plastic dome seals the 20 cups of popcorn it can hold in a way that prevents condensation-meaning: crunchy treats so long as they're kept inside. The machine also keeps the heat even, ensuring that all kernels are popped. You know how much we hate wastage.
Price: $129.95, ships internationally. Visit williams-sonoma.com.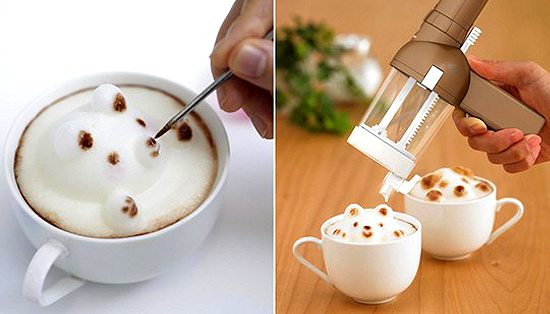 4. 3D Latte Art Maker
Forget foam leaves and flowers. You can make 3D coffee art sans all the training. The solution? A nifty gadget that mimics years of practice with a few clicks of a button. Well, almost. This Latte Art Maker helps you make decent basic animals like bears, dogs, cats, and bunnies, but a steady hand should come naturally.
ADVERTISEMENT - CONTINUE READING BELOW
Price: $54, ships internationally. Visit japantrendshop.com.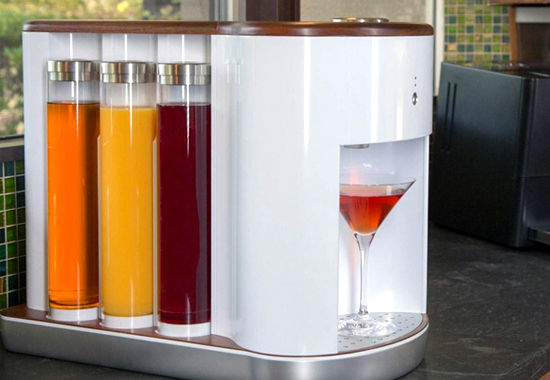 5. Somabar
This might just be the end of all bartenders and mixologists. It whips up a cocktail in a matter of five seconds. Simply download the accompanying app, choose a cocktail from their list (hey, remember to fill up the dispensers with the necessary spirits), and, voila! It might as well come in an instant pack. The app also creates a craft drink recipe based on ingredients you already have. To mix the drinks, this kickstarter campaign uses "fluid dynamics, kinetic energy, and turbulence created by static vanes"-really, really scientific stuff. It's self-cleaning, too. Water automatically flushes through the valves after every cocktail to make sure the flavors don't overlap.
Price: $399 to reserve, currently unavailable. Visit somabarkickstarter.com.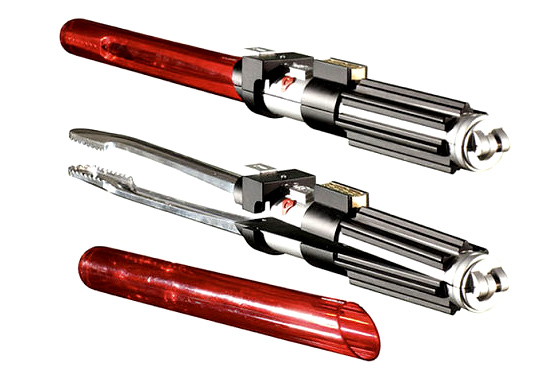 ADVERTISEMENT - CONTINUE READING BELOW
6. Star Wars Light Saber BBQ Tongs
Because Star Wars fanatics find ways to turn everything into light sabers, behold! These weaponized barbecue tongs that do absolutely nothing-except make swishing sounds. But it looks cool and fashionably geeky. According to the description, this "grilling implement for a more civilized age" harnesses "the power of the Dark Side" to make steaks even more irresistible. To complete the effect, the tongs come with a protective tube that looks like that signature "light effect." Truth be told, it resembles a curling iron.
Price: $34.99, currently out of stock. Visit thinkgeek.com.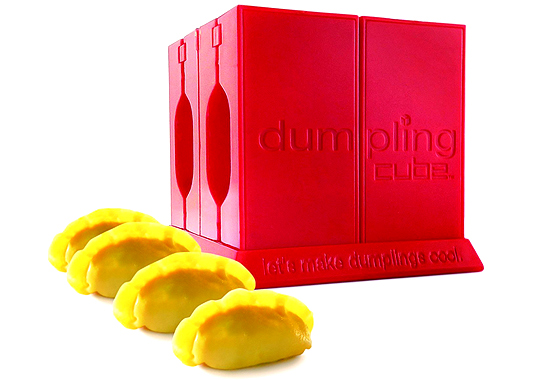 7. Dumpling Cube
If you've been to Osaka Ohsho, then you know that there's an art behind the folding of every pocket of gyoza. You won't have to worry about such intricacies though, if you have this cube on hand. You simply lay open pastry shells inside the mold, top them with your preferred filling, fold the entire box, and press. The resulting dumplings don't come out with those beautiful fan-shaped folds, but it's close, and they're sealed in pretty tightly, locking in the goodness for when you cook them. Unfortunately, the Dumpling Cube only makes two at a time, which might be too slow for your appetite.
ADVERTISEMENT - CONTINUE READING BELOW
Price: $24.95, ships internationally. Visit amazon.com.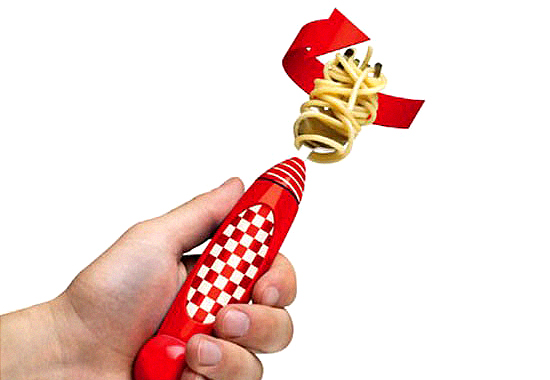 8. Hog Wild Twirling Spaghetti Fork
Admittedly, this cutesy red version is for kids. There's an adult version, but it's not quite as fun, with scallop-shaped sides to keep the pasta from slipping as you twirl. This Hog Wild version, however, is motorized, automatically twisting, twirling, and winding up the pasta like a spool.
Price: $10.02, ships internationally. Visit amazon.com.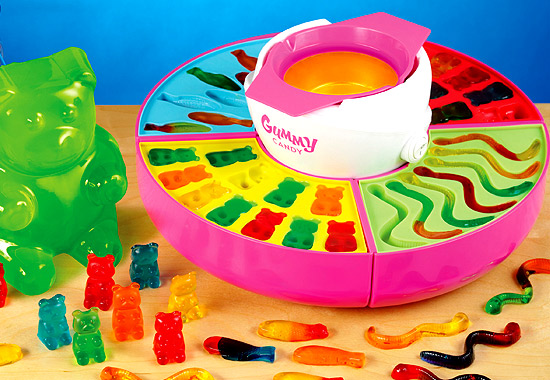 ADVERTISEMENT - CONTINUE READING BELOW
9. SMART Gummy Candy Maker
Because all things are best homemade, we want our gummy bears personally crafted as well. Now we can decide if we want it a bit tangy or a bit sweet. This personal gummy candy maker comes with your basic bear, fish, and worm molds, plus a giant bear mold that would make for great centerpieces for parties-or for lonely nights.
Price: £29.99, ships internationally. Visit iwantoneofthose.com.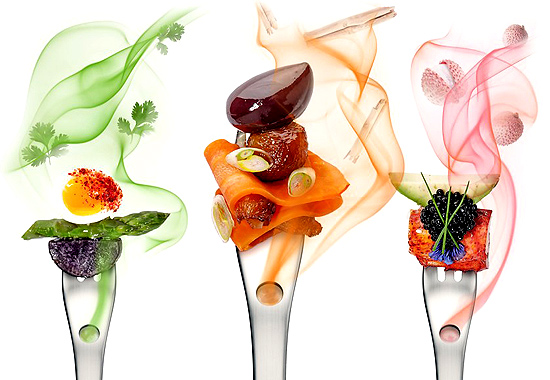 10. Aroma R-evolution
Have you ever imagined broccoli to taste like vanilla? Or how about brussels sprouts tasting like chocolate? Four forks and 21 aromas play with your senses, particularly your palate. Just insert one of the paper rounds into the indentation on the handle, pick an aroma (basil, passion fruit, mint, and more) to infuse on the slip of paper, and enjoy everything from tried-and-tested flavor combinations to quirkier ones. Again, chocolate-flavored brussels sprouts. The flavored vapors intensify the dish's profile.
ADVERTISEMENT - CONTINUE READING BELOW
Price: £49.99, ships internationally. Visit firebox.com.
Share this story with your friends!
---
Help us make Spot.ph better!
Take the short survey
Load More Stories