New Restaurant Alert: 12/10 at Guijo Street, Makati
The girl and the bull are serving up a different kind of fare in a new city.
12/10
7635 Guijo Street, San Antonio Village, Makati City
Contact: 0915-663-2823
Open from 5 p.m. to 11 p.m. (Monday to Saturday)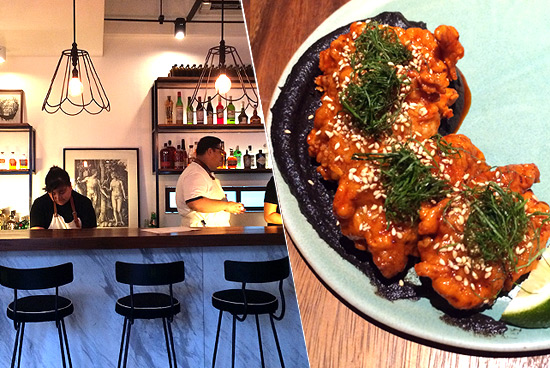 (SPOT.ph) We've heard (and said) it again and again: There has never been a more exciting time to eat out in Manila than now. The past couple of years has only proven that Filipinos are becoming more adventurous and discerning in their dining choices. Restaurants have been opening, hit after hit-okay, there are some misses-but the local dining scene has been bringing its A-game in general. This rings true with one young chef, Gab Bustos.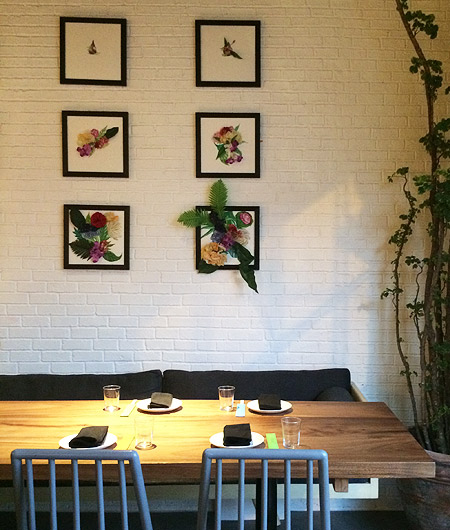 ADVERTISEMENT - CONTINUE READING BELOW
Just the right amount of foliage to liven up the room
From his humble beginnings at BF Homes joint, The Girl + The Bull, Gab has steadily cooked his way up the ranks in any food lovers' hearts. He's known for surprising diners with innovative flavors and Instagram-worthy food presentations-and the non-traditional Japanese dishes at 12/10 are no exception.
"Our journey so far is like a story," says Gab. "The Girl + The Bull is the introduction. 12/10 is the next chapter-a more personal, grown-up one." Thea de Rivera, the girl to Gab's bull and a significant part of the tandem's success, nods her head in agreement. "The Girl + The Bull and 12/10 have completely different personalities," says Thea. "They're like two children who can't be compared."
CONTINUE READING BELOW
Recommended Videos
Located on Guijo Street, a relatively obscure spot in Makati, 12/10's space is hip yet cozy, and attention to detail is noticed in both interiors and service.
On one of their regularly busy nights, we find ourselves sitting at a corner where a young and enthusiastic server immediately hands out menus like clockwork. He knows the spiel by heart, explaining how the menu is separated into four parts, each one leading up to heavier fare. From our experience, it's safe to put your taste buds in the servers' hands. Ours had a personal understanding of the dishes and an obvious trust in the chef.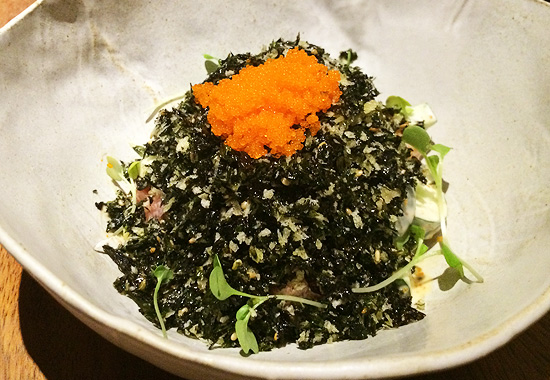 ADVERTISEMENT - CONTINUE READING BELOW
Raw Tuna Salad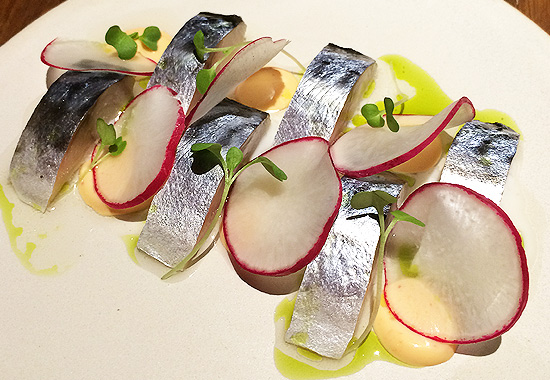 Mackarel Ceviche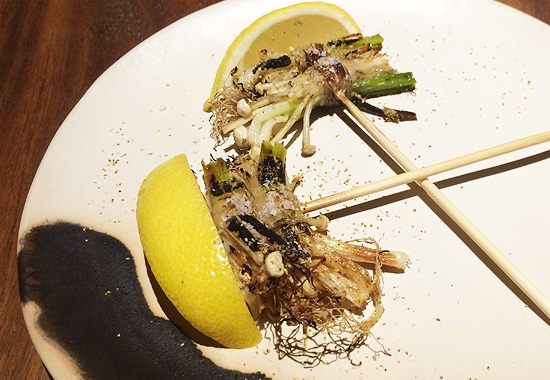 Enoki
Each dish comes out one at a time, beginning with a gorgeous Raw Tuna Salad (P240), the perfect starter. Best mixed together, a wonderful combination of texture and flavor comes into play thanks to the nori, shrimp roe, pickled Japanese cucumbers, and Japanese spices that adorn the fresh tuna. Another fish dish, shimmering chunks of Mackarel Ceviche (P195), is a homerun, the mackarel's superb quality undeniable. Two interesting-looking sticks of Enoki (P160) arrive and we're instructed to squeeze lemon all over, allowing the acidity to cut through the saltiness of the sea salt and chicken skin. This little deed completely elevates the umami flavor of the mushrooms.
ADVERTISEMENT - CONTINUE READING BELOW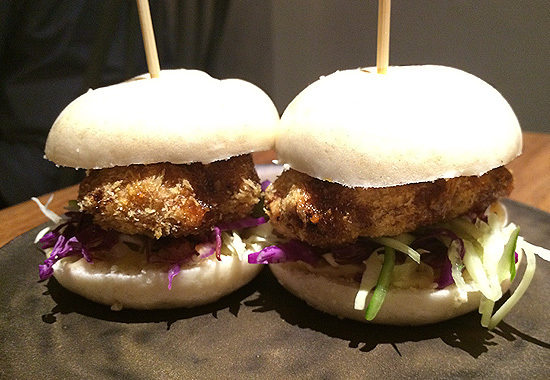 Katsu Sando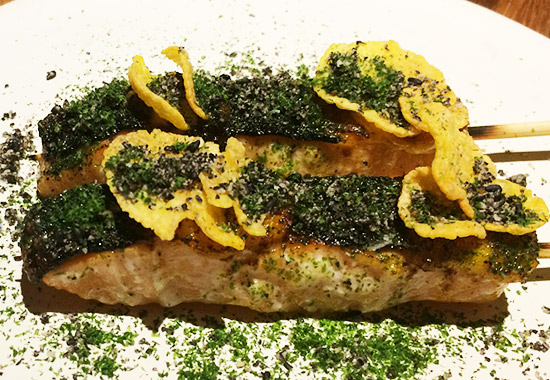 Salmon Kushiyaki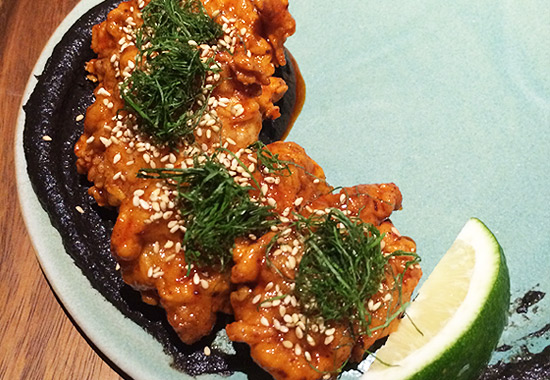 ADVERTISEMENT - CONTINUE READING BELOW
Korean Fried Chicken
Eventully, the heavier dishes start arriving. The Katsu Sando (P260), a mix of pork and Wagyu beef, red cabbage, pickled Japanese cucumbers, and tare sauce (a sweet, thick soy sauce) in a pillowy-soft homemade bao bun, is a fast favorite while the Salmon Kushiyaki (P290) is a close second. This seafood yakitori dish plays with texture and flavor: It starts out slightly bitter, with a sweet-savory curry-flavored spiciness over melt-in-your-mouth salmon that's finished with crunch from cornflakes. The Korean Fried Chicken (P320), a dish Gab compares to a "radio-friendly song that everyone loves," is best served with limes squeezed on top, and the perfectly crisp chicken skin and tender meat eaten with the roasted eggplant puree.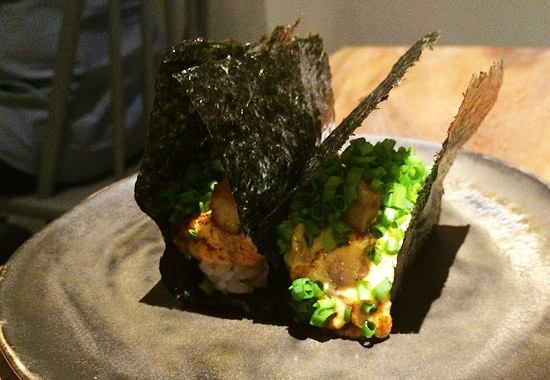 Toro Onigiri
The epic finale is the Toro Onigiri (P410), foie gras wrapped in nori and topped with sea salt, balsamic maple syrup, and dynamite sauce (Sriracha and kewpie mayonnaise). While the dynamite sauce is ultra bold, there's no denying this dish's delightful decadence.
ADVERTISEMENT - CONTINUE READING BELOW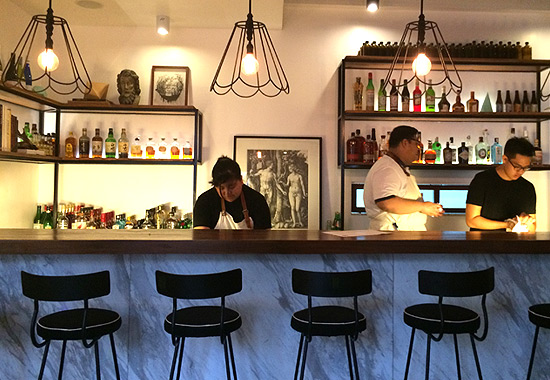 The bar will help cap off your meal.
There's no dessert at 12/10, but their extensive drinks menu makes up for that, still allowing you to end your meal on a sweet note-whether it's with a Yamazaki Single Malt or a Ramos Gin Fizz shaken to meringue-like perfection.
Every dish is a whole new palette of flavors and textures waiting to be explored, and 12/10 is a place that lets you throw all inhibitions out the window. Just sit back, relax, and enjoy the delicious ride.
Share this story with your friends!
---
Help us make Spot.ph better!
Take the short survey
Load More Stories