10 Dishes Best Served with Beer
Good food becomes even better when paired with the right beer.
Food pairing is not the exclusive domain of wines, as good and accurate the pairing might be.


It's a known fact that good food in itself isn't enough in social gatherings, good alcohol is also a must. And for that, we have our drink of choice. One that's readily available, a bit more affordable and of course, tastes wonderfully potent. Anyone looking for a great food experience can pair the expertly crafted beers of San Miguel Lifestyle Brews with specific entrees, main courses and desserts. But which should be paired with which?
Fortunately for you we have here a list of great food that becomes even tastier when paired with the right beer. We grouped the food into three: Starters, Main Courses and Desserts.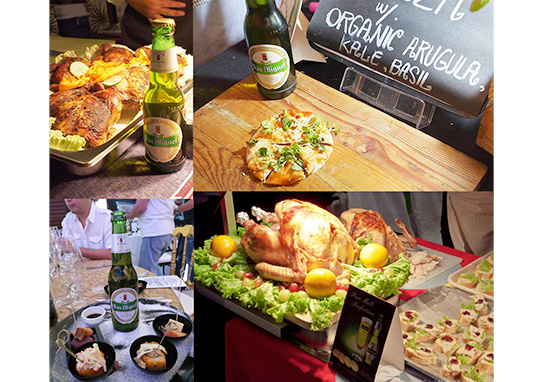 STARTERS
1. Organic Microgreen Pizza (With Kale, Arugula and Microgreens)
Seriously, who doesn't love pizza? Bad people maybe. Even a simple and organic pizza can be enjoyed by everyone, not just the health buffs or vegetarians. For pairing, San Miguel Premium All-Malt is the perfect beer for this dish. The brew's citrusy flavor complements the greens perfectly. Besides, this beer is light; you wouldn't need to worry about feeling full with just the starter dish.
ADVERTISEMENT - CONTINUE READING BELOW
2. Fork Play Roast Chicken
For this dish, the San Miguel Premium All-Malt is again the beer of choice. Why? The dish's white meat is a perfect partner to the beer's smooth all-malt flavor. The white meat goes really well with a smooth beer, resulting in a combination of flavors that will please the palate.
3. Scallops au Gratin
Scallops, considered as an aphrodisiac, aren't that much popular here in the Philippines. However, one can still hit the grocery and get a pound or two to make Scallops au Gratin, or in layman's terms: scalloped potatoes. The beer of choice for this dish is still the San Miguel Premium All-Malt. It's the choice accompaniment of both white meat and seafood due to its malty aroma and of course, the pleasant citrusy hop notes.
CONTINUE READING BELOW
Recommended Videos
4. Caprese Stuffed Chicken Breast
It is quite a mouthful to say but then bear with us, because the taste will more than make up for it. Another starter dish, this is just pounded chicken breasts rolled around a healthy stuffing of mozzarella cheese, greens and tomatoes. The brew to partner this dish with is of course, still the San Miguel Premium All-Malt. The smooth all-malt flavor and the malty aroma of this golden lager is just perfect to pair with a dish that's bursting with flavors from the chicken, cheese and the vegetables.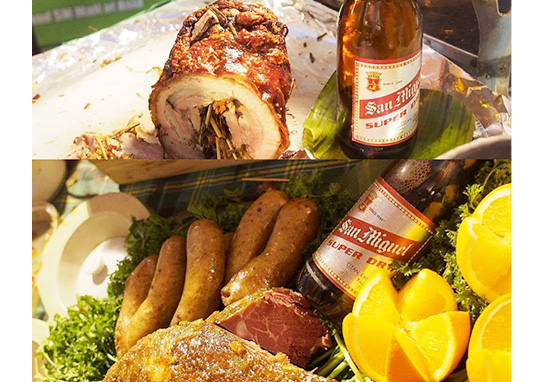 ADVERTISEMENT - CONTINUE READING BELOW
MAIN COURSES
5. Sausage and Pork Cracklings
Beer and sausages? You don't say! These two are very much a love story made somewhere in foodie heaven. The beer to pair this with is of course, the light amber lager San Miguel Super Dry. Not just because it's the best for beef and pork dishes, this beer also has a crisp dry taste that's perfect for main courses.
6. Crispy Pork Belly
We have another pork dish here, the unassuming but oh-so-delish Crispy Pork Belly. You'll appreciate the crispiness and taste of this dish when paired with the San Miguel Super Dry, the lager that goes really well with beef and pork cuisine. This brew, apart from the dry taste, also has an elegant quick finish.
7. Osso Bucco (Tender Veal Shank)
This Italian dish, Osso Bucco is basically just cross-cut veal shanks with vegetables and broth. Veal, not really a staple meat here in the Philippines, is another red meat that is best paired with the light amber lager San Miguel Super Dry. The slight gamey taste of veal is perfect for the beer's crisp dry taste and the aromatic hop notes.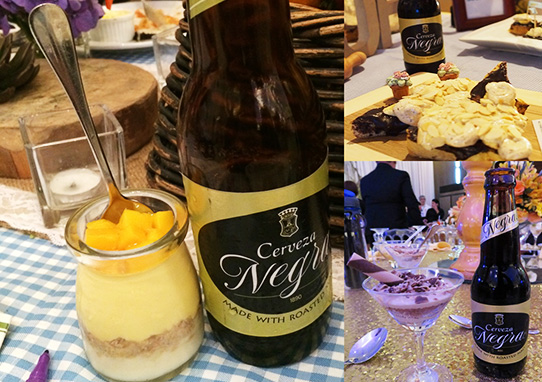 ADVERTISEMENT - CONTINUE READING BELOW
DESSERTS
8. Banana-Blueberry & Walnut Loaf
An easy to make dessert, the Banana-Blueberry & Walnut Loaf is basically banana bread with added blueberries. Neat, eh? It gets better. The zesty flavor of this dessert is best paired with a bottle of Cerveza Negra. The beer's caramel undertones blend well with the nutty and fruity taste of this dessert.
9. Mango Soleil in Pot
Who doesn't love mangoes here in the Philippines? There's really no question as to why this nifty fruit is our national fruit. Already a dessert in itself, added into a cake and mousse, you'll have Mango Soleil. With just the right amount of zest (due to the Mango and Orange Mousse), this dessert becomes even more flavorful when paired with the dark lager Cerveza Negra. The bold flavor of this beer is perfect for the Mango Soleil's subtle zesty flavor.
10. Dark Chocolate Mousse
The ultimate dessert for a chocolate-loving nation, the Dark Chocolate Mousse is a treat to behold. For this chocolate dessert, the perfect beer to pair is of course the caramel-flavored Cerveza Negra. Aside from the caramel undertones, the brew also has a refreshing aftertaste that blends really well with desserts.
For a complete dining experience, choose among these brews - San Miguel Premium All-Malt, San Miguel Super Dry or Cerveza Negra - to pair with your food. The beers don't just add to the flavor, they enrich it, making good food even better, especially when with family or friends.
Share this story with your friends!
---
Help us make Spot.ph better!
Take the short survey
Load More Stories