New Restaurant Alert: SaladStop! at Central Square, Bonifacio Global City
Singapore's popular salad chain, now in Manila
SaladStop!
GF Central Square, Bonifacio High Street, Bonifacio Global City
Contact: 0917-804-6921
Open from 8 a.m. to 10 p.m. (Sunday to Thursday); 8 a.m. to 11 p.m. (Friday to Saturday)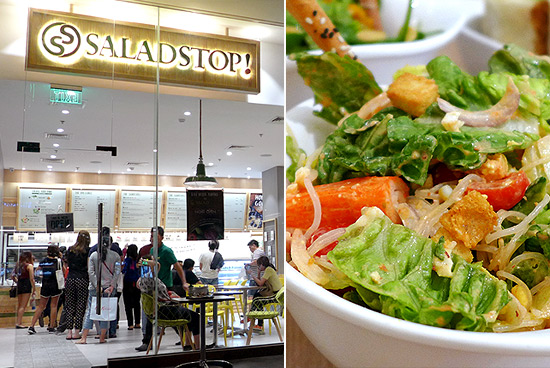 (SPOT.ph) It's fascinating how, in a country where fast-food joints thrive thanks to meat and rice-loving foodies, a budding greens chain from Singapore that has recently set up shop in Central Square is perennially packed. Surprising? Not really. After all, over the years, Filipinos have slowly altered eating habits, embracing a more diverse and healthier taste.
SaladStop! is among specialty retailer SSI Group's latest offerings to the Manila crowd. The store is bright and bustling, every bit a typical fast food chain (order and pay here, wait and claim there). Its claim to uniqueness though is its many nooks that are adorned with tidbits on eating right and well.
Its main thrust is the Eat Wide Awake movement, which essentially encourages customers to adopt a more conscious role when enjoying food, based on the belief that it is a basic human right to truly eat well. SaladStop! poses a challenge for one to consume only food that nourishes the body and the mind. As such, ingredients used in-house are all-natural and free from preservatives.
ADVERTISEMENT - CONTINUE READING BELOW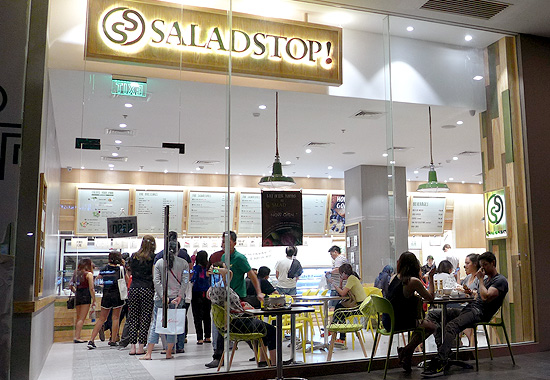 Healthy Stop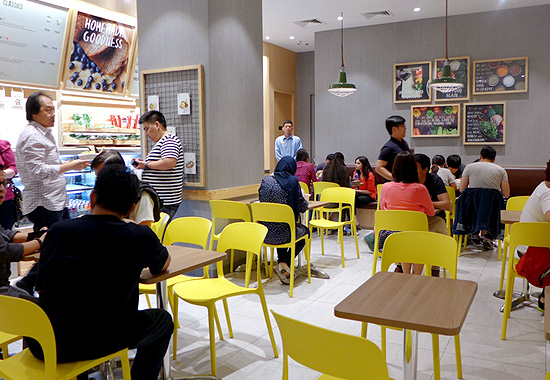 The place usually gets crowded, but we see an empty table!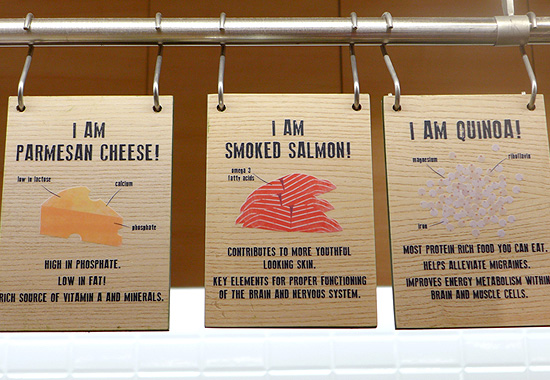 ADVERTISEMENT - CONTINUE READING BELOW
You get to eat healthy and you learn a little something, too!
Diners are given the option to customize their own salads and wraps, with over 35 ingredients and 18 dressings to choose from. Alternatively, it has readily available mixes categorized into The Signatures and The Classics, variants of which are paired with a corresponding calorie count (a comforting thought for those extra-conscious about packing on some pounds).
SaladStop! describes each bowl it serves as a manifestation of "an obsession with quality, positive energy and humble integrity."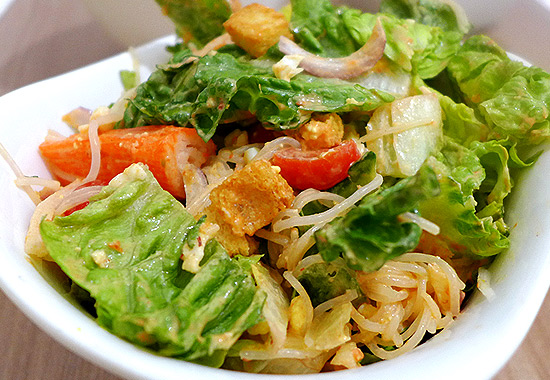 Oh Crab Lah!
Of their signature concoctions is the bestselling Oh Crab Lah! (P260/salad; P250/wrap), a vibrant jumble of romaine, crab sticks, egg, vermicelli, cherry tomatoes, red onions, and croutons tossed in a special Singapore Chili Crab dressing.
Other varieties that borrow from Asian elements are the Go Geisha (P260/salad; P250/wrap), which combines ingredients including tofu, soba noodles, edamame, sweet corn and Japanese miso dressing, and Sunshine Manila (P260/salad; P250/wrap), which incorporates tuna flakes, brown rice, crispy lumpia skin, and tamarind citrus vinaigrette.
ADVERTISEMENT - CONTINUE READING BELOW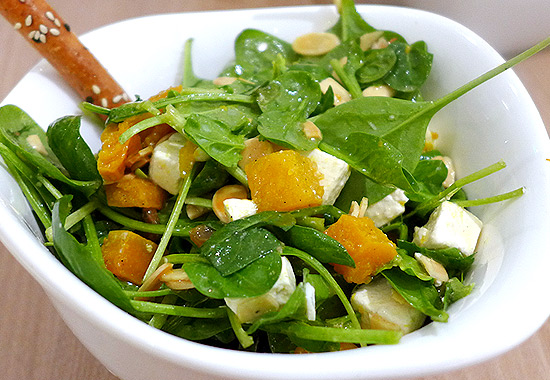 Iron Wo Man Salad
Some more favorites include the Iron "Wo" Man (P350/salad; P340/wrap), a gluten-free fusion of baby spinach, feta cheese, roasted pumpkin, yellow raisins, toasted almonds, and raspberry vinaigrette. If you are in the mood for a leafy mix that's especially good for the heart, do give the Omega 3 Baby! (P350/salad; P340/wrap) a try-romaine, smoked salmon, broccoli, cherry tomatoes, beetroot, red onions, and sunflower seeds dressed with yummy balsamic soy vinaigrette.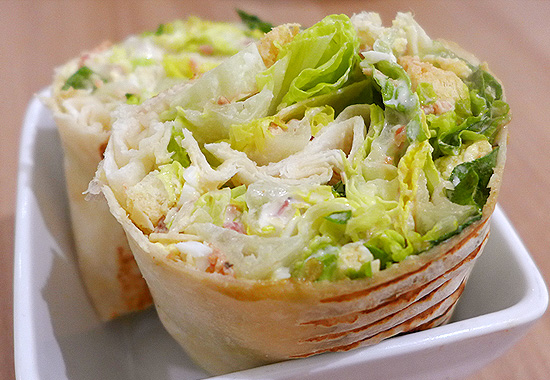 ADVERTISEMENT - CONTINUE READING BELOW
Hail Caesar
Those looking for a more filling meal can find comfort in their selection of wraps. SaladStop!'s crowd favorite, Hail Caesar (P260/salad; P250/wrap, add P50 for an extra helping of grilled chicken), is a welcome addition to the menu, each wrap packed to the core with romaine, parmesan, egg, croutons, bacon bits, and classic Caesar dressing.
Try out other SaladStop! staples: the Niçoise Salad (P260/salad; P250/wrap)-romaine, tuna flakes, egg, potato, French beans, cherry tomatoes, black olives, and fresh lemon and oil dressing-and the Greek Salad (P260/salad; P250/wrap)-romaine, feta cheese, cherry tomatoes, cucumber, red onion, black olives, and balsamic soy vinaigrette.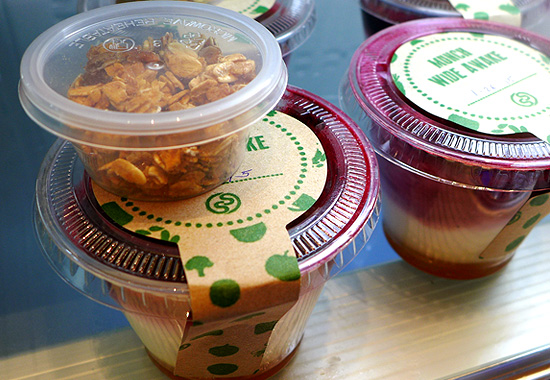 Granola and yogurt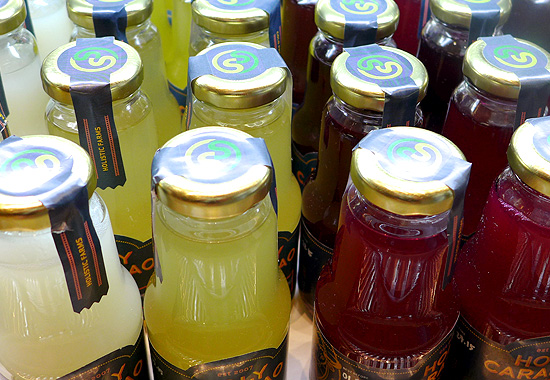 ADVERTISEMENT - CONTINUE READING BELOW
Juices
Apart from the heart of their menu (the salads and the wraps) SaladStop! offers other healthy treats to complement your meal: Greek, Strawberry, and Blueberry Yogurt (P150/cup), Acai Banana and Carrot Cake (P50/slice), Fig Bar (P60), Raspberry Quinoa Cookies (P60), and Cassava Chips.
And finally, pair your bowl of healthy with a bottle of their fresh juices from Happy Carabao or Tropicana, and choose from a range of flavors including mango, guyabano, dalandan, pineapple, sugarbeet, and coconut. Cheers to your health!
Load More Stories