New Restaurant Alert: Milkcow at Eastwood Mall, Libis, Quezon City
Healthy ice cream is a thing!
Milkcow
G/F Eastwood Mall, Libis, Quezon City
Open daily from 8:30 a.m. to 11 p.m.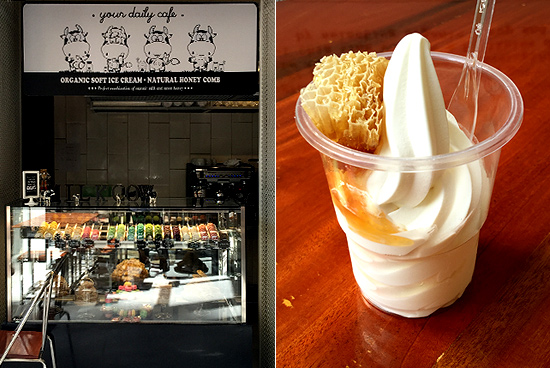 (SPOT.ph) What do you get when you're trying to fulfill that New Year's resolution about losing weight and being healthy, but cannot give up sweets? You look for something that meets you halfway. Milkcow promises to serve a "perfect combination of organic milk and sweet honey" in handmade soft-serve ice cream that could entice any health buff (or junk-foodie). The ingredients are organic, flavorful, diverse, and, sans sugar, this Korean dessert cafe, which also has branches in Japan, Malaysia, Singapore, and Taiwan, uses only natural honey from Tasmania and Sydney.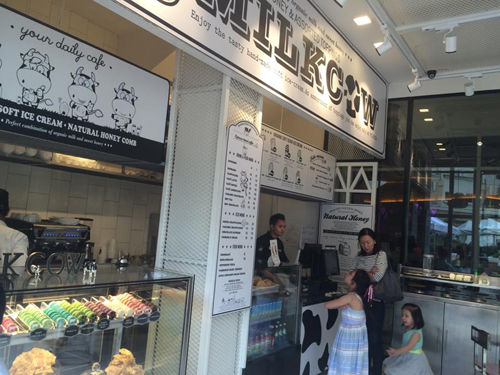 Black and white interiors greet you upon entering Milkcow: a metal-topped, cow-printed counter, a few shiny tables and chairs fit for couples on a date or friends who just want a quiet place to hang out, and their natural honeycombs and macaron flavors in a glass display. The place is relatively small, but it's not cramped, allowing you to have an intimate time with friends. You'll find yourself having a hard time choosing what to order from their delectable desserts, but their accommodating staff is helpful and will surely recommend what suits your taste.
ADVERTISEMENT - CONTINUE READING BELOW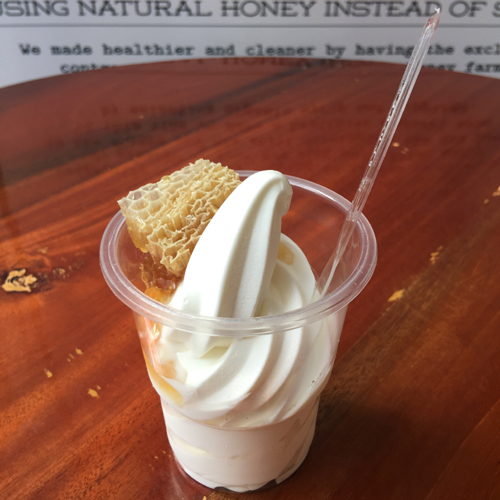 The staff recommended Milky Cube (P170), their organic soft serve topped with a honeycomb cube. True to its name, the ice cream is indeed milky-creamy and smooth. You can taste the guiltlessness in their sundae because it tastes exactly like very light milk. When you sink your teeth into even just a fraction of the spongy honeycomb, you will feel the honey ooze out, teasing your tastebuds with the subtley of its sweetness, perfectly matching the milky sundae.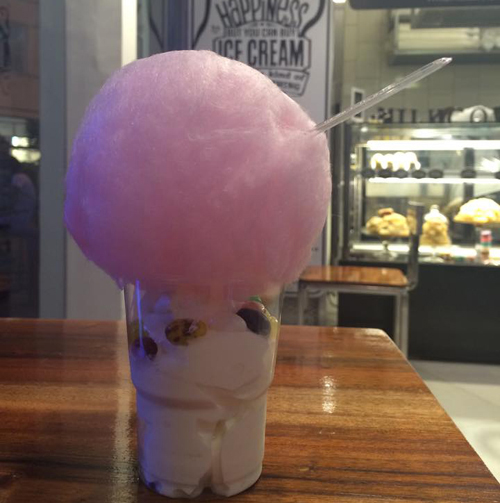 ADVERTISEMENT - CONTINUE READING BELOW
What caught our attention is their Snow Drop (P150) because of its interesting presentation. With the same organic ice cream, this one is speckled with jelly beans, drizzled in sea salt, and topped with cotton candy as big as a person's head. The sea salt in the ice cream is a pleasant surprise to the palate, and the homemade cotton candy neutralizes the flavor. Jelly beans on top just adds chewiness, but the sundae and sea salt combination is all it takes for us to order this dessert over and over again.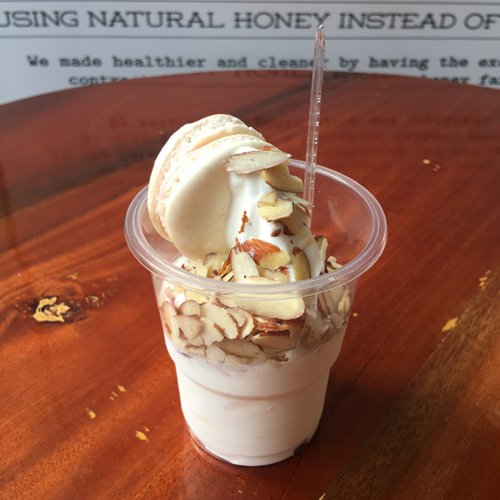 Another staff recommendation is the Macao Dream (P170), still with the same organic sundae but this time, topped with a macaron flavor of your choice, and crushed almonds. This one is topped with a Tequila Rose macaron, which tasted more like strawberry Rebisco filling. It complements the plain sundae well, without overpowering it with its sweetness. The crushed almonds add texture to the cream, and balances the flavor. Choose from a variety of macaron flavors supplied by Mrs. Graham's Macaron Cafe: Bailey's, Salted Caramel, Chocolate, Pistachio, Mint Chocolate, Butter Popcorn, Peanut Butter and Jelly, White Coffee, and Raspberry (P60/piece).
ADVERTISEMENT - CONTINUE READING BELOW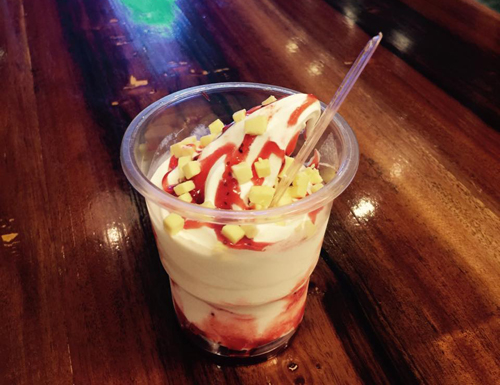 One of their newest flavors (and now also a bestseller) is Cheesy Berry (P150), organic sundae dressed in strawberry syrup and sprinkled with tiny but flavorful cheese cubes. The combination of flavors is delightful, and will keep you wanting more. The strawberry syrup is not overwhelming, and the cheese cubes are pleasant to chew on mixed with the smooth milkiness of the sundae.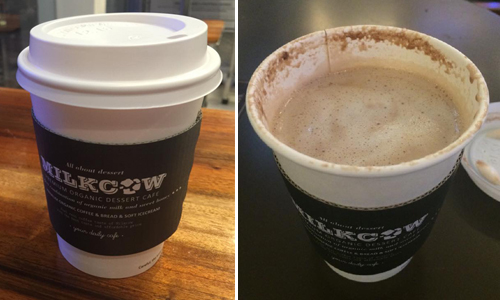 Milkcow's Hot Chocolate (P110/regular; P12o/large) is also worth a mention. Rich, chocolatey (which resembles the taste of Cadbury hot chocolate), and a bit foamy, it's the perfect beverage to cleanse your palate as it's hot and the sweetness does not overpower the creamy, milkiness of the drink. Apart from hot chocolate, they also serve Espresso (P80/regular; P90/large), Cafe Americano (P90/regular; P105/large), and Caramel Macchiato (P125/regular; P140/large) among others, all made from organic milk and natural honey.
ADVERTISEMENT - CONTINUE READING BELOW
If even sinful treats like ice cream are going towards a healthy route, then 2015 is shaping up to a good year for food. Starting with Milkcow.
Load More Stories