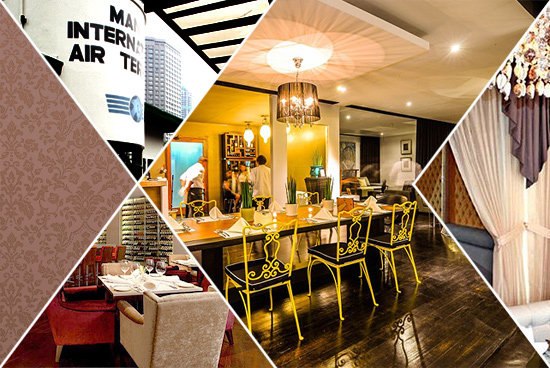 (SPOT.ph) We believe that any kind of romantic proposition should be based largely on the couple's personal history. However-wherever-you decide to do it, with a flash mob or just in your favorite corner at home, honest intentions and a sincere promise for the future matter so much more.
That said, restaurants are always viable proposal-venue alternatives for those who are looking for ways to get the love of their life to say yes. Good food calms you, good food makes you happy, and a happy state makes anyone agreeable. Depending on who you are as a couple, some restaurants can provide for sweeping gestures, others sweet subtleties. They're versatile, satisfactory, and, like we said, good food is enough to set a mood. In our mission to find the most swoon-worthy restaurants in Metro Manila, we list down another set of 10 romantic eateries that would be perfect for Valentine's Day or for...bigger occasions.
Also read:
SPOT.ph's Guide to Proposing in Manila
Top 10 Romantic Restaurants in Manila (2010 Edition)
Top 10 Romantic Restaurants in Manila (2013 Edition)
Top 10 Destination Restaurants in Manila
10 Manila Restaurants with Breathtaking Views
This list is not ranked.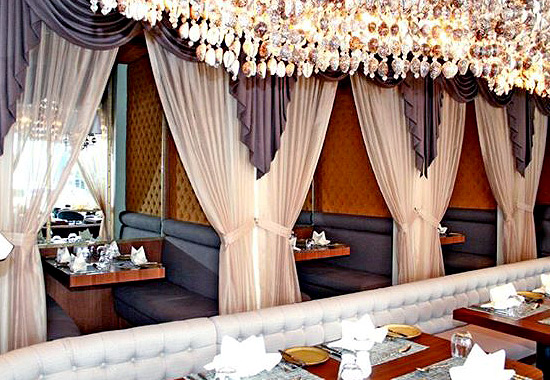 ADVERTISEMENT - CONTINUE READING BELOW
Cowrie Grill
Promenade, Greenhills Shopping Center, Missouri Street, San Juan City
Contact: 527-0011 
To make way for the expansion of Cafe Ilang-Ilang, this Manila Hotel institution had to uproot itself and relocate to Promenade (the new wing) in San Juan. From a fine-dining, dress-to-impress hotel restaurant, its new setup in a mall gives it an entirely new class of elegance. Casual but upscale, Cowrie Grill is a perfect celebratory place for easygoing folk who are looking for something special but nothing over the top-a place where they can still be themselves, if you will. Some of the dishes are served tableside which will make you feel extra pampered. Now isn't that the perfect atmosphere to pop a very important question? Cowrie Grill also has curtained booths lined up on the side for a more intimate setup. No strange stares here, and you can put the ring inside their famous Baked Alaska.
Get her to say yes with: Angus Chateaubriand (P2,500), Saltimbocca con Prosciutto Cotto e Salvia (P450), Grilled Norwegian Salmon Steak (P1,100)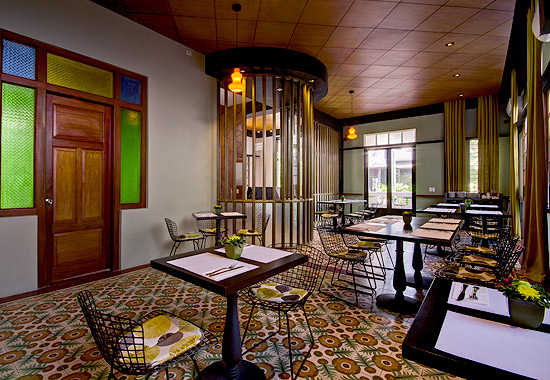 ADVERTISEMENT - CONTINUE READING BELOW
Recommended Videos
Apartment 1B
The Henry Manila, 2680 F.B. Harrison Street, Pasay City
Contact: 807-8888
No matter what happens, you know that any proposal in Apartment 1B will turn out great because the food will always be good. Yes, the way to a woman's heart is also through her stomach. The one in Rockwell is a bit more on the family side, and the one in Salcedo has become much too popular. The latest Apartment 1B in the new Henry Hotel, however, is a stunning new take on this gourmet comfort-food staple. It has a one-of-a-kind "Will you marry me?" vibe: light passing through stained-glass windows, tiled floors, brown ceilings-classy but not overly done. Because the hotel decided to preserve elements from the original house, it has a charm that flaunts old-fashioned romance. This is the perfect place to ask that super important question in front of family.
Get her to say yes with: Roasted Half Chicken (P550), Braised Lamb Shank (P1,200), Low Sugar Gateau de Crepe (P210)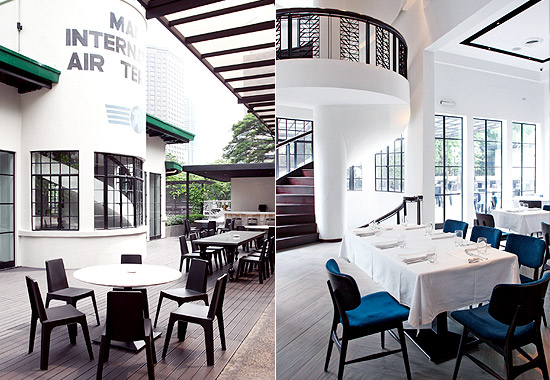 ADVERTISEMENT - CONTINUE READING BELOW
Blackbird
Nielson Tower, Ayala Triangle, Makati City
Contact: 828-4888
A regular on Most Beautiful Restaurant lists is Chef Colin McKay's throwback to an older time. His control tower turned restaurant is effortlessly gorgeous and elegant, recalling Art Deco details that not only take you to another decade, but to another place. The al freso deck, which offers a unique view of Ayala Triangle Gardens, is absolutely breathtaking. There's a quiet corner on the side (with a spectacular view of Ayala Avenue) for men who don't want to make a huge deal of it, and the cockpit room on the second floor is recommended for those who require privacy. But for the whole effect, we say go for the deck. In less than a year, it's already witnessed numerous proposals.
Can't get a table at Blackbird? Go for Sala, Chef Colin's European dining room just a few steps away.
Get her to say yes with: Pappardelle with Duck Ragout (P540), Lamb Rendang (P760), Seafood Platter (P1,680)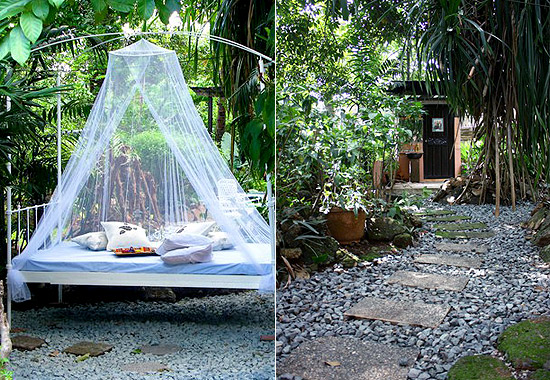 ADVERTISEMENT - CONTINUE READING BELOW
Greg and Sally Tree Garden Cafe
145 Ipil Street corner Champaca, Marikina Heights, Marikina City
Contact: 940-1976
Not all proposals have to be extravagant dinners (hey, spend that money on the ring or honeymoon instead). Whisk your significant other away to this enchanting woodland-in Marikina-where a delightful garden adds a touch of whimsy to your celebration. Greg and Sally is all about light-hearted sweetness, like a romantic stroll through a meadow, a picnic complete with tables (and a hammock), and just the two of you enjoying the beauty of nature.
Get her to say yes with: Gooey PB (P75), Tuna and Black Olive Pasta (P150), Glazed BBQ Chops (P95)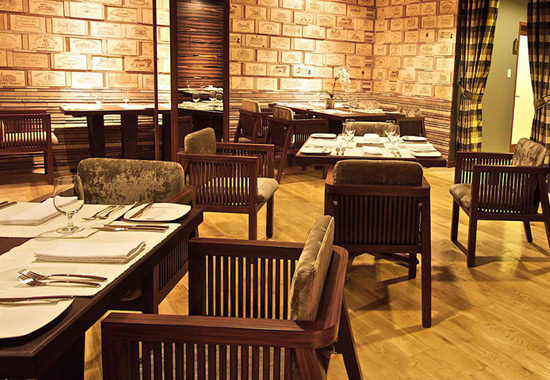 I'm Angus Steakhouse
7431 Yakal Street, San Antonio Village, Makati City
Contact: 892-6206
A ring and a steak? It's a formula for a resounding YES. We admit that the name isn't the most romantic-sounding in the world, but give it a chance. This restaurant is built for that kind of mood-wood, warm lights, great food, terrific service. The tables are positioned with enough space in between to prevent the nearest table from wondering what her answer will be. Yakal is a quieter side of Makati, and though this row of restaurants (they're all owned by Werner Berger who also owns Santi's) has been around for a while, there's still something mysterious and "undiscovered" about them. I'm Angus has a more private section with a wall made up of used liquor crates. It's a great backdrop for photo-ops.
ADVERTISEMENT - CONTINUE READING BELOW
Get her to say yes with: Ribeye (P1,800), Australian Veal Chop (P1,890), Duet of Duck (P990), Mascarpone Passionfruit Cheesecake (P290)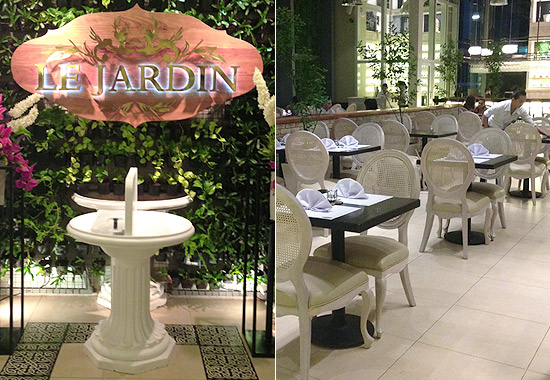 Le Jardin
W Fifth Building, 5th Avenue corner 32nd Street, Bonifacio Global City
Contact: 0917-817-6584
Make her say oui in this exquisite French sanctuary in Bonifacio Global City. Styled like a very elegant garden is this picture-perfect restaurant that puts as much emphasis into their venue as they do their food. High ceilings, faux foliage (that is, of course, well-manicured), plush white chairs, the foyer, the private rooms, the wine cellar, quirky lighting on the walls-there are too many things to look at. All the elements contribute to this overall effect of industrial-meets-rustic elegance-high-end yet cozy. Sunlight through the windows makes this space look extra sublime during the day, but it morphs into this intimately sweet setting at night.
Get her to say yes with: The Set Menus (P2,200 to P3,200)! Try the ones with Braised Beef Cheeks, Seared Scallops, and Tuna Steak.
ADVERTISEMENT - CONTINUE READING BELOW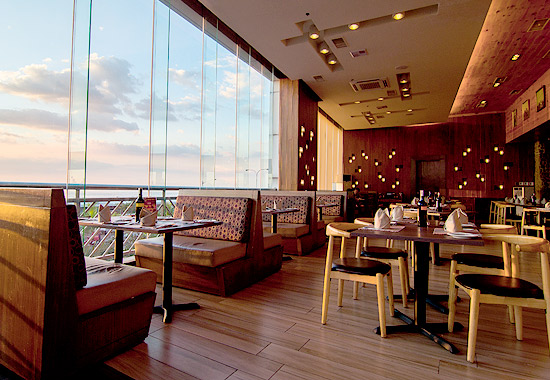 Highlands Prime Steakhouse
2/F Entertainment Mall, North Wing, SM Mall of Asia, Pasay City
Contact: 556-0768
We might as well tell you that Table No. 10 is the most coveted wedding spot. It's the rightmost table facing the window, a private little corner with the most unobstructed view of a scenery that stretches to the bay. Highlands is warm and cozy, a cabin in an urban setting. Lunch hour can get busy in this humongous space, which might stipple the ambiance you're going for. During sunset, Highlands is a vision: warm lights from the sun that makes the shiny blonde wood glow, the 677-square-meter space suddenly shrinking to this much more personal and quiet space. Consider the sun going down as the end to one chapter of your relationship. It's time to move to the next.
Get her to say yes with: Steak Platter (P1,380), Prime Chops (P580), Petit Filet Mignon (P1,480), Espresso Apricot Chicken (P500)
ADVERTISEMENT - CONTINUE READING BELOW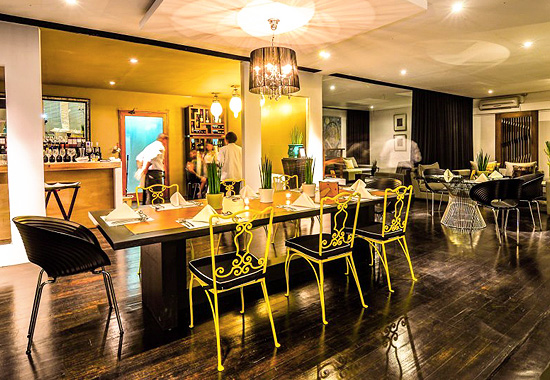 Prime 101
2226 Chino Roces Street, Barangay Bangkal, Makati City
Contact: 720-8674
If you're feeling a wee bit nervous about the decisions you're about to make, this steak hideout (a steak-out? Har har) will instantly make you feel at home. Chef Marco Legasto's restaurant is kind of like the swanky house you always wanted. Beautiful, but with enough character and quirk to make it feel relaxed. Dark floors contrast against the vivid colors and bright lights. There are only seven tables and most of the chairs are mismatched (they're design samples). On one side, an incredibly comfy couch-in case you need some more relaxing. All of the pieces are for sale. You might want to buy something as an advanced wedding gift to yourself.
Get her to say yes with: Chef Marco is known for his freestyle cooking, so it's best to trust him to surprise your palate. He's great with steaks though. Be ready with your wallet.
ADVERTISEMENT - CONTINUE READING BELOW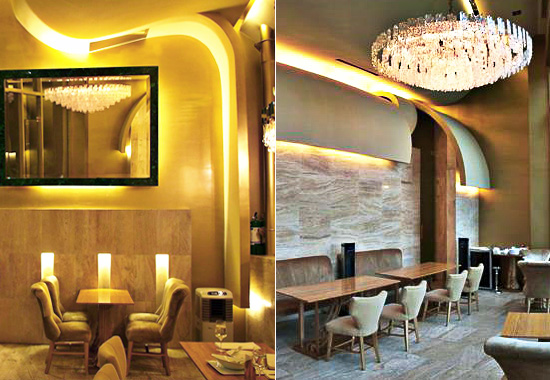 Lusso by Margarita Fores
Greenbelt 5, Makati City
Contact: 756-LUXE (5893)
This Greenbelt restaurant is like being in a very luxurious dream. Unlike other romantic eateries that go for that dim, candle-lit setup, Lusso is a spectacle of lights: gorgeous chandeliers and innovative lanterns creating a warm, romantic glow. The effect is supposed to allude to the dazzling hue of champagne, and it definitely succeeds in putting us in a heady mood. The clean and edgy lines feature a more contemporary style, but Lusso is definitely the best of both worlds, putting in some Old World luxury via antique furniture and the marvelous crystal chandelier from the old Manila Peninsula. The food is familiar albeit luxurious versions of dishes you know and love. Spiked with things like truffle and foie gras, this is definitely a place for milestones.
Get her to say yes with: Foie Gras Burger (P595), En Cocotte (P375), Asiago Fries (P275)
ADVERTISEMENT - CONTINUE READING BELOW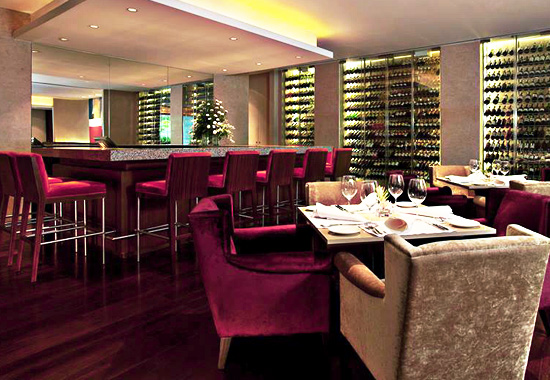 M Dining
SB Cards Building, Mezzanine Level, 114 Valero Street, Makati City
Contact: 810-3565
Chef Tippi Tambunting's dishes are absolutely divine (ask the Pope), and her dishes alone will make any girl do anything. The former Masseto is equal parts cozy and luxurious, and very private. In fact, even when this wood-floored, warmly lit restaurant is full, there's still something very discreet about it-as if each table is compartmentalized in its own bubble impenetrable only to the helpful wait staff. They have shelves upon shelves of wine to cap off-or rather set your celebration to its course. For some post-dinner celebratory drinks, drop by Bar M, their neighboring speakeasy that's just as low-key.
Get her to say yes with: Pigeon Breast (P2,500), Sea Bass (P810), Crispy Duck Leg (P990)
Hold up! If your go-to romantic restaurant isn't on this list, check out our other features:
SPOT.ph's Guide to Proposing in Manila
Top 10 Romantic Restaurants in Manila (2010 Edition)
Top 10 Romantic Restaurants in Manila (2013 Edition)
Top 10 Destination Restaurants in Manila
10 Manila Restaurants with Breathtaking Views
ADVERTISEMENT - CONTINUE READING BELOW
Photos from official Facebook pages (Cowrie Grill, I'm Angus, Prime 101, Lusso, M Dining, Greg and Sally); courtesy of The Henry Hotel; and by Miguel Nacianceno (Blackbird), Jaime Martinez (Greg and Sally), Hans Fausto (Highlands), and Idge Mendiola (Le Jardin)
Your guide to thriving in
this
strange new world.
Share this story with your friends!
---
Help us make Spot.ph better!
Take the short survey
Load More Stories