Now Open: Torch Restaurant at Greenbelt 5, Makati City
Familiar meets the out-of-the-ordinary
Torch Restaurant
G/F Greenbelt 5, Makati City
Contact: 751-6213
Open 10 a.m. to 12 a.m. (Sunday to Tuesday) and 10 a.m. to 3 a.m. (Wednesday to Saturday)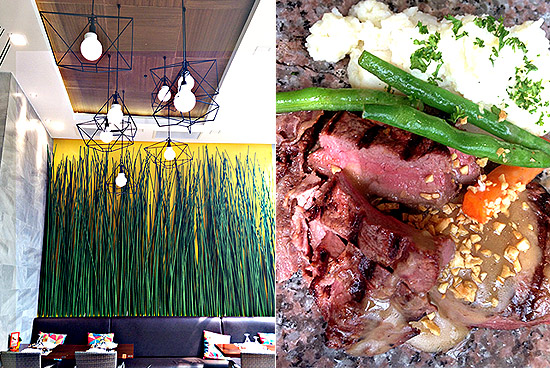 (SPOT.ph) It's safe to say that the past few years have been good to Torch Restaurant. The first one opened in 2010, with new branches opening all over the metro.
ADVERTISEMENT - CONTINUE READING BELOW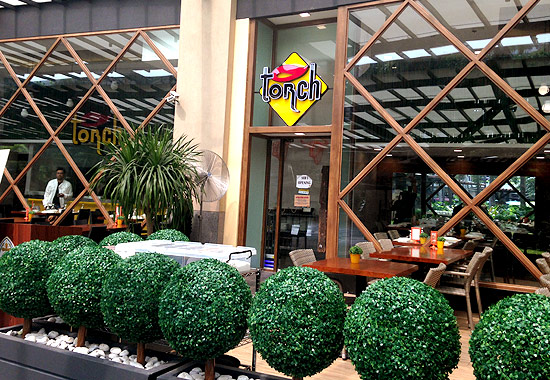 There's plenty of room to accommodate large crowds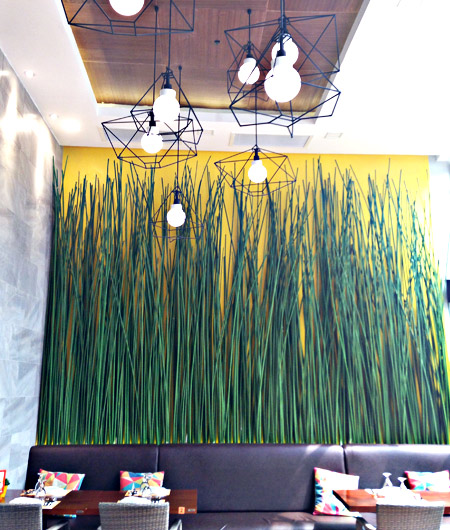 ADVERTISEMENT - CONTINUE READING BELOW
Eye-catching interiors
Their latest foray in Greenbelt 5 is visibly more upscale than its predecessors. Tall glass windows give passersby an open, unobstructed view of its modern interiors-light brown seating paired with pops of color, from a towering wall of Thai grass and eye-catching decor on the walls. Still, it manages to be an unintimidating set-up that beckons to curious diners, and the crowd ranges from yuppies to hungry families and even a few businessmen.
A quick perusal of the menu, however, will tell you that Torch has kept its signature roster of comfort food with a twist. Owner Mike Chua takes inspiration from his travels, and the results are evident in his restaurant's extensive lineup of international cuisine such as Japanese, American, and Italian. If you're overwhelmed by the sheer number of choices, they recommend taking your pick from the three most popular kinds of fare: pizza, sushi, and steak.
ADVERTISEMENT - CONTINUE READING BELOW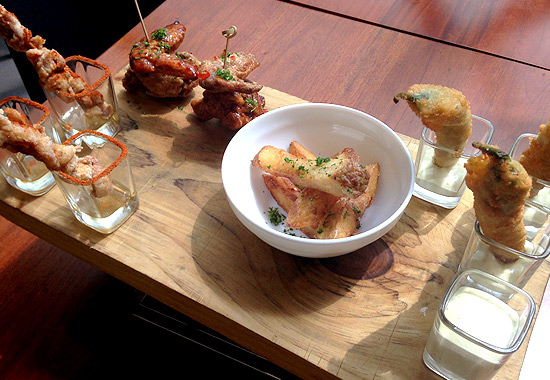 Appetizer Sampler
Kick off your meal with the Appetizer Sampler (P495), which will give you a hefty platter of savory buffalo wings, earthy truffle fries, crispy chicken skin dusted with chili powder for a slight kick, and green chili peppers hugged by a crisp coating and tempered with a mild cheese dip.
ADVERTISEMENT - CONTINUE READING BELOW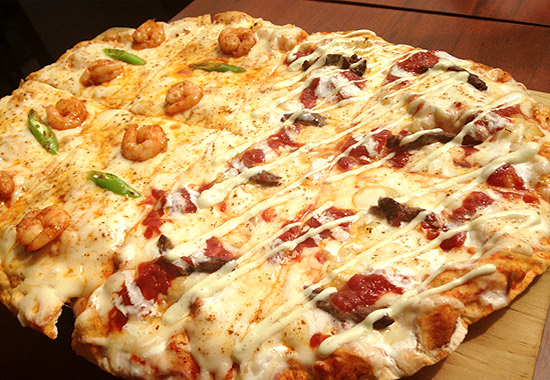 On the left, Gambas Pizza. On the right, Philly Cheesesteak Pizza
If you must have their thin-crust pizza, the deliciously light Gambas Pizza (P329.95) is a crowd favorite, with shrimps sauteed in chipotle garlic oil on a generous bed of mozzarella cheese. On the heavier side is the Philly Cheesesteak Pizza (P369.95), chock-full of tender steak and mozzarella cheese, then drizzled with more creamy cheese.
ADVERTISEMENT - CONTINUE READING BELOW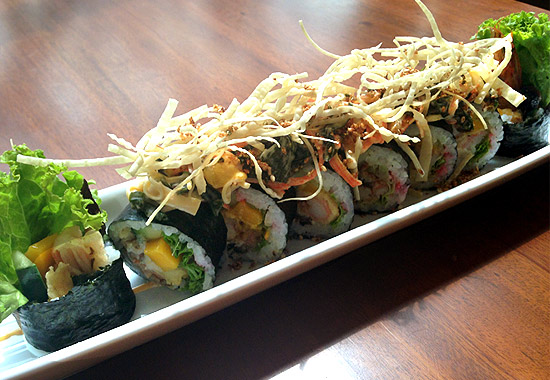 Signature Roll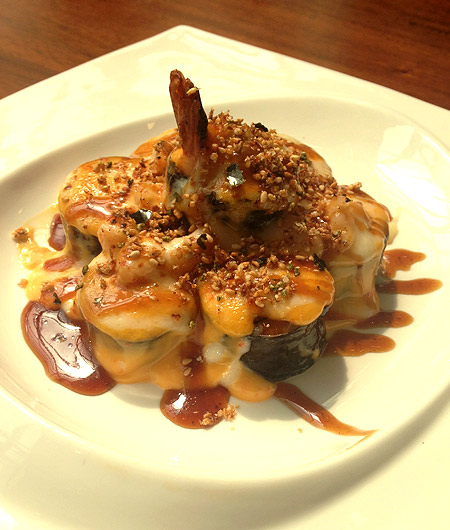 ADVERTISEMENT - CONTINUE READING BELOW
Volcano Roll
Torch's sushi is anything but the simple, uncomplicated fare we've come to know. Instead, expect something out-of-the-ordinary, starting with their Signature Roll (P399.95), stuffed with soft-shell crab, ebi tempura, tamago, and Japanese cucumber then topped with kani, wakame seaweed, and ripe mangoes. For the daring (or simply curious), the baked Volcano Roll (P369.95) is a literal explosion of flavors, with tempura, tamago, and Japanese cucumber, then doused with a thick layer of melted spice-baked mozzarella cheese.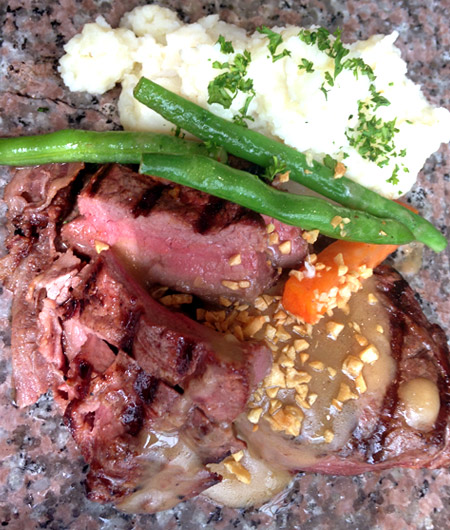 ADVERTISEMENT - CONTINUE READING BELOW
Salpicao Medallion
On the steak side, you can't go wrong with the Salpicao Medallion (P579.95). Glistening slabs of US-certified Angus are wrapped in bacon and served with your choice of side dish and sauteed mixed vegetables.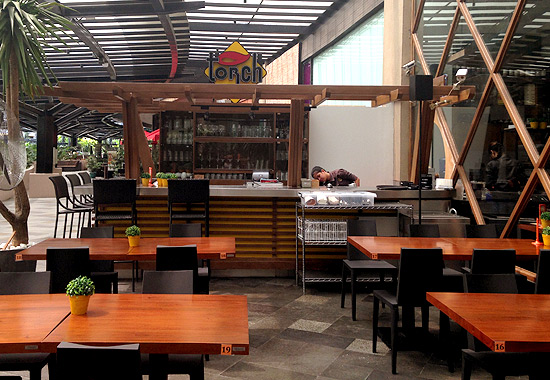 The foyer-slash-bar
Should you stay past 10 p.m., the lights are dimmed and the open foyer transforms into a casual bar, perfect for a relaxed evening with your best pals. Pair your drinks and conversation with a satisfying meal that hits the right notes of comfort. You'll be glad you did.
ADVERTISEMENT - CONTINUE READING BELOW
Torch Restaurant also has branches at 63 Connecticut Street, Greenhills, San Juan City (477-3771); G/F UP Town Center, Katipunan Avenue, Quezon City (287-8675); and 2/F Garden Restaurants, TriNoma, Quezon City (730-4102).
Load More Stories