CHECK IT OUT: Tomahawk Chops and Grill at Kapitolyo, Pasig
Pork chops are taking center stage.
Tomahawk Chops and Grill
56-A East Capitol Drive, Barangay Kapitolyo, Pasig City 
Contact: 0915-513-5908
Open daily from 11 a.m. to 2 p.m. and 6 p.m. to 11 p.m.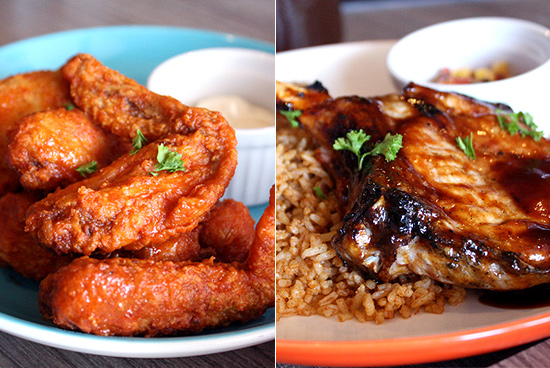 (SPOT.ph) Friday night. That seems like the most ideal time to spend in this mom-and-pop shop in Kapitolyo. The kind of-rustic, kind of-industrial eatery is all about a table of food, surrounded by friends, tossing around stories that happened throughout the week. Casual and unpretentious, Tomahawk is that kind of restaurant.
ADVERTISEMENT - CONTINUE READING BELOW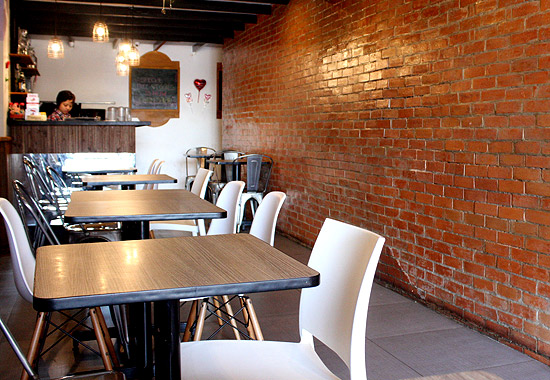 It looks strangely small...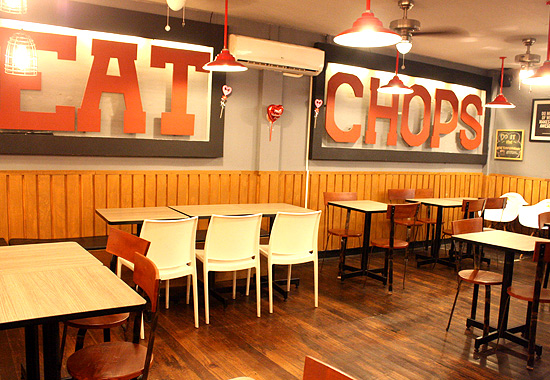 ADVERTISEMENT - CONTINUE READING BELOW
...But there's actually a bigger second floor.
The plan was supposed to be Mexican: churrasco, tacos, burritos-a build-your-own-plate type that corresponded with the DIY fad a couple of years ago. Paranaque was the initial target, but the former house on East Capitol Drive was the perfect location. The charming residential-yet-commercial neighborhood came with a built-in customer base. The problem was that there is already a Mexican restaurant nearby-and a very popular one at that.
"We really had to change our concept," recalls co-owner Ludovic Ong. The drawing board led them to a down-home favorite: pork chops. "You see pork chops everywhere, but we're probably the only restaurant that really makes it the star," he adds.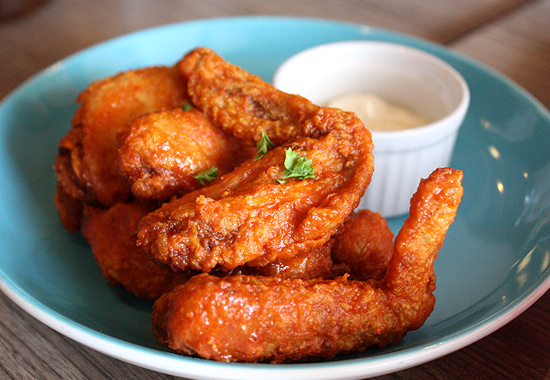 ADVERTISEMENT - CONTINUE READING BELOW
Buffalo Wings
The menu is a collection of everything everyone loves: chicken (grilled or fried), pork chop (grilled or fried), sausages, steaks, pasta (carbonara or Bolognese). The Buffalo Wings (P180) are crispy things: a wild orange shade that looks spicier than it is. The slightly tangy, crispy fried wings give off a cayenne-based heat that's more of a tickle than a punch-quiet enough to satisfy. You could definitely finish a bowl without much effort.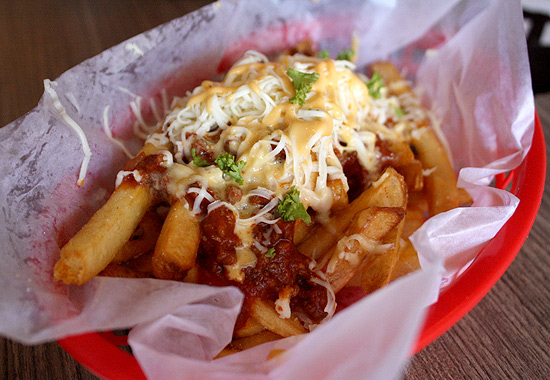 ADVERTISEMENT - CONTINUE READING BELOW
Chili Cheese Fries
Sauced-up fries can easily go awry, but the Chili Cheese Fries (P155) are actually better a little soggy. The beefy chili is on the sweet side and with that sprinkle of cheese, it evokes the flavors of Pinoy-style spaghetti, but with potatoes instead of pasta.
But it's the pork chops that matter here. A mainstay in menus from Italian to American to Filipino, their candidate is pork loin cut in the larger-than-usual, bone-in Tomahawk style (inspired by the Indian axe). Pork loin is as volatile as Manila weather in January. In fact, even Tomahawk had some difficulties in the beginning, with inconsistent sizes and tenderness. "We really had to look for a supplier who could deliver with the quality we want," says Ludovic. Tame in flavor, it can overcook as easily as it can undercook. And, it dries out pretty quickly.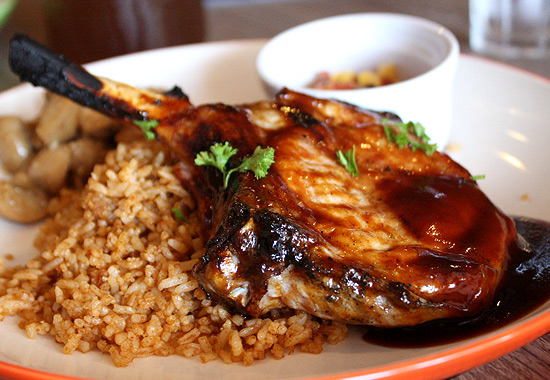 ADVERTISEMENT - CONTINUE READING BELOW
Grilled Tomahawk Chop
But it took a few more minutes of waiting and several more bites of the wings when the smoky scent from the barbecue glaze of the Grilled Tomahawk Chop (P295) finally got the better of our taste buds. The inch-thick white meat gives way to the knife easily: a well-done that's resiliently succulent and moist. The best part is around the perimeter where little threads of fat take up residence, sponging up much of the flavors from the sauce and the grill.
It comes with "Clean" rice, but this is one of those cases when Dirty (P50) is better. The lightly spicy rice has salty bits of pork that marries beautifully with the chop. It comes with another side-which should be reserved for the Garlic Mushrooms (P50).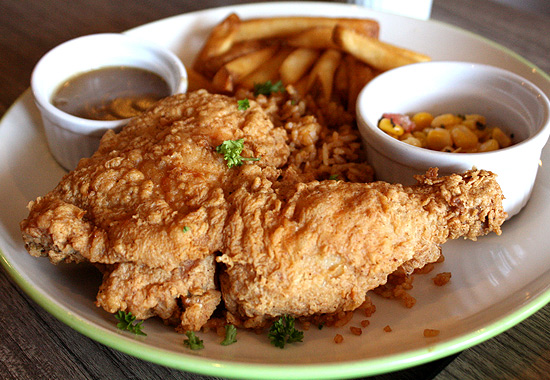 ADVERTISEMENT - CONTINUE READING BELOW
Country Fried Chicken
With their showpiece down, Tomahawk (the restaurant) doesn't neglect the rest of the menu. The Country Fried Chicken (P215), which already gets bonus points for not being too greasy, is flaky and in mesmerizing gold. The batter is light, but not lacking in that appetizing crunch. Slicing through the quarter cut of thigh and leg, and it's an outpouring of salty juices.
Dessert is only as far as bottle of cold beer or a carafe of iced tea. But it's the best ending to a meal at Tomahawk. Forget Friday. This should be an after-work tradition.
Recommended Videos
Load More Stories