Top 10 Roast Chicken in Manila
Tender, smoky, juicy-we found the perfect roast chicken.
(SPOT.ph) Perhaps the most accessible comfort food there is comes in the form of roast chicken-any village wouldn't be complete without at least three (we dare say this confidently, because there are usually more than this count) establishments basting everyone's favorite fowl over traditional hot coal or in a modern rotisserie.
Whichever the method, we are always looking forward to this healthy treat as a go-to choice in restaurant menus, an emergency potluck contribution or simply as a no-frills take out dinner after a long day. How do we know the best there is out there, though? For us, it's the harmonious mix of flavors which is best complemented with just the right amount of smokiness and spice, without sacrificing the juicy meat we all love having.
We went around the metro to sample the many different ways to enjoy roast chicken and give you our Top 10 best picks that's sure to satisfy your tummies whatever the occasion may be.
All SPOT.ph Top 10 lists are researched, paid for, tested, and selected by the writers and editors. They are discreetly conducted without any notice made to the restaurants or their owners.
Also read: Top 10 Roast Beef Dishes in Manila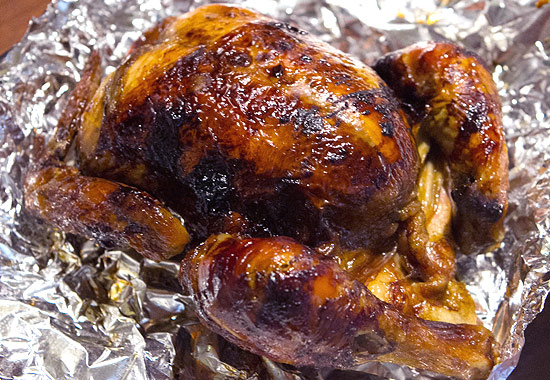 ADVERTISEMENT - CONTINUE READING BELOW
10. Ang Lechon Manok ni Sr. Pedro (P199)
A must-try for balikbayans, Sr. Pedro's chicken is distinctively Pinoy with its lemongrass flavor smoked to perfection. Being the No. 1 most sought after lechon manok in the VisMin area, it comes as no surprise that Manilenos would embrace this ubiquitous chicken chain as well. Make sure you serve this with hot sinaing and their pre-packed toyomansi with lots of chili for a sure hit!
Sr. Pedro has branches all over Metro Manila.
CONTINUE READING BELOW
Recommended Videos
9. Don Andres' Pollo a la Brasa (P150 to P590/without sides, P165 to P650/with sides)
Peruvian Rotisserie Chicken. It's the signature dish, and one that has many palates up at night thinking about its beautiful, glossy presentation. An insane amount of "secret" spices has managed to seep through the soft, supple, tasty skin, settling as a ruddy tint on the formerly white flesh. It's juicy, too! Don Andres serves it with a trio of sauces-a bright aji verde, a zingy chili mayo, and a classic chimichurri. Try to mix them together to create a well-rounded bold profile.
ADVERTISEMENT - CONTINUE READING BELOW
Don Andres is at Courtyard Building, 26 Sergeant Esguerra Street, Quezon City. Read more about it here.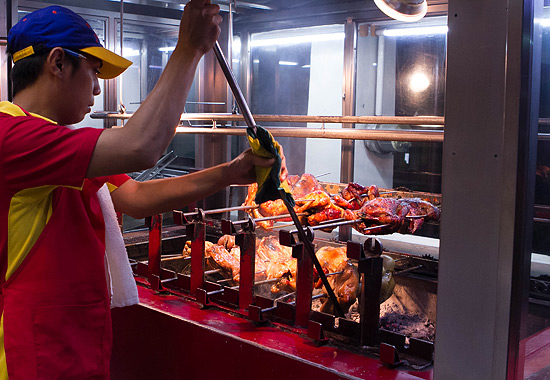 8. Andok's Litson Manok and Liempo (P249)
Almost every home could probably attest to having had to run to Andok's for a quick roast chicken fix-a staple in every Filipino family's chicken vocabulary. It has stayed with us from generation to generation, giving us that same juicy, secret spice-stuffed Pinoy goodness that always brings us to memories of reunions and the comfort of home. A plus is that it comes with their famous Andok's Lechon Manok sauce (which you can buy in bottles, too!) which sets this roast feast apart from the rest.
Click here for a list of branches.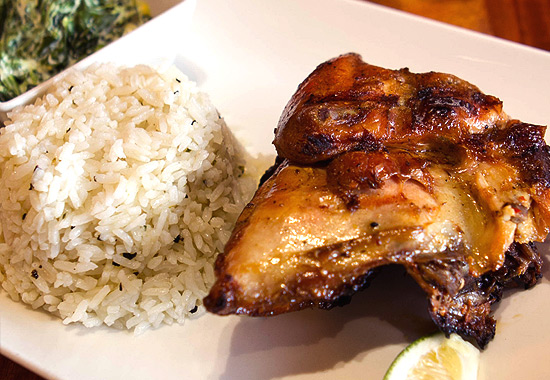 ADVERTISEMENT - CONTINUE READING BELOW
7. Gostoso Piri Piri Chicken (P190)
The first bite will send you off the roof-Gostoso's Piri Piri Chicken is spicy, but the kind that will keep you wanting more. Herb-infused, juicy and perfectly seasoned to fit most palates, this cult favorite is not overbearing but has an addictive tang that will make you go for seconds, well, maybe even thirds. Pair this with their olive rice (a mix of EVOO, black olives and parsley), creamed spinach, and special iced tea blend for the perfect bang-for-your-buck combo (P260)!
Gostoso Piri Piri Chicken has branches at East Capitol Drive, Kapitolyo, Pasig City; and UP Town Center, Katipunan Avenue, Quezon City.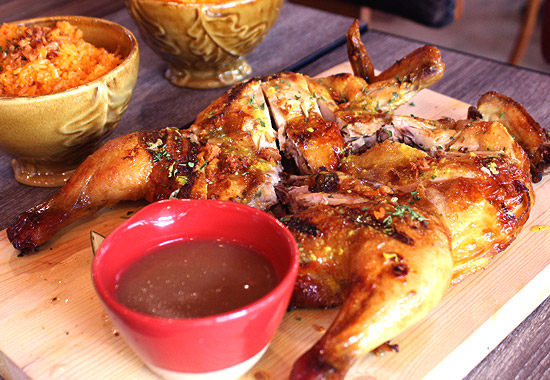 6. Peri-Peri Charcoal Chicken (P140/quadro, P280/metado, P525/todo)
Peri-Peri's roving cart of sauces could easily be an excuse for bland seasoning, but this isn't the case for this Portuguese restaurant. The chicken, bathed overnight in lemon, garlic, and herbs, is roasted to this bright gold, juicy beauty. A light kiss of the grill gives it a nice char in all the right places. It's flavorful and moist on its own, but Peri-Peri sprinkles a few more herbs over there to be sure. No offense to this roving sauce cart, but putting a sauce on this is actually offensive.
ADVERTISEMENT - CONTINUE READING BELOW
The Peri-Peri Charcoal Chicken branch at Promenade, Greenhills, San Juan City is recommended. Read more about it here.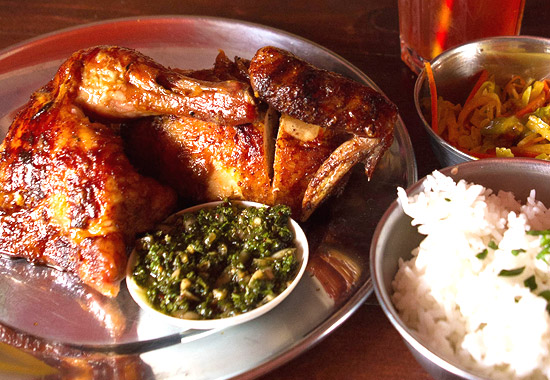 5. Señor Pollo (P239)
Honest-to-goodness chicken with just the right amount of spice, juiciness, and flame-kissed skin, that's what Señor Pollo is all about. The flavors of their chicken are a pleasant mix of a typical South American palate especially when coupled with their chimichurri (ask for seconds for only P35!) and special hot sauce. This is a great way to enjoy a good beer and some laughs with your friends, perfect to cap any busy work week off.
Señor Pollo has branches at 5767 Ebro Street, Poblacion, Makati City; and F7 Building, Scout Rallos corner Tomas Morato Avenue, Quezon City. Read more about it here.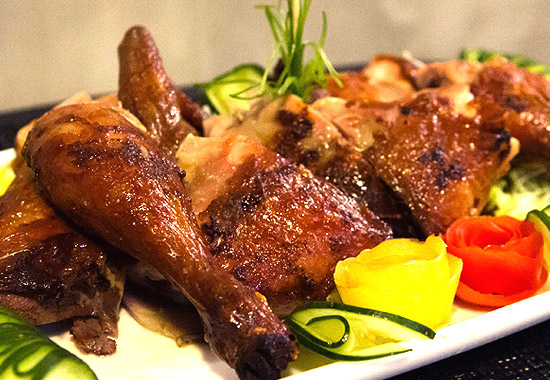 ADVERTISEMENT - CONTINUE READING BELOW
4. Ramboy's Lechonan and Restaurant (P195)
Anyone who's been stranded in Kalibo en route to Boracay would have known this precious gem. Heck, we don't even need the island-we would go to the Aklanon province just to have our fill at Ramboy's. Even though their main attraction is their liempo, their lechon manok deserves a five-star recognition for its existence-that's why we're more than thrilled that it has found its way to Manila this year. The perfect "on its own" roast chicken needs nothing else but a steaming plate of rice to bring out the smoky, juicy, full-of-life flavor that Ramboy's chicken is best known for!
Ramboy's has branches at 34 Liberty Avenue, Cubao, Quezon City; and President's Avenue, BF Homes, Parañaque City.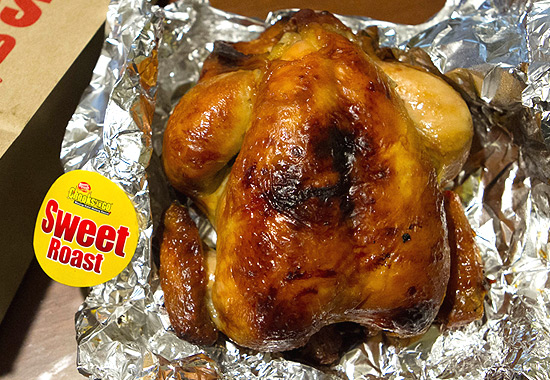 3. Chooks-to-Go (P209)
Roast chicken for take-away (or delivery, for that matter!) has never been this good. True to their "Masarap kahit walang sauce!" tagline, Chooks-to-Go is the obvious winner above all stall-type neighborhood rotisseries. Whether you opt to go for their Sweet Roast, which is an automatic Filipino favorite, or their Pepper Roast, a tangier variant, what will win your hearts is the perfectly prepped meat which does not sacrifice the chicken's juiciness. We should also add that this particular roast gem still retains its quality after a few days in your fridge, but we highly doubt it'll see the light of day upon serving.
ADVERTISEMENT - CONTINUE READING BELOW
Click here for a list of branches.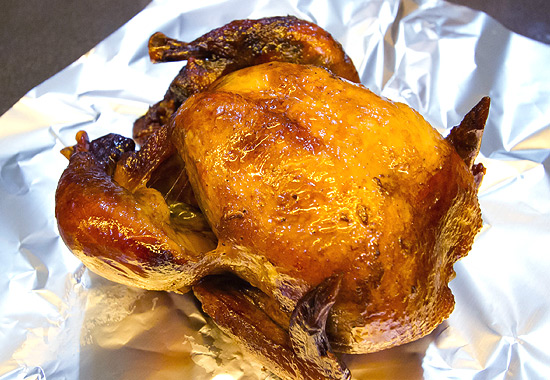 2. Captain Manok (P210)
Get it while it's hot! Captain Manok's roast chicken just begs to be devoured-the store oozes with the smoky and rich, flavorful aromas of the chicken that can be tasted bite after bite. Its savory goodness has a distinct flavor that sets it apart from the rest and is definitely a reason to take the journey to depths of Mandaluyong (look for the Shakey's near the City Hall rotunda, then go straight. It should be on the left side). A bit tangy, with hints of spiciness and sweet notes that's turned the meat a light shade of purple, the sight of juices overflowing is enough to keep you coming back for more.
Captain Manok is at 152 San Francisco Street, Barangay Plainview, Mandaluyong City. Read more about it here.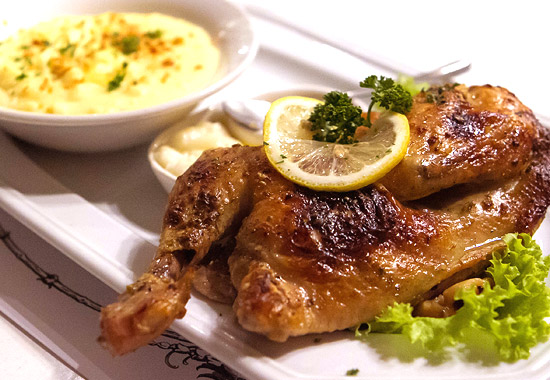 ADVERTISEMENT - CONTINUE READING BELOW
1. Relish at Ponte's Roasted Chicken (P395)
You wouldn't expect exceptional roast chicken from a place that doesn't seem to operate a rotisserie. Who knew that Relish at Ponte's sophisticated vibe would be the perfect hiding place for this taste of heaven? Every morsel is a melt-in-your mouth experience, with spices like garlic and oregano that stay with you down to the very last fall-off-the-bone piece. Paired with aioli, herbed rice and a side of chicken drippings? Even better! When we say there aren't any words to describe this wonder, just believe, get up and get going. You can thank us later.
Relish at Ponte is at 120 Valero Street, Ponte Salcedo Building, Makati City.
Also read: Top 10 Roast Beef Dishes in Manila
Share this story with your friends!
---
Help us make Spot.ph better!
Take the short survey
Load More Stories