10 Manila Restaurants with Unique Private Rooms Perfect for Partying
With or without a theme, you'll find fun-and privacy-in these "secret" spaces.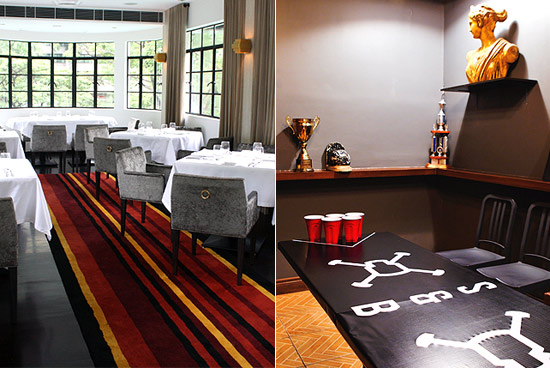 (SPOT.ph) Dining in the metro has transformed from simple gatherings to overall gastronomic experiences that satisfy customers in all aspects-food, ambience, and service. Customers are always on the lookout for unique, value-for-money restaurants that can give them an unforgettable dining experience.
For your next party or dinner with friends, consider these places for a more intimate celebration. From an eerie-yet-interesting prison-style room to a gentleman's secret nook, you only need this guide for your private party.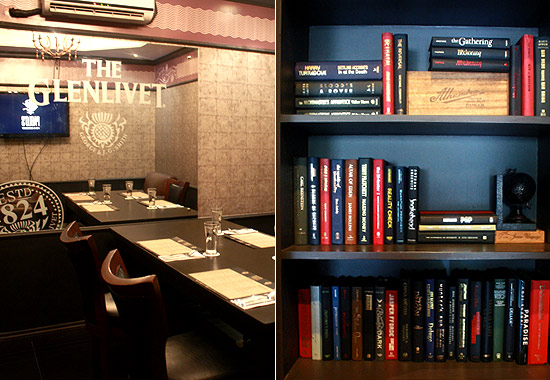 ADVERTISEMENT - CONTINUE READING BELOW
The Glenlivet Boardroom at Pablo's Pub and Restaurant
Pablo's may look like your typical old-fashioned gentleman's club, but there are more to it behind the bookshelf. Literally. The shelf is fake (complete with fake books) and opens up to a tiny secret room for more private affairs-we mean parties, of course. You and your buds can pretend to hold a closed-door VIP meeting and bond over some booze and cards, or just having fun singing karaoke with the big flat-screen TV. Booking the Glenlivet Boardroom on weekend nights will cost you P15,000+, consumable. Or, purchase three bottles of Glenlivet instead.
Must-tries: While planning a secret ambush on your rival mob, try feasting on The Escobar (P998), a 400-gram US Angus ribeye steak with veggies and mashed potatoes. Go equally crazy over their Half Pounder (P285) and Dusted Chicharon Bulaklak with Spicy Vinegar (P250).
Pablo's Pub and Restaurant is at 2/F Forum Building, 7th Avenue and Federacion Drive, Bonifacio Global City (0916-618-7045).
ADVERTISEMENT - CONTINUE READING BELOW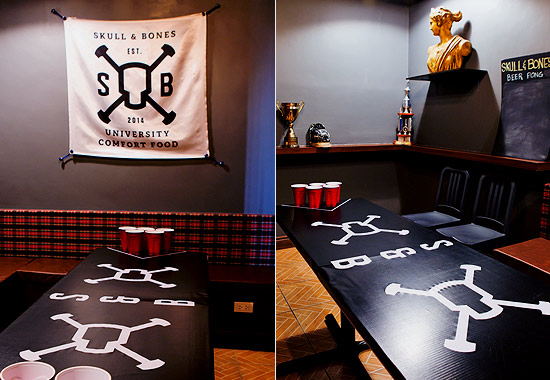 The Game Room in Skull & Bones
Dreaming of that North American frat-house experience? This student hub in UP Town Center is quickly gaining popularity among students and yuppies for their Flashback Fridays and Turnaround Thursdays with live music. Aside from their awesome theme nights, they also have a private game room, where you can play beer pong, flip cup, quarters, and power hour. The room, which you can reserve for P10,000, can accommodate up to 15 people. If that's too steep, you can rent the room on a per-game basis. It costs P260 per beer pong game.
ADVERTISEMENT - CONTINUE READING BELOW
Must-tries: While trying to perfect your aim at those cups, chow on comfort food like the Skull Crusher Burger (P550) or Gingered Pork Ramen (P260). For dessert, they have Homemade Twinkies (P100) and Homemade Rice Krispies (P120)!
Skull & Bones is at UP Town Center, Katipunan Avenue, Quezon City (0916-220-1668).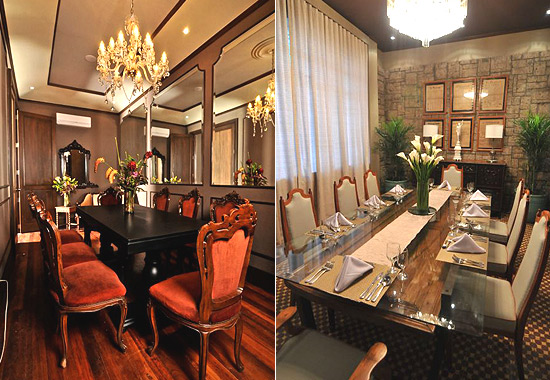 ADVERTISEMENT - CONTINUE READING BELOW
The Newspaper Function Rooms at Casa Roces
Casa Roces near Malacañang is your best bet for a throwback party done in style. Dining inside the heritage house-turned restaurant gives you Old Manila's regal vibe. The function rooms on the second floor are all named after newspapers: The Manila Times, La Vanguardia, Liwayway, The Tribune, and Daily Mirror. The late Filomena Roces de Legarda, who used to live in the house, also partly owned the pre-war T-V-T Publications and post-war and pre-martial law Manila Times Publishing Company. The rooms run for P5,000 (20 pax, with its own restroom), P4,500 (20 pax), P3,500 (eight to 10 pax), P3,500 for the azotea (15 pax), and P3,000 (two to six pax).
They also hold Flamenco Nights every Thursday and offer Unlimited Mojitos for P300 every Wednesday.
Must-tries: They serve a mixture of Filipino and continental cuisine such as Lengua in Mushroom-Cognac Sauce (P330), Ox Tail Kare-Kare (P240), Pinakbet with Vigan Bagnet (P195), Bouillabaise de la Casa Roces (P210), and Baked Vegatables Provencale (P340).
ADVERTISEMENT - CONTINUE READING BELOW
Casa Roces is at 1153 J.P. Laurel corner Aguado Street, San Miguel, Manila (488-1929, 0917-550-9743).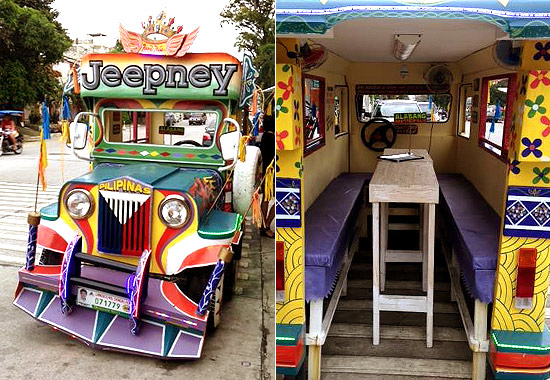 The Jeepney in Gerry's Jeepney
Riding in public utility vehicles may be a bit of a hassle, but Gerry's makes eating in one a super fun experience. Board games are provided for family and friends waiting for their boodle meal, and there's also an option to dine in a special, private jeepney that can seat up to eight people (or more if you don't mind the squeeze). There's no additional charge to dine inside the jeepney. Just call ahead to make a reservation.
ADVERTISEMENT - CONTINUE READING BELOW
Must-tries: Groups of six to eight can feast on their Alabang Boodle (P1,600) of liempo, chicken barbecue, inihaw na pusit, inihaw na bangus, tilapia or hito, ensaladang talong, pinakbet or garlic kangkong, and soup. This includes one pitcher of iced tea or 1.5 liters of your chosen softdrink.
Gerry's Jeepney is at Unit D 154 Maginhawa Street, Quezon City (435-6824).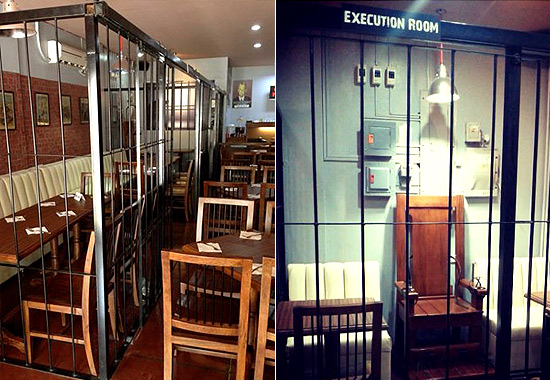 ADVERTISEMENT - CONTINUE READING BELOW
Detention Cells at Café Piansa
Though not exactly "private," the jail cells at Café Piansa still provide a unique dining experience. Staying true to the court and jail theme, this Italian restaurant has prison bars enclosing several tables. Diners also have the option to eat in the execution chamber, complete with an electric chair! No extra charge to get locked in but these tables are reserved on a first-come, first-served basis.
Must-tries: Familiar items like Salisbury Mushroom Steak (P280), US Delmonico (P380), Porterhouse (P420), Tenderloin (P380), Norwegian Salmon (P340), mix with eerily named pizzas like Strappado (P200), German Chair (P260), and White Torture (P240). You can also try pasta dishes like the Gas Chamber (P280) or Lethal Injection (P200). The menu also features famous "last meals" such as John Wayne Gacy's New York-cut steak, pan-fried dory, crispy fried chicken, baked penne Bolognese roasted chicken veggie salad, and mashed potato or steamed rice (P550); and Jose, Pineda, and Aquino's inihaw na baka, chicken barbeque, inihaw na sugpo, ensalada Filipina, dinakdakan, and steamed rice (P550).
ADVERTISEMENT - CONTINUE READING BELOW
Café Piansa is at 57 Dragon Street, Midtown Subdivision, San Roque, Marikina City (631-4751, 0916-577-6546).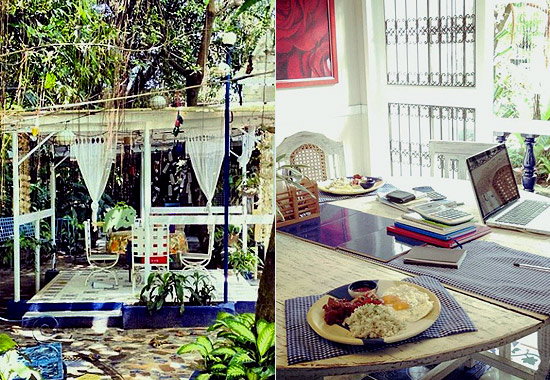 Patio and gazebos in Rustic Mornings by Isabelo
The homey ambience of this garden restaurant, accentuated with faded family photos and mobile displays, delight the eyes as much as the food satisfies the tummy. The garden restaurant is bright and open, but Rustic Mornings has a couple of patios curtained with beads and shells to simulate a little more privacy.
ADVERTISEMENT - CONTINUE READING BELOW
Rustic Mornings doesn't require reservations (though Isabelo in the evening does), but calling ahead of time is encouraged to get a seat at the patio or gazebos.
Must-tries: Rustic Mornings is all about a good breakfast, with a menu full of yummies like Crispy Waffles (P150), Grilled Nutella and Banana Sandwich (P185), and Beef Tapa (P235). At night, Isabelo is a romantic Italian affair.
Rustic Mornings by Isabelo is at 11 Isabelo Mendoza Street, San Roque, Marikina City (510-6914).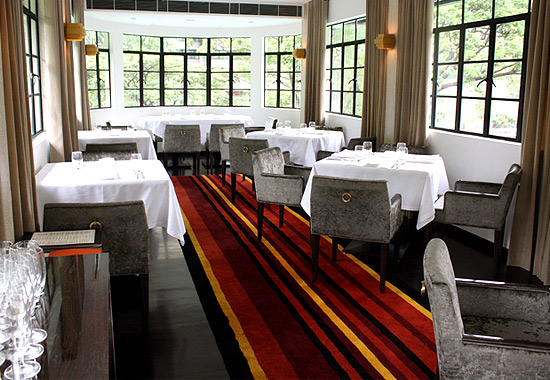 ADVERTISEMENT - CONTINUE READING BELOW
The Cockpit at Blackbird
Blackbird in Nielson Tower is one of the prime examples of adaptive reuse of heritage structures. The tower used to be the Manila International Air Terminal built in the 1930s. Now, it's an aviation-themed restaurant that serves Asian and European Contemporary cuisine by Chef Colin MacKay. Its minimalist design and magnificent spiral staircase leading to the old cockpit exudes the opulence of Old Manila.
The former cockpit turned private room can seat up to 22 people and may be reserved for private occasions. For lunch time, it costs P30,000 (plus 10% service charge). A dinner reservation will cost P65,000 (plus 10% service charge).
Must-tries: To complete your dining experience, try their Sauteed Slipper Lobster, Tomato Provencale Butter, and Fries (P1,480) or Branzino Fillet, Roast Fennel, Tomato, Potato, Lemon Rocket (P980). They also serve after dinner cocktails such as The Black Martini (espresso, chocolate, vanilla vodka, amaretto, caramel, and cream, P390) and The Paradise Mojito (white rum, passion fruit, lime, mint, and mango brulee, P390). Red wine, white wine, and champagne are also available per glass (P390 to P815) or per bottle (P2,100 to P6,800).
ADVERTISEMENT - CONTINUE READING BELOW
Blackbird is at Nielson Tower, Ayala Triangle Gardens, Salcedo Village, Makati City (828-4888).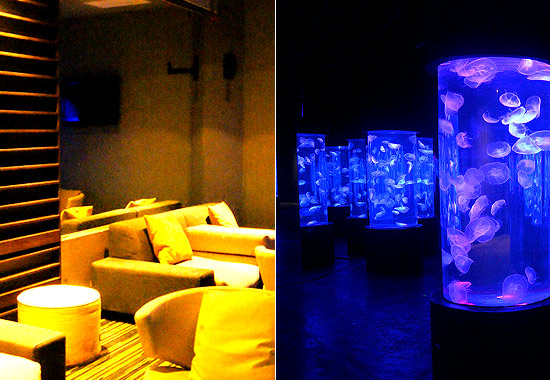 Jellies Bar in Hotel H20
Dim lights + neon-lit jellyfish tanks = cool rave party. The 230-square meter function room is perfect for after-office events or school parties, and contains 17 cylindrical tanks which showcase six species of sea jellies, including moon jellies. The room can accommodate around 200 people. It's also perfect for sit-down parties or cocktails.
ADVERTISEMENT - CONTINUE READING BELOW
Renting the room for four hours will cost you P65,000. No need to bring your own food because Hotel H20 provides cocktail sets worth P800 per head. Their sets come with tuna canapés, meat pie, cucumber canapé, palitos quezo, jamon canapés, or liver paté. You can also choose from their selection of chips, nuts, relishes, and sauces, as well as hot appetizers like chicken barbecue, steamed siomai, potato croquettes, crumb eggplant, pork barbecue spareribs, and pork kebab. Set desserts include éclair, pineapple tarts, and assorted cookies, or cake bites, mango tarts, and brownies.
Jellies Bar is at Hotel H20, Roxas Boulevard (behind The Quirino Grandstand), Luneta, Manila (238-6100 local 6117).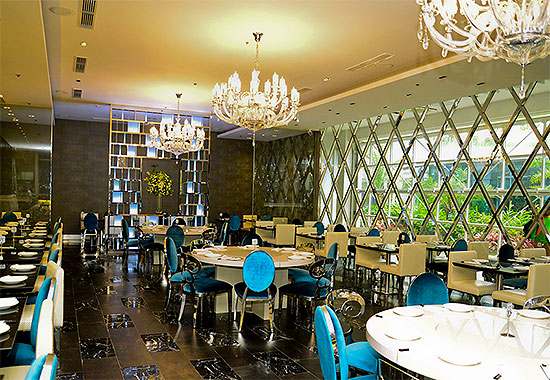 ADVERTISEMENT - CONTINUE READING BELOW
Photo is of SM Aura branch, the Lanai is across the main dining area.
The Indoor Lanai at Lugang Café, SM Aura
Lugang Café has a reputation among foodies for their modern Chinese fare and elegant but casual dining style. Their SM Aura branch also boasts an indoor lanai that can fit 40 to 45 people. It costs P40,000 consumable for three hours. Every extra hour would cost another P3,000 consumable.
Must-tries: Group packages are available but don't forget to try the different variants of their Xiao Long Bao (P248 to P288) and house specialties Taiwanese Stewed Minced Pork (P220), Pineapple and Shrimp Stuffed in Crullers (P290), Soy Sauce Braised Pork Knuckles (P430), among others.
Lugang Café is at 5/F SM Aura Premier, C5 Road corner 26th Street, Bonifacio Global City (0906-455-5873).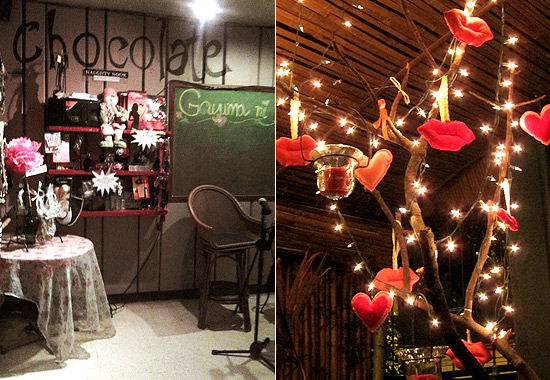 ADVERTISEMENT - CONTINUE READING BELOW
The "Voodoo Room" in Gayuma ni Maria
Okay, so Gayuma ni Maria's function room isn't exactly called a "voodoo room," but the whole vibe of the place screams American Horror Story: Coven. The restaurant is decorated with eccentric pieces and they also have a private room where you can perform otherworldly rituals, or you know, just hang out with friends.
Reserving the room for three hours costs P7,500 consumable. Extending would cost P1,500 per hour, also consumable.
Must-tries: Treat your friends to their bewitching and also creatively named dishes such as "Nilasing Ni Eba Si Adan (P245)," a pork loin dish marinated with beer and apples; "No Boyfriend Since Birth (P225)" a plate of shellfish pasta with garlic pan de sal, and "Please Be Careful With My Heart (P245)," twice-baked chicken in olive oil and garlic.
Gayuma ni Maria is at 123 V. Luna Extension, Sikatuna Village, Quezon City (221-4872).
ADVERTISEMENT - CONTINUE READING BELOW
CONTINUE READING BELOW
Recommended Videos
Share this story with your friends!
---
Help us make Spot.ph better!
Take the short survey
Load More Stories