New Restaurant Alert: The Italian Market at Newport Mall, Pasay
Creative pizza toppings on what could possibly be the best crust in the city of Manila.
The Italian Market
G/F Newport Mall, Newport Boulevard, Resorts World Manila, Pasay City
Contact: 403-8926, 0917-589-2342
Open daily from 11 a.m. to 3 p.m. and 5 p.m. to 10 p.m.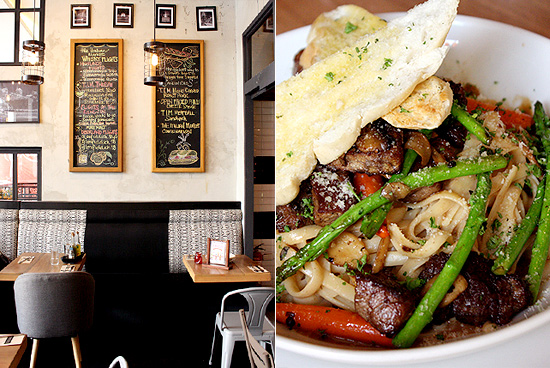 (SPOT.ph) There is one man at the far end corner of The Italian Market, hunched over and oblivious to the rest of the restaurant. He's kneading bread. Lots of it. Kneading, rolling, pulling, punching. That's what Sous Chef David Caci does, and his Italian ancestors would be proud of the way he makes his pizza.
ADVERTISEMENT - CONTINUE READING BELOW
The crust is chewy yet crisp. Toasted and smoky in all the right places, the bumpy edges flaking off and breaking apart. It sets the stage: a very fine one that, like Chef David, is content to sit in the background as they quietly but assuredly do what they're supposed to.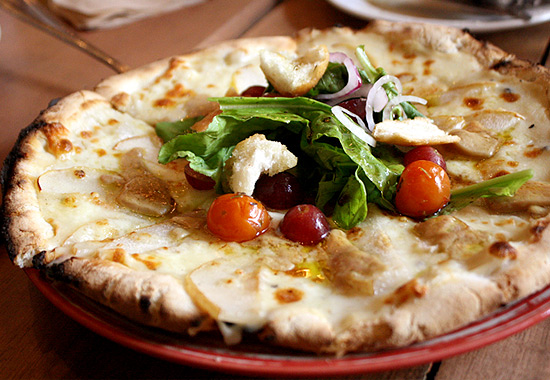 ADVERTISEMENT - CONTINUE READING BELOW
A pizza with pear and foie gras? Why not?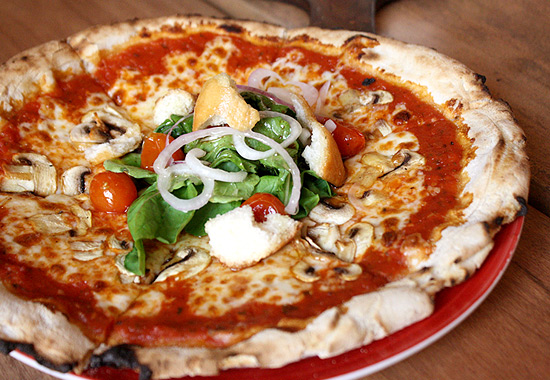 Earth Bread (P360), with wild mushrooms, goat cheese, arugula salad, and truffle oil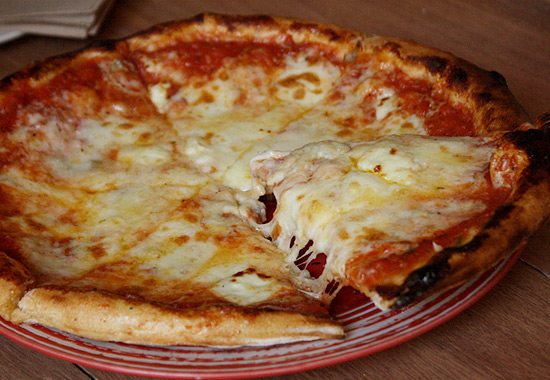 ADVERTISEMENT - CONTINUE READING BELOW
The Cheese Farm (P550)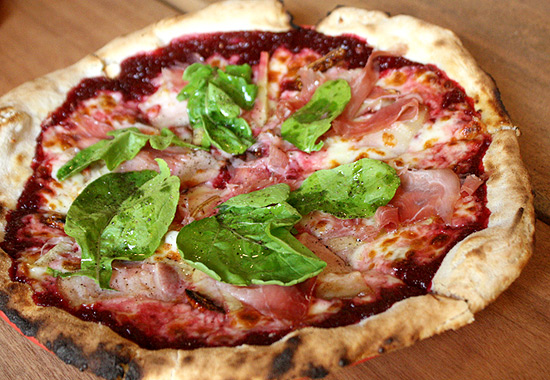 Pig and Fig (P390)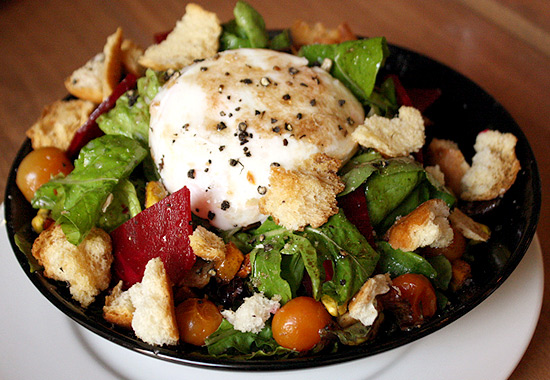 ADVERTISEMENT - CONTINUE READING BELOW
Tim Caprese Salad (P430)
The 25-year-old, ironically enough, is the one who holds a strict deference to Italian culinary tradition, with his senior, Chef Peter Ayson, slowly pulling him towards more ingenious combinations. Take for example, the pink fig, apple, beets, and bacon pizza. Bitter arugula balances the sweetness and it's a success in its peculiar symmetry. Then, the abstraction of a classic caprese salad with roasted pumpkin, pistachios, roasted tomatoes, fresh basil, beets, arugula, and the freshest, stretch-iest homemade burrata. You get every type of flavor and texture in each bite.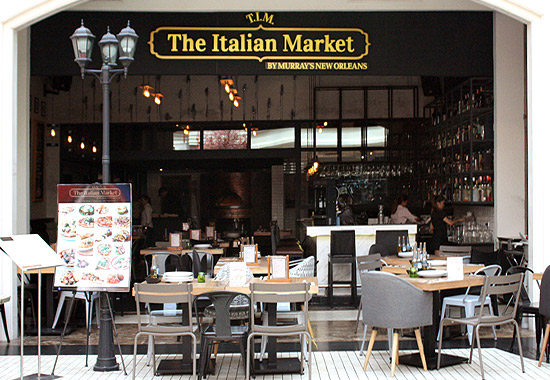 ADVERTISEMENT - CONTINUE READING BELOW
The restaurant opens up to Newport Mall's activity area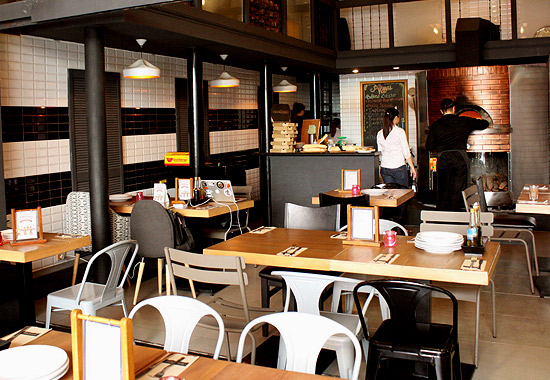 Chef David manning the oven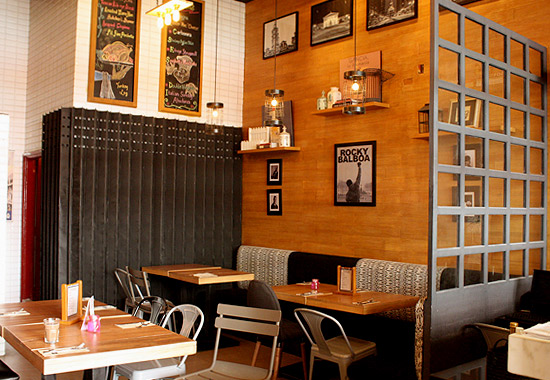 ADVERTISEMENT - CONTINUE READING BELOW
A variety of sitting options (note the mismatched chairs)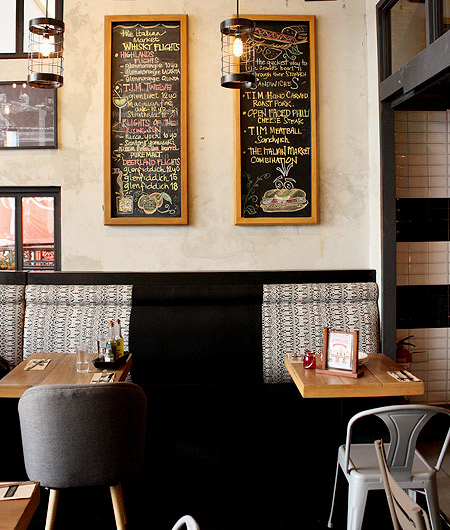 Blackboard Specials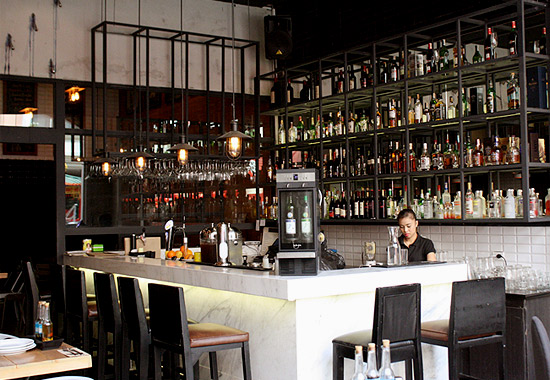 ADVERTISEMENT - CONTINUE READING BELOW
A change in scenery at night
"Making the burrata is the difficult part because we run out of milk," confesses Chef Peter. The Italian Market focuses on this Philadelphia-Italian concept, which is more rustic and casual. "Home-grown," he describes it. He points at the brassy oven wherein Chef David was working. The linchpin of the entire restaurant is the wood-fire hulk of metal bought and imported for P1.3 million. "I got this oven, so I'm going to cook everything in it."
Indeed, he has it working overtime. The temperature can reach over a thousand degrees, and it would take around three days for it to totally cool. Chef Peter would switch it off at around 10 p.m. By the morning, it would still be around 400 degrees-enough to bake their bread and cook their pizzas. Later, when the temperature rises, they start roasting the meats. It's a meticulously studied schedule.
ADVERTISEMENT - CONTINUE READING BELOW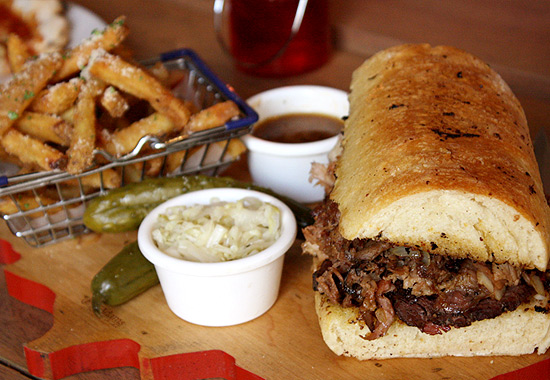 The Perfect Combination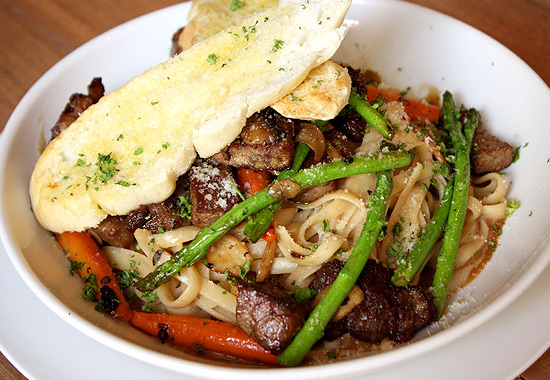 ADVERTISEMENT - CONTINUE READING BELOW
Rib-eye Stroganoff (P680)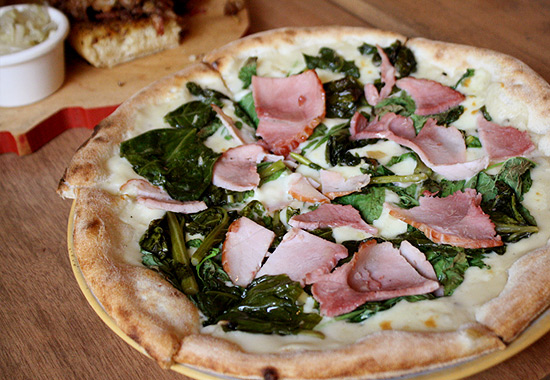 Green Pie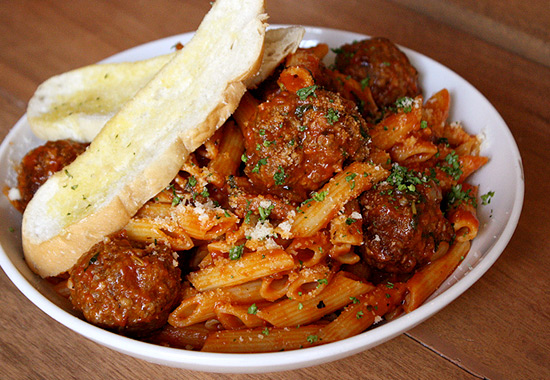 ADVERTISEMENT - CONTINUE READING BELOW
Italian Sunday Pasta Abudanza (P499)
Chef Peter is a man of meats. In his apron of many restaurants, most of them flaunt a brawnier type of cuisine, a preference that reveals itself in The Perfect Combination (P750), a baguette, lightly rubbed with grainy mustard, which could barely contain the stuffing of roast beef, corned beef, and beef pastrami. All ingredients have been prepared in house. "The only thing healthy on that plate," says Chef Peter, "are the pickles." Yet another thing prepared in the kitchen. His pasta, which is brightened by sour cream, has cubes of rib-eye and a sauce of beef jus, and even the Green Pie (P360) which seems like an innocent pizza of spinach and broccoli rabe, contains smoked ham and a cheesy sauce made with ham drippings. He just couldn't help himself.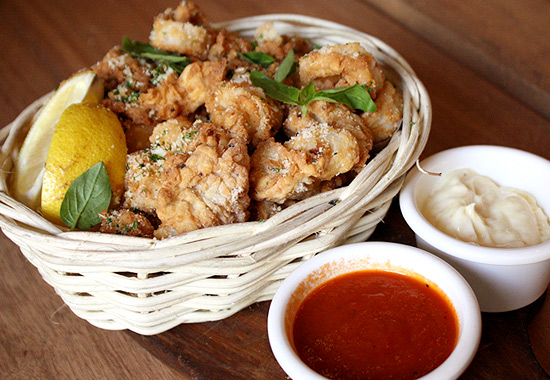 ADVERTISEMENT - CONTINUE READING BELOW
Buttermilk and Parmesan Calamari (P335)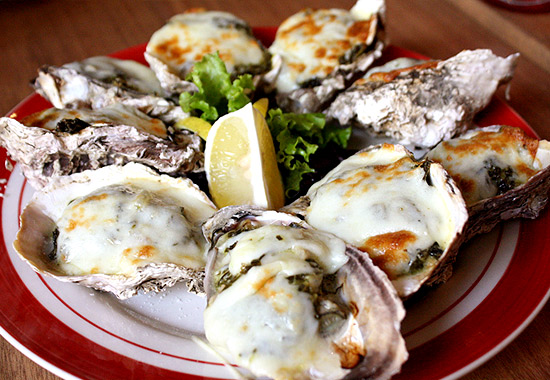 Rocky Oysters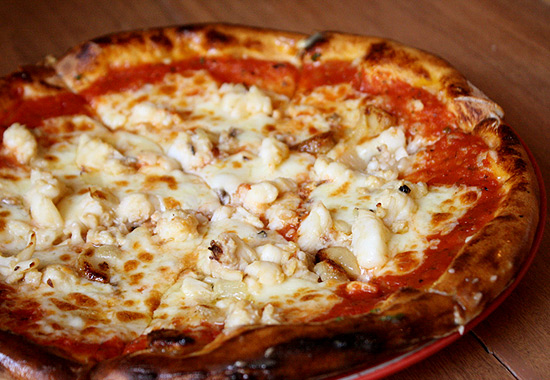 ADVERTISEMENT - CONTINUE READING BELOW
Buttered Lobster Pizza
Seafood also plays a part on the menu-the owners of New Italian Market being the same people behind New Orleans and Clawdaddy, among others. Calamari dipped in buttermilk gives the casual pulutan a refreshing twist and his Rocky Oysters (P395), their version of Rockefellers, are enormous palm-sized things. The Buttered Lobster Pizza (P580) is more than shreds of shellfish. The flavor of the seafood resonates from the generous chunks of rich lobster. As Chef Peter likes to say, "It's not worth it if you don't put a lot of it."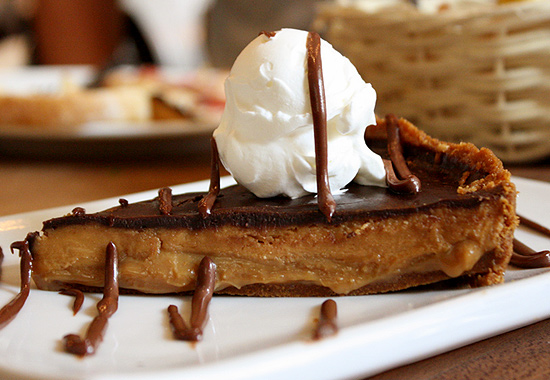 ADVERTISEMENT - CONTINUE READING BELOW
Humble Pie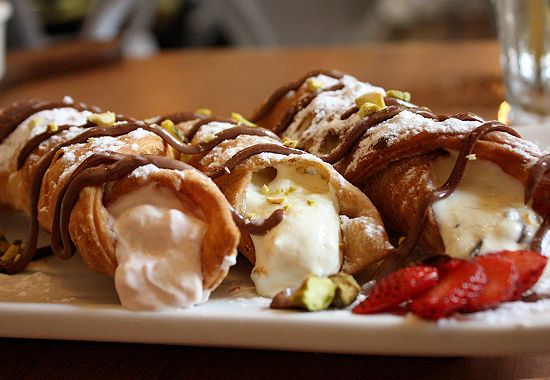 Cannoli Sampler
The chef could probably stop there and be satisfied-his customers, too. But dessert is well deserving of appetite space. He serves up Humble Pie (P295) that has nothing to be modest about: a slice of childhood fantasy in the form of a sticky pie of peanut butter and dark chocolate. Sticking to that Italian tradition is a Cannoli Sampler (P270), a trio of thick wafer logs filled with creams such as Orange Chocolate Chip, Ricotta Honey Pistachio, and Strawberry Amaretto.
ADVERTISEMENT - CONTINUE READING BELOW
No single experience at The Italian Market is the same. The oven is hard to control, and sometimes they'd use different wood chips that infuse various undertones of flavor into the dishes. The menu, which is already dependent on whatever ingredient is in season, is bound to change every three months. But that's just the way food at home is. It's never totally the same, never totally perfect. But it's always good.
CONTINUE READING BELOW
Recommended Videos
Share this story with your friends!
---
Help us make Spot.ph better!
Take the short survey
Load More Stories