The 10 Best Things We Ate in March
Noteworthy dishes in this food-filled month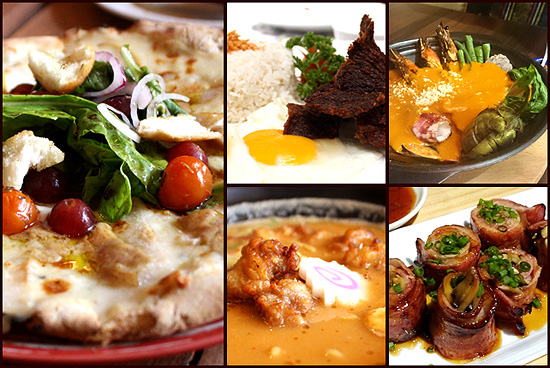 (SPOT.ph) If you didn't already know, here at SPOT.ph, we love food. You need it to live, but we find that there are some dishes that go well past the virtue of necessity. While others content themselves with a deep fryer and the usual salt and pepper, there are some who make-or at least try to make-an art out of it, with delicious displays and even yummier flavors. We believe those that go above and beyond their duty deserve necessary recognition. So here are our top picks among the dishes we ate throughout March.
This list is not ranked.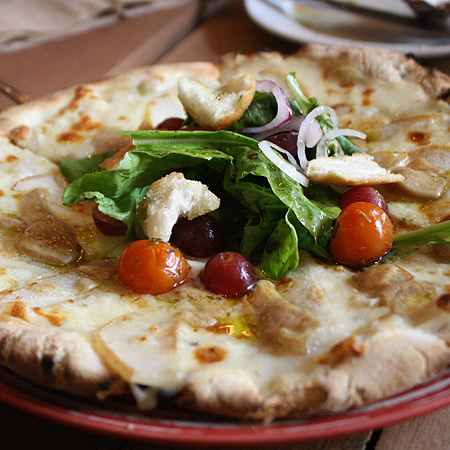 ADVERTISEMENT - CONTINUE READING BELOW
The Italian Market's Peach and Foie Gras Pizza
Chef Peter Ayson likes to push the proverbial envelope with intriguing combinations that somehow make sense as soon as you put them in your mouth. Take for example his peach and foie gras pizza: first, the fruit (we're still not sold on pineapple pizza), then the addition of the luxury ingredient. On a pizza. But his outstanding crust (courtesy of sous chef David Caci) is so superb-wonderfully soft and crisp-that it can set the stage for anything. There's a hefty serving of peach which cuts the richness of the goose liver. To top it all off, there's also a fresh salad at the center.
The Italian Market is at Newport Mall, Resorts World Manila, Pasay City. Read more about it here.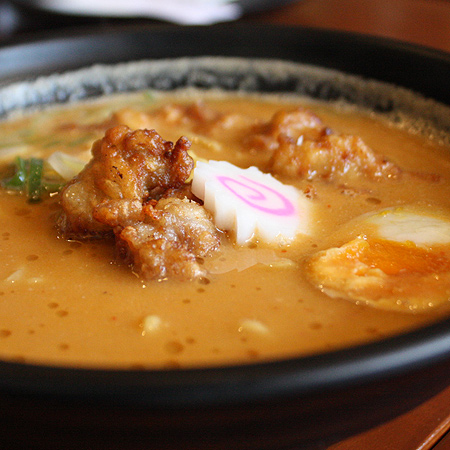 ADVERTISEMENT - CONTINUE READING BELOW
Spicy Karaage Ramen from Takashi
We may be licking our bowls of Spam Curry Rice clean, but by no means is this the only dish that got our attention from this quaint Japanese restaurant. The Spicy Karaage Ramen is something we will always crave come rainy days, sad days, dull days, or any day really. What's not to love? Crispy Japanese fried chicken gives bite to a soup that's spicy enough to be distinct, but not too much that finishing a bowl would be a challenge. (You'd want a second bowl, in fact.) Then there's Chef Takashi Kawasaki's signature springy noodles...life is complete.
Takashi is at Pioneer Center, Pioneer Street, Mandaluyong City. Read more about it here.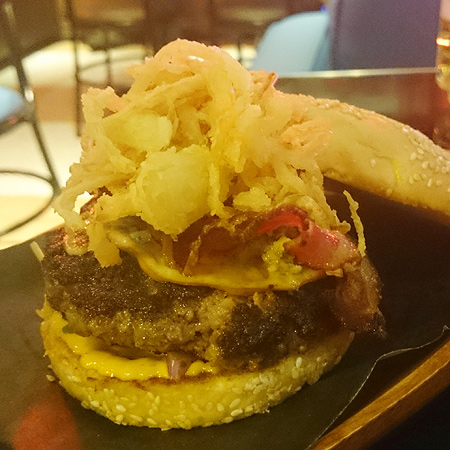 ADVERTISEMENT - CONTINUE READING BELOW
The Bar Burger 2.0 from 8 Cuts
Come to think of it, we've never really had a problem with the original version. The old one, the Bar Burger (now 1.0), was a wonderful compilation of meat (patty hanger and brisket), smoked scamorza, gorgonzola cheese, prosciutto, greens and pickled onions, onion tanglers, and sriracha aioli bursting from a brioche bun. But apparently that wasn't enough for The Moment Group. The upgrade, if you can call it that, uses a House Blend patty (short rib and ribeye) and blue cheese to boost those flavors to the extreme. Still, it's that sriracha that seeps a ticklish spice into the patty that really makes us silent in burger happiness.
This burger is available only at 8 Cuts Salcedo. Read more about it here.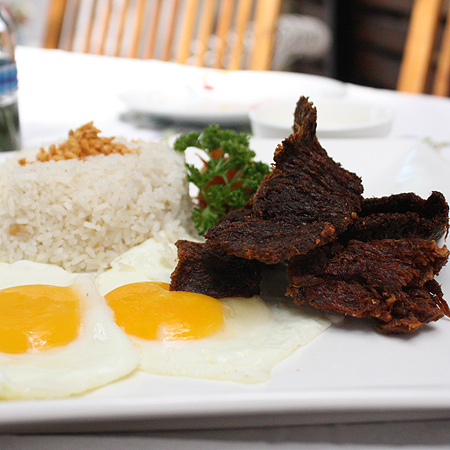 ADVERTISEMENT - CONTINUE READING BELOW
Martie's Flaky Tapa from Nikko's Baking Studio
It's difficult to go wrong with tapa, but Chef Nikko Buendia takes something good and makes it better. It might come as a surprise to know that Martie's Flaky Tapa (Martie is her daughter) isn't tender. It's crunchy-like the crunch of good adobo flakes except for the flakes part. It's not oily, either. The flavor comes through just right, especially when you perk it up with vinegar. Rub it with the creaminess of the soft egg yolk, have every bite with soft rice, and your day is off to a perfect start.
Nikko's Baking Studio is at 59-A Paseo de Roxas Street, Makati City. Read more about it here.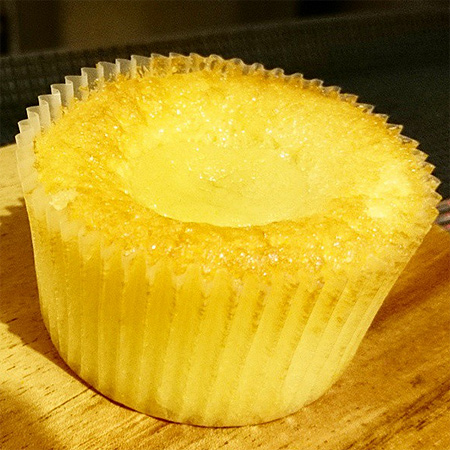 ADVERTISEMENT - CONTINUE READING BELOW
Salted Egg Custard Cupcake from Salt Bakery
Stay away from this place if you're on a diet-though this may be a difficult task considering it shares space with the calorie-counting Go! Salads. There are many delectable things behind the gilded-lit glass display case, including this one stellar cake made in tribute to the pastry chef of Momofuku Milk Bar and others that flaunt chocolate and peanut butter. But somehow, our eyes linger at the yellow cupcakes jeweled with golden dots. They're soft and spongy, the custard layering this rich texture amid that delicious fluffiness. It's not overly sweet, which makes this dangerous. We can finish everything inside that fridge.
Salt Bakery is at 325 F.B. Dela Rosa Street corner Katipunan Avenue, Quezon City. Read more about it here.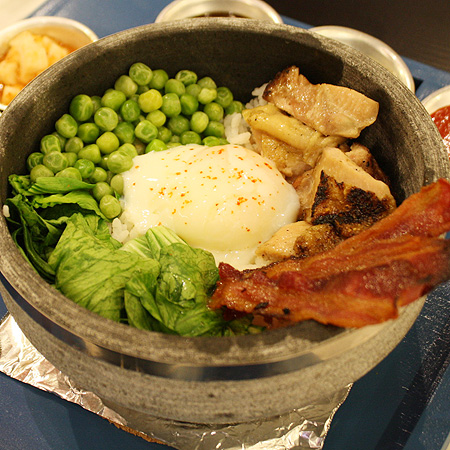 ADVERTISEMENT - CONTINUE READING BELOW
I Am Kim's B.E.C. Bap
You can call this bibimbap, but this is just a really good, comforting meal with everything you love in this world. We would've been happy with the tasty skin-on chicken thighs and the poached egg that lathers delightful textures over the rice, but it's the bacon that truly makes this dish. It's crispier than crispy; it shatters into little bits that make its way through the grains, making sure you have some of it in every bite.
I Am Kim is at Estancia Mall, Capitol Commons, Pasig City. Read more about it here.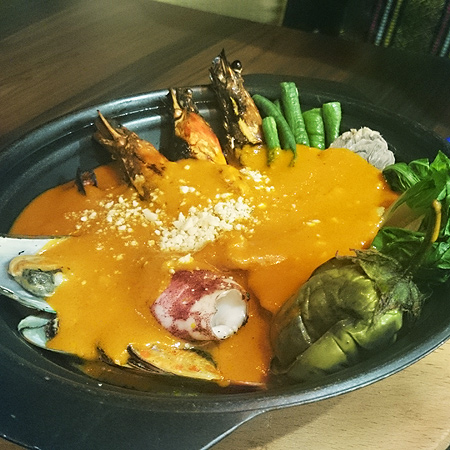 ADVERTISEMENT - CONTINUE READING BELOW
APU's Seafood Kare-kare
This kare-kare is made for photos (we just didn't give it justice because we were that hungry). APU's isn't one of those soupy things where you have to fish out random stuff from a deep orange ocean in the hopes of picking something good. The stew, thick and creamy, is in a dish shallow enough to show off a market of giant shrimps, juicy squid, flaky fish, and tender mussels. The nutty cream works more as a sauce that you can lather on your preferred seafood (and on rice!), and a little dab of homemade bagoong is all you need to make this dish a winner.
APU is at City of Dreams, Parañaque City.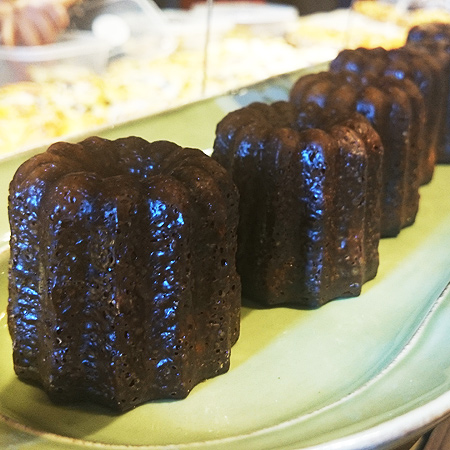 ADVERTISEMENT - CONTINUE READING BELOW
The Breadery's Canele
This little cake dome is sublime. A bell-shaped wonder with a caramelized crust that crackles apart to reveal the softest, spongiest custard. This sweet thing with their bold cold brew is how we imagine our future afternoons to be like.
The Breadery has branches at UP Town Center, Katipunan Avenue, Quezon City; and Emerald Mansion, Emerald Avenue, Ortigas, Pasig City. Read more about it here.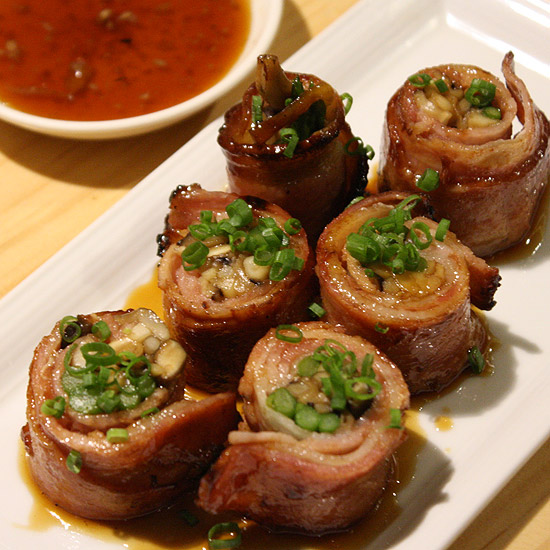 ADVERTISEMENT - CONTINUE READING BELOW
Osaka Ohsho's Mixed Mushroom and Bacon
Would it be blasphemous to go to Osaka Ohsho and skip the gyoza that made them world-famous? This roll of sukiyaki-cut bacon gives you a little bit of everything. Mushrooms come in an assortment of shiitake, eringi, and shimeji brown, and there's also a hidden center of asparagus. The bacon gives the earthy and leafy blend a sweet hug. Yup, who needs gyoza?
Osaka Ohsho is at SM Mega Fashion Hall, Mandaluyong City. Read more about it here.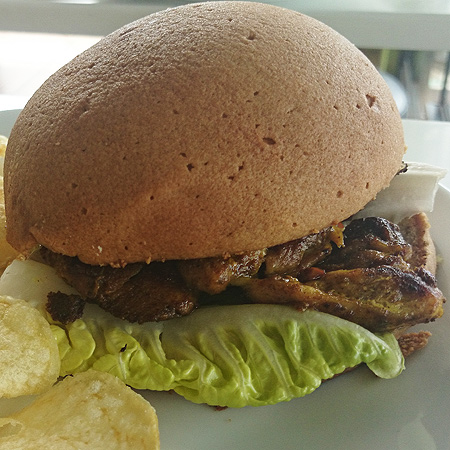 ADVERTISEMENT - CONTINUE READING BELOW
Kopi Roti's Chicken Satay Sandwich
That the famous sweet-and-salty coffee buns could be more than coffee buns comes as a bit of a surprise. The updated Kopi Roti takes them a step further by using them as bread for burgers. There are three, but none is more flavorful than the Chicken Satay, which stays faithful to those Singaporean flavors. The pieces of chicken are painted with a powerful curried spice that gives depth to the coffee bun.
Click here for a list of Kopi Roti branches.
CONTINUE READING BELOW
Recommended Videos
Share this story with your friends!
---
Help us make Spot.ph better!
Take the short survey
Load More Stories