Top 10 Matcha Lattes in Manila
Hot or cold, we give you the best of this green tea concoction.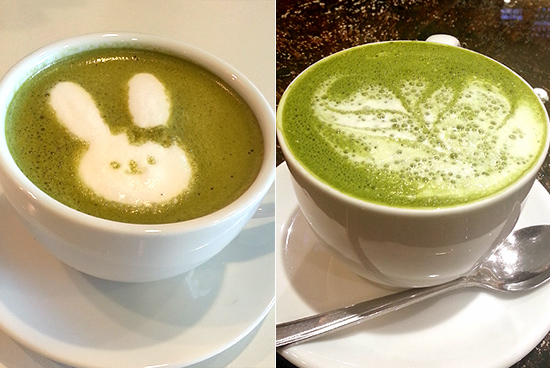 (SPOT.ph) From cookie butter to sea salt caramel, food trends have given us all sorts of quirky flavors, but we go back to traditional Japanese culture for this year's craze-matcha. Not green tea. Matcha.
The blend consists of high-quality powdered green tea first used in formal Japanese tea ceremonies. Later on it trickled down to mainstream consumption as flavoring or dye in drinks, desserts, and food. Matcha usually leaves a faintly leafy taste on the tongue with a lingering sweet aftertaste. It can be served two ways: koicha (thick tea) or usucha (thin tea). The tea drink also contains a wee bit of caffeine, around 25 mg, that will definitely invigorate the senses though not to the jittery extent of brewed coffee. A great alternative if you're not much of a java junkie.
And while it's been around for ages, it has only invaded the foodie consciousness as of late due to all the specialty teahouses popping up. Suffering from matcha option paralysis? Then read on to find out which creamy green concoction is your match(a).
ADVERTISEMENT - CONTINUE READING BELOW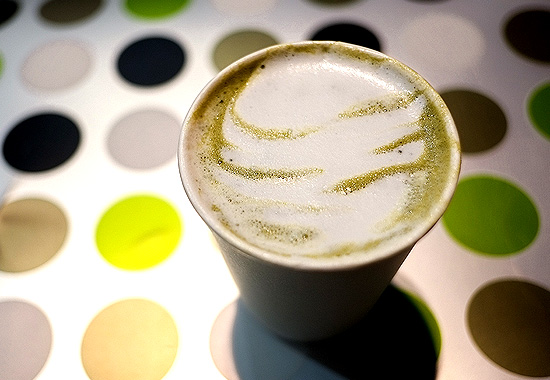 10. Chez Karine Bakery's Matcha Latte (P130)
Chez Karine, known for their ridiculously tasty macarons and pudding, not to mention their twee aesthetic and packaging (admit it, you've probably kept those pudding containers right next to your mason jars), also happen to serve this Japanese-inspired drink. This particular matcha, (its hue, the faintest of green) tastes much sweeter than the others on the list and will surely satiate your saccharine cravings.
ADVERTISEMENT - CONTINUE READING BELOW
Chez Karine has branches at Serendra, Bonifacio Global City; and SM Mega Fashion Hall, Mandaluyong City. Read more about it here.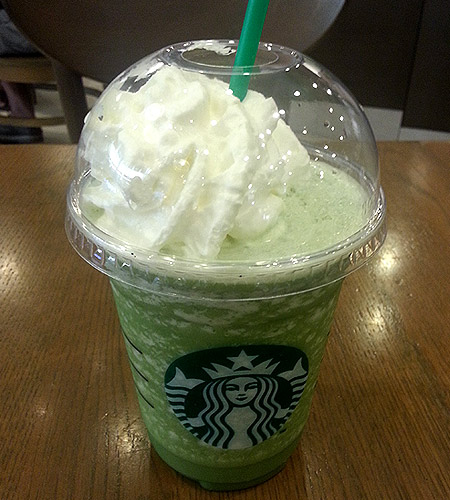 9. Starbucks' Green Tea Latte or Green Tea Frappe (P135/tall, P145/grande, P155/venti)
Most matcha joints on this list are either standalone establishments or have only few branches available. But what if you need that matcha fix immediately? That's when you head on over to Starbucks for matcha done three ways-iced, hot, and frappe form. If you just want the faintest hint of matcha then these drinks are for you.
ADVERTISEMENT - CONTINUE READING BELOW
Click here for a list of Starbucks branches.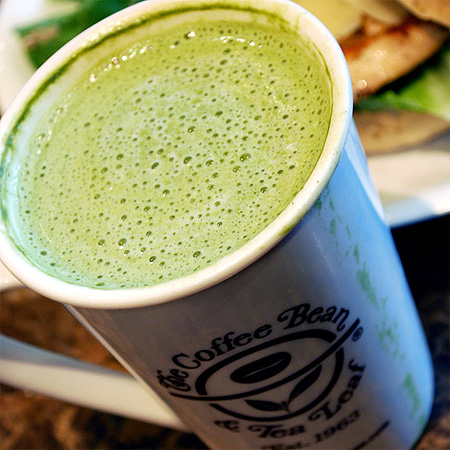 8. Coffee Bean & Tea Leaf's Matcha Green Tea Latte (P145/small, P160/medium, P175/large)
The Matcha Green Tea Latte is a light, leaf-green liquid with a thin layer of foam on top. Its consistency is thin and powdery, as if the drink has not been stirred completely, purposely leaving out some yummy undissolved matcha bits-or so we like to think. Due to-say it with us-port congestion, Coffee Bean's Matcha Green Tea Latte has become an ever-elusive drink. Just like a rare Pokemon or a friend who keeps flaking. Legends are told of its existence but only a few are fortunate enough to bask in its green tea-infused glory. So better take a snapshot should you be the lucky one to grab it.
ADVERTISEMENT - CONTINUE READING BELOW
Click here for a list of CBTL branches.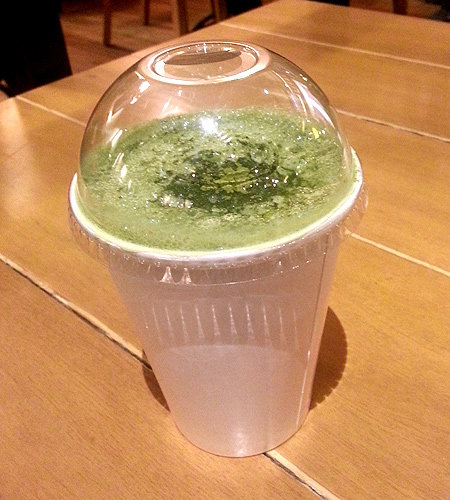 7. Green Cheese's Hot Matcha Latte (P100/regular, P120/tall) or Iced Matcha Latte (P120)
Right in the middle of the bustling halls of Hole in the Wall food court is a quaint verdant (as the plastic leaves would imply) stall called Green Cheese. Their version, whether hot or cold, of the matcha latte has a thin, runny consistency and a sweet milky taste. An ideal choice if you want a little more dairy in your tea. If you're hankering for more matcha madness, then check out Green Cheese's matcha cheesecake or pudding.
ADVERTISEMENT - CONTINUE READING BELOW
Green Cheese is at Hole in the Wall, 4/F Century City Mall, Makati City.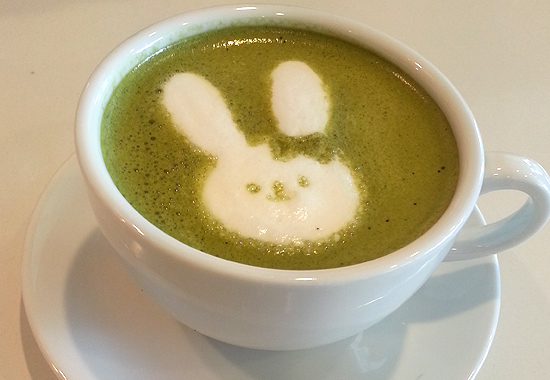 6. The Bunny Baker's Matcha Latte (P175)
The Bunny Baker, known for its ridiculously adorkable rabbit-inspired interiors and cute confectionary, was made for Instagram-worthy, Early Bird-filtered documentation. Was there ever any doubt that its matcha drink wouldn't look as cute? Their matcha latte has a thick, creamy consistency, which leaves a light umami flavor on the tongue. It's quite a heavy mixture, and a cup can get pretty heavy on the stomach. Oh, and bonus points for the bunny latte art.
ADVERTISEMENT - CONTINUE READING BELOW
The Bunny Baker is at 86 Dona Hemady Street corner E. Rodriguez Sr. Avenue, Kristong Hari, Quezon City. Read more about it here.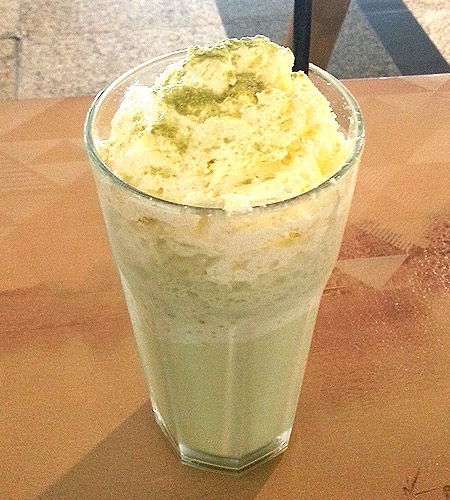 5. Café Shibuya's Matcha Green Latte (P155)
Café Shibuya's mint-green latte is very creamy with just the right amount of matcha without being overpowering. The drink is served in a tall glass and may be considered a dessert on its own. But hey, then you'd be missing out on all that great French toast so it's best to pair them together.
ADVERTISEMENT - CONTINUE READING BELOW
Café Shibuya has branches at G/F UP Town Center, Loyola Heights Quezon City; and Glorietta 2, Palm Drive, Ayala Center, Makati City.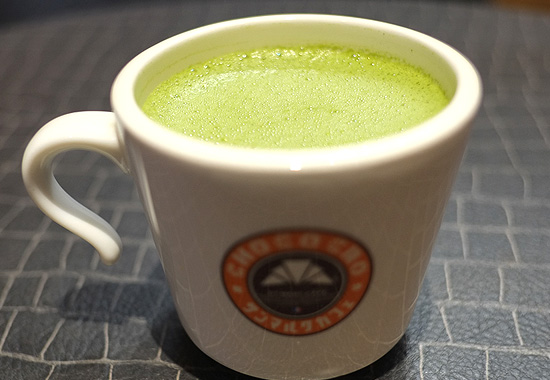 4. St. Marc Café's Hot/Iced Matcha Latte (P130 to P170)
Yeah, sure. Everyone and their grandma probably knows about St. Marc Café's Choco Cro, but we bet you haven't heard that they can mix a pretty mean matcha latte. This drink ain't messing around as one sip will punch you in the face with umami flavor. It leaves a slightly bitter aftertaste (just like that one relationship you had #hugot) and complements the myriad of sweet treats sold in the café. This latte is a no-nonsense drink great for a direct matcha hit.
ADVERTISEMENT - CONTINUE READING BELOW
St. Marc Café is at SM Mega Fashion Hall, Mandaluyong City. Read more about it here.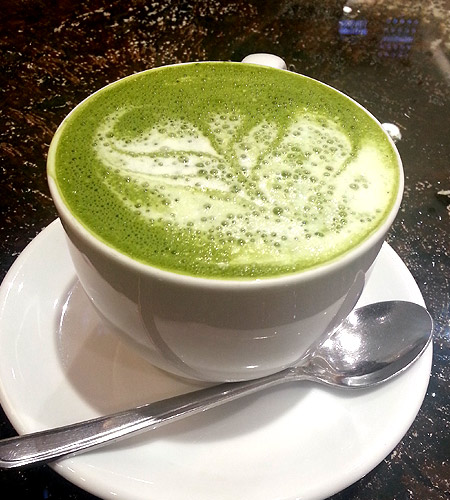 3. MochiCream Café's Matcha Latte (P135/eight ounces, P155/12 ounces)
MochiCream Café's latte has a slightly thick consistency and a strong aroma. Taking a sip guarantees a mouthful of umami flavor with a pleasantly earthy aftertaste. It's like a hug inside a cup. And if that isn't enough, they also have an impressive roster of matcha-flavored treats in its many forms: frozen, baked, iced, heated, and so on. There's also their equally popular Matcha Mocha to guzzle down.
ADVERTISEMENT - CONTINUE READING BELOW
MochiCream Café is at SM City North EDSA, North Avenue, Quezon City.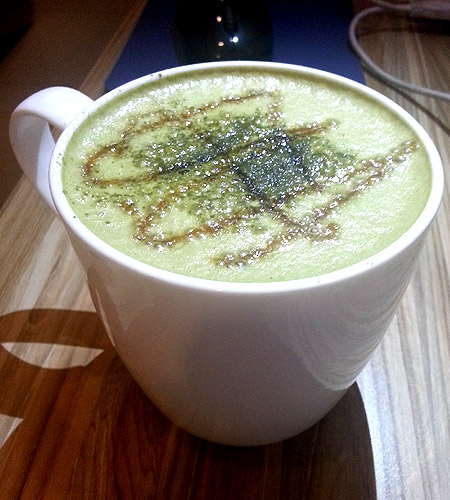 2. Kozui Green Tea's Roasted Green Latte (P100/tall, P115/grande)
A combination of freshly brewed roasted matcha and milk gives this latte a nuttier taste compared to others. Peer into the cup and you'll notice that it takes on almost a toasted brown color. It's sweet but not cloyingly so that you'll require a steady stream of H2o to dilute the aftertaste. A cup of this green stuff will surely awaken your senses. Seriously, this matcha is like a one-way ticket to Japan.
ADVERTISEMENT - CONTINUE READING BELOW
Kozui is at 258-B Tomas Morato Avenue corner Scout Fernandez Street, Laging Handa, Quezon City.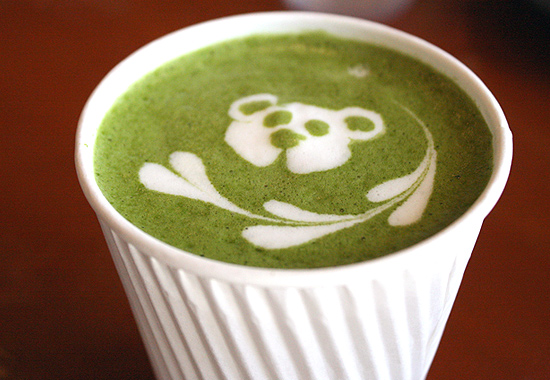 1. Kissako Uji Matcha Café's Matcha Latte (P150), Iced Matcha Latte (P130/medium, P160/large)
The first thing you'll notice about this drink is its vibrant green hue. This is a good sign, people! This means there's quality matcha in your drink. The strong, heady aroma of this latte then hits and relaxes you instantly. It's thick but still impressively light; the flavor is sweet but there's a nicely bitter, earthy taste in there, too. As a purveyor of numerous matcha-related delights, you'll be sure to satisfy your craving in any form you wish. Now if the previous entry felt as legit as a modern-day trip to the land of the rising sun, then this cup of matcha will make you feel like a feudal lord in Ancient Japan.
ADVERTISEMENT - CONTINUE READING BELOW
Kissako is at Pioneer Center, Pioneer Street corner Brixton Street, Kapitolyo Pasig City. Read more about it here.
Photos by Karen De Vera, Sasha Lim Uy (Kissako), Louie Manay (Chez Karine and St. Marc); and courtesy of Foodspotting.com (CBTL).
CONTINUE READING BELOW
Recommended Videos
Share this story with your friends!
---
Help us make Spot.ph better!
Take the short survey
Load More Stories