6 Reasons Why Wendy's BBQ Pulled Pork Brioche is the World's New Favorite
Grab one now before it's gone!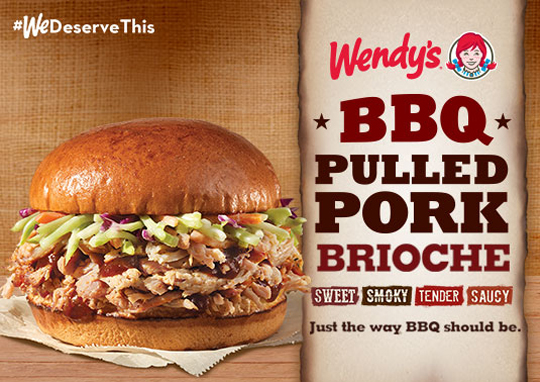 If you want quality beef burgers, you go to Wendy's - everyone knows that, duh. But what if Wendy's suddenly offers pulled pork sandwiches?! Foodies unite! Wendy's has unleashed to the hungry masses its Wendy's BBQ Pulled Pork Brioche for a LIMITED TIME only. Don't fret, this is delicious, Wendy's guarantees. What better way to get to know this latest delight but by taking a huge bite out of the Wendy's BBQ Pulled Pork Brioche ( pronounced as bree-yosh)?
Here now are six mouthwatering reasons to try out the all-new Wendy's BBQ Pulled Pork Brioche, now causing a ruckus at Wendy's stores:
1. It packs a tasty punch
How could it not be after being slow-cooked (not fried!) for four hours and shredded to perfection? Yes, Wendy's did its homework. This is not your average bland-tasting chunk of pork just lying lonely on your bun. It's packed with a plethora of natural flavors waiting to be unleashed in your mouth!
ADVERTISEMENT - CONTINUE READING BELOW
2. It's gives you the pork shoulder
Forget the belly or fillet, one of the tastiest and juiciest parts of a pig is it's shoulder. Why? Because the meat are tucked in between the bones which makes them substantially savory. And we all know, it's all about flavor.
3. It's got variety
Aside from the Wendy's BBQ Pulled Pork Brioche, there's also Wendy's BBQ Pulled Pork Cheeseburger Brioche and you can even add a tempting side, the Wendy's BBQ Pulled Pork Cheese Fries! Drooling now? Good. Our work here is done.
4. It's what's inside that counts
Some sell the coleslaw separately, while some just dump sad lettuce and tomato on the sandwich. Here, you've got the coleslaw in the sandwich with veggies such as red cabbage and carrots. And then you top it off with the Wendy's tasty BBQ secret sauce! There should be a better word for "wow" because of this.
ADVERTISEMENT - CONTINUE READING BELOW
5. It's high in protein
If you're working out, you need a good protein to bulk up muscle so this pork sandwich will assist you in that. Best of all, it's a meal in itself so consider this your energy (and happiness) resource for the day!
6. It's made of soft, buttery, brioche buns
Never underestimate the power of the bun for it can make or break a burger. And Wendy's is pulling out all the stops to give you the best with the buns made of brioche. Fun fact: brioche is a pastry that originated in France.
Hungry much? We thought so too. Now is as good a time as any to go to your nearest Wendy's to try out the new BBQ Pulled Pork Brioche! Available at Wendy's for a LIMITED TIME only. 'Cause really, #WeDeserveThis.


CONTINUE READING BELOW
Recommended Videos
Share this story with your friends!
---
Help us make Spot.ph better!
Take the short survey
Load More Stories