New Restaurant Alert: DyceNDyne at Pasig Boulevard, Pasig
This is more than your usual game cafe.
DyceNDyne
G/F Elements @ Rosemarie Building, Pasig Boulevard, Pasig City
Contact: 0917-805-5348
Open from 12 p.m. to 12 a.m. (Wednesday to Sunday)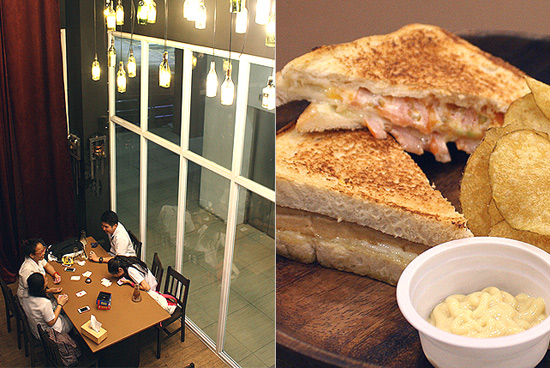 (SPOT.ph) Hanging over the main wall of DyceNDyne is a massive brassworks sculpture of a giant squid. "We call him Didi," remarks Ibba Bernardo, one of the board game cafe's partners.
ADVERTISEMENT - CONTINUE READING BELOW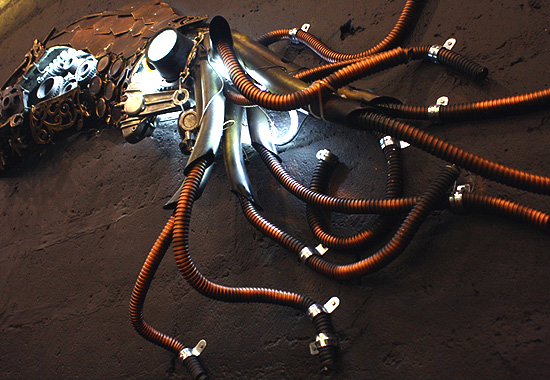 Didi is DyceNDyne's signature steampunk squid
Didi is the last name we'd think of for a metal squid hovering above a restaurant, ready to drag customers into the deep with its iron tentacles...but somehow, it works. Crafted from old motorcycle parts and scrap metal, then lit up from within, Didi is an unconventional presence in a very, very unconventional cafe. See, DyceNDyne isn't just an ordinary board game cafe-it's also a steampunk board game cafe.
ADVERTISEMENT - CONTINUE READING BELOW
For those unfamiliar with the term, "steampunk" is the name of the sub-genre of science fiction that takes inspiration from turn-of-the-century (that is, 1900s) style. Think Jules Verne, airships, steam-powered brass inventions, Nikola Tesla versus Thomas Edison, and lots and lots of goggles. Bernardo is a massive fan of the style. "This cafe has been a very long-time dream," he comments.  His good friend Noli Coronado, artist, motorcycle fanatic, and the main designer/sculptor of hardcore biker jewelry collective 13 Lucky Monkey, did all the cafe's steampunk touches, from Didis to the wonderfully demented front-door signage.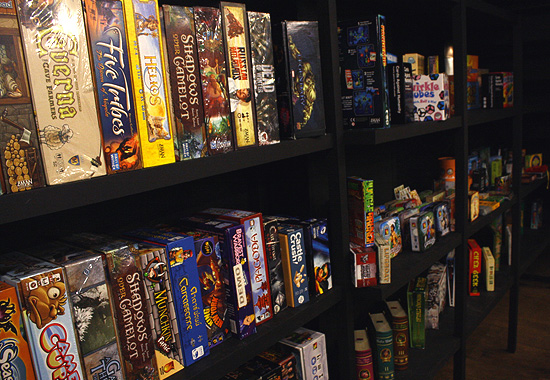 ADVERTISEMENT - CONTINUE READING BELOW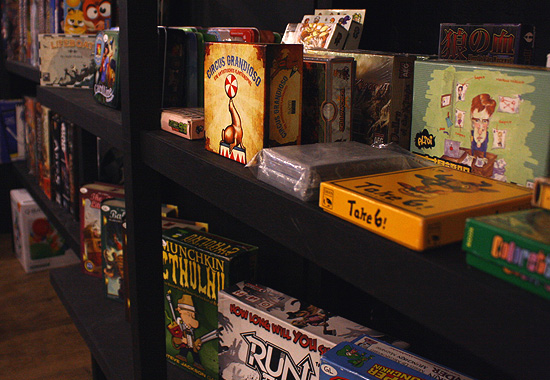 Library of games
While the decor may be unconventional, the vibe is anything but. Open, spread-out tables, bright lighting, and an entire shelf full of board games encourage you to plop your butt down and while away the night with cards, tokens, and good company.
If you're a large group, you can occupy the large loft area and go for a mega-round of Caverna the Cave Farmers (winner of the 2014 Guldbrikken, a prestigious Danish board game award competition). If you're with a small group, however, fellow DyceNDyners are friendly enough to teach you the rules and invite you to join running games.
ADVERTISEMENT - CONTINUE READING BELOW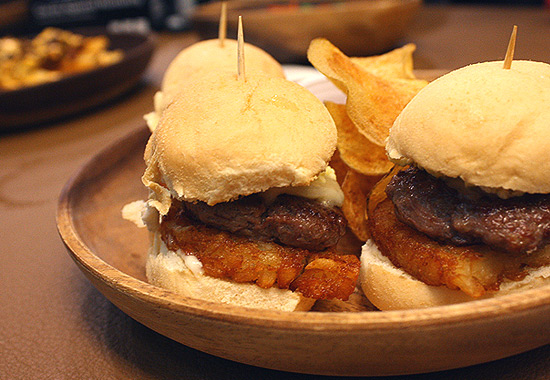 Munchkin Sliders for a brekky board game break
That's what happened to us when we dropped by. Our initial gang of four turned into a seven-person cutthroat fracas in Camel Up (a cute Moroccan-themed board game that tests your gambling smarts), Time's Up (a raucuous mash-up of Charades, Name That Tune, and Taboo), and, of course, crowd favorite Cards Against Humanity (as its tagline says, it's a board game for horrible people).
ADVERTISEMENT - CONTINUE READING BELOW
Rightly enough, the food doesn't steal the show from all the fun you're having. It's fast and filling, designed to be eaten while you're trying to, say, save the world from a killer virus in Pandemic. Seven Ate Fries (P220) make for a greasy-fingered snack, but if your board game fuel is running on empty, make sure you try their Munchkin Sliders (P250), three breakfast buns packed with corned beef, scrambled egg, and a hash brown.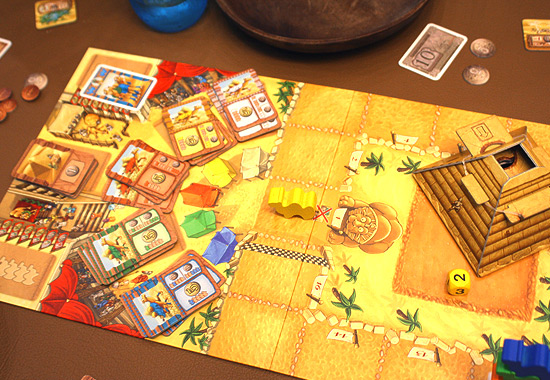 ADVERTISEMENT - CONTINUE READING BELOW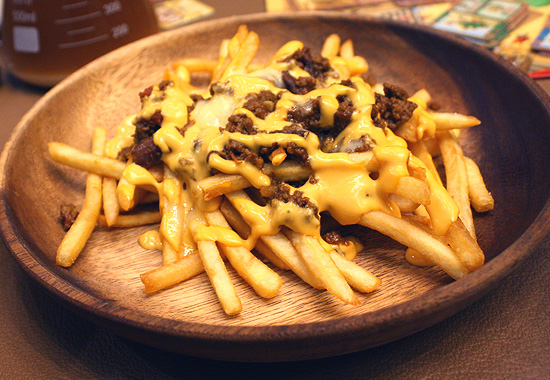 Seven Ate Fries and a round of Camel Up
For drinks, DyceNDyne has partnered with Quezon City-based cafe Chemistea to supply all their teas and coffees. As in their home branch in Project 8, all brews are served in beakers and flasks straight out of high school chem lab. We recommend the Milo Dinosaur (P115/medium, P130/large) and the Nai Cha (P90/medium/P105 for large).
ADVERTISEMENT - CONTINUE READING BELOW
Looking for something more substantial? The cafe also offers rice meals for those between-board-game breaks. Their Rarr Gising-Gising (P180) hits the sweet veggie spot between spicy and creamy, but our fave is the Zombicide Tempura Sardines (P150), a satisfying twist on the breakfast table.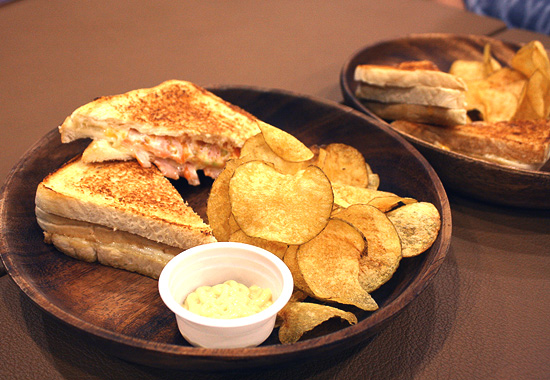 Legendary Grilled Cheese (P150)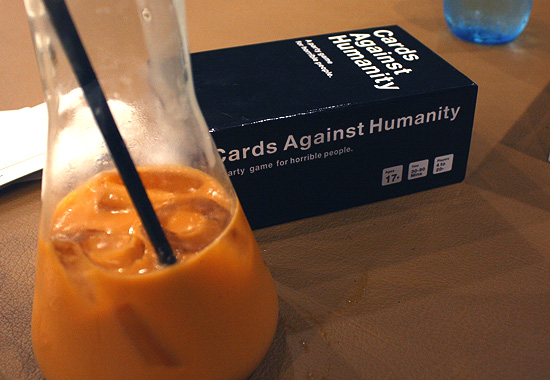 ADVERTISEMENT - CONTINUE READING BELOW
Nai Cha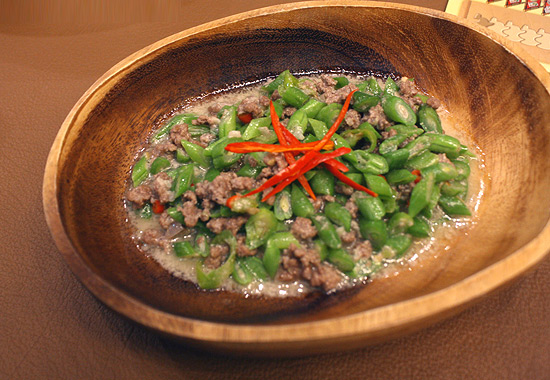 The Gising-Gising is a spicy dinner break for those heated board game rounds
It's also comfort food enough for those disconsolate times that you come in last place in Cards Against Humanity. Come on, guys. Just one more round? Please?
Erratum: A previous version of this article referred to the squid as "Siddy".
ADVERTISEMENT - CONTINUE READING BELOW
CONTINUE READING BELOW
Recommended Videos
Share this story with your friends!
---
Help us make Spot.ph better!
Take the short survey
Load More Stories