CHECK IT OUT: StrEat Maginhawa Food Park at Maginhawa Street, Quezon City
This new hangout takes you on a gastronomic journey unlike any other.
StEat Maginhawa Food Park
91 Maginhawa Street, UP Village, Quezon City
Contact: 0939-923-2470
Open from 5 p.m. onwards (Tuesday to Sunday)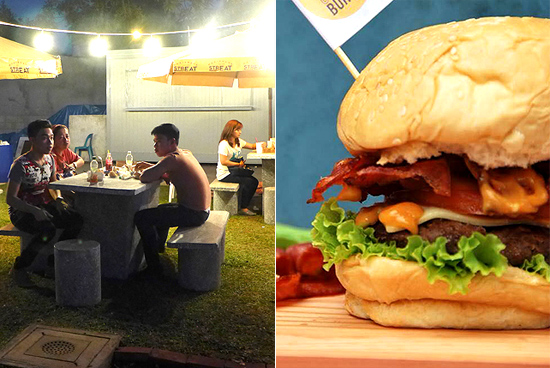 (SPOT.ph) When "Maginhawa Street" comes up in a conversation, it's highly likely that an experience is associated with it, whether it's the thrill of discovering a quaint corner shop, the comfort of a reliable cafe, or the novelty of some of its more exotic offerings. Maginhawa's latest addition packages these experiences into a long strip that follows the lead of other food markets, like Cucina Andare, Mercato Centrale, and Mezza Norte.
ADVERTISEMENT - CONTINUE READING BELOW
Mother-daughter tandem Kitty and Cheska Del Castillo thought of bringing the food truck-container (what they call "stalls") concept to bustling Maginhawa Street, calling their venture StrEat, a combination of the words "street" and "eat" to denote both the nature of the food park and its diverse offerings.
"We aim for the place to be a convergence point of the Maginhawa culture," Cheska says. "We plan to have outdoor film showings, art workshops, intimate acoustic sessions, poetry reading, and small exhibitions." She adds: "The park is for everyone who wants to build and nurture a community.We aim to grow and nurture a local art scene."
CONTINUE READING BELOW
Recommended Videos
The park follows a green backdrop with tenants each subscribing to the garage and industrial ambience the Del Castillos had envisioned. The dining area is al fresco, also consistent with the park's vibe, which Cheska describes as "laidback, eclectic, and crafty".
ADVERTISEMENT - CONTINUE READING BELOW
StrEat features 11 tenants, four food trucks and seven food containers, each allotted a space that reflects their individual tastes. Cheska says of the mix: "Our cuisine travels from Southeast Asia, Korea, Turkey, Italy, Mexico, and Southern Louisiana Creole."
StrEat photo by Melai Balitaan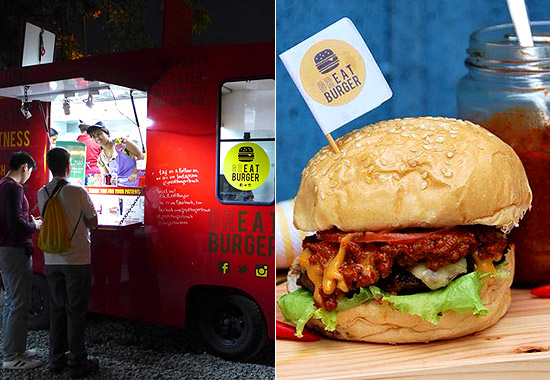 G.R.EAT Burger Truck
Contact: 0917-810-7639; Instagram: @greatburgertruck
ADVERTISEMENT - CONTINUE READING BELOW
G.R.EAT Burger Truck is the brainchild of buddies and self-confessed burger lovers, Rodney Ong and Angelo Cosme. The two got together in 2013 to put up the mobile joint and offer specialty burgers made of 100% all-beef patties, a signature sauce, and chili made from scratch. Other items to watch for on G.R.EAT's menu are the weekly surprise sides to their delectable burger lineup: Spam fries, deep-fried Wagyu balls, Sriracha chicken poppers, or bacon cheese wedges.
Must-tries: Bacon Burger (P160), Chili Burger (P180), Hawaiian Vacation (P180)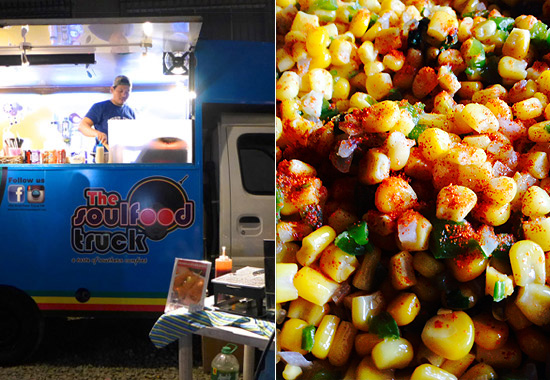 ADVERTISEMENT - CONTINUE READING BELOW
The Soul Food Truck
Contact: 0916-717-8935; Instagram: @thesoulfoodtruckph
The Soul Food Truck is the byproduct of husband-and-wife tandem Jade and Lyle De Leon's deep passion for both food and music. The couple brings to StrEat a dose of "soul food" (which they equate to Southern American comfort food) served with some funk, reggae, and rock tunes in the background to complete the dining experience.
Must-tries: The Soul Steak (P190), Country Fried Steak (P180), Fish and Chips (P130), Crunchy Corndog (P40), Chili Corndog (P75), Sour Cream and Rosemary Fries (P70)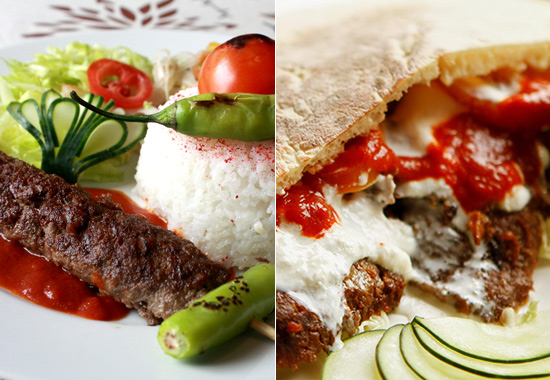 ADVERTISEMENT - CONTINUE READING BELOW
Bricks and Copper Turkish Cuisine
Contact: 654-3741, 697-2007; Instagram: @bricksandcopperturkishcuisine
Taking inspiration from Turkey's Ottoman Empire in which brick ovens and copper and brass bowls were common household essentials is Bricks and Copper Turkish Cuisine. Their dishes are mainly charcoal-grilled or oven-baked, lending a hand to the distinct, rich flavor of Turkish delights. They also have a brick-and-mortar store at the Dumlao Sports Center in Mandaluyong City.
Must-tries: Pita Doner (P90), Turkish Pizza Pide (P180), Lahmacun (P150)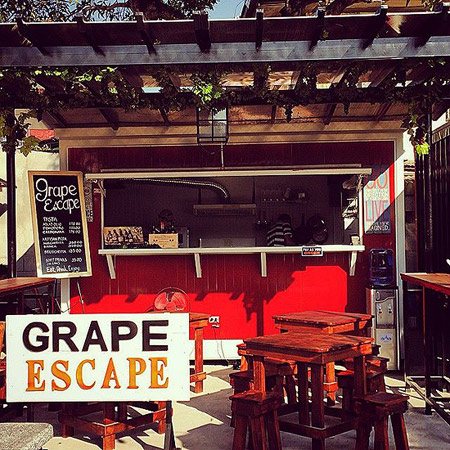 ADVERTISEMENT - CONTINUE READING BELOW
Grape Escape
Instagram: @grapeescapeph
Grape Escape is StrEat's friendly neighborhood enoteca, which offers specialty wines best paired with Italian favorites: pizza, bruschetta, and pasta.
Must-tries: Bruschetta, Margherita Artisan Pizza, Aglio Olio Pasta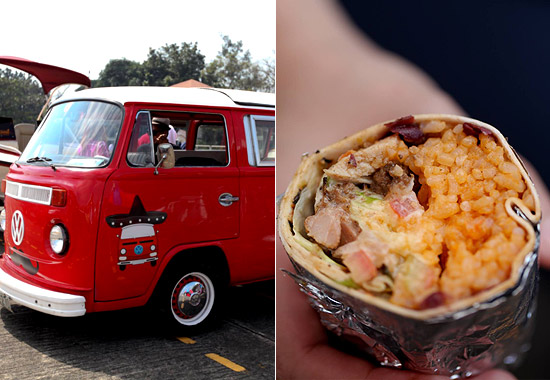 Mexikombi
Contact: 0916-439-5549; Instagram: @mexikombi
Mexikombi is a play on the words "Mexican" and "Kombi," a literal take on what it essentially is: authentic Mexican grub served in a vintage red Volkswagen Kombi. The concept was first debuted in 2012 by owners Franco and Yassy Malaya, Kel Sicat, Jake Caruncho, and Paulo Chavez. Aside from the team's well-received lineup of burritos, tacos, and nachos, expect to see some fajitas and quesadillas on the menu to be prepped in their own mix of spices and herbs.
ADVERTISEMENT - CONTINUE READING BELOW
Must-tries: Burritos (P160 to P220), Soft Tacos (P130), Nachos (P100)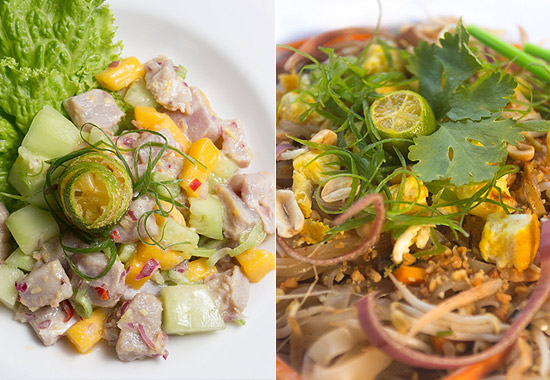 Me Love You Long Time
Contact: 0947-314-0077 ; Instagram: @meloveyoulongtimeph
Owners Syrel Lopez, Tey Clamor, James Dela Vega, and Cons Reyes' shared love for Southeast Asian cuisine prompted another UP Village staple: Me Love You Long Time (a reference to Stanley Kubrick's Vietnamese war flick, Full Metal Jacket). Their first branch is located at the Z Compound on Malingap Street, offering favorites from Thai and Vietnamese cuisines. Now at StrEat, MLYLT has extended their menu to include popular dishes from neighboring countries (particularly Malaysia, Singapore, and the Philippines) at affordable prices.
ADVERTISEMENT - CONTINUE READING BELOW
Must-tries: Fresh Spring Rolls (P99), Pad Thai (P109), Chicken Satay (P129), Thai Iced Tea (P49)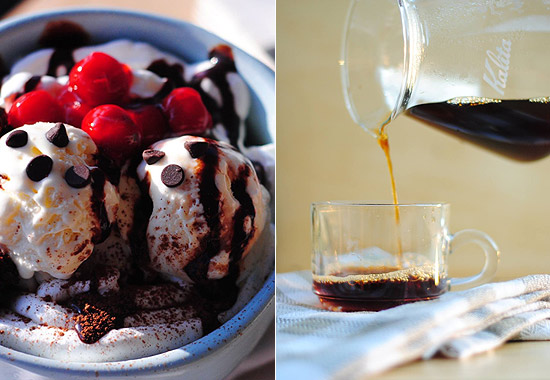 Magpie Café
Contact: 0917-578-0350; Instagram: @magpiecafe
Magpie Café's brews, made from fresh Benguet coffee beans in support of the local scene, promise happiness upon first sip (magpies, by the way, symbolize happiness, hence the name). Their desserts, meanwhile, are fun, vibrant and infused with a Korean touch. Soon, the menu will be expanded to include other Korean-inspired meals such as bulgogi sandwiches.
ADVERTISEMENT - CONTINUE READING BELOW
Must-tries: Hand-Brewed Coffee (P100), Latte (P1350), Mango Madness Korean Waffles(P160), Chocolate Fountain Bingsoo (P150), Nokcha Love Bingsoo (P150)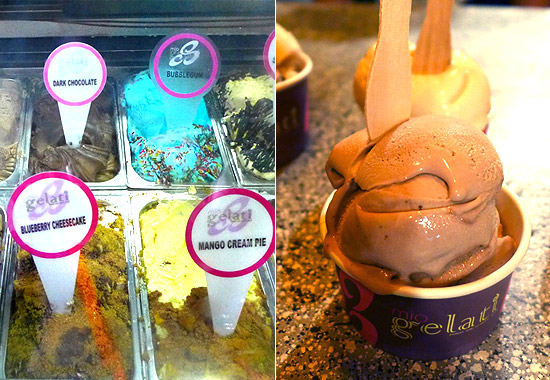 Mio Gelati
Contact: 0917-582-7124; @miogelati
Mio Gelati has been a mainstay at food markets, and its gelato remains to be a favorite meal-ender after a heavy, flavorsome meal. The food truck has flavors for every taste, with variants inspired by famed candies, pastries, chocolate, or liquor.
ADVERTISEMENT - CONTINUE READING BELOW
Must-tries: Milo Dinosaur, Blueberry Cheesecake, Mango Cream Pie, Salted Caramel, Tequila Rose (ranges from P80 to 220)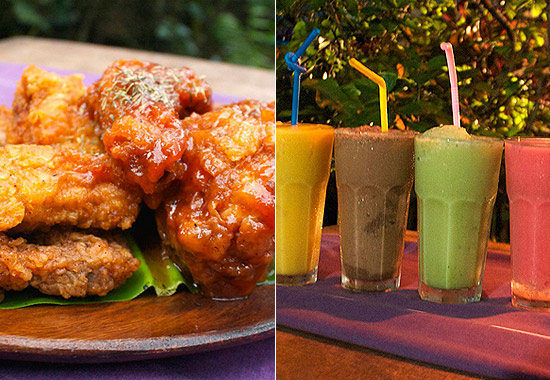 Endless Summer Café
Contact: 0916-703-3344; @endlesssummerph
In the middle of StrEat rests a beach house-inspired establishment, Endless Summer Café, representative of a tropical getaway in the middle of busy Manila. Owners JC Ozoa, Jon Cabrera, and Victor Dalisay offer fragments of a summer escape, from sizzling plates to cool summer smoothies, that eaters can customize to their liking.
ADVERTISEMENT - CONTINUE READING BELOW
Must-tries: Garlic Chicken, Combi Sisig, Tapsilog, and Summer Smoothies (ranges from P70 to 120)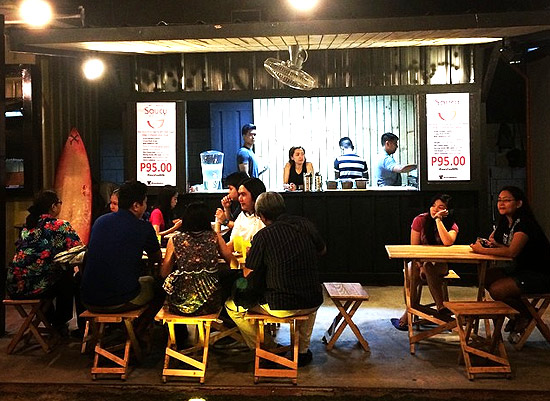 Saucy Food MNL
Contact: saucyfoodmnl@gmail.com; @saucyfoodmnl
Saucy Food MNL aims to fill diners' appetites with quality comfort food in affordable prices. These come in bowls that feature a hefty serving of rice, a bed of veggies, and a helping of their trademark sauces over customers' choice of pork, chicken, or fish cutlets. Saucy Food MNL's specialty sauce offerings include Teriyaki, Very Cheesy Garlic, Burning Tomato BBQ, Aioli Kewpie, and Savory Kackalacky.
ADVERTISEMENT - CONTINUE READING BELOW
Must-tries: Crispy Pork Strips, Fried Chicken Cutlets, Beef Battered Fish (all P95)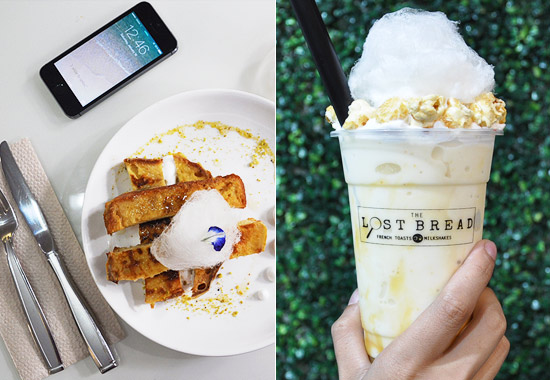 The Lost Bread
Contact: 0917-575-4350; Instagram: @thelostbread
The Lost Bread, a literal translation of pain perdu or the common term for "French toast," is equal parts a specialty restaurant, artistan bread studio, and milkshake bar. Its menu selection ranges from savory and sweet French toast meals to spiked and cake-based milkshakes, showing ingenious reinvention of simple staples into out-of-the-box meals and drinks.
ADVERTISEMENT - CONTINUE READING BELOW
Must-tries: 8AM (P159), The Classic (Php89), The Carnival (P100)
Share this story with your friends!
---
Help us make Spot.ph better!
Take the short survey
Load More Stories